Barefoot luxury and serious sustainability converge at an idyllic private-island retreat in the Indian Ocean.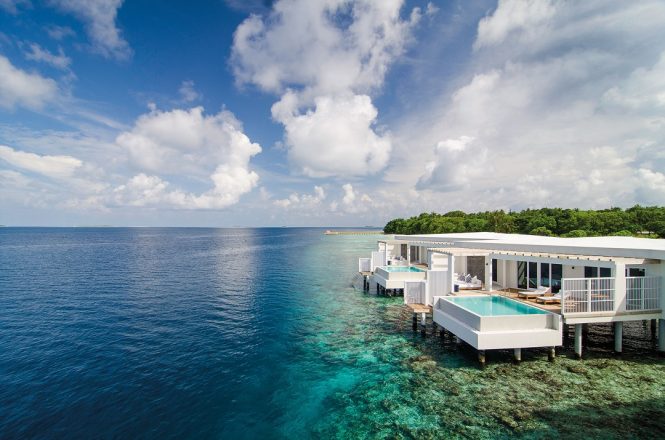 When you overhear guests planning a return visit before they have even checked out, you know a hotel is at the top of its game. And those are just the sort of conversations you're likely to catch over breakfast at Amilla Maldives Resort and Residences. Is it the clean-lined villas with their spacious decks and azure pools that have won them over? Or the food at Amilla's seven restaurants? Or the ever-smiling staff who unfailingly greet you by name? The paradisiacal setting? The palm-shrouded spa?
All these contribute to the property's allure, no doubt. But there's a lot more going on here besides.
Situated on its own 23-hectare island in the Baa Atoll, a 35-minute seaplane ride from Male, locally owned Amilla first opened eight years ago. But since the current management team took over in 2019, the resort has found a new groove. Much of that is focused on sustainability initiatives — and it's a long list. There's an ongoing coral propagation project led by the resident marine biologist, and a breeding program for the long-tailed tropicbird, which nest in tree hollows on the island. Amilla is a partner in the Olive Ridley Project, a sea turtle conservation group, and helps the Maldivian Manta Ray Project gather data about the archipelago's manta population (the surrounding waters of the Baa Atoll, a UNESCO Biosphere Reserve, are said to harbor one of the world's largest concentrations of mantas).
Tucked away in the island's luxuriant interior is a comprehensive waste management center (cheekily called the UN, short for "Undo The Harm"); a reverse-osmosis plant for the supply of fresh water; and organic and hydroponic gardens that reduce the need for imported ingredients. Yogurt, jams, and pickles are made on-site; much else is sourced from local producers and fishermen. You'll also find a mushroom hut and a thatch-roofed chicken coop whose feathered residents entertain themselves on miniature undolis, the traditional Maldivian swing. No wonder the eggs at breakfast taste so good.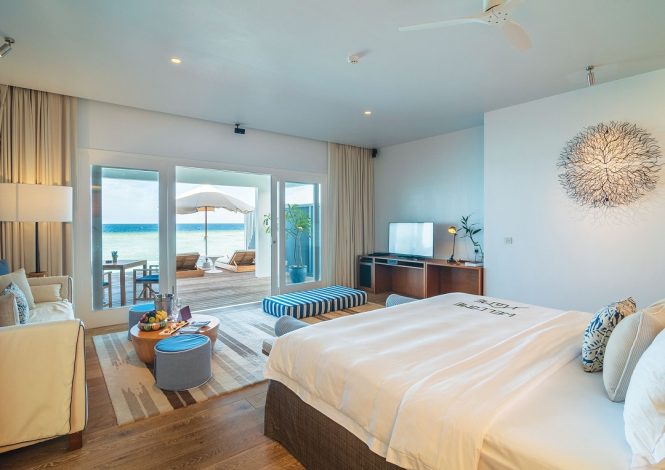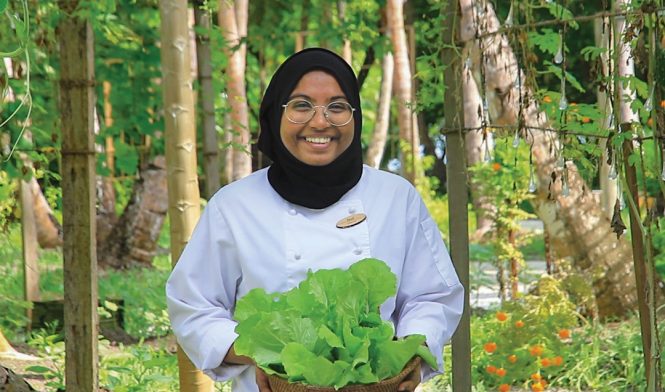 All of this translates into a more meaningful guest experience, and it is no surprise to learn that Amilla, the sole Maldivian member of Small Luxury Hotels of the World, was among the first resorts to be added to SLH's Considerate Collection, a handpicked portfolio of actively sustainable properties that launched in 2021. It's also EarthCheck certified and, as of last December, is the first resort worldwide to be verified by UK-based accessible and inclusive hospitality experts IncluCare, meaning it has the facilities and trained staff to be able to welcome guests with a range of physical and sensory disabilities.
Of course, Amilla has all the delights you'd expect from a luxurious Maldivian retreat: the sunset dolphin cruises and tantalizingly snorkelable house reef, the powdery beaches and soothing massages, the tasty and varied food offerings (the Japanese fare at, ahem, Feeling Koi is terrific; ditto the pastas at Barolo). But it's the unexpected offerings that are most memorable. Many of the treatments at the Javvu Spa, for instance, are rooted in dhivehi beys, the traditional herbal medicine of the Maldives; yet there's also a futuristic light-therapy room. Nearby, in the shade of an ancient banyan tree, sits a jungle gym worthy of Tarzan.
There are kombucha workshops to attend, Sufi whirling meditations to join, and a cellar full of wines to sample. And you won't find a better midday diversion than a foraging tour of the vegetable garden with chef Naf, whose basket you'll help fill with okra, luffa, Malabar spinach, and a dozen other edible plants. These are then carried back to a kitchen for a Maldivian cooking demonstration that concludes with a super-local lunch of dishes such as piquant kirugarudhiya (yellow curry) and bitter-gourd salad.
As they gaze across the lagoon from their overwater pool, or lounge among palm fronds on the deck of one of the island's stilted Treetop villas, guests are not likely to be dwelling on the ethical sourcing of the meat they've been eating or the biodegradability of the geranium-scented toiletries in their bathroom. But I wouldn't be surprised if they were already dreaming about coming back for more.
amilla.com; doubles from US$1,300; all-inclusive packages available.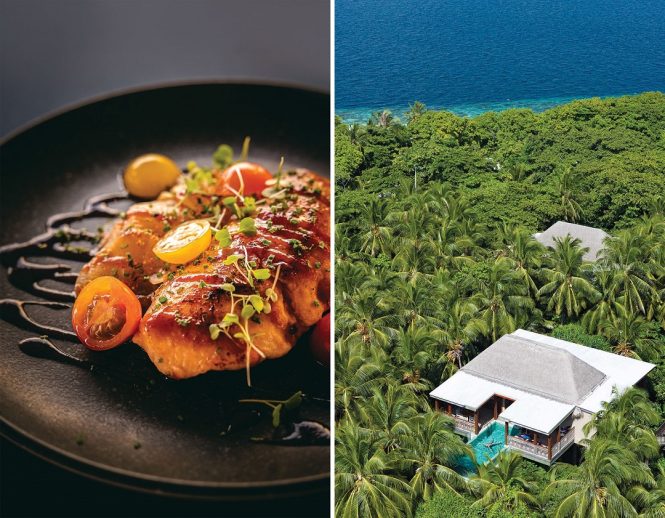 This article originally appeared in the March/May 2023 print issue of DestinAsian magazine ("Everything Under the Sun").