Having just turned five, Cheval Blanc Randheli remains the resort of choice for many a Maldives-bound sybarite.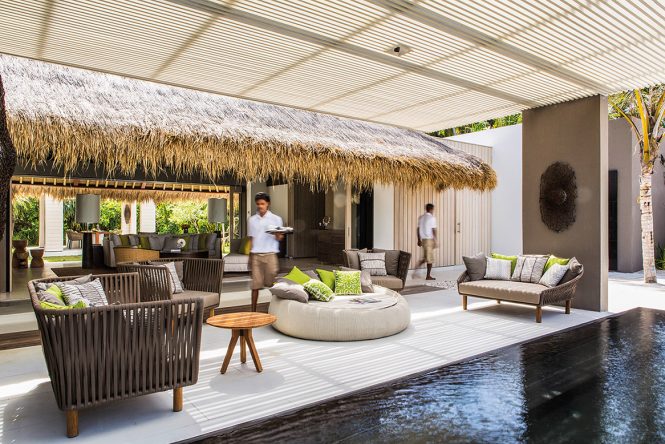 Though he looks more like a younger Gérard Depardieu than Ricardo Montalbán's Mr. Roarke, I half expect our host, a genial Austrian-Italian named Renato Chizzola, to declare "Welcome to Fantasy Island" as we step out of the seaplane and onto the dock. Instead, we're met by a chorus of "bonjours" and "ça vas?" from the dozen-strong reception committee of butlers and senior staff who have gathered to greet us—as they do all incoming guests—under the hot Maldivian sun.
"Welcome to Cheval Blanc Randheli, welcome to your paradise!" booms Chizzola. Close enough, I think. And with that, each of us is introduced to our personal majordome (as the resort calls its butlers), escorted down the jetty, and whisked off in a buggy to our villas.
Since its debut in 2013, Cheval Blanc Randheli has been hailed as one of the best resorts in the Maldives, a not inconsiderable achievement in an archipelago filled with high-caliber retreats. Designed by the eminent Malaysia-based Belgian architect Jean-Michel Gathy and with the pedigree of French luxury-
goods company LVMH—whose Cheval Blanc brand, named for the group's 150-year-old Bordeaux wine estate, includes two equally acclaimed hotels in the French Alps and St. Bart's —behind it, Randheli is unquestionably as sophisticated and sybaritic as its reputation suggests.
Given the setting, in the far-flung northern atoll of Noonu, that can sometimes be dis-orienting. With its chandeliers and engraved Christofle silverware and Yannick Alléno–conceived menu, Le 1947, Cheval Blanc's signature fine-dining restaurant, feels almost defiantly un-Maldivian, while the cosmopolitan makeup of the staff—almost half of whom are expats from 29 different countries—makes you occasionally forget where you are.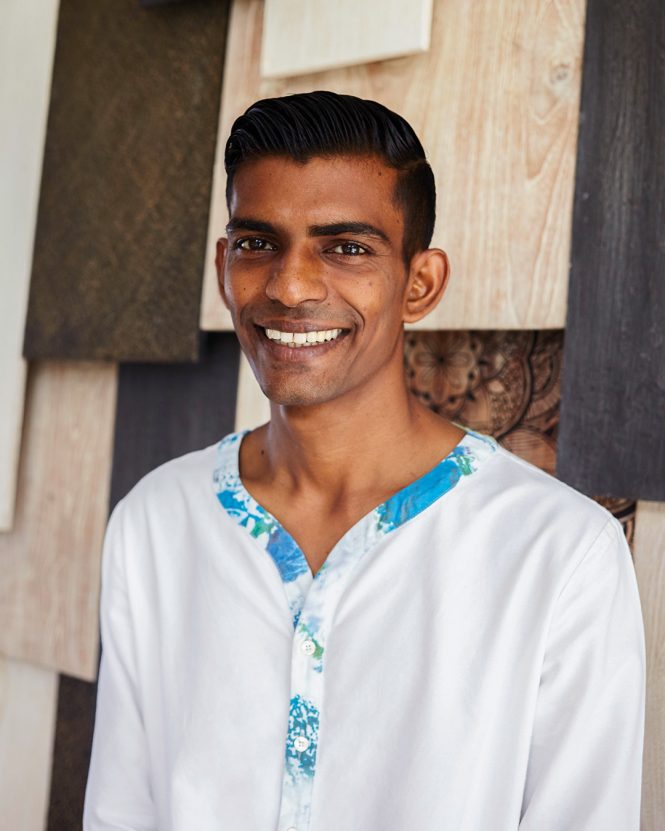 Or maybe that's the point of this level of escapism. Certainly, the 45 thatch-roofed villas are transporting. Arrayed across three diminutive islands connected by wooden bridges, they are, as is standard formula in the Maldives, located on the beach or set on stilts above the lagoon. But there is nothing standard about what lies within. Starting at 240 square meters, the villas come with soaring cathedral ceilings, a subdued palette dominated by white and taupe, tall louvered oak partitions that can be rotated to divide the living, sleeping, and bathroom spaces into cozier nooks, and sliding glass doors that open onto a private terrace and 12.5-meter swimming pool, with floating bean bags on hand for those not already buoyed by the aquamarine lagoon views. Gathy's sleek lines are accented with natural, textural materials such as coconut shell and driftwood, while circular "color spots" of marble and quartz sand by French sculptor Vincent Beaurin are positioned just so above each of the villas' freestanding bathtubs.
And those canvas espadrilles and smart beach totes in the dressing area? They're yours to keep. Yes, the iPad-based room controls can be confounding (I can't for the life of me figure out how to work the TV, and shame on me for trying), but everything else is effortlessly chic and supremely comfortable.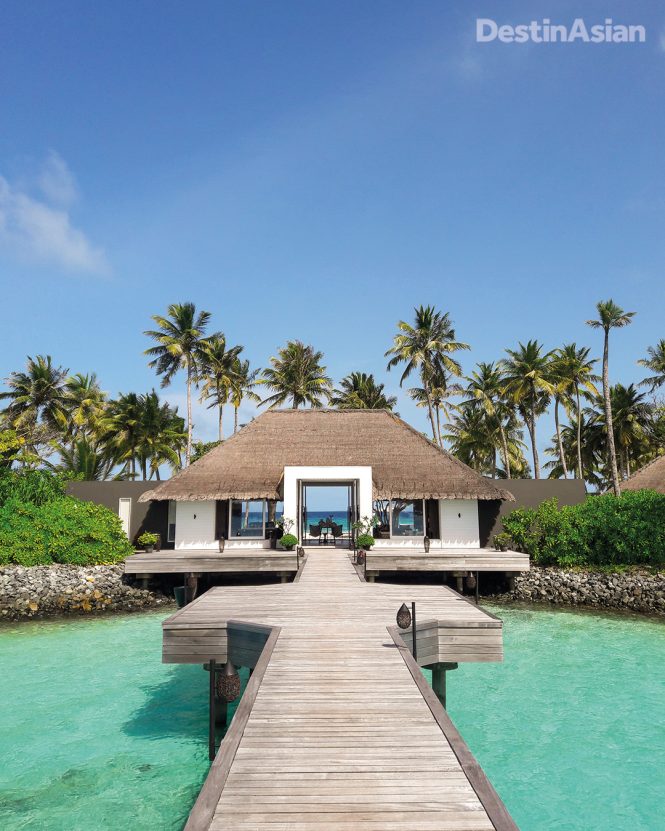 Which might explain why I don't see many guests about during my three days here. When they do emerge, it's usually for dinner at one of the resort's excellent restaurants. There's the aforementioned Le 1947—it's named for Château Cheval Blanc's most celebrated vintage—where the nine-course tasting menu might include foie gras terrine with apricot-almond gelée or ponzu-marinated hamachi crudo served in an abalone shell. In an alfresco area next to The Diptique, which turns out Japanese and Southeast Asian dishes, there's a new teppanyaki counter for super-tender Kagoshima beef and perfectly seared scallops and sea bass. And while I also indulge in a sumptuous beachside lobster dinner enlivened by a local jazz duo, my favorite meals unfold at The Deelani, a breezy Mediterranean restaurant set on the resort's main jetty. With the water lapping below the plank floors and the lagoon framed by the open walls at either end, it's an ideal spot—especially when Chizzola coaxes his visiting chef friend Walter Ferretto—of Piedmont's Michelin-starred Il Cascinalenuovo—into whipping us up a lunch of tapas-like finger foods (prawn-stuffed zucchini, focaccia with dill cream and salmon) and calamarata pasta with octopus.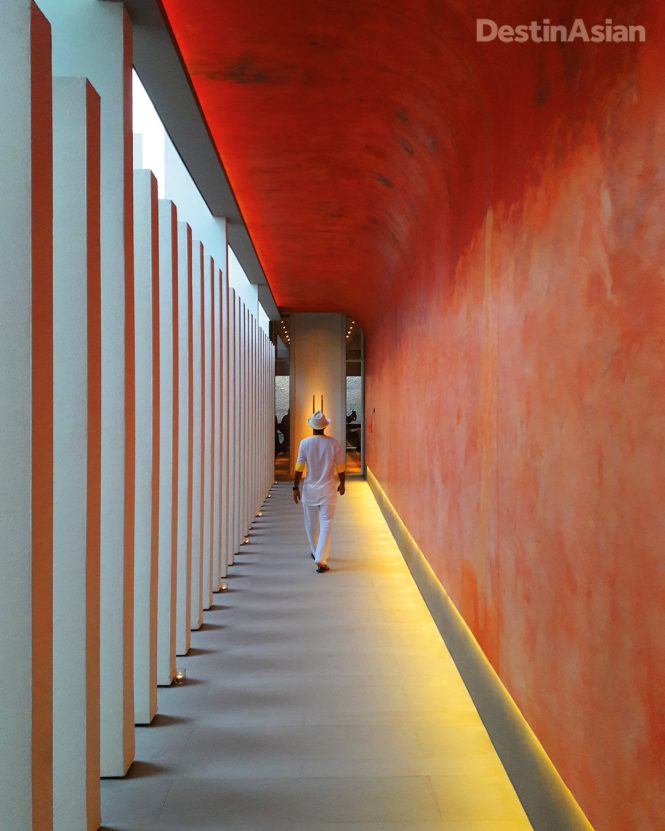 The deck outside The Deelani provides a glimpse of two of the resort's other assets: on the one hand, a small fleet of boats anchored in the shallows; on the other, an offshore spa. The latter occupies its own islet a short dhoni ride across the water. With Guerlain-designed treatments and massages, his and hers hammams, an overwater yoga pavilion, and a handsome poolside lunch spot serving delicious but detox-friendly bites and juices, it's almost a destination unto itself.
As for those boats, they're for whisking you even farther out. Apart from a 30-meter yacht, there's a sports-fishing boat for serious anglers; dive boats for snorkeling and scuba; and sleek tenders for dolphin watching, which turns out to be a real treat—on my cruise, we encounter a pod of 50 spinners that leap and plane in our bow wave almost within hand's reach. You can also take a speedboat out to neighboring Maakurandhoo Island, a coral outcrop thick with screwpine and sea hibiscus where Cheval Blanc has set up a jungle-shrouded fitness boot camp and two championship-standard tennis courts overseen by a Portuguese tennis pro.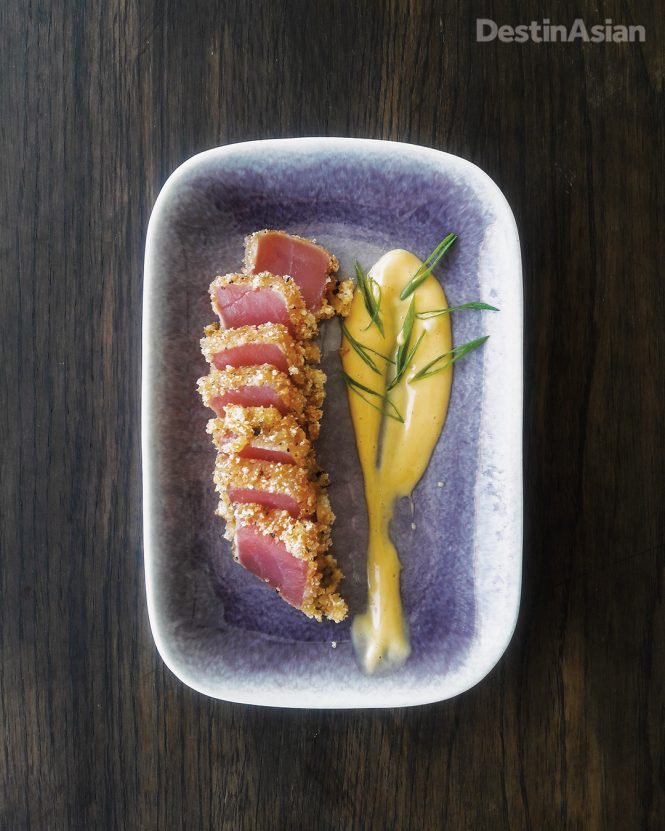 There are plenty of other sensation details for guests to admire: the Moët-branded tuk-tuk that dispenses champagne at the poolside bar, for instance, or the wine collection at Le 1947, or the rotating disc of lemon-yellow sand by Venezuelan artist Manuel Mérida installed in The White restaurant. But simpler pleasures abound as well. Like pedaling your vintage-style bicycle (each guest gets one) along the islands' powdery paths. Or arriving back at your villa after dinner to find your majordome has drawn "Good Night" in the sand.
And, when it's time to reboard the seaplane for the 40-minute flight back to Male, you can expect a send-off every bit as warm and heartfelt as the reception you received on arrival, with Chizzola and his entourage gathered once more on the jetty to wish you a bon voyage. Look out the window when the plane finally throttles up and lifts off—they'll probably still be waving.
Cheval Blanc Randheli, Noonu Atoll, Maldives; 960/ 656-1515; doubles from US$2,000.
This article originally appeared in the December 2018/January 2019 print issue of DestinAsian magazine ("Some Enchanted Islands").