With its wild, rugged interior and easy access to an archipelago of craggy isles, Cat Ba Island offers an adventurous alternative to the crowded waters of nearby Ha Long Bay.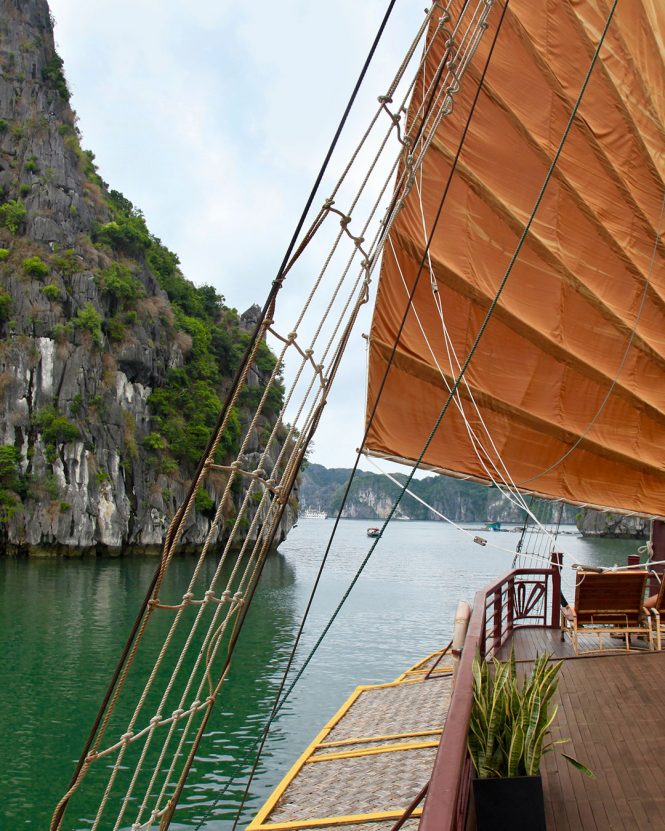 With hundreds of limestone islands and outcrops rising like giant chess pieces from its turquoise waters, Ha Long Bay in northeastern Vietnam is among the most photogenic seascapes on earth. The conventional way to see this utterly beguiling World Heritage site is on one of the multiday cruises that weave through its karst-studded archipelago. There are more than 500 registered vessels to choose from, ranging from backpacker-friendly rust buckets to small ships replete with butlers and day spas.
But there's a more immersive (and less expensive) way to experience the area at Cat Ba Island, a UNESCO Biosphere Reserve that sits in Lan Ha Bay, a relatively unknown body of water just to the west of Ha Long. Cat Ba is the largest of Lan Ha's 367 islands, a Jurassic rise of mountains and karsts ringed by mangroves, beaches, cliffs, and offshore reefs. The national park occupying much of the center and eastern half of the island is home to more than 3,000 species of flora and fauna, including the endemic golden-headed langur, one of the planet's most endangered primates. Add to that a vibrant waterfront town filled with cheap seafood restaurants, enough rock climbing and kayaking terrain to last a lifetime, and less-crowded cruising grounds than in Ha Long Bay, and you'll see why Cat Ba is northern Vietnam's best-kept secret.
Describe it as a secret to a local, though, and they might ask you what you're smoking. Some two million Vietnamese visit the island every year on self-drive or coach holidays that cross the 5.4-kilometer-long Tan Vu–Lach Huyen Bridge from Hai Phong to Cat Hai Island. From there, a fast vehicle ferry takes them to Cat Ba's south coast, where they stay in high-rise hotels or go cruising in Lan Ha Bay on weekends.
I took a more adventurous route on a motorbike from Hanoi to Tuan Chau, an offshore island linked by a causeway to Ha Long City on the mainland. It's the departure point for a slow ferry that passes some of the most dramatic karsts of Ha Long Bay before terminating at a desolate little port on Cat Ba's north coast. This marks the start of one of the most thrilling motorbike rides in Vietnam: an hour-long sprint along a smooth ribbon of asphalt that dips into massive valleys, tears through jungle, and curls around karsts. When it drops down to the south coast, I veer west onto an even more beautiful road that snakes along the shoreline.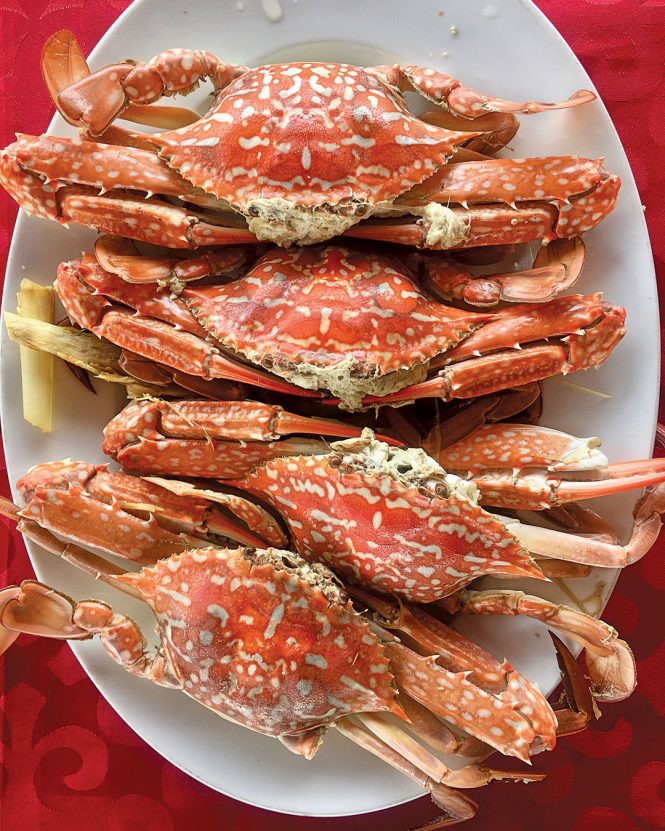 My destination is Cat Ba Eco-Lodge in the hills above Xuan Dam village. Its owner, Le Manh Kien, is an islander who spent nearly a decade working as a tourist guide on the mainland before returning home to run the family business; he also owns a local tour operator called Vietnam Insider Travel. His lodge is rustic but certainly comfortable enough, with a series of nifty new A-frame chalets adding a touch of modernity.
"Tourists from overseas love it here because it's really quiet, there's no traffic, and kids can spend hours walking around chasing butterflies and geckos and picking flowers," Kien says. "But when Vietnamese people come here, they often complain because we're in the middle of nowhere. They say there's nothing to do here because there's no shopping or bars."
I spend the next few days reading, bush walking, visiting villages, and floating in a pool surrounded by an amphitheater of limestone mountains. One day Kien takes me to Ben Beo Harbour, where we take a taxi boat to Cai Beo, a floating village of a few hundred families who live in shanties made of tin and wood suspended over the water on oil drums.
"There used to be more of these villages in Ha Long Bay until the government relocated the people to the mainland," Kien tells me. "They say it was to protect them from storms and so their kids could go to school. But it was also to beautify the area for tourism. Most haven't done well in the city because all they've ever known is water and fish."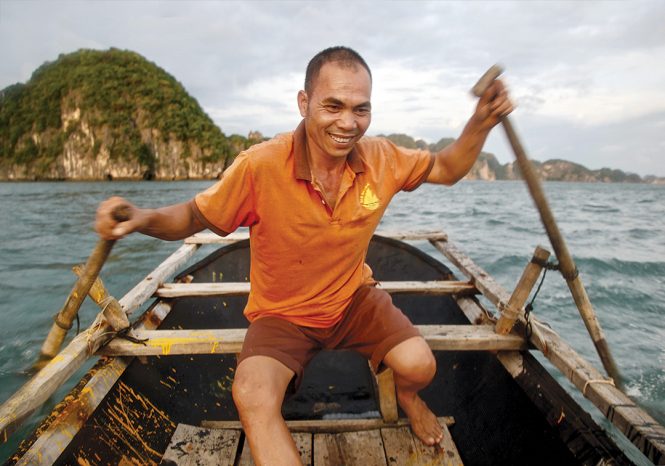 Yet the villagers of Cai Beo have benefited from tourism. Restaurants in Cat Ba pay good money for their farmed oysters and fish, while one family rents their home to Kien, who stores his fleet of kayaks there. Most of the time, he hires out the boats to tourists, but on Sundays they're available free of charge to anyone who helps pick rubbish out of the bay. Floating garbage is a problem here, though it's not as bad as in Ha Long Bay, where, according to the International Union for Conservation of Nature, overtourism, destructive fisheries, and port development are wreaking havoc on the ecosystem. 
Afterward, we visit Cat Ba Town. Most online reviews of this sleepy waterfront city are disparaging; a "once-lovely bay … now framed by a chain of low-rise concrete hotels" is how Lonely Planet describes it. The place is admittedly rough around the edges, but it also has more character and less traffic than any other town I've visited in northern Vietnam. Set on a hill overlooking a bluewater harbor with a wide waterfront boulevard lined with candy-colored buildings, it's the closest thing the country has to the French Riviera or Waikiki Beach.
When cruising kicked off in this part of Vietnam in the 1990s, it was all about wooden sailing junks inspired by local fishing boats. But after a series of sinkings, including a 2011 tragedy in which 11 tourists drowned along with their guide, authorities began to phase out junks and only allow operators to replace them with steel ships.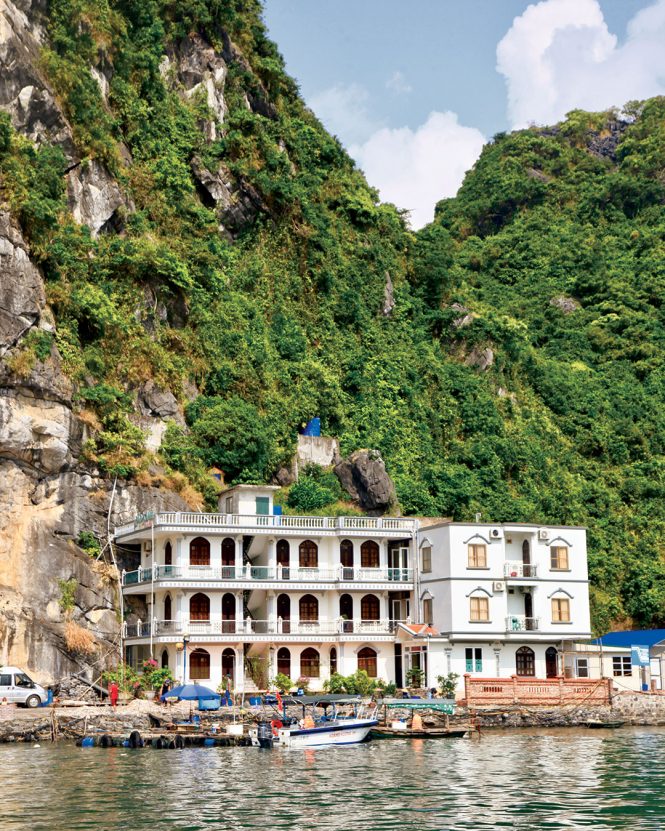 "Those junks capsized because they were too tall—two or three stories high. Their hulls couldn't bear the weight," says Nguen Van Cuong of Catba Sailing Junk, which operates four of the last few dozen junks in the bays. "But if you build them the proper way with only one story like this one, they're very strong. The refugees who fled Vietnam after the communist victory in 1975, they sailed to Hong Kong in boats like this." Here, he raps his knuckles against the hull of the Catba Impérial, a 24-meter junk with four en-suite cabins and a sunbed-strewn roof.
During a three-day cruise in Lan Ha Bay, we visit Monkey Island to climb a small mountain for the 360-degree views from its summit. We pass the mouth of Tung Gau, a colossal stone inlet where scenes from 2017's Kong: Skull Island were filmed. We swim at white-sand beaches, kayak around karsts, and visit friendly fishing villages. Twice a day, the chef prepares seafood feasts: fish soup, fish curry, crumbed prawns, squid salad, cockles, oysters, crabs, and more. And when the crew raise the sails—the canvas is dyed maroon to protect the junk from ill-fortune at sea—we reach speeds of up to seven knots. That's just one knot less than the boat's normal motoring speed.
"Lan Ha is even more beautiful than Ha Long because the islands and karsts are closer together," Cuong assures me. "And there are fewer big boats."
According to legend, Ha Long Bay was created when a family of dragons descended from heaven to protect the Viet people from an invading armada. They spat fire and emeralds at the enemy, and over time, the gemstones came to form the bay's islands and karsts. In creating a place of such great beauty, those celestial dragons unwittingly invited today's invasion of tourists. But here in Lan Ha Bay and on Cat Ba Island, their emeralds remain untarnished.
Getting There
It's a two-hour drive from Hanoi to Hai Phong's Ben Binh pier, where speedboats depart for Cat Ba Island's Cai Vieng harbor.
Where to Stay
84/988-466-347; doubles from US$45.
What to Do
Vietnam Insider Travel (84/985-758-866) offers daylong kayaking tours of Lan Ha Bay for US$28 per person. 
Catba Sailing Junk (84/904-135-145) offers one- to three-day cruises in traditional sailing junks starting from US$115 per person per day.
This article originally appeared in the February/March 2020 print issue of DestinAsian magazine ("Karst Away").