After years of delay and controversy, the opening of this landmark institution may have proven a watershed moment for the regional art scene. But does its cultural vision live up to the promise?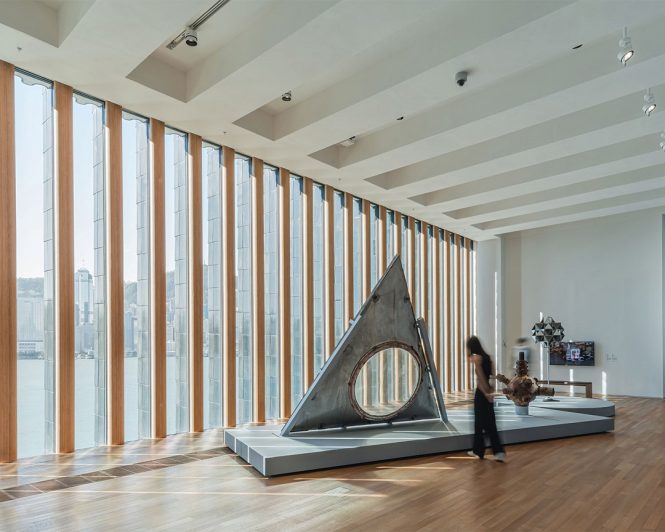 The celebrated Polish sculptor Magdalena Abakanowicz once described art as "born out of struggle."
Hong Kong's M+, which finally opened in November after a wait of well over a decade, shows the same can apply to art museums. The vast temple to "visual culture" and centerpiece of the chronically troubled West Kowloon Cultural District was born of a backstory with enough twists and turns to fuel a Korean drama: construction mishaps, budget overruns, a revolving door of high-profile executives, allegations of mismanagement and conflicts of interest.
Yet none of these issues have proven as contentious, or potentially threatening to M+'s lofty ambitions—it's regularly mentioned in the same breath as New York's Museum of Modern Art (MoMA) and the Centre Pompidou in Paris—as a couple of events its planners could not have predicted. One is the National Security Law imposed by China in response to anti-government protests that rocked Hong Kong in 2019. While nominally focused on quelling violence, the law is also increasingly viewed as a means to stifle artistic expression, and the museum's collection has already come under the microscope. The other event was of course the pandemic, and more specifically, Hong Kong's somewhat heavy-handed response to it. As long as most international visitors face the prospect of 21 days of quarantine before they can set foot anywhere near M+, any dreams of being a global nexus for the artistic community will have to wait.
So it's easy enough to be apprehensive about the museum's prospects, even to lapse into cynicism. Despite director Suhanya Raffel's repeated insistence that M+ retains curatorial independence and that no changes to its opening exhibitions were contemplated, preview events included a stern reminder from West Kowloon Cultural District chairman Henry Tang that cultural expression was not above the law. Yet when I visited the museum on the morning of its opening, a huge and diverse crowd had assembled before its doors, and there was a breathless excitement in the air that I hadn't sensed in this beleaguered city for a long, long time. A lot of that, it turns out, may be justified.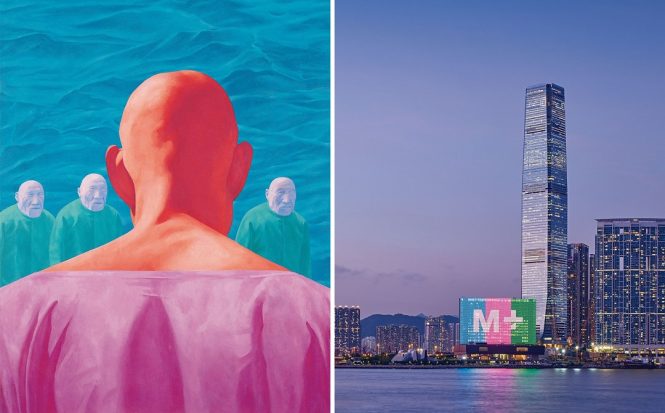 For one thing, M+ could succeed on force of gravity alone. The sprawling-yet-sleek Herzog & de Meuron–designed museum compound, consisting of a squat podium that appears to hover over the ground topped by a slender, LED-equipped latticework tower that serves as a gargantuan digital canvas, has instantly become one of the most commanding presences on an already high-profile harbor front. In a space-starved metropolis, its dimensions are staggering: 65,000 square meters in total, with no fewer than 33 galleries, three cinemas, a research center, restaurants and lounges, courtyards, and rooftop gardens.
Approaching the bank of escalators that link the main exhibition areas, one feels every inch of this; the space is enormous and, with its crisp lines and austere concrete, somewhat imposing, akin to a mausoleum. But then a corner is turned that brings you face to face with an expansive view of Victoria Harbour, a video installation, or a warmly lit gift shop.
It all begs exploration. The only question is, where to go first? Because each of the main galleries is large and rich enough in treasures to occupy a day on its own. A mere 1,500 of the over 6,000 pieces in the museum's permanent collection are on display at any one time, to say nothing of the visiting exhibits that happen to be on offer. And whatever political minefields they have had to navigate, the M+ curators must be applauded for assembling what has to be one of the most eclectic and representative collections of Asia-focused art and design in the region, if not the world.
The "design" qualifier is important and integral to M+'s mission of not simply being a museum in the traditional sense (hence the "plus" in its name), but also a portal to all things visual—even what could in some circles be considered banal. It elevates not just painting and sculpture, but gadgets, furniture, and advertising campaigns that worm into our consciousness in childhood.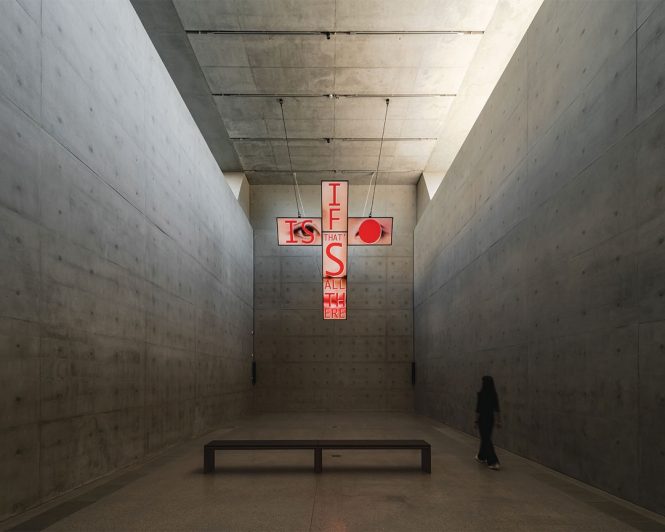 The approach is distinctive enough to galvanize even relative veterans of the art scene like Henry Au-yeung. While concerned about the pressures facing Hong Kong artists in a difficult period, the founder and director of the locally focused Grotto Fine Art gallery still sees M+ as both a welcome sign of progress and a significant opportunity. "Very few places on earth would dedicate a piece of prime real estate like this to art," he tells me. "And it's really exciting because it's a museum of visual culture, not art alone. The intention is not just preservation; there's a focus on things that don't conform to expectations, and dialogue with contemporary citizens—the museum not as a vault, but as an open stage. There's a genuine interest in the people behind the artwork, and in making the artists visible."
Thus one of the galleries during the museum's debut is given over to "Things, Spaces, Interactions," a nostalgic yet consistently surprising assemblage of 500-plus examples of furniture, architecture, advertising, and other objects that have defined design over the last few decades. It's a cosmopolitan collection, but the emphasis is on the everyday innovations that went on to play an integral role in the construction of Asia's postwar identity: one of Toshiba's early rice cookers; United States Information Service propaganda offering rural Thais the stark choice of "Freedom, or Communism"; a breezy, neon-splashed cover for an album by Hong Kong pop idol Anita Mui. Divorced from their standard context, these works assume a new potency, and one can begin to appreciate how boundary-pushing they once were.
Any lingering concerns that M+ is fixated on the mundane are banished with my whirlwind tour through the formidable collection bequeathed to the museum by Uli Sigg, a former Swiss diplomat who's been an active patron of China's contemporary art scene since the early 1990s. M+ rightly boasts that his donation represents one of the most comprehensive repositories of modern Chinese art globally, spanning a number of distinct movements and nearly every possible medium. It's an almost overwhelming amount to digest on any one visit, but what it instantly makes clear is that years of Communist Party rule have failed to purge Chinese art of its vibrancy, and that M+ isn't inclined to shy away from potentially controversial material.
Much noise was made about the museum's decision not to show a provocative photo by exiled enfant terrible Ai Weiwei that depicts the artist flipping the bird to Tiananmen Square. But some of his other work is proudly on display, including Whitewash, an installation of over 100 ancient earthenware jars that Ai has painted over to various degrees in an apparent jab at tradition. Other highlights include an untitled work by Yan Lei depicting the arrest of artist Tang Song at the 1989 "China/Avant-Garde" exhibition in Beijing; and Wang Xingwei's New Beijing, a painting modeled on a well-known photograph of injured protestors being sped away from Tiananmen Square the same year. It would clearly be problematic to show these creations anywhere on the Mainland, let alone in an institution of such prominence, and in that the museum seems to be attempting to deliver a message.
An even stronger message, at least to my mind, is M+'s unabashed affection for its home city—a characteristic that can by no means be taken for granted in a place so explicitly designed to compete on a global scale. The expression of solidarity culminates in an exhibition titled "Hong Kong: Here and Beyond," which occupies pride of place in the Main Gallery and is an unbridled celebration of the development of the city's unique aesthetic and visual identity from the 1960s onward. The exhibit spans everything from the alternately graceful and tortured brushwork of esteemed ink painter Liu Shou-kwan, to a full floating home designed by renowned provocateur Kacey Wong, who bobbed around Victoria Harbour in the work as part of a performance before fleeing into self-imposed exile in Taiwan.
But perhaps the best, or at least most symbolic, piece is the one that greets visitors at the gallery entrance: a pair of doors etched with the distinctive calligraphy of Tsang Tsou-choi, a.k.a. the "King of Kowloon," who doggedly scrawled lengthy screeds proclaiming ownership over most of the Kowloon Peninsula over prominent public surfaces throughout Hong Kong for years before his death in 2007. Once viewed as a semi-criminal nuisance, his image has since undergone something of a makeover in the eyes of the government, which now claims to be working to preserve what little of his work remains. I can't help but wonder whether Hong Kong's current crop of renegades will undergo a similar rehabilitation a few decades down the line.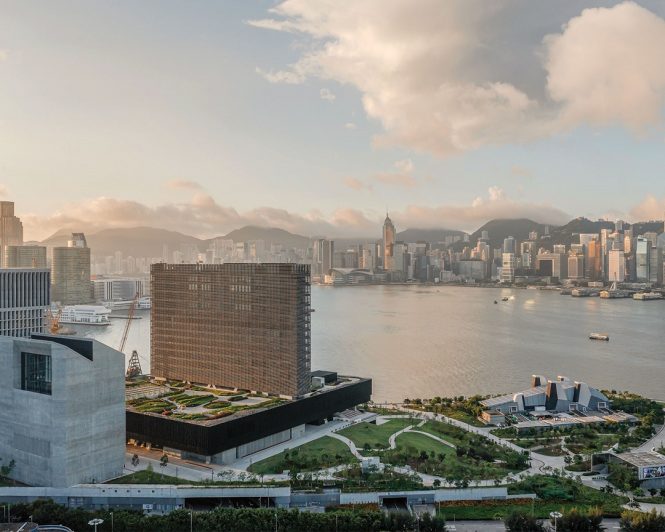 As I make my way through a courtyard on the quest for an exit, the museum has one final surprise in store. In a separate building, there's a graveyard of sorts for the elaborate neon signs that once graced many of Hong Kong's businesses, now very much an endangered species. It is here that the garish blue cow that once dangled precariously over patrons entering Sammy's Kitchen, a defiantly old-school diner on Queen's Road West, has come to rest, and I'm hit by a wave of something approaching shame when I realize that I'm not even sure I noticed the sign was gone. It's a small but potent reminder of the losses constantly inflicted on a place that has endured more change than most, for the most part stoically and successfully.
In the new Hong Kong, M+ may not be the museum some of its original champions envisioned. But if it prods people to remember what an exceptional, even miraculous, place the city can be, that will stand as one significant mission accomplished. THERE IS MORE THAN ONE STORY OF HONG KONG, a sign on a wall insisted on my visit. M+ seems purpose-built to remind us of that truth—and that sometimes, those stories are even worth taking pride in.
This article originally appeared in the December 2021/February 2022 print issue of DestinAsian magazine ("On the Plus Side").