A decade on from its emergence as a millennial magnet, this semi-industrial neighborhood remains one of the South Korean capital's most enduring hot spots.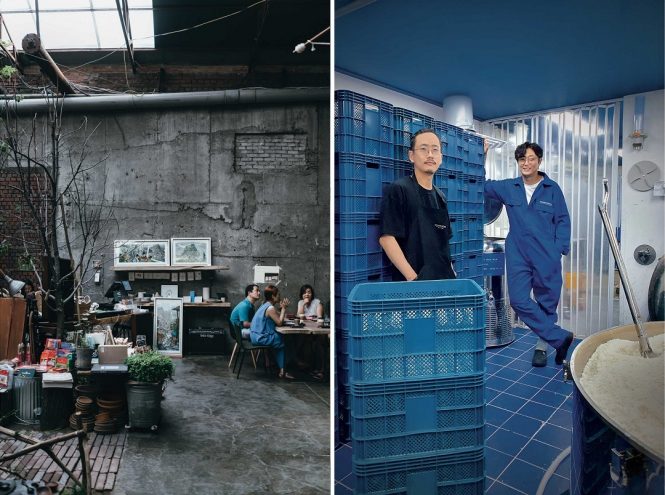 For a business that is revolutionizing the way Koreans regard traditional alcohol, Hangang Brewery has a decidedly low profile. The rust-brown building it inhabits sits on a drab lane leading to the northern bank of Seoul's Han River, and with no signs outside, it takes some time to convince myself I'm in the right place.
Pressing on, I head up a dim stairwell, clambering over several boxes before nearly stumbling into a startled young man who immediately drops the crates he's carrying and ushers me into the office of CEO and co-founder Sung Yong Koh. I say office, but it feels more like a den. And Koh, with his long hair and impeccably trimmed goatee, certainly doesn't fit the typical Korean tycoon profile.
Nonetheless, from these unassuming premises Hangang is producing some of the capital's finest makgeolli, a cloudy rice wine that languished for decades at the bottom of the Korean liquor hierarchy, favored only by farmers and day laborers. With a combination of premium ingredients, painstaking production, and bold design sensibilities, Koh and his colleagues have in just three years gone from square one to producing up to 40,000 bottles a month, collaborating with some of the country's most admired brands and convincing thousands of young people of the merits of a sorely underappreciated beverage.
Over an impromptu tasting session that takes in the full Hangang range — from its delicate, subtly sweet trademark Naroo to a rich, tangibly boozier makgeolli that ramps the alcohol content up to 11.5 percent — Koh credits the brewery's location, in the once gritty neighborhood of Seongsu-dong, with playing a prominent role in its success.
"The Han is the most important river in Korea. It's the center of our history and the medium that connects our past, present, and future," he explains. "And Seongsu-dong is the place that best represents our vision. It used to be an industrial zone and there are still many factories here. But that now coexists with stylish people and spaces. The harmonious exchange between the old and the new — that's the neighborhood, and that's why we're here."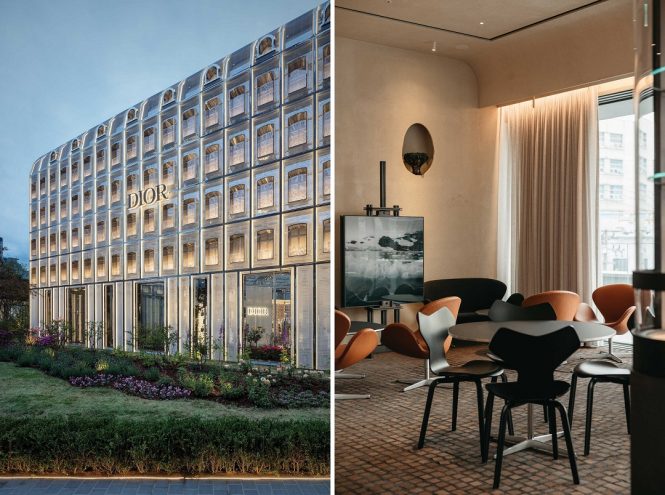 Koh is far from alone in these sentiments. A former manufacturing district on the eastern fringes of the capital, Seongsu-dong has emerged in recent years as one of the city's most coveted locations, christened by some as the "Brooklyn of Seoul." That may be a stretch, but the area's ascendance has been remarkable given its heavily industrial past.
It's also exceptional in a couple of other respects. First is its relative longevity. While the average Seoul hot spot has the lifespan of a sickly housefly, Seongsu-dong has been buzzing for the better part of a decade, with ambitious new venues opening every fortnight. According to Fiona Bae, a longtime frequenter of the neighborhood and author of Make Break Remix: The Rise of K-Style, this is in part due to the district government's efforts to control rents for small businesses. "These have been a big inducement for young artists and shop owners to stay in the area," she says.
Second, while initially driven by space-starved young designers and creatives, many from nearby Konkuk University, Seongsu-dong's reinvention has also been led by big business. SM Entertainment, one of the main engines of Korea's pop music scene, has its headquarters here, in the slender towers of the Acro Seoul Forest complex. Not far away, Dior recently unveiled its latest concept store inside a latticework structure that resembles a space-age greenhouse, while a former auto shop is now home to Amore Seongsu, a concrete-walled "beauty lounge" conceived by local cosmetics giant Amorepacific. Seongsu-dong also sees a steady stream of pop-ups by global brands like Absolut Vodka, whose recent Absolut Home offered a grab bag of neon-streaked exhibition spaces where visitors could chat, game, and take cocktail-making classes. And Shinhan, one of the country's largest financial groups, has thrown its weight behind Under Stand Avenue, an outdoor mall where young entrepreneurs sell an eclectic mix of wares from repurposed shipping containers. Overall, it seems like Seongsu-dong has emerged not only as a nexus for underground and as-yet-undiscovered talent, but also as a place where established companies feel free to engage in bolder experiments.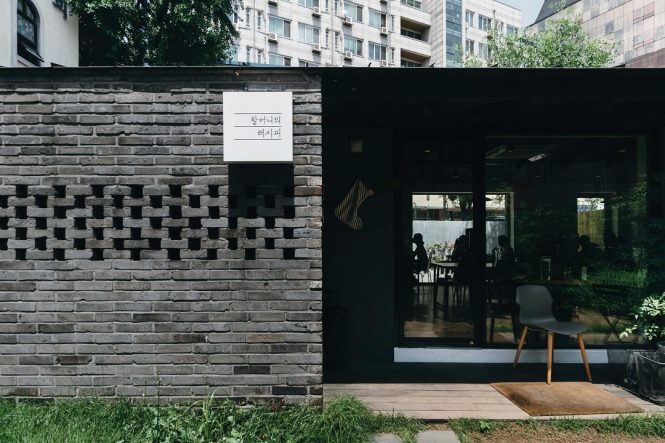 It's this blend that gives the area its patchwork character. And "patchwork" must be emphasized, because Seongsu-dong is tangled, sprawling, and, truth be told, in many places not especially visually appealing. The stretches between venues often have to be navigated on narrow, winding streets with no sidewalks and regular reminders of the area's industrial pedigree — auto shops, recycling operations, overburdened trucks with a habit of blaring their horns at the sudden influx of pedestrians.
But the clamor is regularly interspersed with skillful street art and arresting structures like LCDC Seoul. A former industrial space of concrete and courtyards, the multilayered complex is topped by Bar Postscript, a high-end nightspot whose sleek design exhibits near-Nordic levels of restraint. But it also houses a flagship outlet of travel-centric fashion and lifestyle label Le Conte des Contes, and a constantly refreshed roster of specialist vendors, including custom stationery maker Yoanna and Hanahzho, a trader in stylishly packaged, stress-reducing scents. Throw in the many other independent boutiques and designers occupying their own spaces in the vicinity — self-professed fashion outlaws and vintage aficionados Successful Pyrates, for instance, or Nouvmarée, which emphasizes a more natural and unaffected aesthetic — and any stroll is bound to unearth a few one-of-a-kind finds.
This also extends to the culinary realm. Seongsudong's mix and general vitality has made it one of the best places in Seoul to take in the full spectrum of local cuisine. The more refined end is perhaps best represented by Grandma's Recipe, an airy, intimate eatery tucked into a back alley with a relatively sparse menu of comfort-food standards — spicy stir-fried pork, rich dumpling and beef rib stews — that the grade of produce and attention to presentation elevates to high art. Nearby Midolim, meanwhile, pairs international ingredients with locally sourced and seasoned seafood, and an extensive wine list. Those in search of the Seongsu-dong of old make a beeline for Galbi Alley, a street crammed with raucous alfresco barbecue restaurants with prices that reflect the area's blue-collar roots.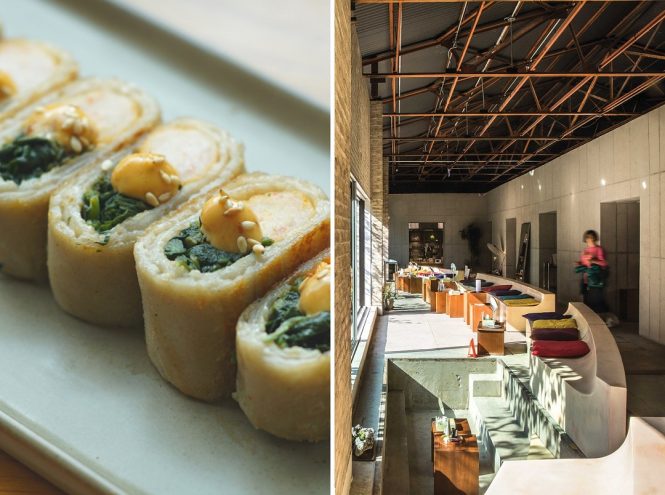 Cafés are Seongsu-dong's other distinguishing feature, with multiple venues that have seized on the potential of the area's aging industrial properties to create spaces unrivalled in Seoul in terms of their size and scope. Chief among these is Daelim Changgo (78 Seongsui-ro), a converted changgo (warehouse) opened in 2016 by artist and woodworker Hong Dong Hee. Accessed by a foreboding pair of heavy timber doors, the place is cavernous, large enough to accommodate a sprawling oak coffee bar, a massive, nest-like sculptural installation, side galleries exhibiting work by local artists, and even an indoor garden. Yet it's no empty shell. Touches of Hong's skillful woodwork and the hum of nearby tables keep it warm and vibrant, along with a steady traffic in meticulously prepared beverages and pastries.
While Seongsu-dong is certainly not immune to the debates that have gripped other rapidly changing parts of the city, fixtures like Daelim Changgo point to a synthesis, even harmony, that's taken hold and looks unlikely to be derailed anytime soon. Bordered by the Konkuk University campus to the east and by nature in the form of the Han River and the greenery of Seoul Forest park to the west, the neighborhood is virtually guaranteed a constant flow of visitors. It's also arguably unique in Seoul in terms of its future potential.
"While other trendy areas such as Garosu-gil couldn't grow much further due to limited land area, Seongsu-dong is massive," Bae says. "Thanks to that and its pool of talented young designers, it seems to be beating off gentrification and continuing to grow, while adding more layers." That points to ample reason to believe Seongsu-dong's uncanny longevity will last, and that it will remain perhaps the best place to watch many of the forces that define modern-day Seoul — factory-choked past and hyper-digital future; boundary-pushing creativity and mainstream commerce; youthful rebellion and appreciation for tradition — collide.
This article originally appeared in the December 2022/February 2023 print issue of DestinAsian magazine ("Seoul Survivor").