Laid-back and beautiful, this stretch of Thailand's Andaman Sea coastline is ready for rediscovery. Ron Gluckman pays a belated visit, and becomes an instant convert.
Photographs by Christopher Wise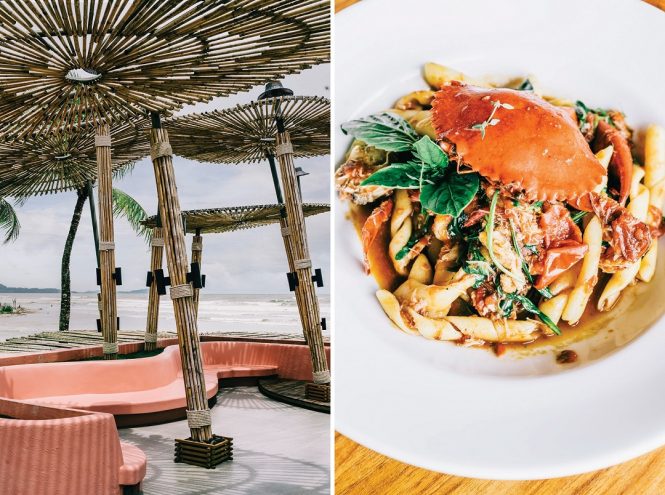 We are gliding down a shallow stream on bamboo rafts, the forest on either side thick with leaning stalks of bamboo and primordial-looking ferns. Mild rapids occasionally result in wet bottoms. Otherwise, the main thrill is when our oarsman points out the local wildlife, like the mangrove cat snakes that slither along the loamy banks. Above us, monkeys chitter in the branches of giant banyan trees, and colorful birds dart in and out of the overarching foliage.
The organizers of this two-hour rafting excursion call this area Little Amazon, but it actually lies on the edge of Khao Lak–Lam Ru National Park, a sprawling tropical wilderness in southern Thailand's Phang Nga province. It's another highlight of a week spent in and around the beaches of Khao Lak, a destination that I've only recently come to appreciate.
What makes Khao Lak such a great discovery for me is that it's been hiding in clear sight all along. Like many other Bangkok residents I know, I'd passed through the area a few times over the years en route to the Similan Islands or Phuket, about an hour's drive south. But I never stopped. Early this year, on the advice of a journalist friend who'd relocated to Khao Lak during the pandemic, I finally decided to have a look around on a holiday with my wife — and immediately began to wonder why it had taken me so long to do so.
With some 25 kilometers of mostly deserted sand fronting the Andaman Sea, Khao Lak is utterly beguiling, a subdued alternative to the busy shores of Phuket (where the nearest airport is) yet with a chill vibe and natural sense of hospitality all its own. There are only a few beach bars, and nightlife is mostly limited to fireflies. But there is an abundance of nature, with coastal trails to hike and beaches to explore. The sunsets over the Andaman Sea are dazzling.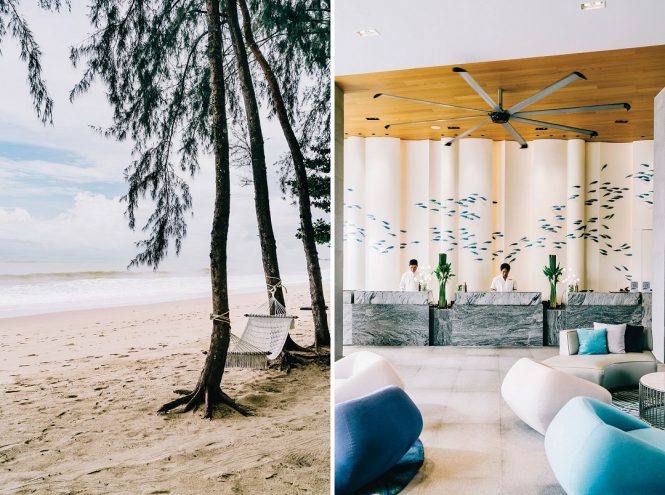 And the food scene is terrific. We feast at beachside hideaways and at a trio of modest, Michelin-listed restaurants on the section of Highway 4 that is Khao Lak's main drag: Roe Dang, Krua Luang Ten, and Nai Mueang. The latter is full during my visit; one taste of the signature crab curry and pork-leg soup and I know why. Owner Kunorana Ruangapibal, a former tour guide who opened the place in 2018, confirms that business is good, even if tourism has yet to return to its pre-pandemic levels. He credits this to a Covid-era uptick in domestic visitors, who have rediscovered Khao Lak's old-style Thai charm.
"Khao Lak always served a European market, especially Scandinavians seeking a special tranquility," says Brice Borin, general manager at Pullman Khao Lak Resort, one of the newer properties in the area. "But now, it's the Thais who are coming here to explore nature and really connect with Thainess. It's like Phuket long ago, before the crowds and traffic."
A similar assessment comes from Leandro Cavaco Silva, who worked in Phuket for several years before moving up the coast in March to oversee the opening of the Avani+ Khao Lak Resort. "A few years ago, before Covid, everyone was talking about how Khao Lak was going to be the new Phuket," he says. "Nobody says that now. Instead, they talk about how unique it is."
The Avani+ is among the latest wave of resorts to open along these shores, and I happily make it my base for a few days. Spread across more than nine hectares, it's a lush property (Silva tells me that not a single tree was cut down during construction) with a gorgeous beachfront and plenty of on-site distractions, including a Thai boxing ring, four swimming pools, and clutch of restaurants that deliver everything from seabass hor mok pla (curried fish custard) to wood-fired pizzas. Over a beachside feast of barbecued seafood, Silva tells me, "This really is a great place to chill and feel like you are in Thailand from long ago."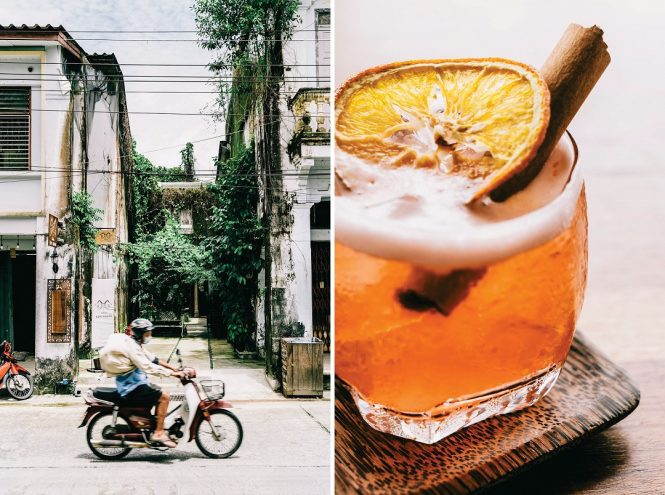 Nowhere can you savor a sense of the past better than in the old riverside town of Takua Pa, a 30-minute drive away. Once an important trading hub, it dates back to the 13th century, when boats came from as far as India and China in search of local woods, spices, and ivory. Tin mining brought another boom in the 1800s. As in the old quarters of Phuket Town, prosperous Hokkien merchants built Sino-Portuguese mansions that still dot the roadsides.
Takua Pa slipped into a slumber after the mines in southern Thailand were shut down in the 1980s. Today, however, it's witnessing something of a revival as renovated shophouses are reopening as hotels and art galleries, cafés and teahouses. One standout is Kopi Kuapa, set in a smartly converted century-old building that opens onto a vine-covered courtyard. When proprietor Krisada Tansakul, who also owns a hotel in Phuket, acquired the property, it was shuttered and in ruin. Yet he saw enormous potential in this sleepy town. "I wanted to help wake up the city," he says. With its distressed walls offset by copies of vintage floor tiles, Kopi Kuapa serves Thai coffee and local specialties like khao tom (sticky rice and pork in banana leaves) to an appreciative crowd of day-trippers.
Our walk around town is brief but interesting, taking in a flamboyant southern Chinese– style temple, an old Buddhist monastery, and an array of eye-pleasing street art, most notably a wall-size mural dedicated to the life and times of Thailand's beloved late King Bhumibol Adulyadej. There's a charming quirkiness to Takua Pa that perhaps explains the popularity of the Boonsoong Iron Bridge, a metal span built by a mining company in the 1960s to provide workers with a shortcut over flooded fields. Located several kilometers north of town, it's hardly worth the detour. But for sweeping views over the neighboring countryside, the hilltop café across the road is hard to beat.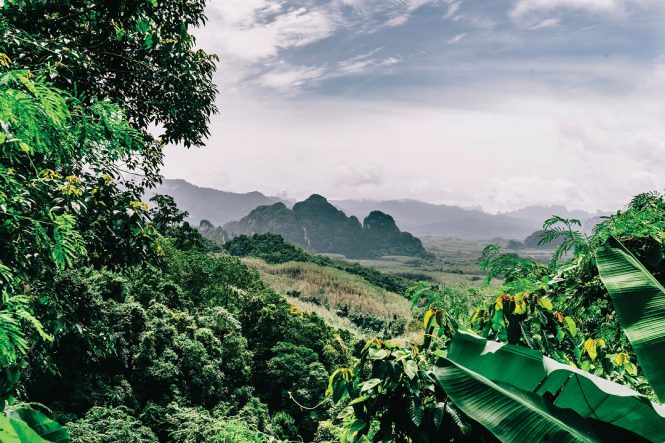 While Khao Lak makes for a great beach destination, it also offers a handy gateway to Khao Sok National Park, just across the provincial border in Surat Thani. Though it only became a park in 1980, Khao Sok encompasses one of the oldest rain forests in Southeast Asia as well as a remarkable diversity of flora and fauna, including tapirs, leopards, and an estimated 200 wild elephants. It's also among the only places in Thailand where you can see a rafflesia, the world's largest flower.
The park is centered on 165-square-kilometer Cheow Lan Lake, where we embark on a longtail boat tour. Everywhere we look, craggy limestone formations jut from the water or bristle with tufts of jungle along the shoreline, just as they do in Phang Nga Bay to the west. Our boat zips between rock towers and into hidden bays, where we stop a couple of times to explore stalagmite-filled caves.
The karst-studded views remind me of Vietnam's Halong Bay, and Khao Sok Village (aka Khlong Sok), just outside the park gates, brings to mind Yangshuo, in the mountains of Guilin, back when it was a backpacker haven in the 1990s. Restaurants serve tourist favorites like pad thai and smoothies against a backdrop of otherworldly peaks. Town lodging is basic, but resorts dot the countryside, offering more amenities, access to hiking trails, and cliff-side vistas. At the aptly if unimaginatively named Khao Sok Good View Resort, elevated walkways lead to 10 bungalows equipped with all the mod cons, including TVs. No need. We check in for two days and spend most of that time in deck chairs bewitched by views of our own jungle-clad rocks.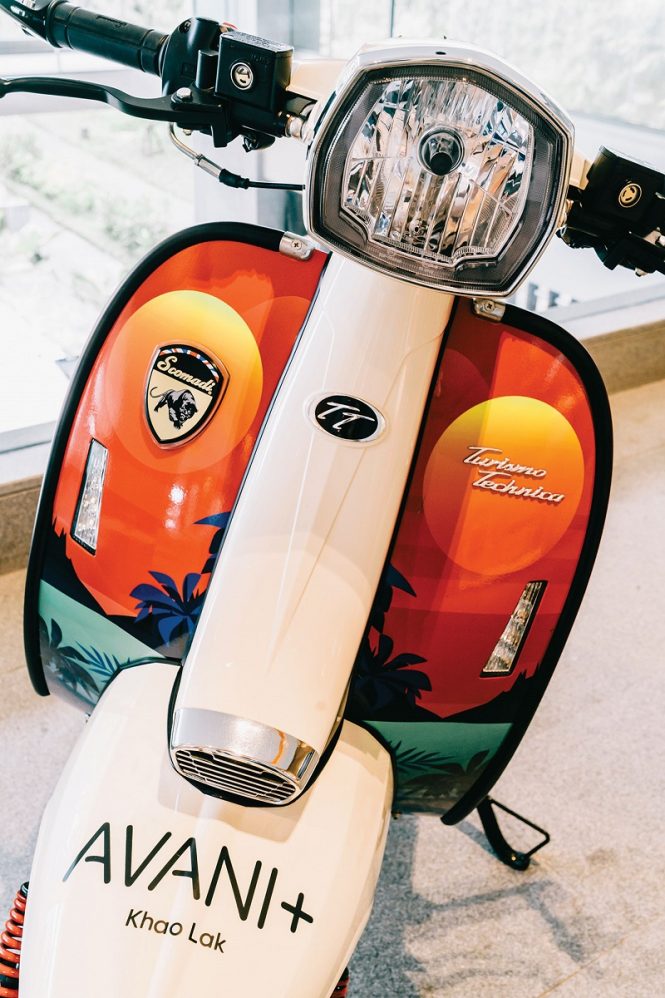 Back in Khao Lak, soaking up another blazing sunset, I find myself reflecting on the area's lack of recognition. It's not only the shadow cast by Phuket, which pulled in 10 million tourists annually pre-pandemic, but a lack of a defining identity that extends beyond the area's tragic past.
Khao Lak made global headlines just after the Christmas of 2004, for all the worst reasons. Triggered by a massive earthquake off the coast of northern Sumatra, the world's deadliest tsunami ripped across the Indian Ocean on December 26, devastating coastlines in 14 countries. Khao Lak was among the worst hit. Resorts and villages were obliterated, with death tolls ranging from 4,000 to 10,000.
Nearly two decades later, many visitors still make the rounds of local tsunami memorials. One features the police patrol boat that was famously swept two kilometers inland; it's now surrounded by clipped lawns and walking paths on the grounds of the International Tsunami Museum, a modest gallery with exhibitions about the aftermath of the disaster. More detailed displays await at the newer Ban Nam Khem Tsunami Memorial Park, where, opposite a wave-like stretch of curving concrete, a wall is covered in the name plaques of over 1,400 victims, some with fresh flowers attached. Inside the small on-site museum, remembrances of destruction are accompanied by stories of survival, including how the Moken, a group of indigenous sea nomads, led many people to higher ground using knowledge passed down over generations.
Yet locals largely avoid the memorials, as well as Khao Lak's beaches. "I never go in the sea," says my guide for the day, Maneewong "Pum" Dechkla, with a shake of her head. "It's like swimming in death."
A similar gloom lingered for years at the site of the Avani+, which was originally occupied by a resort called the Royal Coco Palms. William Heinecke, the founder of the Bangkok-based Minor Hotels group, entered into a joint venture with the latter 18 years ago, rebranding it as one of his first Anantara properties. Three months later, it was razed by the tsunami.
Heinecke, an American who has lived in Thailand since he was a teenager, was on the first plane to Phuket, right after the Thai prime minister. Reaching Khao Lak took six hours on roads reduced to muddy soup. His resort had vanished, along with many guests and staff.
"It was like war," he recalls of the fight to save lives, identify bodies, and notify next of kin. "For years, whenever I tried to talk about the tsunami, I teared up."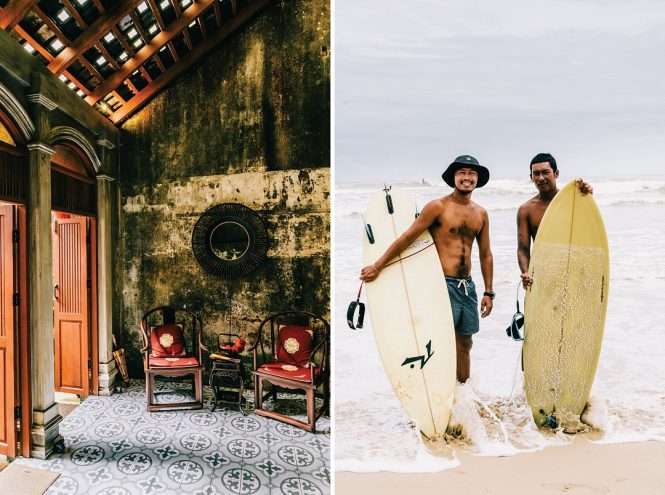 More recently, Covid-19 ushered in yet another catastrophe for the area, as tourism to Thailand plummeted in the wake of international travel restrictions. But Khao Lak's "rediscovery" by domestic tourists helped offset the losses even as its surf scene became a national social-media sensation.
"Surfing took off big time with Thais during Covid," says Martin Jandke, managing director of The Board Factory, which manufactures surfboards at a complex off Highway 4. Before the pandemic, the company exported almost all of its product. Now, it sells as many as 500 boards a year locally. "It went from nowhere to like this major boom," Jandke says of the domestic market. "Thais have definitely caught the surfing bug."
Evidence of this craze, as Jandke calls it, can be seen at places like Salt Surf Beachfront Café, where lifelong American surfer Matt Blauer offers gear and training. Wave riders also flock to nearby Memories Beach Bar and new neighbor Karkinos, a sand-floored beach club where coastal Italian dishes are served under a mushroom-like array of towering bamboo sun shades.
The surf buzz is also evident in new hotel designs, and especially along the beach road by Garang, a hipster-ish ice cream parlor that dishes up flavors like Red Bull, Tom Yum Kung, and Hemp. A skateboard park across the road overlooks Bangsak Beach, where signs promote Khao Lak as Thailand's Surf City.
Such prospects cheer longtime fans like Heinecke, who first drove through the area in the mid-1960s. He tells me he couldn't even contemplate rebuilding his site for a decade and a half. Now, he relishes the reboot. "This is so laid-back, like Thailand in the old days," he says. For a somewhat hidden gem like Khao Lak, it's finally surf's up again.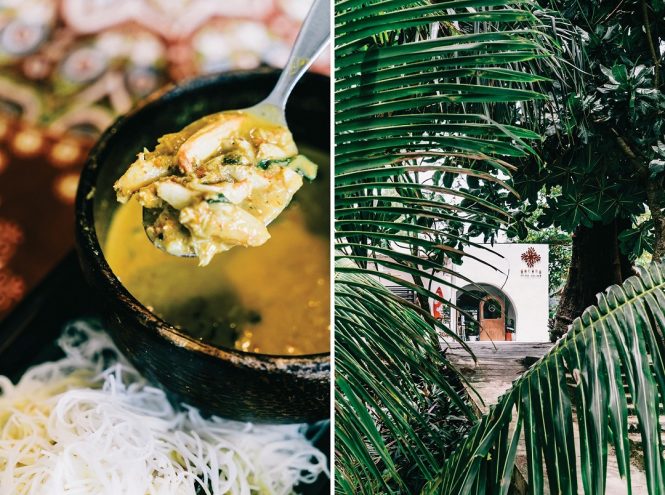 The Deets
Where to Stay
With close to 10,000 hotel rooms, Khao Lak has no lack of accommodation options. Among the newest arrivals are Avani+ Khao Lak Resort (doubles from US$190) in the Bangsak area and, farther north, Pullman Khao Lak Resort (doubles from US$90), where niceties include pool-access suites and a hammam-equipped spa. In Khao Sok National Park, the bungalows at Khao Sok Good View Resort (doubles from US$50) stand out for their views over the surrounding landscape.
Where to Eat
Nai Mueang
33/4 Mu 6, Soi Loma, Khuk Khak.
Garang Artisan Ice Cream
garangicecream.com
Karkinos
karkinoskhaolak.com
Kopi Kuapa
115 Thanon Sri Takuapa, Takua Pa.
What to Do
Bamboo rafting trips can be arranged with Komol's Corner. In Khao Sok, a range of tours is available through Our Jungle House.
This article originally appeared in the September/November 2022 print issue of DestinAsian magazine ("Khao Lak Calling").