In Manila, a coterie of designers are tapping into their country's indigenous textile traditions in a bid to reshape contemporary Philippine fashion.
Photographs by Jacob Maentz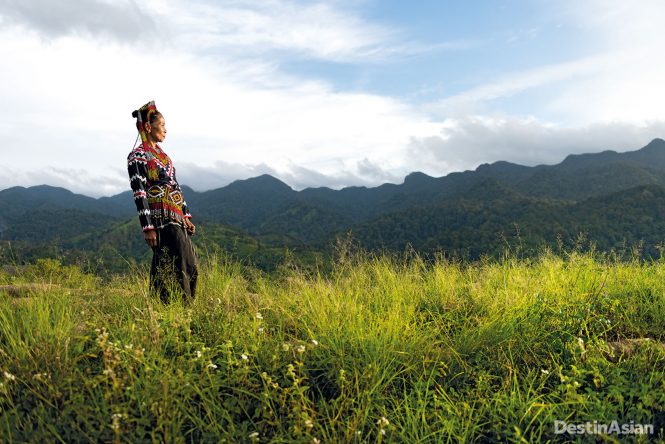 Glorietta, a mall in Manila's chic Makati district, is bustling with Saturday shoppers. But on this October weekend, there's an unfamiliar buzz inside one of the central courtyards. Here, visitors are excitedly picking through stalls for products they won't easily find elsewhere: vivid hand-woven textiles and dress collections, ikat-embellished handbags and ethnic-inspired shawls, soft Philippine cotton cushions and bedspreads. This is the Likhang HABI Market Fair, which promotes locally made products and materials from across the Philippines. 
HABI is part of a burgeoning fashion movement that aims to revive the textile traditions of the Philippines' numerous indigenous communities. Drawing inspiration from these tribal groups and collaborating with their artisans, a cohort of Filipino designers are using the age-old crafts of handloom weaving, embroidery, and needlework to make 21st-century collections of sustainable, highly collectible clothing and homewares.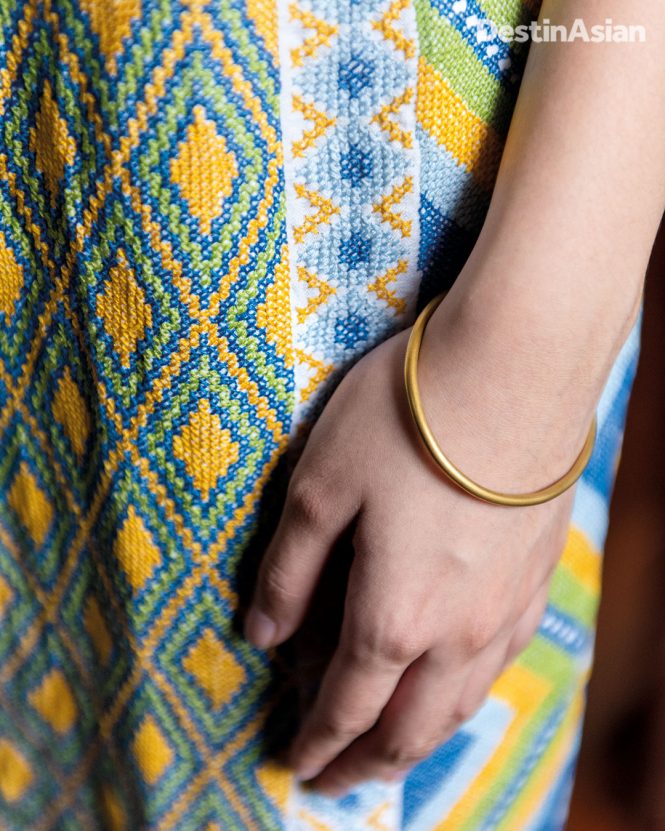 They have a rich heritage to draw on. Weaving patterns and techniques vary considerably across the country: in the misty Cordilleras of northern Luzon, different mountain tribes each produce their own textiles, such as the checked weaves of the Kalinga and the ikat of the Ifugao, who color their yarn with dyes derived from river mud, tree bark, and leaves. In Mindanao, the country's southernmost main island, the T'boli people wear vivid beaded clothing made by weavers who are said to be guided by their dreams. And materials that have been spun into threads for centuries are making their way into contemporary creations too, fibers like piña and abaca, which are derived from pineapple and banana plants, respectively.
Manila is the country's textile hub. It's where designers meet and the industry congregates. And as the movement grows, so does its audience. Pop-up events, fairs, and a handful of boutique shops like The Manila Collectible Co. provide places for customers to shop and learn about textile history. HABI has led the way. Organized by The Philippine Textile Council, the fair runs for three days every October. Since it launched a decade ago, it has provided a platform for local weavers, designers, and brands to come together with customers. It is working. Now, homegrown brands and designers are flourishing.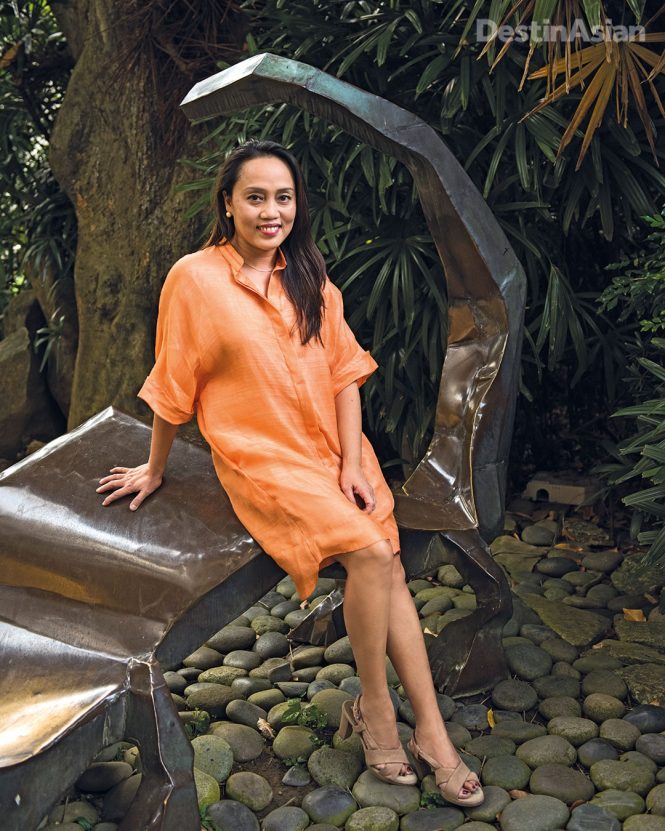 Filip + Inna 
"There is something so special about products made by hand. People want to go back to their roots," says Lenora Luisa "Len" Cabili, the founder and creative director of Filip + Inna. We're at her studio in Metro Manila's Mandaluyong City, just to the north of Makati. Upstairs in the brand's showroom, clients are trying on clothing while assistants busily work on orders. 
Cabili's svelte dancer's body highlights the sophisticated cut of the shorts and shirt she wears from her own collection, which draws on traditional embroidery and weaving techniques. From shirts and jackets to flowing maxi dresses, the pieces are embellished with handcrafted detail. "It's such an exciting time for the Philippines," Cabili says when discussing the resurgence of traditional textiles. "Ten years ago, no one would have bought this. But times have changed."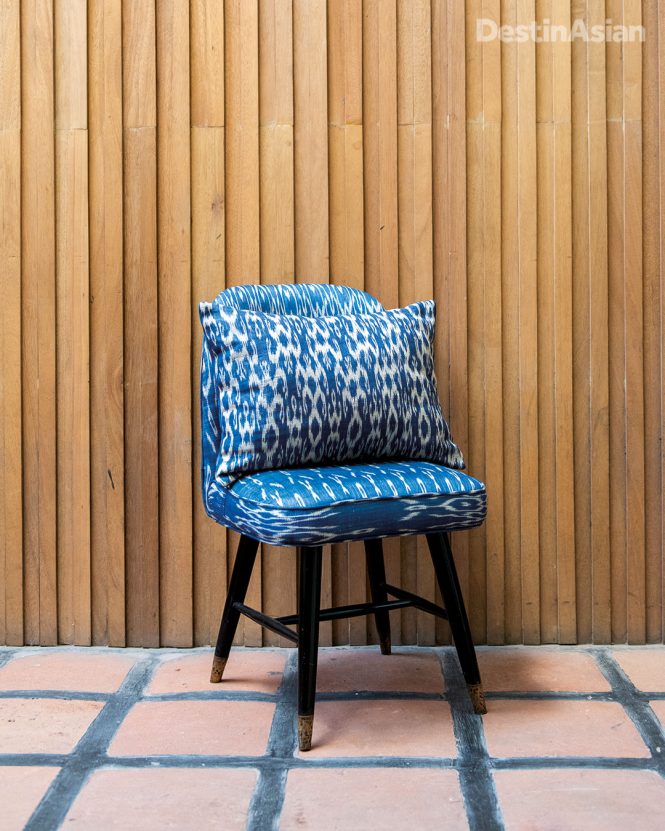 As a dancer with the Philippine National Folk Dance Company, Cabili once traveled across the country to perform, exposing her to a rich spectrum of indigenous cultures. And her upbringing in the province of Iligan, Mindanao, underscores her appreciation of the island's own tribal groups, including the Maranaw, whose weavers are known for their wave-patterned tube skirts. Cabili's eureka moment came during a visit to New York in 2007, when she met the celebrated American textile designer John Robshaw, who had been working with weavers and block-printers in India for a decade. Cabili knew then that she wanted to do something similar back home. 
Filip + Inna has since played a pivotal role in popularizing and contemporizing Philippine textiles. While Cabili works with a range of indigenous artisans, her focus has always been on Mindanao. Two T'boli women are in the studio embroidering samples when we meet. "Philippine textiles are part of our self-identity," she tells me, adding that she hopes anyone looking at her garments will develop an interest in the heritage that inspired them.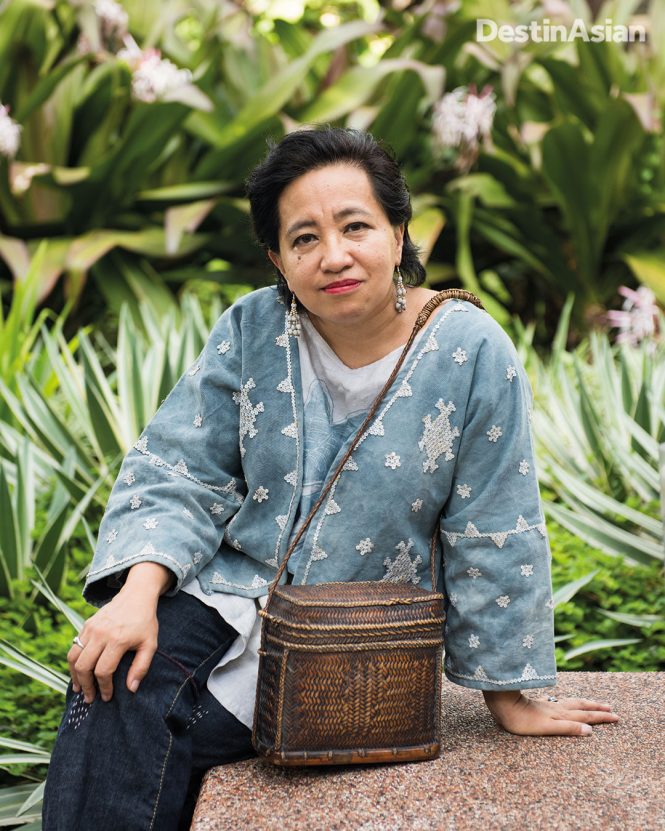 Bin'Al Kay and Astella
I meet sisters Rosal and Ria Lim in the showroom and headquarters of Tepiña, the textile company run by their parents Ernesto and Czarina in Manila's Pasay City. Sales of the Tepiña clothing range may happen here, but everything is woven from piña fabric on handlooms in Puerto Princesa, Palawan. The workshop is the soul of the Rurungan sa Tubod Foundation, which aims to revive weaving traditions and provide an income and training for local women. All of Ernesto and Czarina's six formidable daughters support the foundation in various ways; Rosal and Ria have learned by example and started their own labels.
Bin'Al Kay, which means "what we made" in Palawano, is the creation of Rosal and her mother. It's a young, hip collection of shorts, vests, dresses, and cover-ups, augmented by a recently launched men's line. Woven in pure Philippine cotton, the designs put a contemporary spin on traditional ikat, reworking them in soft tropical colors. "Palawan is very bright, and when you have the stark blues of the sea and sky and the bright glaring green, it's hard not to love color," Rosal says. The young designer believes that weaving is now a source of pride for the Philippines. "Our goal was to make Filipinos appreciate it. Now that we've achieved that, collectively as an industry, it's time to show the world what we do."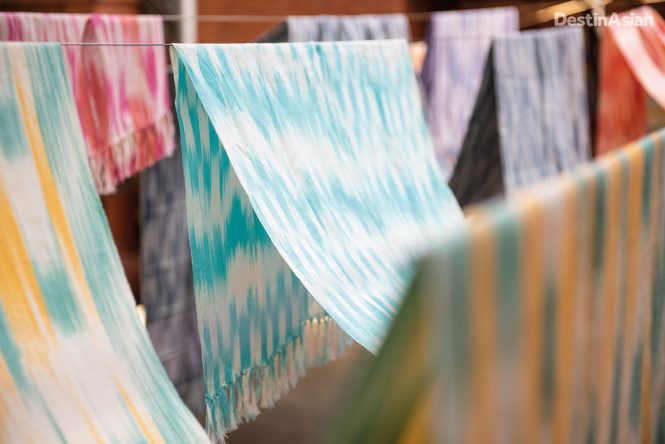 Her younger sister is paving her own way in fashion. Still a university student, Ria launched a brand called Astella five years ago. Her capsule collection of shirts and dresses features hand-screen-printed designs of endemic insects and creatures. Philippine wildlife is its inspiration, including the manta rays and whale sharks that migrate seasonally to the waters around Palawan. "I wanted to print something that looked free-form on the clothing, so you could see movement," she says. 
While the screen-printing happens at Tepiña's Palawan workshop, Ria relies on imported, machine-woven cotton in order to keep her collection affordable. Still, having grown up immersed in her parents' work at the foundation, she fully appreciates the time and skill that goes into the traditional weaving processes. "It's not just labor, they put value and time into it. This gives the textiles more soul."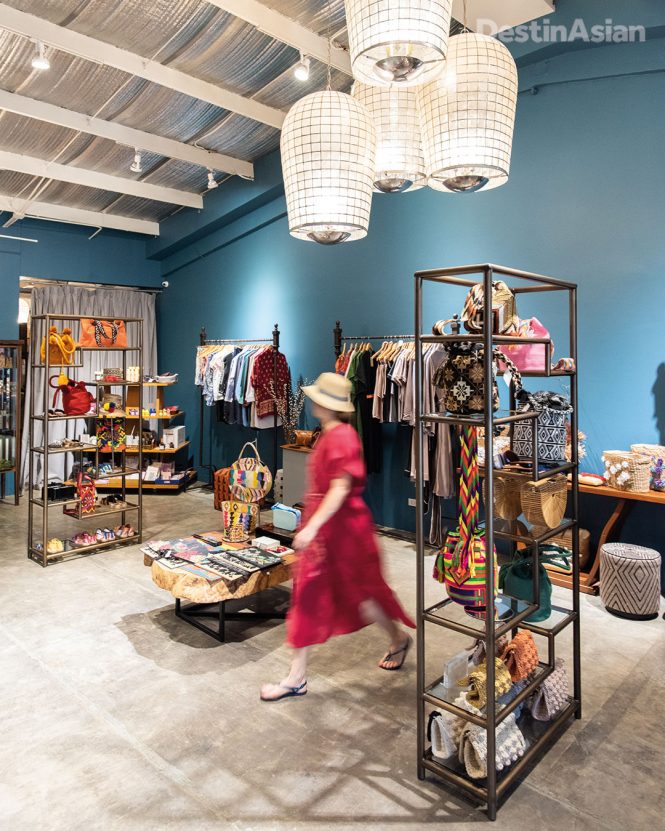 Blithe Sanchez  
"I make clothes that I would want to wear," says designer Blithe Sanchez. Framing a heart-shaped face, her long silky hair creates a pleasing contrast against a vibrant, sheer orange dress from her eponymous fashion label. We meet at a café inside Makati's Greenbelt shopping complex, not far from Sanchez's home and studio, where she produces a small capsule collection of stylish, easy to wear pieces, like wraparound and button-down dresses, jackets, shirts and bags, and the yumi—a unisex short sleeved shirt that can be worn as a dress or jacket. "I want to work in natural materials, like linen and canvas. It's about authenticity, which I never find with synthetics," she tells me.
It all began in 2011 while Sanchez was living in Taipei with her husband. She started making dresses, a pursuit that continued when the couple returned to Manila. A new fascination for local materials fueled her passion for textiles and things took off, culminating in the debut of her namesake label Blithe Sanchez a little over two years ago.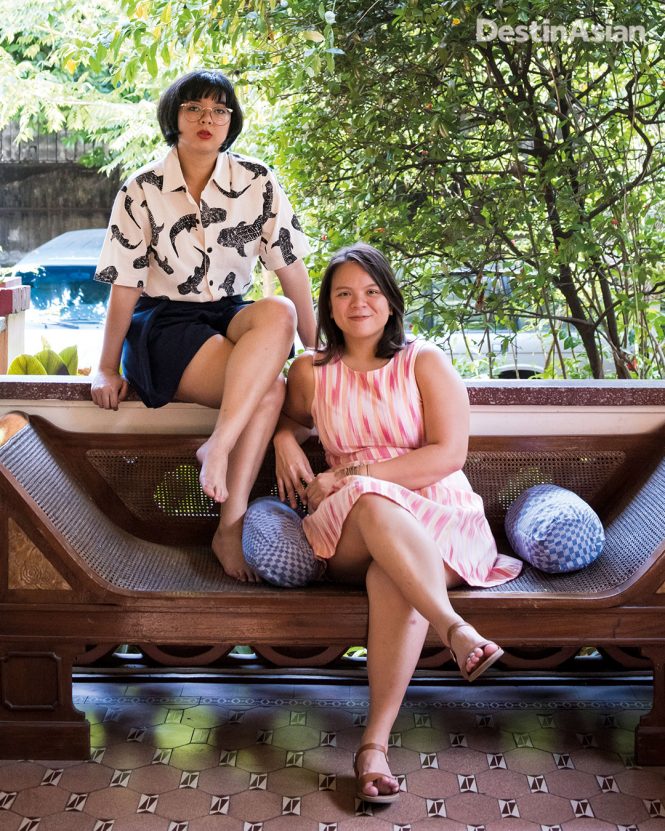 Her mission? To make indigenous fabrics relevant in contemporary Philippine life. "Through textiles, we can show pride in our cultural heritage," she says. "It's in our history, that's why the scene feels so alive." Naturally, her collections showcase materials like abaca and handwoven piña and silk, all of which she sources from the Manila branch of La Herminia Piña Weaving Industry—a supplier whose roots lie in the central province of Aklan. Sanchez also uses weaves from Benguet in the Cordilleras as collar and cuff detailing on her plain linen pieces.
Although her creations have garnered a loyal customer base in Manila, few know of Sanchez outside that particular group. But she would have it no other way. "I want to stay small-scale and really bespoke," she explains. Sanchez also speaks of how Manileños' tastes have recently shifted in favor of locally made products, a trend that is partially driven by increased awareness on the part of the buyer. "My clients are now more attuned to the environmental and social impacts of fashion."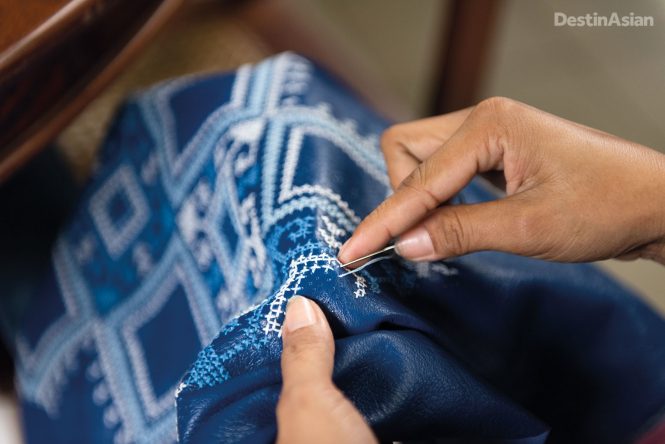 Abek Home + Culture 
"I first thought of using Philippine textiles by introducing them into contemporary home decor," says Kat Palasi, whose brand Abek Home + Culture began as a small booth at the Likhang HABI Market Fair in 2013.
Raised in the mountain town of Baguio, a four- to five-hour drive from Manila in northern Luzon, the designer hails from the Ibaloi indigenous group. Palasi has the style of a contemporary artist; her hair is cut short and she wears clothes that she designed and made herself. In her previous two-decade-long career as a Manila-based photographer, Palasi documented life across the Philippines. These in-depth explorations gave her a unique insight into the country's disappearing cultural traditions. "I became aware of how Filipino heritage continued to be eroded in our daily life," she recalls.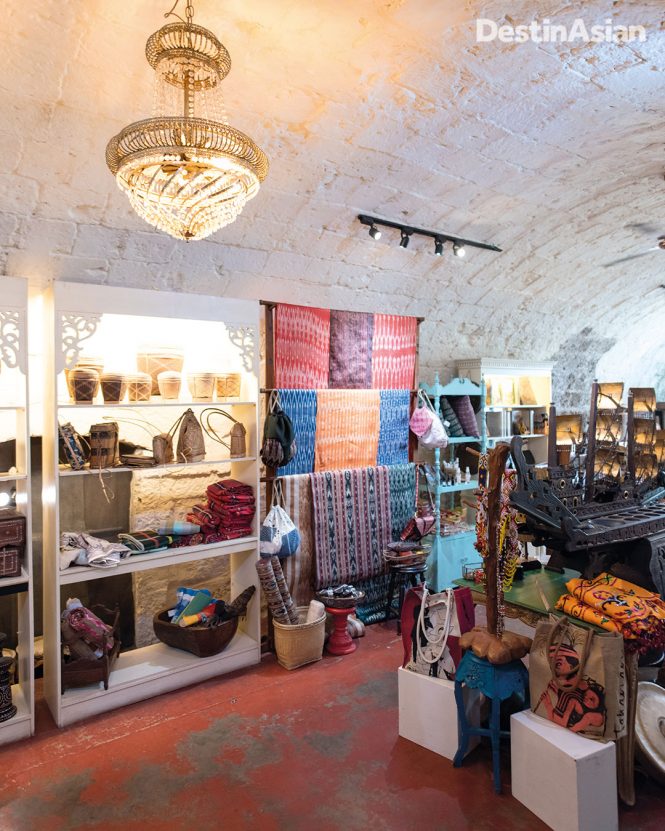 So Abek was born to help traditional textiles live on in 21st-century Filipino homes. Abek, I learn, is a word that means "quilted bedding" in her community. "My family and the Ibaloi people would make this bedding for visitors to their home, so they would feel comfortable," Palasi explains. This feeling of comfort lies at the heart of her business.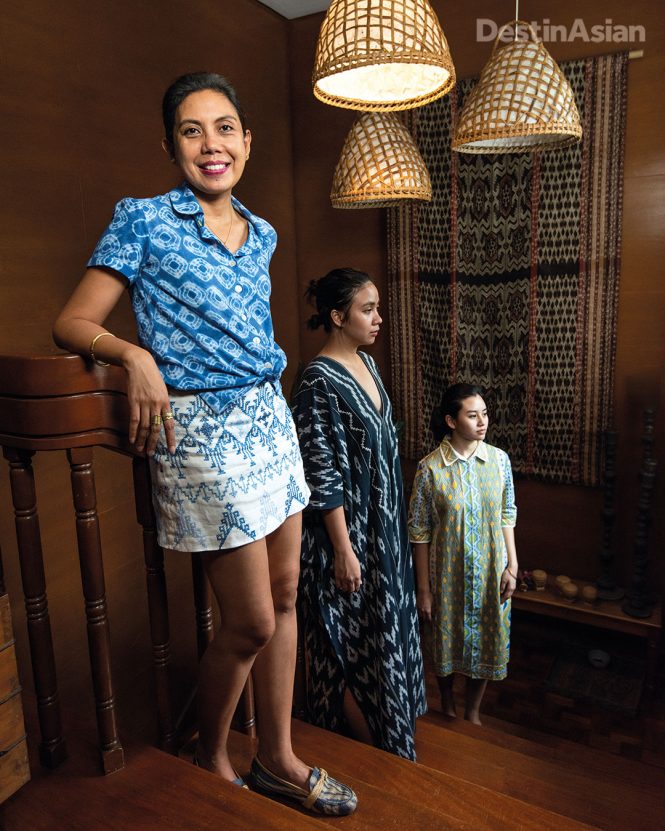 Aside from cushions and blankets, Palasi also creates blouses and coats. "I marry modern and old patterns," she tells me. "I lean towards a Japanese-inspired, clean style with muted colors." Keen to make her products as natural as possible, she began researching the processes of dyeing with plants. Her kimono-style jackets are naturally dyed with indigo, a plant that grows in the Abra region of the Cordilleras, and she points out the hand-embroidered beading detail stitched by members of the T'boli in Mindanao. "It's their design, not mine," Palasi says.
Her most recent pieces are made from cotton grown in the Philippines and supplied through HABI. Quantities of homegrown cotton are still scarce, so she largely relies on a cotton/linen mix imported from Taiwan. Palasi's clients often find her on Instagram, and she also brings her stall to events like Likhang HABI. The success of that fair, and the corresponding growth in demand from local customers, bodes well not just for Palasi and her fellow designers, but also the Philippines' precious weaving traditions.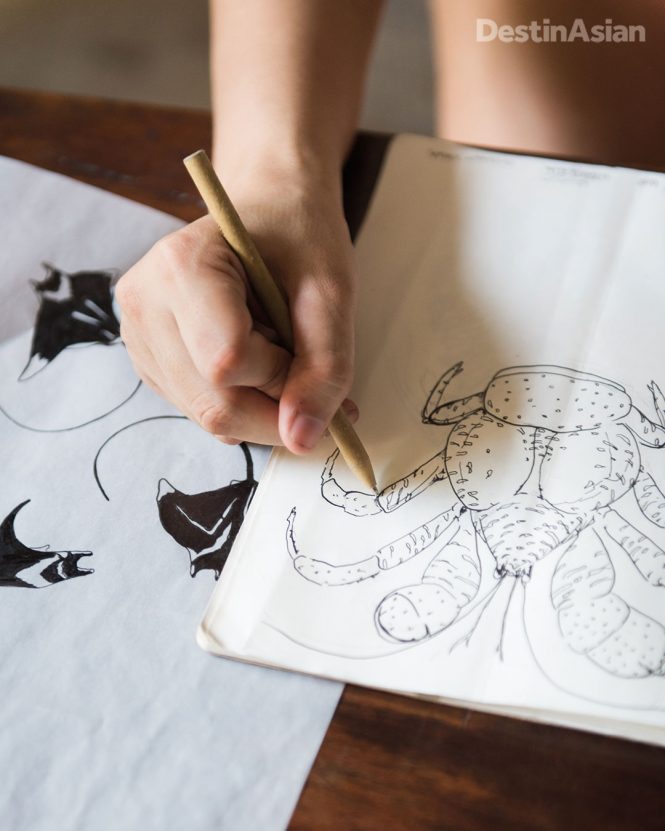 Shopping Guide 
By appointment only. 
712H JR Yulo St., Addition Hills, Mandaluyong City; 63/918-866-2142.
This high-end Makati boutique stocks the latest Filip + Inna collection, among other Filipino brands. 2316 Chino Roces Ave., Makati; 63-2/802-5427.
A weekly parade of food and craft, with stalls from the likes of Abek Home + Culture. Legazpi Village, Makati.
For details of the October 2019 edition of the fair, visit their website.
Learn about textile traditions and buy hand-woven products from across the country in this small independent store inside Manila's 16th-century Spanish citadel. Chamber 8, Fort Santiago, St. Clara St., Intramuros; 63-2/230-9710.
Visit the Lim family textile showroom to discover Bin'Al Kay and Astella pieces and find out more about handloom weaving techniques. 2635 Taft Ave. Extension, Pasay City; 63/917-579-9538. 
This article originally appeared in the February/March 2019 print issue of DestinAsian magazine ("Uncommon Threads").