On a poor but proud Indonesian island just an hour's flight from Bali, small-scale sustainable tourism is offering a way forward for local communities. DestinAsian's editor-in-chief travels to western Sumba to visit the conscientious properties that are leading the way.
Photographs by Martin Westlake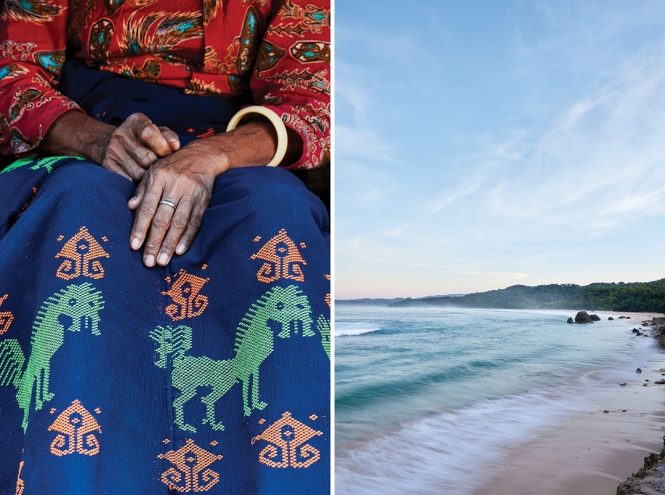 Checking out, sir? Let me call for the Lamborghini."
For a moment, I'm bemused by the thought of a sleek Italian sports car purring up the gravel drive of this training hotel in the Sumbanese countryside. But the joke's on me. With a giggle, the young lady skips off to fetch her colleague, who soon appears pushing a battered wooden luggage cart emblazoned with a hand-painted Lamborghini logo (you know, the one with the snorting bull).
Cute. But then, the student staff at the Sumba Hospitality Foundation's Maringi resort have been nothing if not good humored throughout my stay. They are, in fact, an amazing bunch of kids, especially considering that most of them didn't speak a word of English or have any hospitality experience before starting their year at the SHF just a few months prior to my visit. For them, the school represents a rare opportunity to acquire life-changing skills on one of Indonesia's poorest islands, and to perhaps venture for the first time to Bali or Jakarta or further afield on internships and job placements. Guests, for their part, get to contribute to this process, and to witness first-hand the benefits of purposeful tourism. It's a clear win-win for all.
About twice the size of Bali but with just a fifth of its population, the island of Sumba occupies an obscure corner of the Indian Ocean in eastern Indonesia. Its historical seclusion — now remedied with regular flights from Bali, Flores, and Timor — once earned it the nickname "The Forgotten Island," and the close-knit communities here have developed a singular culture. Divination and animal sacrifice are integral to the ritual life of the Sumbanese, as are the megalithic tombs that dot roadsides and villages. Although Christianity (introduced by Dutch missionaries more than a century ago) has been widely adopted, the ancestral Marapu religion continues to flourish alongside it as one of the world's last animist belief systems.
Yet for all its cultural intrigue, prosperity has eluded Sumba. With little industry and limited infrastructure, most of the island still relies on subsistence agriculture, particularly maize and rice cultivation. The forests of sweet-smelling sandalwood that once supported a lucrative export trade were depleted centuries ago, replaced by undulating swaths of arid savanna where ponies and lean cattle now graze. The government is the largest employer.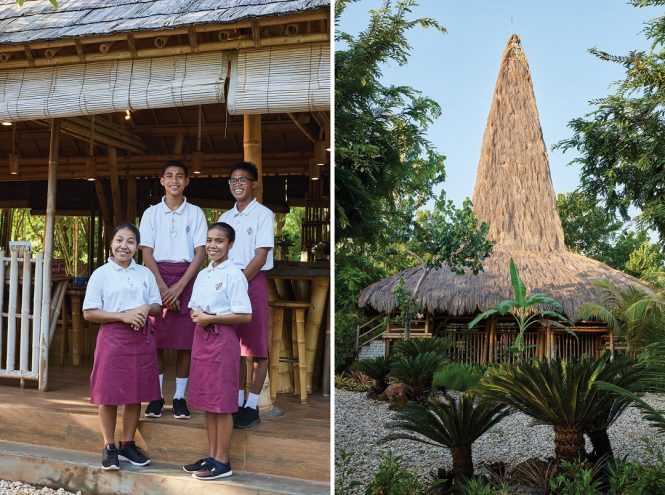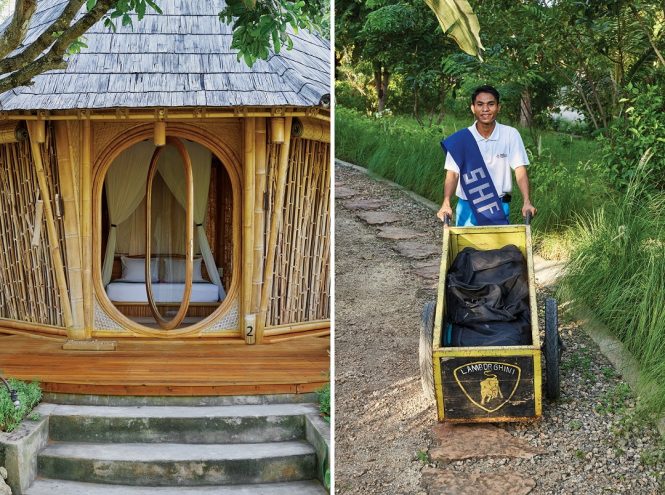 But tourism is making inroads, especially on Sumba's wild southwest coast, whose barreling waves have attracted intrepid surfers for decades. One of them, an American named Claude Graves, first bushwhacked his way to Nihiwatu Beach in the late 1980s and discovered the perfect spot to build an off-grid surf retreat. He and his then-wife Petra eventually opened the island's first proper resort, Nihiwatu, in 2000, with a clutch of boho-luxe bungalows overlooking one of the island's best reef breaks. Crucially, they also founded the nonprofit Sumba Foundation to channel guest donations into community-based projects aimed at alleviating illness and poverty in the region.
In the decade since the property was purchased and expanded by American billionaire Chris Burch, Nihi Sumba (as it's now known) has stepped into the global limelight, routinely landing on World's Best lists. Inevitably, it has also sparked the interest of other hotel developers, who have snapped up plots all along the coast ahead of an expected surge in tourism.
Straight off the plane from Bali, I head to one ambitious new resort that's slated to open in December. Called Cap Karoso, it sits in splendid isolation near the island's westernmost cape, about a 90-minute drive from the gateway town of Tambolaka. The property is still very much a work in progress when I visit, but it's impressive nonetheless, with clean, modernist lines framing a 300-meter-long beach studded with palms and sea almond trees. Low-rise and low-impact, it comprises just 47 rooms and 20 villas whose flat roofs will soon be camouflaged with plants so as to integrate them into the landscape. The look, to judge by a finished show villa, will be stylishly contemporary (Pierre Frey cushion fabrics, commissioned art pieces) yet with plenty of nods to Sumbanese tradition, from carved wall panels inspired by the geometry of local ikat to the tall thatched roofs of its spa and gym complex.
As she shows me around the site, Evguenia Ivara, one half of the French couple behind the resort, explains, "We had an instant crush on Sumba when we first visited in 2017 — it was such a refreshing contrast to the world of globalization. We knew pretty much right away that we wanted to build something here that would provide likeminded guests with a combination of remoteness and sophistication, while contributing meaningfully to the local community."
Apart from hosting chef and artist residencies, Cap Karoso will offer community classes in permaculture and landscaping at its three-hectare organic farm, which will supply most of the produce used at the hotel's fine-dining restaurant and beach club. It will also provide full-time employment for at least 150 staff, nearly all of whom are to be hired locally. When I ask Ivara how much the success of Nihi factored into their decision to build a luxury resort on Sumba, she says, "Definitely, yes, but really, the one thing that influenced us the most was the Sumba Hospitality Foundation. Recruiting staff can be a complicated process; if you want to provide a certain level of service, you need to have the right people. But the students we met at the foundation had such enthusiasm and positivity we just felt it would really work out."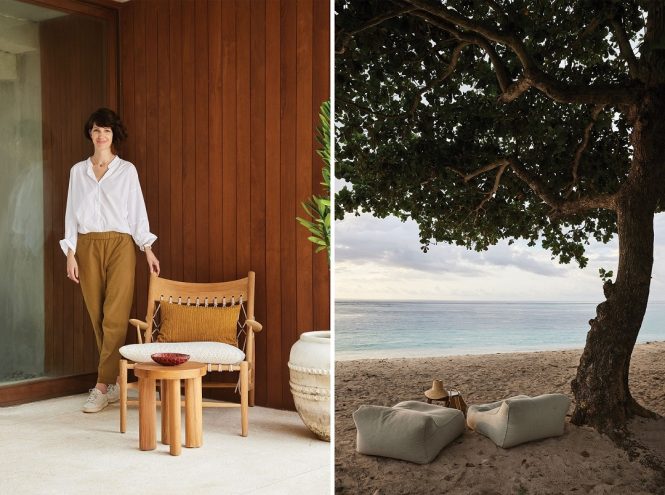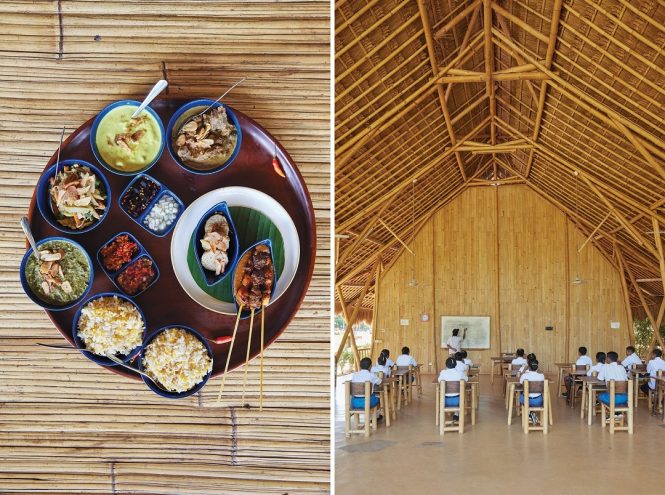 Those students are an undeniable highlight of my stay at Maringi. Billed — accurately — as a small resort with a big heart, it's set on the five-hectare SHF campus to the east of Tambolaka. Visitors seeking ocean views may wish to look elsewhere; the nearest beach is a 15-minute bike ride away. Yet the place is undeniably charming, from its five bamboo guest cottages (whose round glass doors give them a certain hobbit-house vibe) to its cadre of young trainees, who, although a bit nervous at first, soon acclimate to my admittedly hulking presence.
The foundation was established in 2016 by Inge De Lathauwer, a Belgian philanthropist who first visited Sumba almost a decade ago and, like the Ivaras, fell for the island. Entranced by the Sumbanese way of life but moved by the lack of economic and educational opportunities available to the local communities, she decided to set up a hotel school that would teach disadvantaged youth the skills they needed to contribute to and benefit from tourism development on the island. Constructed almost entirely from bamboo on what was previously a tract of depleted corn fields, the campus was also conceived as a template for sustainable development: power is supplied by solar panels, wastewater is recycled to irrigate the gardens and lawns, and every ingredient on the menu at the hotel's restaurant is locally sourced, with much of the produce coming from an adjacent permaculture farm. Your breakfast eggs? Straight from the chicken coop.
Each year the school trains up to 60 students aged 17 to 22. Hailing from across the island, they live on-site in neatly organized dorms, take their classes (which guests are welcome to participate in) in soaring bamboo pavilions, and dare to dream, for once, of a life beyond their family's farm. Whether waiting tables or on housekeeping duty, their enthusiasm is palpable. Feri, the ever-smiling young lady who would summon the Lamborghini, tells me she is excited about the prospect of securing an internship off-island. She's never been on a plane before. When I ask where she'd like to go, she says, "Bali, or the Maldives — it looks so beautiful." Then, her eyes widening with possibilities, she adds, "Or Paris!"
Every rupiah spent by guests goes directly to the foundation, from room fees (in addition to the aforementioned cottages, there's also a compound of four larger villas that share Maringi's only swimming pool) to spa treatments and picnic excursions to scenic spots like the terraced rice fields of Waikelo Sawah, an hour's drive south. Meals at the cozy hotel restaurant are included in the rate; overseen by a talented Balinese chef, the kitchen turns out daily menus based on whatever's fresh from the market or farm, including a to-die-for ratatouille made with intensely purple eggplants. For a change of scenery, the foundation also operates a stand-alone training restaurant, Makan Dulu, on the outskirts of Tambolaka, where Indonesian and Sumbanese dishes like ro'o luwa (a spicy porridge of cassava leaf and rice) are served under a sweeping bamboo-and-thatch roof.
De Lathauwer's son, Alexander Duyck, has been involved with the project since its inception, and now serves as the foundation's director. He tells me that the main attraction of his first years on Sumba was the adventure of it all, exploring beaches and hidden waterfalls. "But now the most rewarding thing is seeing the students grow, and meeting our graduates here and in Bali who are living the life." Of the more than 200 students who have graduated so far, nearly all have found employment.
Keen to do some exploring of my own, I borrow one of the hotel's bikes and peddle three sweltering kilometers north to the sea, passing cassava and corn fields and a huddle of grazing ponies. The rocky beach here is no beauty, but another kilometer or so down a sandy track I watch a spearfisherman wade to shore with a glistening haul of reef fish. Dropping his catch in the shade of a pandanus tree, he reaches into his backpack and offers me a quid of betel. I gamely give it a chew — and immediately wish I hadn't. The taste is vile. As graciously as I can, I bid the man farewell and begin riding back to Maringi, spitting all the way.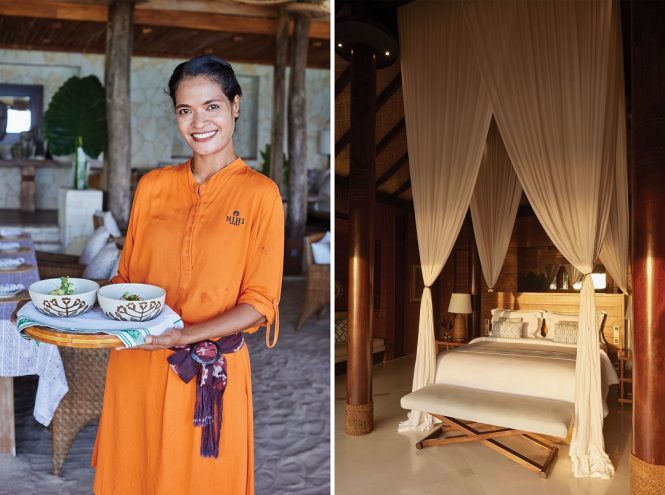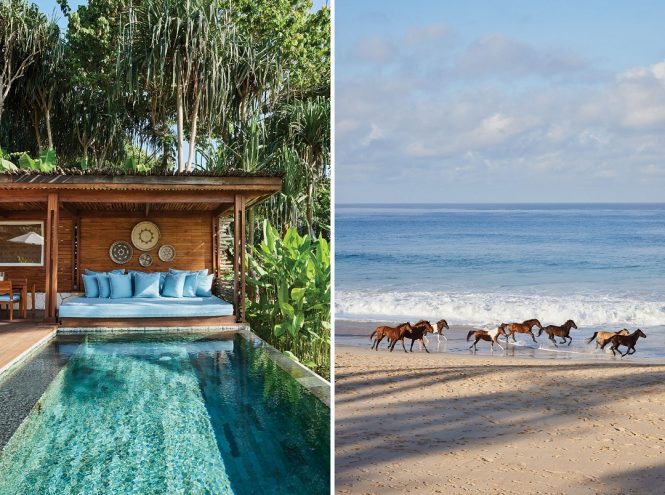 From the copper soaking tub on the balcony of my villa at Nihi Sumba, the resort's raison d'être is in full view: Occy's Left, a majestic curl of turquoise water that breaks and foams just offshore the golden stretch of Nihiwatu Beach. (If you're wondering, the name is a tribute to Australian surfing legend Mark Occhilupo, who made the left-hander famous in the 1992 cult surf film The Green Iguana.) This wave is the reason Graves built his pioneering surf lodge here all those years ago, though you don't have to be a surfer — I'm not — to appreciate the dramatic beauty of the setting.
Burch and his business partner, veteran hotelier James McBride, certainly did when they purchased the property from Graves in 2012. Some US$30 million was subsequently poured into rebuilding and expanding the resort while maintaining its original spirit and organic feel, and the results easily live up to the hype. Encompassing 230 hectares of mostly undeveloped land in West Sumba, Nihi comprises 34 spacious villas arranged in lushly landscaped clusters near the sea. Their design borrows from traditional Sumbanese houses, with tall, steeply pitched thatched roofs braced by carved wooden columns that frame muslin-draped beds. Local carvings and ikat decorate walls and furnishings. Each villa comes with a plunge pool and garden; those closest to the water have shaded daybeds perched on a rocky ledge above the waves. One of the best features of my Raja Mendaka villa is its cantilevered outdoor bathroom, which juts out from the second floor with chest-high walls of lamtoro branches. I can watch the surf as I shower.
At the sand-floored main restaurant, Ombak, and the poolside Nio Beach Club, the food is consistently delicious, incorporating flavors from the resort's organic gardens. Elsewhere on the grounds is a hilltop yoga pavilion, a rustic clapboard water-sports center and bar, and a stable of Sumbanese ponies for riding or swimming with on the beach. And on the far side of the cape abutting the main property is Nihioka, a satellite spa retreat with its own terraced rice fields, hidden coves, a tree house–style dining platform, cliff-side treatment pavilions — and zero Wi-Fi. Guests looking to really get away from it all can opt for a full-day "spa safari," which begins just after sunrise with a scenic 90-minute hike to Nihioka.
For those who might balk at enjoying such luxuries while surrounded by privation, consider that Nihi is the second largest employer on the island after the government, with around 400 predominantly local staff (including the inevitable coterie of SHF grads). More than that, though, is its symbiotic connection with The Sumba Foundation, which Graves still manages. Supported through guest donations, overseas fundraisers, and personally by Burch himself, the foundation has improved the lives of tens of thousands of people in West Sumba. Rainy Octora, who has been with the foundation since 2007 and heads its nutrition program, lists off some of their accomplishments to date: improved access to clean water for 45,000 people; the near-eradication of malaria within a 300-square-kilometer area around Nihi; and the establishment of five health clinics that treat an average of 50 patients a day. "It has been an incredible success story," says Octora, who grew up in central Sumba and studied medicine in Jakarta. "But there is a lot to do still."
On the drive back from an afternoon massage at Nihioka, my skin still scented with eucalyptus oil, an accompanying staffer named Niko suggests we stop at Waihola, the main kampung adat (traditional village) in the vicinity. A funeral ceremony is about to start. I follow Niko up the narrow stone path to the hilltop compound, where a group of stilted houses, all with pointed, shaggily thatched roofs, encircle a grassy plaza studded with the tombs of clan ancestors, each topped with a massive slab of stone. The women of the village are turned out in the best ikat skirts; several of the men have swords tucked into their waistcloths. Piglets snuffle in the mud. Were it not for the presence of numerous baseball caps and some government-installed solar panels, it could be a scene from a century ago.
When I ask Niko about the lowing water buffalo tethered to a palm tree in the center of the plaza, he draws a finger across his neck. "Funerals require animal sacrifices — their souls accompany the dead on their journey," he explains.
An hour later, and still no action: the shaman has yet to divine a time to begin the ceremony, though a dog is quietly slaughtered and butchered as we wait. No judgment — the animals are cared for as pets while they're alive, which is more than you can say for most of the meat we consume. And it's sort of touching to watch one of the children absently stroking the mutt's severed head. Still, I decide not to stick around for the main course.
A happier ending awaits back at Nihi. The resort maintains a sea turtle hatchery, buying eggs collected by villagers who would otherwise sell them at the market. Today, a single hatchling is ready to be released. A small group of us gather on the beach to watch the little guy scramble across the sand. Then, in a wash of surf, he's gone.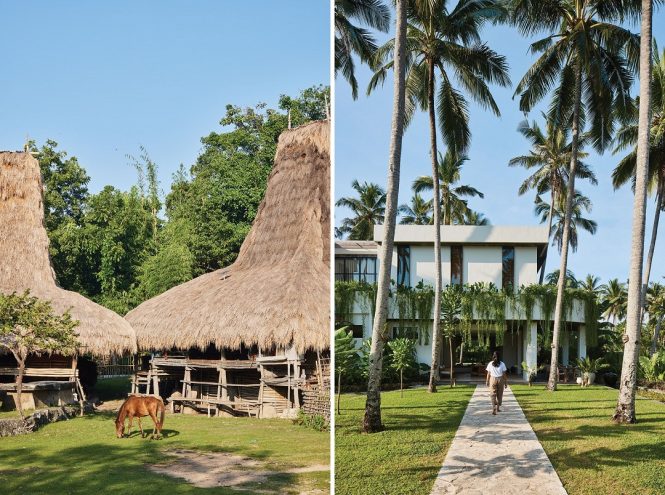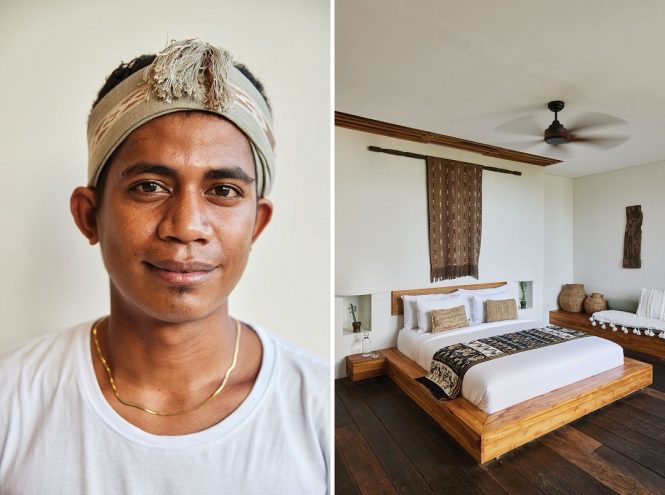 I spend my last two nights on Sumba on the other side of the bay, at a considerably smaller hideaway called Alamayah, which sits across from a beachside coconut grove. Its owners, a young Australian couple named Daniel and Jessica Baldock, first visited Sumba on a surf trip in 2017 and never left. Instead, they set about building a small, socially conscious getaway that would directly benefit the surrounding Lamboya district, starting with construction: Daniel, who managed the project, and Jessica, who was in charge of the architecture and design, deliberately hired unskilled villagers from the area in order to train them on the job and teach them employable skills. Of the original 120-plus workers, at least half have either been retained as full-time hotel staff or gone on to work at other projects.
Alamayah's general aesthetic is mod-Mediterranean — think whitewashed walls and stone-dressed arches that lead to a pool tiled in blue-green quartzite — with plenty of local touches, including the traditional roof that caps one of the six upstairs suites. A compact spa offers hot and cold hydrotherapy pools and Ayurvedic treatments, and the locavore dishes at the breezy restaurant are fresh and comforting. One standout? A delicious fillet of sesame-crusted Spanish mackerel, caught earlier that day by the hotel's young Dutch waterman, Timmy Wijngaarden.
I meet Timmy across the road one afternoon at a thatched beach bar run by an older Australian couple. The stretch of sand out front may not have the same dazzling quality of Nihiwatu Beach, but it does have an appealing localness to it. The only wave riders I spot are village youngsters on borrowed boards; teenagers gallop their ponies along the shoreline. As we sit drinking frosty Bintang beers to a playlist of classic rock, Timmy tells me of other upcoming properties in the vicinity, including a soon-to-open boutique resort called The Sanubari whose six pool villas overlook a series of reef breaks with names like Launching Pad and Rope Burns. "Give it enough time," he says between sips, "and this area could be the Canggu of Sumba."
Say what you will about the prospect of Bali-style development on this untamed coast, but the promise of economic opportunity isn't lost on the younger generation of Sumbanese. Among the SHF alums on staff at Alamayah is Novri, who guides me on a hike to a nearby sea cave. A graduate of the school's inaugural class, he worked at Nihi for two and a half years until being laid off during the onset of the Covid crisis. But he's grateful for the opportunity. "Nihi was a great experience for me," Novri explains. "I got to work in three different departments, and the money I made there was enough to buy a new house for my parents, and for me to visit Bali for a week." He started at Alamayah late last year, and has begun saving up again — this time to pay the bride price for a future wife. "I feel good for the future," he says.
On my last morning, Timmy takes me for a ride across the bay in an aluminum skiff. We thump across the waves past Nihi and Occy's Left, around the rocky cape to another barreling surf break called The Hole, and on past the cliffs of Nihioka to the sheltered waters off Rua Beach, where Timmy cuts the engine. A distant jetty is the only hint of human habitation. To the south lies a thousand kilometers of empty ocean; the next landfall is the coast of Western Australia.
"I love it out here," Timmy says as a sea turtle surfaces for a breath a short distance from our bow. "You never know what you're going to see." And with that, he turns the boat around and heads back to shore.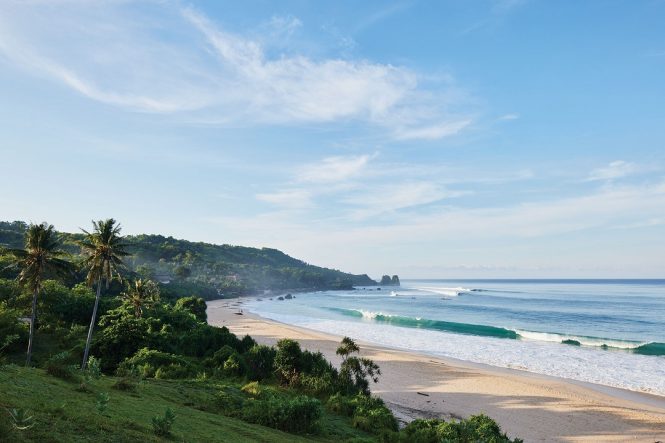 The Deets
GETTING THERE
The western half of Sumba is served by Tambolaka Airport, which is connected to Bali by double-daily turboprop flights operated by Wings Air.
WHEN TO GO
Sumba is arguably at its most pleasant after the rainy season (November to April), when the landscape is green and the weather dry. Those wanting to witness the famous Pasola festival — a mock battle of spear-wielding horsemen held each year at the start of the planting season — are looking at February/March, though dates are only determined a few weeks before the event.
WHERE TO STAY
Maringi Sumba
Doubles from US$210, all-inclusive.
Nihi Sumba
Doubles from US$895, full board, minimum three-night stay.
Alamayah
Doubles from US$210.
Cap Karoso
Opens December; rates from US$300.
This article originally appeared in the June/August 2022 print issue of DestinAsian magazine ("Sketches of Sumba").