Across India, a new cohort of designers and creators are finding contemporary inspiration in the ancient craft traditions of their homeland.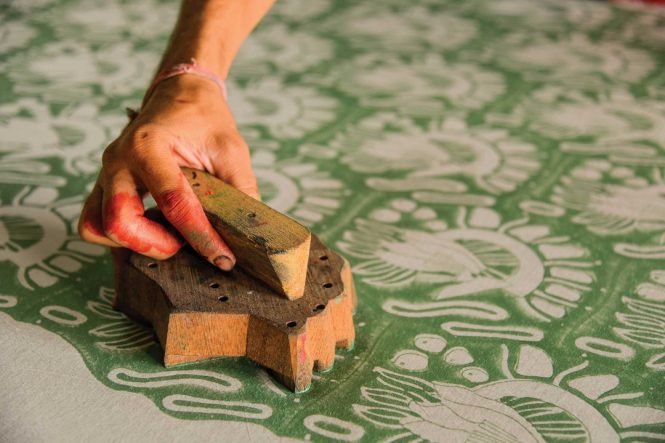 Jodi
Having discovered a mutual love for India's rich handicraft traditions, former fashion stylists Gauri Verma and Karuna Laungani quit their magazine jobs eight years ago to found a clothing label that celebrates the centuries-old art of block printing through a contemporary lens. Working with wholly natural Indian fabrics and skilled hand-block artisans in the Rajasthani city of Jaipur, they turn out flowy, happily hued dresses, shirts, jackets, and nightwear embellished with floral and animal motifs — think parrots, pomegranates, pineapples, and Bengal tigers — inspired by their travels across the subcontinent. For those looking to accessorize, Jodi also carries a line of handcrafted jewelry.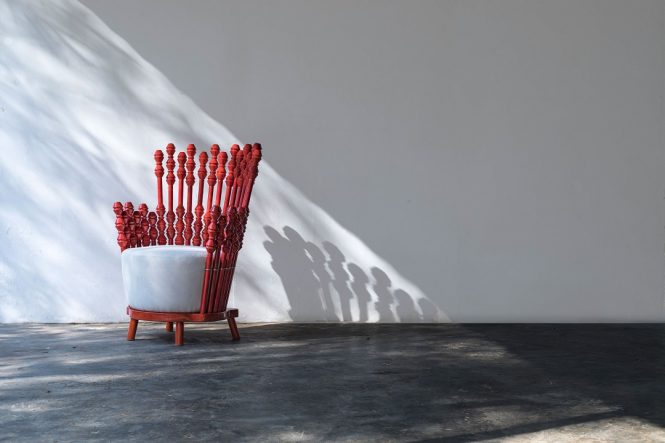 Sangaru
Sandeep Sangaru's deep commitment to Indian craftsmanship began almost two decades ago during a visit to Srinagar, where he first encountered the Kashmiri woodworking techniques of khatamband (ceiling ornamentation) and pinjrakari (latticework). Since then, the Bangalore-based product designer has channeled his creative energies into reinterpreting — and reinvigorating — vernacular crafts for contemporary usage in a range of furniture and objects. Standouts include a run of lacquered chairs that draws on the 200-year-old wooden toy-making traditions of Channapatna in Karnataka, and his Truss Me line of bamboo pieces created by young artisans from Tripura.
Injiri
Chinar Farooqui grew up in Rajasthan, a state steeped in indigenous handicrafts, where she developed an early appreciation for India's textile heritage. Her clothing brand, Injiri (which takes its name from a colloquial West African term for plaid fabrics imported from South India in the 18th century), aims to build and sustain long-lasting relationships with rural artisans producing Madras checked cotton, Kutch bandhani tie-dyed fabrics, chikankari embroidery from Lucknow, jamdani muslin, and Bhujodi turban weaves. The resulting range includes relaxed dresses, jackets, and stoles in vibrant color combinations as well as timeless, hand-woven pieces for the home.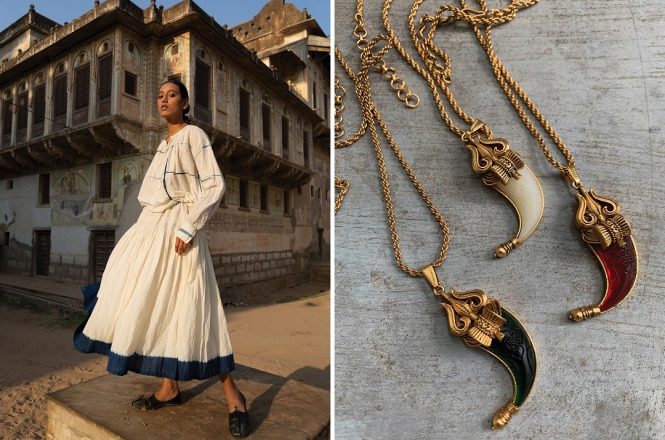 Dhora
Inspired by the elemental desert landscapes (dhora means "sand dune") and Rajput architecture of her home state of Rajasthan, Aavriti Jain's handcrafted jewelry is simultaneously raw and refined, with an understated elegance that lends itself to everyday pieces. Her line has evolved from minimal brass ornaments to ones that honor age-old techniques such as jadau (wherein precious gems are embedded into gold) and kundan (which sees glass and gemstones set between gold foils) to lift motifs from her grandmother's traditional, heavy necklaces into simpler creations. Her pendants, bracelets, and earrings have adorned Bollywood stars such as Alia Bhatt as well as international celebrities like Kim Kardashian. Teatro Dhora, the brand's flagship store in Jaipur, also stocks clothing, accessories, and home decor by other Indian designers and artists.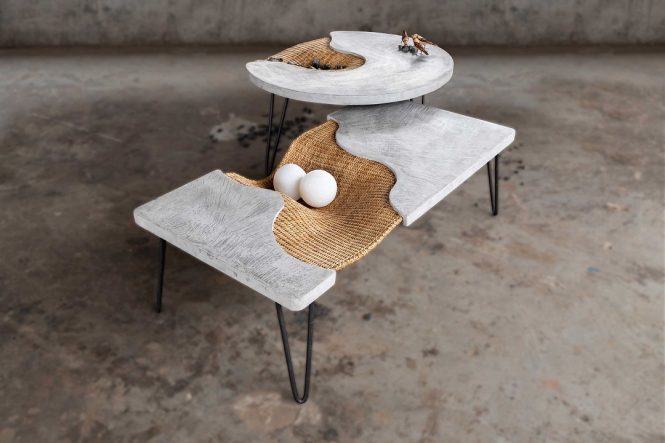 Vakr
Architects and partners Nehit Vij and Debyani Gupta couldn't find innovative furniture in India so they started their own experimental design studio, Vakr. Their first collection, Lehar, debuted in 2020 and pairs rattan and molded concrete in a series of curvilinear coffee tables, consoles, and shelving units that obscure the line between sculpture and furniture. It also serves to empower a community of rattan weavers from the northern state of Uttar Pradesh, who were recruited to apply their vanishing craft to the collection's gentle wave-like wicker components.
Ikkis
Design maverick Gunjan Gupta has seen her fantastical chairs displayed at the prestigious Musée des Arts Décoratifs in Paris and the Vitra Design Museum in Germany. But for more accessible work, look to her homeware brand Ikkis, which elevates commonplace Indian items to glamorous 21st-century design objects. The humble balti (bucket), for instance, is deconstructed into a vase of marble and brass elements, while earthen kullars (teacups) are reimagined as terra-cotta–coated copper goblets and diya oil lamps become elegant candleholders. Gupta's Unlimited collection is machine-made but finished by artisans who specialize in enamel, terra-cotta, and cane weaving. She also produces a limited-edition range of decorative pieces fashioned entirely by the hands of master craftsmen working in bidri metalwork, stone carving, and pottery.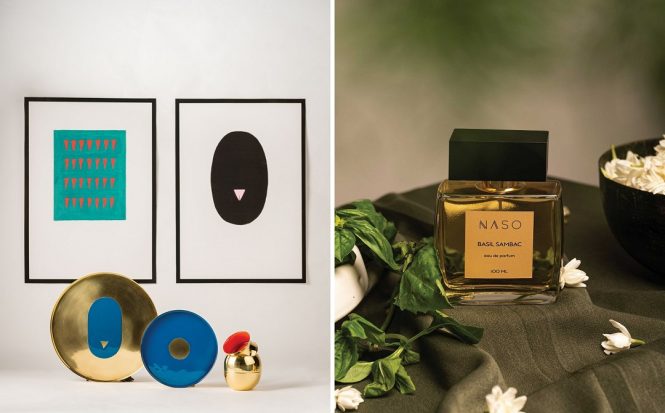 NASO Profumi
At its factory in Lucknow, India's first "green" perfumery utilizes the age-old technique of making attars (traditional perfume oils) in a degh, or copper still. But there's a modern sensibility at work as well. Inspired by her college years in Milan, founder Astha Suri produces gender-neutral fragrances from a blend of aromatic Indian ingredients — vetiver, say, or sandalwood — and Italian neroli, bergamot, and eucalyptus, to name a few. NASO's perfumes are also formulated to have healing properties based on the principles of Ayurveda; a blend of mint, rose, and lemon, for example, provides a boost of energy, while Kashmiri saffron infused in musk and amber helps stave off feelings of stress and anxiety. There's a strong commitment to sustainability, too; from composting and rainwater harvesting to solar panels and eco-friendly product packaging, the company runs an entirely clean production cycle.
This article originally appeared in the December 2022/February 2023 print issue of DestinAsian magazine ("Makers' Marks").