Home to the second-largest Aboriginal population in Australia, Queensland today offers an impressive array of indigenous tourism experiences that celebrate the heritage of the state's original inhabitants.
15.4958° S, 144.1648° E. Tap these coordinates into your GPS and you'll eventually arrive in the tiny riverside settlement of Laura, some 200 kilometers northwest of Cairns on Queensland's Cape York Peninsula. Just one road leads north from here, and it takes you as far as you can travel on land toward the tip of Australia.
Laura is a town in the most basic sense of the word: there's a pub with a few rooms, a post office, a roadhouse selling general supplies and fuel. That's about it. But this unassuming, cloyingly humid outpost is the gateway to something remarkable — the world's largest collection of prehistoric rock art.
One day five years ago, Johnny Murison was out on a "boys' trip" with his cousin: camping, hunting, and fishing in the remote Queensland outback. They'd gone off-course to reach their destination, following a route incorrectly scribbled onto a napkin by a friend. Stumbling upon what is now aptly known as the Magnificent Gallery was pure serendipity.
"There were 450 works of art covering a 40-meter-long sandstone gallery in the middle of nowhere," Murison recalls. "Safe to say, our jaws hit the floor."
Murison wasn't the first to "discover" the secluded site — explorer and pilot Percy Trezise reported its presence in the 1960s — but he was among its few modern visitors. More than 20,000 years old, the images he found were remarkably well preserved. There were paintings of turtles, barramundi, and kangaroos; fertility symbols and totems; and a parade of long-limbed spirit figures known as quinkan. "It gives me goose bumps to think they were painted by my family members, Kuku Yalanji people," Murison says.
Later that fateful day, he walked to the edge of a nearby escarpment and gazed over the valley below. He vowed to not only fully understand the stories his ancestors had left behind, but also to reveal them to intrepid travelers willing to make the bone-jarring journey. And so began his Jarramali Rock Art Tours — overnight 4WD excursions that take guests deep into a gorge-laced region known as Quinkan Country.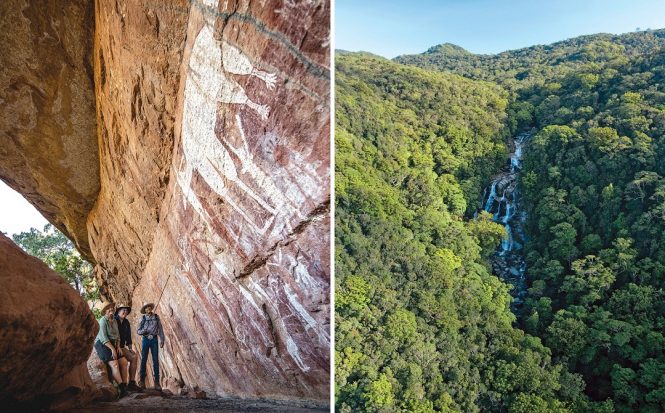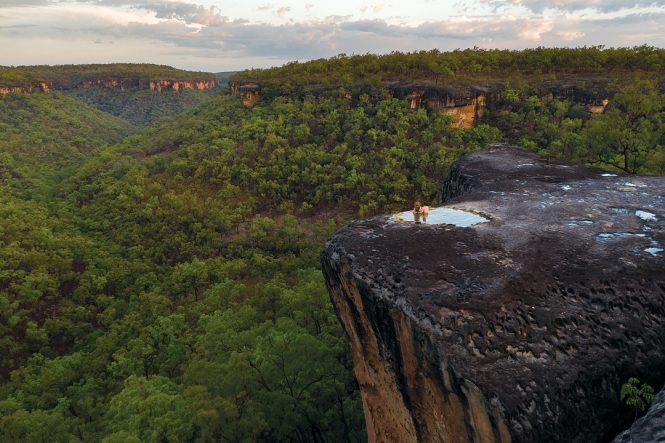 Aboriginal communities have called the rain forests of northern Australia home for more than 50,000 years. Rock shelters like those hosting the Magnificent Gallery were particularly appealing to the nomadic Kuku Yalanji during wet season, when the broad eaves of the sandstone overhang provided protection from the fierce rains that can transform the Queensland outback from desert to river in a matter of minutes. While they waited for the sun to shine, Murison's ancient forebears would paint, immortalizing their worldview in ocher on rock walls.
It's thought that 10,000 such sites adorn the region, but that's a rough estimate; Murison tells me he finds new art on a daily basis. Many spots are open to the general public, accessed along sealed roads and boardwalks, with Aboriginal Dreamtime origin stories told through interpretive signs. But not the Magnificent Gallery. Only the hardy make it here.
"From Laura, the four-wheel-drive track we take is one of the gnarliest I've ever been on," Murison says. Coming from this intrepid 48-year-old adventurer, that's saying something. "It's steep and rugged and often washes away during the wet. We call it the 'Thousand Dollar Track,' because that's what you need to fix your car after you've driven it," he laughs.
It's definitely a journey best endured on an empty stomach. But it's as wonderful as it is wild. Each bump in the "road" reveals deep valleys and sheer sandstone cliffs. Everything is draped in a tangle of ancient forest: desert bloodwood, stringybark, and ironwood trees interwoven with melaleuca (Murison's ancestors brewed the plant's leaves into a tea to ease sore throats) and hopbush, a generational remedy for earaches. Also visible is the ever-useful turkey bush. "When you burn it or crush it onto your skin, it smells like camphor — no flies or mossies after that," Murison explains.
His Jarramali Camp — a communal hut for meals, seasonally erected tents with stretcher beds and crisp linens, an outdoor shower with bush views — is located on the very spot he had his light-bulb business moment. During the day, his guests hike to Magnificent and other rock-art sites; in the evening, they cool off in the most ingenious infinity pool on the planet: a deep divot filled with rainwater at the edge of the escarpment that affords expansive valley views south all the way to the Mossman River near Port Douglas. It's like a scenic preview of my next day's outing with another Kuku Yalanji man, Juan Walker.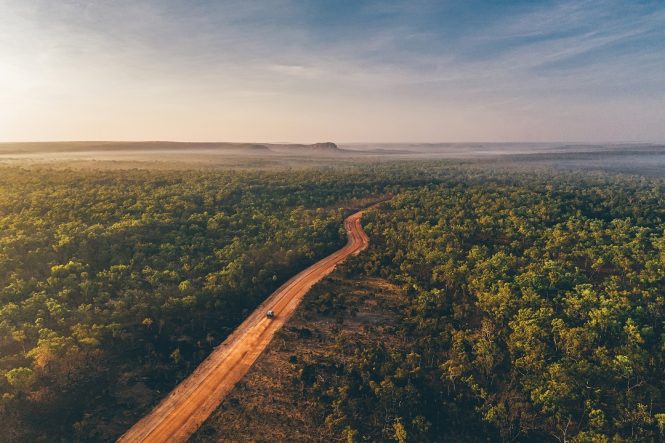 I first met Walker more than a decade ago while staying at the Daintree Ecolodge, where he was a guide offering insights into the rain forest through indigenous Australian eyes. Back then, learning about the Aboriginal heritage of Queensland, my home state, seemed like a privilege afforded to those lucky enough to be checked in to this high-end retreat, with few other apparent opportunities to experience the world's oldest living culture. In the years since that initial encounter, I moved to Sydney and signed up for every Dreamtime tour, Aboriginal art class, and bush-tucker tasting I could find, in order to expand my knowledge of the country's traditional custodians. Now, I'm back in Queensland for a week to see how its indigenous tourism offerings have expanded over the years, from the state's tropical north to the headlands of the Gold Coast south of Brisbane.
The Mossman area is set at the edge of Daintree National Park. This is where Walker has spent his entire life, taught by his elders to spear fish and mud crabs along Cooya Beach. Today, he shares those skills with guests on his Walkabout Cultural Adventures. We wander barefoot along the tidal flats, listening for the crackle of sunlight on mussel shells and the soft "pop" of crabs scuttling into mangroves.
Walker makes a fire and cooks our speared sea – food bounty, at the last minute adding a dressing of lime and chili oil, which we sop up with damper bread freshly baked by his mother. Like indigenous communities before us, we leave our shells behind in piles by the sand. These middens have served for ages as environmental signposts, letting nomadic visitors know what has been consumed — and thus what should be avoided — to sidestep depletion. "Australian Aboriginals pioneered conservation," says Walker. "We would — and still do — only take what we need from the land and sea: what we can carry and what we will eat. This way, we sustain the ecosystem."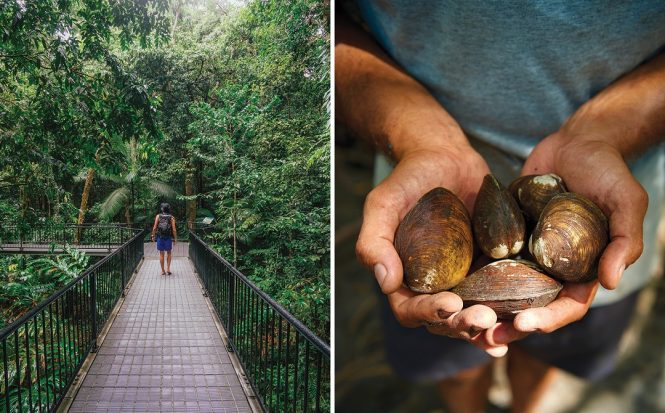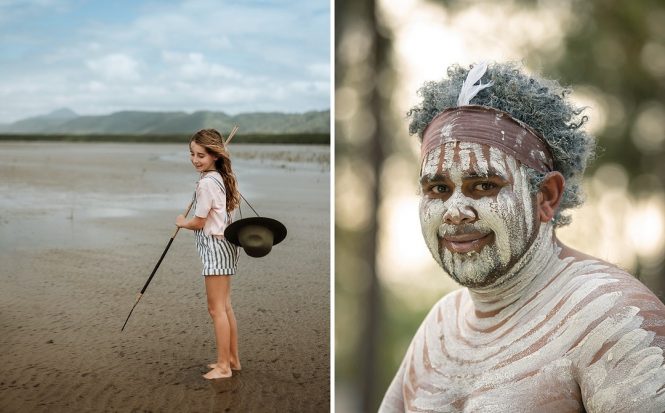 From Cooya Beach we look out over the Coral Sea and the Great Barrier Reef, one of two World Heritage sites in this corner of Queensland. The other is the Wet Tropics, a staggering 9,000 square kilometers of rain forest teaming with floral and faunal species that originated when Australia was still part of the supercontinent of Gondwana. Walker calls the forest maja, meaning "boss." He explains, "We don't own it. We belong to it, and we will return to it."
Walker also leads tours around nearby Mossman Gorge, an immensely spiritual place where the Mossman River tumbles over granite boulders into freshwater swimming holes. But I've instead signed up for a Ngadiku Dreamtime Walk with the Mossman Gorge Centre, an indigenous ecotourism development that launched in 2012. From the interpretive center, a guide leads me on a 90-minute stroll through the rain forest with an indigenous guide. En route I try tart silver quandong and musky Davidson plums, and learn about native plants I could use as "bush soap" for a dry bath. Glorious wild orchids, palms, and strangler figs line our path, and with every rustle and whistle I scan the underbrush for a glimpse of the gorge's incredible fauna: a Boyd's forest dragon, perhaps, or a spotted-tailed quoll, or even the southern cassowary, Australia's second-largest bird.
At one point, my guide scrapes the side of a ridge to reveal a rainbow of earthy ochers, which Aboriginals have used for millennia to create petrographs like those at Magnificent. They're also evident in the modern works on display at Janbal Gallery in the nearby town of Mossman, where I head next. Artist, teacher, and co-owner Brian "Binna" Swindley developed his skills with the guidance of his similarly creative mother, Shirley. His eye-popping dot paintings are an optical illusion, revealing details in layers, depending on your proximity to the canvas. Elsewhere in the gallery peer his signature "Yiki People": stick-like figures with exaggerated features and spiky hair that serve as totems to protect the space from evil spirits.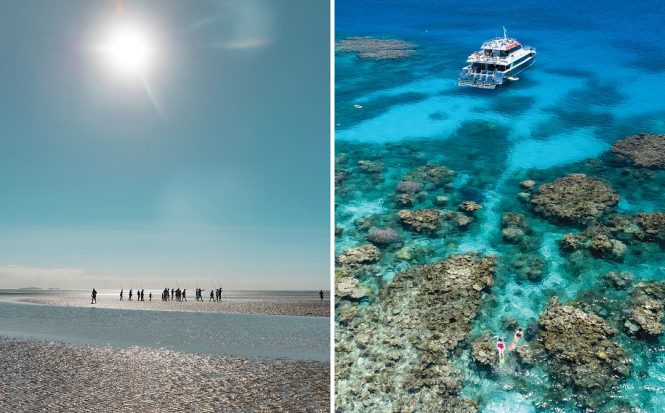 An hour's drive south from here lies Cairns, the steamy gateway to the northern Great Barrier Reef. Here, I join a cultural cruise with Dreamtime Dive & Snorkel, whose catamaran tours tell the story of the world's largest coral reef system through indigenous eyes. The experience begins with a smoking ceremony before a sun-soaked, 90-minute journey out to Moore Reef. Along the way, the company's Aboriginal and Torres Strait Islander sea rangers circulate and tell both unscripted anecdotes about their ancestors and millennia-old Dreamtime stories. They also use cultural artifacts, from clapsticks to didgeridoos, to bring songlines or "ancestral tracks" to life. When we drop anchor 45 kilometers offshore, I slip into the warm water and drift past cardinal fish, moray eels, clown fish, and turtles. The latter is the totem of my young snorkeling guide, Jai Singleton, a former teacher's aide who later tells me, "I'm still a teacher today, telling passengers stories and educating them about my people and my land. A lot of people think we [indigenous Australians] don't exist any more. When they realize we're here and our heritage is still strong … it blows their mind every time."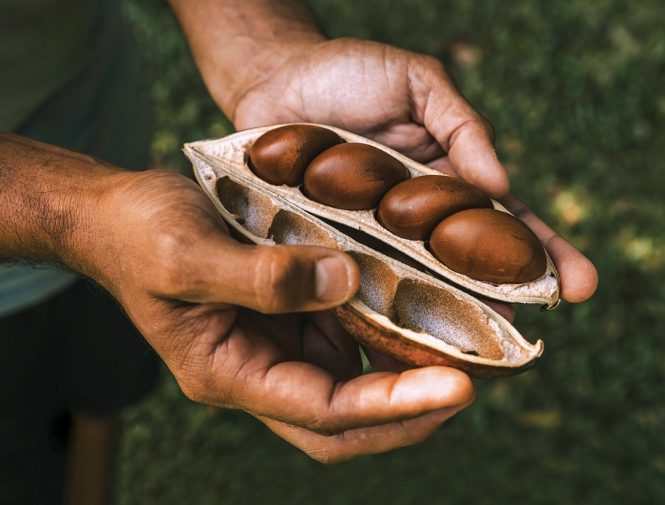 Back on shore, Dale Mundraby and his team at Mandingalbay Tours are also training indigenous rangers. "Our goal is to put the land back together," he tells me. Mundraby's experiences around East Trinity Reserve not only educate visitors, but also help restore ecological balance to this preciously vibrant mangrove system just outside Cairns.
You can tour during the day, spend the night amid the wetlands, or enjoy a "Deadly Dinner" of paperbark-smoked croc and salmon gravalax cured with green ants. Come mid-2021, Mundraby will reveal his newest project: three viewing towers beside the wetlands, including an information center, a "living hub" (hotel, restaurant, and amphitheater), and an education facility with a zipline course.
While most of Queensland's indigenous-operated experiences focus on regional areas, Brisbane, the state capital, provides its own glimpses of Aboriginal heritage. At Nudgee Waterhole Reserve, northeast of the city center, Nyanda Cultural Tours offers walks through a forest of red gum and paperbark that encircles a turtle-filled waterhole and bora (initiation ceremony) site, of which only two remain in Brisbane. I wander past wetlands while Madonna Thomson, my Jagera guide, points out wild mulberry plants, pepperberries, and cotton trees.
A grand-niece of Australia's first indigenous parliamentarian, the late senator Neville Bonner, Thomson teaches me to scratch the bark of a red gum to find witchetty grubs — once used to soothe the gums of teething babies — and to make a fishing spear from tecoma vine. At the bora itself, young Jagera men would face coming-of-age rites that often involved scarification with stone tools. This painful image is tempered by a serving of lemon myrtle shortbread and wattleseed damper slathered in lilly-pilly jam.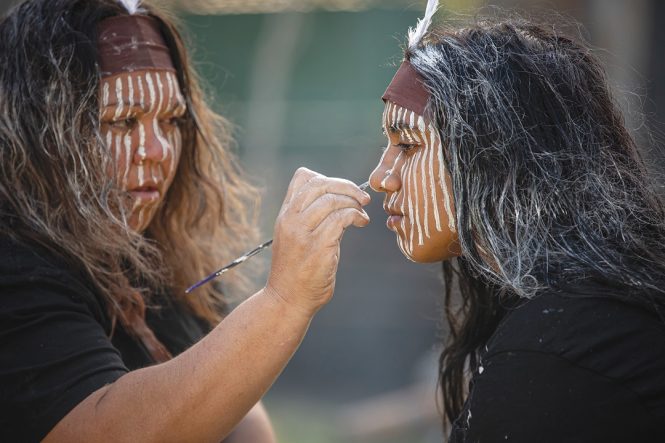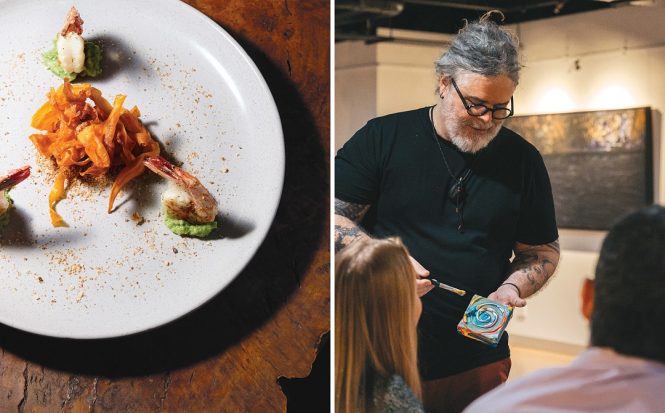 Native flavors also shine at Birrunga, a restaurant-cum-gallery in the heart of Brisbane. Owner Birrunga Wiradyuri — a prolific and extremely talented artist — showcases his own works here, alongside those of his protégés. The latest masterpiece is a ravishing Dreamtime serpent mural snaking along the floor; in each of the creature's curves sits a dining table like the one at which I enjoy tiger prawns with a "sand" of bush tomato. As I dine, Birrunga provides inspiration for creating my own artwork. He doesn't preach artistic rules, however; workshops here are about "feeling" indigenous energy and expressing it through paints and clays laid out on the communal workbench.
It's one thing to admire paintings and try to decipher their meaning. It's quite another to experience indigenous heritage coming to life before you at Spirits of the Red Sand, a progressive theatrical performance unfolding across different set locations in Beenleigh Historical Village, an open-air museum on Brisbane's southern outskirts. The site's collection of heritage buildings are filled with artifacts that date from the 1860s to today: Aboriginal actors tell their stories here, from an Anglican church — audience members in the pews — to upturned logs outside a store, or on stools beside a bonfire. The tales told through the show are at times confronting, often upsetting, and entirely moving, revealing the clash of cultures here between colonial settlers and the indigenous community, with many Aboriginal families torn apart and forced off their land. Compellingly, performers and audience members mingle over dinner served on the homestead's broad patio, discussing Australia's Aboriginal heritage while devouring wattleseed damper and kebabs loaded with emu, crocodile, and kangaroo.
A 30-minute drive south brings me to my final Queensland indigenous experience: a guided "walkabout" around the Gold Coast's Burleigh Headland — a traditional stomping ground of the Yugambeh people — with the Jellurgal Aboriginal Cultural Centre. First comes a smoking ceremony (native eucalypt leaves burned to ward off evil spirits) and ocher anointment (a slick of mud to my forehead to welcome me to country). What follows is a parade of heart-stopping vistas that stretch all the way to the skyscrapers of Surfers Paradise, and just as memorable lessons about the land. Standing here, overlooking the froth of the Pacific Ocean, I'm only a few kilometers from the heart of Australia's sixth-largest city. But in my mind, I'm tens of thousands of years away.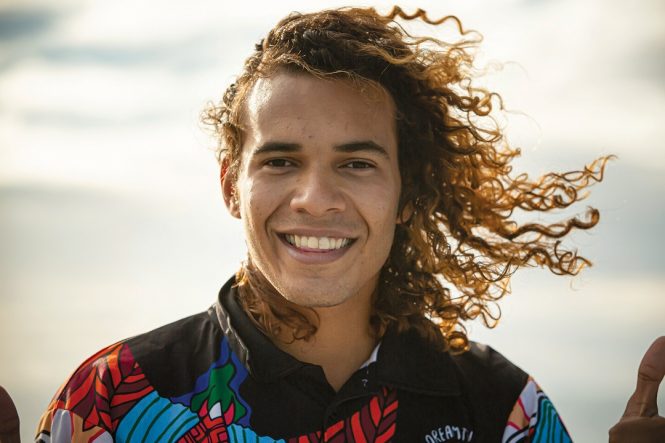 The Details
Where to Stay
There's no shortage of luxe hotel options in Brisbane these days: try the all-suite Emporium Hotel South Bank (doubles from US$192) for its stunning infinity-edge pool and location in the heart of a riverside cultural precinct; or pastel-hued The Calile (doubles from US$280) for a resort-style stay amid the buzz of Fortitude Valley's James Street.
In Cairns, the town's newest hotel — it opened in November — is also arguably its sexiest: Flynn (doubles from US$140). Be sure to book a room overlooking the Coral Sea.
Address Book
Dreamtime Dive & Snorkel
Great Barrier Reef day cruises ex-Cairns from A$199 per person (half price for children aged 4 to 14).
Mandingalbay Ancient Indigenous Tours
Three-hour tours of Mandingalbay Yidinji country near Cairns from A$139 per person.
Walkabout Cultural Adventures
Half-day tours from A$180 per person.
Jarramali Rock Art Tours
4WD overnight camping excursions in the Cape York Peninsula outback from A$790 per person (half price for children aged 3 to 9).
Spirits of the Red Sand
Theater and dinner experience in Beenleigh; A$120 per adult.
Nyanda Cultural Tours
Guided visits to Brisbane's Nudgee Waterhole Reserve from A$99 per adult (A$69 per child).
Dreamtime Walks
Ninety-minute Mossman Gorge tours from A$80 per person (half price for children aged 5 to 15).
Jellurgal Aboriginal Cultural Centre
Gold Coast "walkabouts" from A$39 per person (half price for children aged 5 to 14).
Janbal Gallery
5 Johnston Rd., Mossman
Birrunga Gallery
300 Adelaide St., Brisbane
This article originally appeared in the March/May 2021 print issue of DestinAsian magazine ("Adventures in an Ancient Land").