The only living organism that can be seen from space, Australia's Great Barrier Reef has been battered by cyclones, coral bleaching, and venomous starfish. But a new wave of environmental initiatives — and savvy tourism operators championing sustainability — is promising the regeneration of this remarkable World Heritage Site.
>oral has an amazing sex life," says Professor Peter Harrison, director of the Marine Ecology Research Centre at Southern Cross University in New South Wales. And he should know. A "coral sexpert," Harrison has been studying coral and reefs for more than three decades, and it's this topic that has brought him and a panel of other Great Barrier Reef authorities to the Heron Island Research Station off the coast of Queensland. They're here to discuss the world's largest living organism: how it has suffered, how parts are now thriving, how science and tourism are helping. And just how good it is at reproducing.
"Corals are very simple creatures, and most of the time they're quite boring. But they're exceptional animals, and many participate in mass spawning events, creating a … sea of sexual soup," says Harrison. It's a comment at once terrifying (no ocean swimmer wants to hear this as they take an accidental gulp of water), but at the same time globally significant—the discovery of large-scale coral spawning more than three decades ago recently culminated in pioneering reef-regeneration projects across the Philippines and Australia.
Rewind to the 1980s, when Harrison and fellow environmental scientists were cruising around Magnetic Island, a eucalyptus-clad drop of sand just off the coast of Townsville in North Queensland. The researchers noticed an unusual pinkish slick covering the surface of the sea: it was, they would discover, a blizzard of billions of sperm and egg released into the water during an annual frenzy of coral reproduction. (Hitherto, it was thought that corals reproduced mainly by brooding larvae.) Not only that, but many different coral species were spawning together at the same time, triggered by the moon, the tides, and the sea temperature. "It was one of the world's great reproductive events," Harrison recalls, "and it revolutionized our understanding of how corals reproduce."
The fact that the spawn was bobbing on the sea's surface, rather than settling to create new reef systems, meant a lot of it was being wasted or eaten by fish. Ever since the discovery, Harrison has been working on ways to help the spawn get to where it's intended: to other coral beds to regenerate the ecosystem. For the last six years, those efforts have focused on a technique called larval reseeding, which involves capturing coral eggs and sperm during spawning and then releasing them into tanks where they can grow into larvae. The resulting "baby" corals are then resettled on degraded reefs.
It's been a slow process, but Harrison completed his 14th larvae-planting project recently, and he's had a 100 percent success rate in terms of coral recovery. "In the Philippines, we've seen coral grown from microscopic larvae to the size of a dinner plate in three years. It's sexually active well before this, continuing the cycle," he says.
Late last year, Harrison trialed the same process on the Great Barrier Reef, but using a robot, rather than humans. The submersible autonomous vehicle—originally created to eradicate crown-of-thorns starfish—was repurposed to fast-track coral regeneration through rapid larvae redistribution. Results indicate it will be just as successful as previous efforts.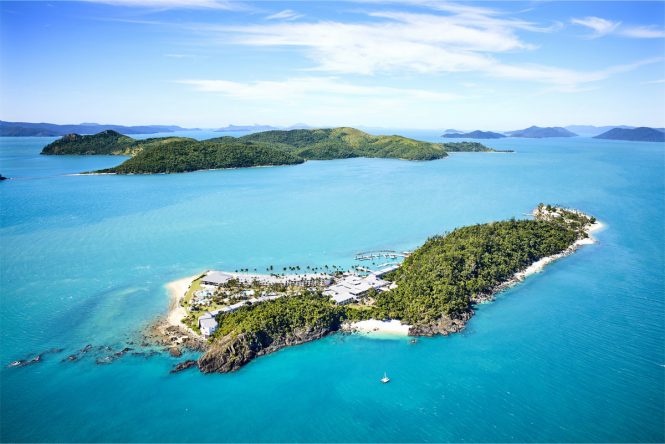 These projects have helped shape the future viability and recovery of the Great Barrier Reef, a UNESCO World Heritage site that Deloitte Access Economics recently valued at AU$56 (US$38) billion, based on attracting two million visitors a year and supporting more than 64,000 jobs. It's also hugely valuable to the planet. "Reefs are the equivalent of rain forests of the sea in terms of biodiversity," Harrison says. "The numbers and abundance of different types of organisms in reefs are much higher than they are in any other type of marine environment."
Comprising more than 2,900 individual reefs and 900 islands, the Great Barrier Reef stretches 2,300 kilometers from the tip of Cape York Peninsula in the Far North of Queensland to Bundaberg in the south. It covers 344,400 square kilometers, an area greater in size than New Zealand, Japan, Germany, or Malaysia—or, 70 million football fields. It's one of the most complex ecosystems on earth, nurturing 10 percent of global coral gardens and the same proportion of the world's fish species, including 30 types of whales, dolphins, and porpoises. Six species of sea turtles come here to breed, alongside 215 different types of birds.
But Australia's most precious natural asset is also one of its most fragile, with the reef regularly slammed by threats such as climate change (warmer ocean temperatures lead to coral bleaching, as was dramatically seen in 2016's washout north of Lizard Island) and cyclones, as well as crown-of-thorns starfish, which feed on coral polyps. Thankfully, it is also resilient and even "thriving," according to David Wachenfeld, chief scientist for the Great Barrier Reef Marine Park Authority. Despite all the pressures, he says, "it does everything it can to recover on a day-to-day basis," with a little help from researchers like Harrison.
"Yes, there are environmental threats, but perhaps the biggest issue is that the global media has written the reef's obituary," says Andy Ridley, CEO of the Cairns-based foundation Citizens of the Great Barrier Reef. "Our greatest fear is that the world has given up on one of the planet's greatest living icons. The reef is not dead—it's still magnificent." To prove it, Ridley is set to launch the inaugural Great Reef Census this October, calling for assistance from "anyone and everyone who is out on the water." Gathering such data is not without its challenges: records show that 80 percent of all Great Barrier Reef tourism happens in about seven percent of the reef, and around 40 percent of it has never been surveyed at all.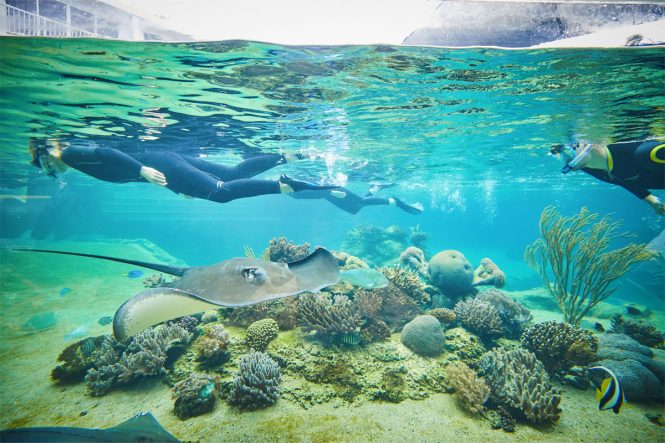 Alan Wallish, co-owner of Queensland-based boat tour company Passions of Paradise, echoes Ridley's anti-obituary sentiments. "I've seen bleachings, crown-of-thorns, and cyclones here for three decades in equal measure," he says. "The cyclones are like bulldozers to the reef. But there's always recovery afterward. It's like regeneration after a bushfire."
Wallish has been taking travelers out across the reef since 1987. His passion for the region extends well beyond his company's name; reef education and rehabilitation are central to his mission, which recently saw the establishment of a coral nursery 40 kilometers off the coast of Cairns. "Divers weighted 10 frames, each with 100 coral fragments, to the ocean's floor," he explains. "We are growing coral that can then be replanted into substrates of the reef." Guests with a dive certificate are welcome to get involved in future plantings. "Tourists love the citizen-science side of things. People are demanding the footprint they leave is minimal, that they leave the world in a better place."
Like most tourism operators on the reef, Wallish is active in assisting Harrison and other scientists with their research. "There's an incredible synergy between us," he says. "We're feeding data from the nursery to scientists who can see what types of coral are resilient to bleaching at certain temperatures. But we're also out on the water every day. We're like the eyes and ears, providing feedback on conditions to researchers and environmental authorities. Tour operators are also fundamental when it comes to providing infrastructure for the researchers, whether that's boats and helicopters or hotels." And there are more hotels than ever in this part of the world.
Cyclone Debbie tore through the popular Whitsunday Islands in March 2017, her 250-kilometer winds leaving wispy white-sand islets and resorts destroyed and parts of the reef in ruin. With losses to the tourism industry estimated at US$1.4 billion, the event could have wrought lasting damage. But just three years on, the region is back.
The revival began with a mega-makeover of palm-fringed Airlie Beach, which now has a sleek restaurant-lined waterfront promenade, transforming it from just being a reef gateway into a destination unto itself. Funds have also been channeled into the nearby Whitsunday Coast Airport, expanding its terminal and adding a 20,000-liter aquarium filled with 100 different species of fish and coral. And for those who want to stay in style, there's Freedom Shores, a nautically themed hotel where bungalows are fashioned like fishing boats and the alfresco bar sits on the hull of the Shangri-La, a motor cruiser purportedly used by General Douglas MacArthur during the Battle of the Coral Sea in World War II.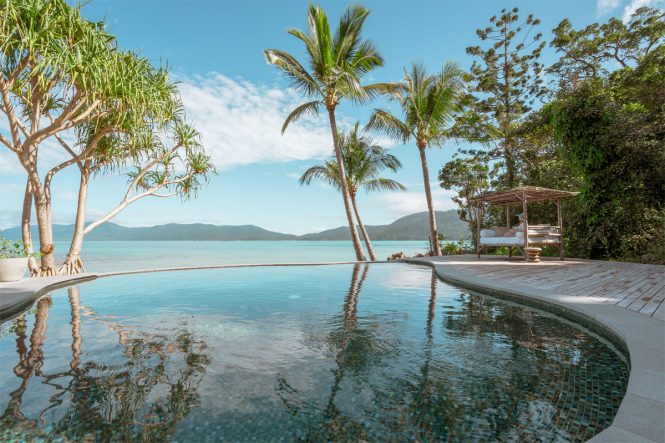 Just 20 kilometers southeast on Long Island, Elysian Retreat is the first fully solar-powered resort in the Great Barrier Reef, its 10 villas complemented by a magnesium pool. And Daydream Island Resort has also reopened nearby, showing off a multimillion-dollar renovation that includes an underwater observatory and the Living Reef, a 1.5-million-liter wraparound aquarium managed by three marine biologists.
Taking over from One&Only, InterContinental pumped US$92 million into updating Hayman Island Resort on one of the Whitsundays' most glamorous spots. The investment saw the addition of the three-bedroom Hayman Beach House, set up steps from the ocean, as well as the establishment of sustainability initiatives such as nifty in-room tech that conserves energy, a crusher to recycle glass into sand, the elimination of single-use plastics, and a store stocked with reef-friendly sunscreen. Guests are ferried to Hayman via a luxury yacht departing nearby Hamilton Island — this is also the launch point for helicopter trips to Heart Reef, where a just-opened pontoon gives six visitors access to one of the world's most recognizable reef formations: in the shape of a love heart.
Perhaps the most original development, though, comes courtesy of tour operator Cruise Whitsundays, which has just unveiled Reefsuites, Australia's first underwater hotel. After a day snorkeling Hardy Reef where the Reefworld pontoon is moored, guests can dine under the stars and then retire to their submerged glass-walled rooms. A similar project will open later this year in the lagoon at Lady Musgrave Island, 650 kilometers to the south off the Bundaberg coast. Conceived by local eco-tour company Lady Musgrave Experience, it will involve a three-level pontoon where up to 24 guests will have the chance to participate in eco-initiatives, including the collection of reef data. It will also host an underwater observatory with UV lighting, so visitors can experience the reef at night.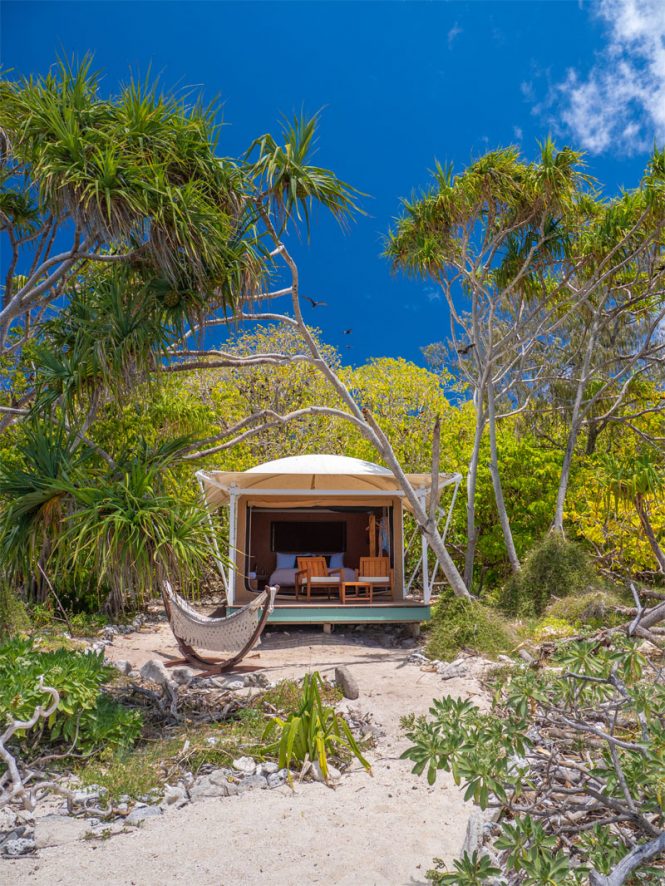 The southern Great Barrier Reef is also home to Wilson Island, a tiny coral cay that, in November 2019, saw its first visitors arrive since being closed as a glamping getaway in 2014. Now owned by the Canadian hotel group Aldesta, which took over nearby Heron Island in 2017, the refurbished retreat's nine battery- and solar-powered tents sit on just two hectares of sand, a minimal environmental footprint necessitated by the fact that Wilson is an important nesting ground for green and loggerhead turtles and all manner of birds, including sea eagles. In fact, no bookings are taken from January 26 to February 26 to allow the resident bird population to nest in peace.
Another eco-resort island in this section of the reef is Lady Elliot, widely regarded as one of the world's top destinations to dive with manta rays. Reachable only by prop plane, it's overseen by the vivacious Peter Gash, who has goals for the resort to become 100 percent sustainable this year thanks to new renewable power generation schemes and emissions reductions. Indeed, the resort's award-winning environmental work since 2005 paved the way for Lady Elliot to be selected as the forest "climate change ark" in the Reef Islands Initiative, a project launched by the Great Barrier Reef Foundation in 2018 to help protect local habitats. The organization will this year announce three other destinations to benefit from the program, which operates alongside ongoing activities ranging from improving water quality to supporting traditional owners to play a bigger role in the area's management.
Farther north in the central section of the Great Barrier Reef, you'll soon be able to snorkel through the Museum of Underwater Art, a series of sculptures by British artist and environmentalist Jason deCaires Taylor. Responsible for similar projects in Mexico and Spain, Taylor is submerging his installations (including a sunken skeletal greenhouse) between the Townsville mainland and sites including John Brewer Reef, Magnetic Island, and Palm Island, where they will double as sites for coral and marine-life regeneration.
Farther north still in Cairns, you can join a Sunlover by Starlight cruise to the company's pontoon at Moore Reef, where, after the day-trippers have departed, you can sleep under a blanket of stars in relative seclusion. When you wake, you can dive into the ocean and assist researchers by filling out a survey that records the state of the reef's health. Cairns is the departure point for another new cruise experience, Dreamtime Dive & Snorkel, which sees indigenous rangers regale guests with stories of how the Great Barrier Reef was formed, according to Aboriginal legend.
This — exploring the reef with your head under water — is by far the best way to really understand how it was formed, its environmental significance, and its sheer magnificence, says Gash. "Rays weaving around you, turtles bobbing to the surface next to you, the sound of whale song in the distance … there's nothing else like it."
He adds, "The Great Barrier Reef has this ability to grab us by the hands and say, 'fall in love with me!' When you fall in love with something, you want to protect it."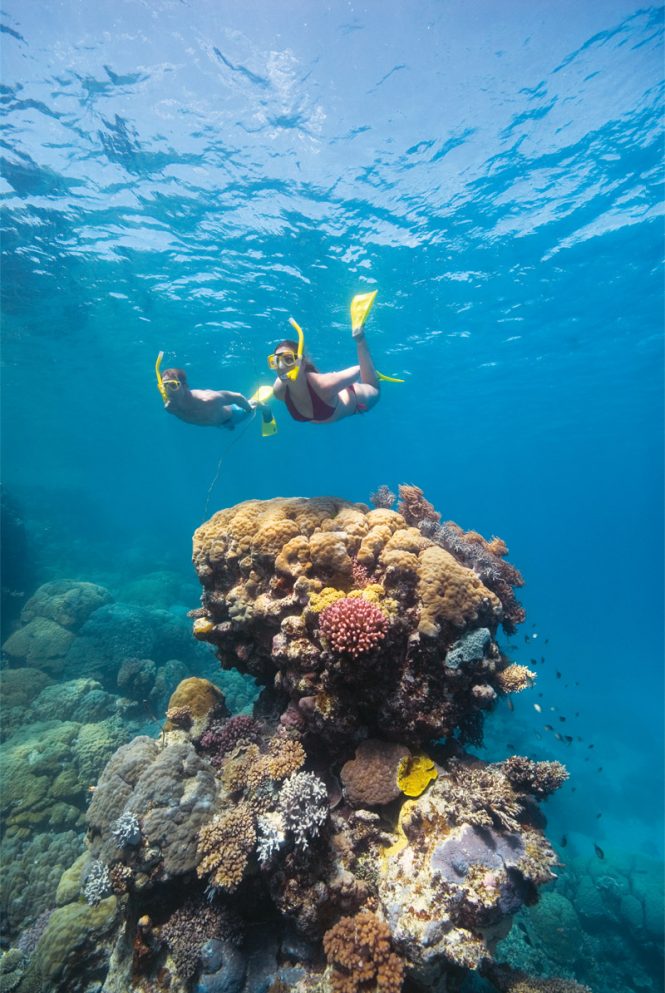 The Details
Getting There
While the Great Barrier Reef's 2,300 kilometers pose a challenge to visitors, they should not intimidate. Starting at the Tropic of Capricorn in the south, Gladstone, Bundaberg, and Rockhampton are launch points for excursions to the Bunker and Capricorn Group of islands, which include Heron, Wilson, and Lady Elliot. To the north, the reef is closer to the mainland and a bit more accessible. Airlie Beach is the gateway to the Whitsunday Islands; Townsville is near Magnetic Island; and Cairns and the more sedate Port Douglas are starting points for exploring both the reefs and rain forests of Queensland's Far North.
Where to Stay
61-7/4967-6050; doubles from US$220.
Long Island; 61-1800/ 765-687; doubles from US$605.
Airlie Beach; 61-7/4946- 1979; doubles from $200.
InterContinental Hayman Island Resort
61-7/4940-1234; doubles from US$305.
61-7/5536-3644; doubles from US$260.
Hardy Reef; 61-7/4846-7000; doubles from US$1,100.
61-3/9426-7550; doubles from $755.
What to Do
Townsville.
Cairns; 61-7/4050-1333.
Cairns; 61-7/4030-7920.
This article originally appeared in the February/March 2020 print issue of DestinAsian magazine ("The Comeback Reef").