This tiny Gulf nation is well on its way to becoming a regional cultural hub, with starchitect-designed museums, a plethora of public art, and a burgeoning creative scene vying for attention.
Photographs by Christopher P. Hill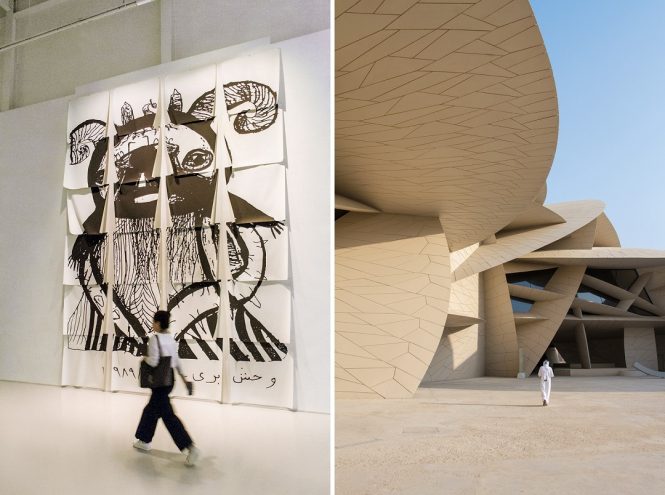 As the cool desert night fades to reveal a twilit landscape of chalky gypsum plateaus and gravelly sand, a shape materializes out of the gloom: a monolith, elemental and mysterious. The rectangle of weathered steel looms 14 meters above the ground, its preternatural presence exerting an irresistible pull. Gazing upward, it's impossible not to think of 2001: A Space Odyssey, and as the swiftly rising sun casts the metal slab in sharp silhouette, I can almost hear the triumphant fanfare of Strauss's "Also sprach Zarathustra" (you know the one — Duh … Duh … Duh … Duh-duh!).
The monolith is one of four standing steel plates that make up East-West/West-East, a major site-specific installation by American sculptor Richard Serra located in the Brouq Nature Reserve of western Qatar, about 70 kilometers (almost the width of the peninsular country) outside Doha, the capital. It's an astonishing feat of art and engineering. Shipped over from Germany and craned into place in 2014, the 80-ton plates are planted in a straight line across a one-kilometer stretch of ancient desert sea, their tops level with the adjacent plateaus, anomalies of pure verticality in a horizontal wilderness. Like Serra's other monumental works, the installation is meant to challenge the viewer's concept of space and proportion. And though they appear inert and immutable, the monoliths are in a perpetual state of change as the hot, salty air (the sea is not far away) transforms their steel surfaces with a patina of corrosion — an effect only slightly marred by the morons who've scratched their names into the rust.
East-West/West-East may be the most ambitious piece of public art in Qatar, but it's hardly alone. Qatar Museums, the government entity tasked with overseeing the arts and cultural sector in this tiny oil- and gas-rich nation, has spent lavishly on art acquisitions since its establishment in 2005 — so much so that its chairperson, Al Mayassa Bint Hamad bint Khalifa Al Thani, younger sister of the emir of Qatar, was named the most powerful person in the art world by London's ArtReview magazine back in 2013. A good number of those commissions and purchases (which reportedly include a US$300 million Gauguin, a US$274 million Cézanne, and a trove of Rothkos) have remained under wraps. But much else is on public display, both inside museums and beyond.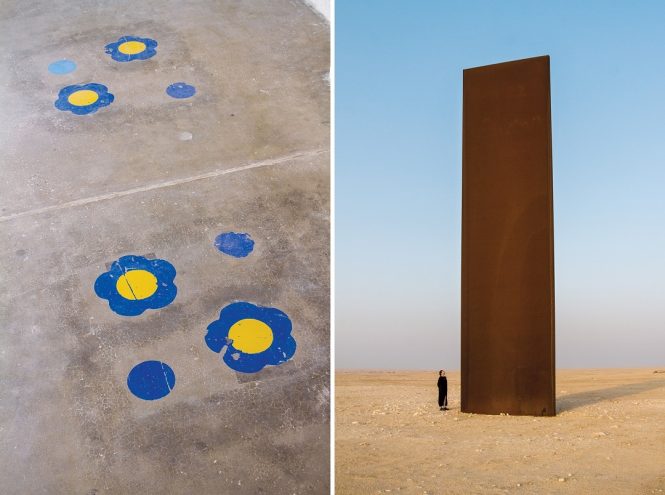 In Doha, one of the most conspicuous installations is another piece by Serra: 7, a heptagonal steel tower that rises from the end of a crescent-shaped peninsula next to the I.M. Pei– designed Museum for Islamic Art. Elsewhere around town are scattered works by a who's who of international artists, many the result of a ramped-up buying spree that preceded Qatar's hosting of the 2022 World Cup. There's a blue, Brobdingnagian rooster by German sculptor Katharina Fritsch in the atrium of the pyramidal Sheraton Grand hotel, and a Louise Bourgeois spider awaiting visitors to the Qatar National Convention Centre. Pouce, a giant golden thumb modeled after the digit of its creator, French nouveau realist César Baldaccini, juts from a stone-paved street in the century-old marketplace of Souq Waqif. Jeff Koons has contributed a shiny inflatable dugong to the waterfront Corniche, while a group of brightly painted rock piles by Switzerland's Ugo Rondinone stand like Day-Glo totems on a beach at Ras Abu Aboud. Even Hamad International Airport is in on the act, with two dozen striking sculptures by the likes of KAWS, Urs Fischer, and Marc Quinn.
None of this (including the current airport) was here the last time I visited Qatar, 15 years ago. Back then, Doha's modern center was West Bay, a 21st-century business district bristling with chrome-and-glass skyscrapers in various stages of completion; a mini-Manhattan, to quote Thomas Friedman, sprouting from the desert. Across the calm turquoise waters of Doha Bay, the starkly beautiful building that would put the city on the map as an emerging cultural center, the Museum for Islamic Art, was still months away from opening.
On this trip, though, I'm staying in Msheireb, the capital's old downtown area. It, too, has changed beyond recognition, at least within the 31-hectare Msheireb Downtown Doha development where my hotel (a sleek and efficient Park Hyatt) is situated. Billed as the world's first sustainable downtown regeneration project, the compact district comprises more than a hundred "Qatari Modern" buildings — many with courtyards and pedestrian-friendly arcades — that deftly borrow from traditional architecture and aesthetics. At the center of it all is Barahat Msheireb, the largest covered square in the Middle East. A self-powered tram makes a loop of the neighborhood every six minutes.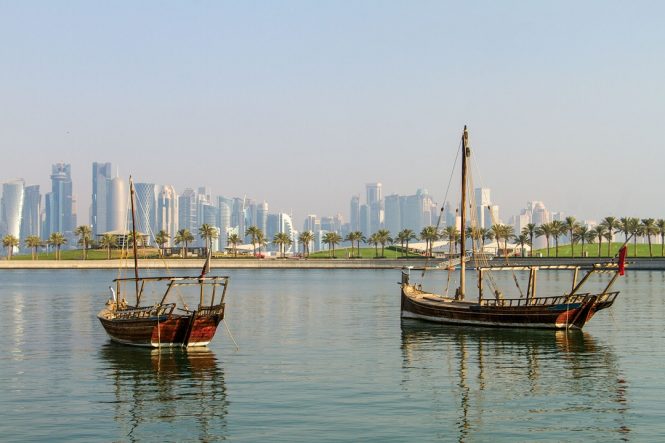 Located just south of the Amiri Diwan government complex (whose grounds are patrolled by camel-mounted palace guards) and connected to Souq Waqif via an air-conditioned underpass, the Msheireb area also puts visitors within easy reach of the city's most high-profile museums. The newest of these is the National Museum of Qatar, an 18-year project that finally opened in 2019 at the southern end of the Corniche. The building's marvelous exterior geometry is the work of Jean Nouvel, the famed French architect who was also behind the mashrabiya latticework–sheathed Burj Doha tower in West Bay and the Abu Dhabi branch of the Louvre. Inspired by the rosette-like crystal clusters known as desert roses, the design is a sprawling, sand-colored assemblage of interlocking disks (some 539 in all) tilted at all kinds of seemingly random angles. Inside, 11 consecutive galleries immerse visitors in the natural and cultural heritage of the Qatar Peninsula, using films, dioramas, and artifacts to chronicle life in the desert, the once-lucrative pearl trade, and modern developments following the discovery of oil in 1938 and independence from Britain in 1971. It's all very well done, save for a conspicuous absence: there's no reference to the legion of migrant workers who have come to comprise 88 percent of the country's population.
Nearby, the Museum for Islamic Art — best known by its acronym MIA — sits on an artificial island connected to the waterfront by a palm-lined causeway. Like the National Museum, it stands as a bold symbol of Qatar's cultural aspirations; in this case, with a stepped central mass of pale limestone that pays tribute to the 13th-century sabil (ablution fountain) of Cairo's Ahmad Ibn Tulun mosque. Stepping into MIA's magnificent dome-crowned atrium, visitors might well wonder whether the exhibitions can possibly live up to the architecture. They do. Home to one of the world's greatest collections of Islamic art, the museum recently reopened after 18 months of renovations, its extensively retooled galleries now organized along broad historical, cultural, and geographical themes (including one dedicated to Southeast Asia). More than a thousand objects, many newly acquired, are on display for the first time, alongside expanded interpretive materials and interactive features.
"Before, we had all these beautiful objects but without context," explains MIA director Julia Gonnella. "Now the exhibitions are more immersive, with a story line that presents a broader perspective of the Islamic world and explains these masterpieces' social and historical significance." Among the new highlights is the Damascus Room, a sitting room transplanted from a 19th-century Syrian house whose elaborate Ottoman woodwork took a team of researchers and conservators three full years to reassemble.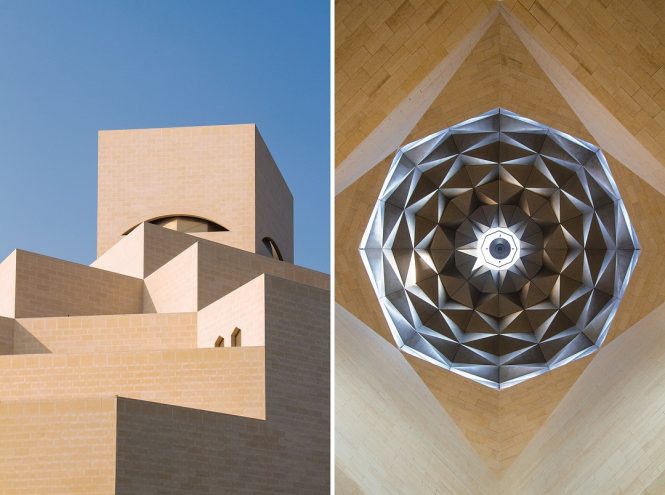 While MIA's holdings span the 7th through 19th centuries, Mathaf: Arab Museum of Modern Art is devoted to modern and contemporary works from the region. To get there, you have to drive 25 minutes (or hop the gleaming metro line) from Msheireb or West Bay to Education City, a 12-square-kilometer campus on the outskirts of town that encompasses eight universities and over a dozen schools. Inaugurated in 2003, it's the flagship development of the Qatar Foundation, a nonprofit organization founded and run by Sheikha Al Mayassa's mother, former first lady Sheikha Mozah bint Nasser.
Mathaf — which simply means "museum" in Arabic — occupies relatively low-key premises in a converted school building. But there's nothing modest about the institution's rotating collection of 9,000-plus pieces (among them, works by the pioneering Qatari surrealist Hassan Al Mulla) or its ambitious exhibition calendar. My visit coincides with the opening of the first major show in the Middle East by Qatari-American artist Sophia Al-Maria, whose notion of "Gulf Futurism" examines issues related to consumerism, technology, and the loss of traditional culture in the Gulf region. I find the tightly curated mix of installations, video pieces, and commissioned soundscapes to be endlessly intriguing.
Mathaf isn't the only reason to visit Education City. There's also the Qatar National Library, whose faceted, diamond-like profile is the work of Dutch architect Rem Koolhaas's OMA. Inside the vast open-plan space, corrugated glass walls filter natural light onto zigzag ramps and terraced bookshelves that are said to hold more than a million books. (Self-checkout kiosks and an automated book conveying and sorting system ensure that volumes don't get misplaced.) Perhaps even more remarkable is the building's sunken Heritage Library; from the floor above, it looks like an excavation site made of richly veined Italian and Iranian marble. Like a half-buried treasure, the archive holds a priceless collection of rare books, illuminated manuscripts, early maps, and historical photographs related to Arab-Islamic civilization, including a Qur'anic parchment leaf dating back to the seventh century.
Across the highway, the National Convention Centre is yet another architectural showpiece (designed by yet another Pritzker laureate, Arata Isozaki), its overhanging roof propped up by gigantic treelike columns. Those keen for a closer look should stop en route at the Sidra Medicine hospital for women and children; out front, a series of 14 colossal bronze sculptures by Brit Art provocateur Damien Hirst depict the human reproductive process, from fertilized egg to fetus to newborn baby. Called The Miraculous Journey, it's arguably the most controversial piece of art in Qatar, and all the more extraordinary for it.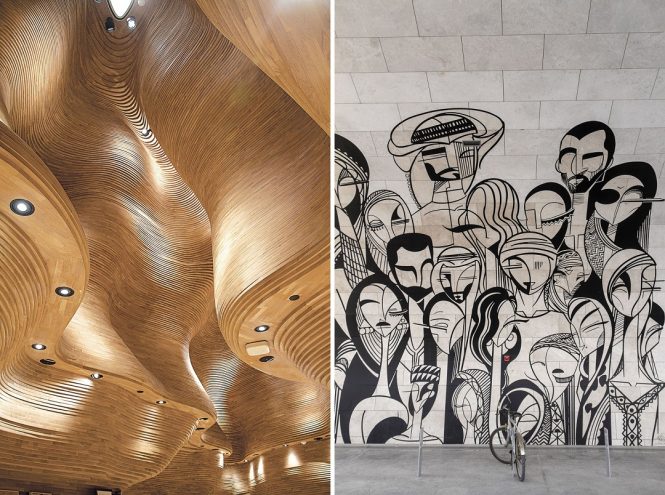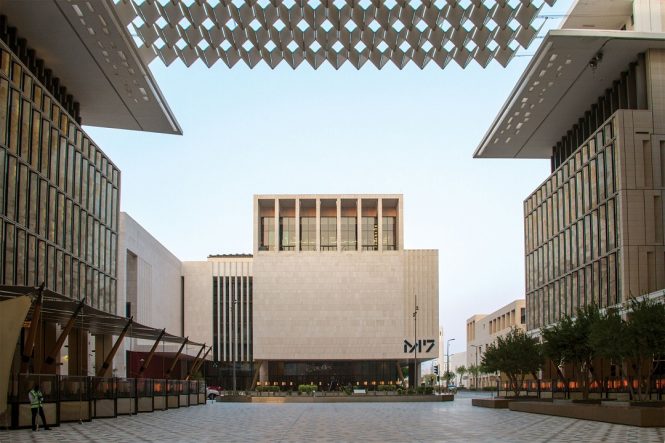 With so many big-name artists and architects vying for attention, it would be easy to overlook Qatar's homegrown creative scene. Yet there is much to explore on that front.
Fashion designer Wadha Al Hajri, for instance, showcases her eponymous label of sculptural women's wear and accessories at her flagship store on the grounds of the National Museum. The same institution has also commissioned several pieces from Qatari artists like Bouthayna Al Muftah, a young graduate of the Education City branch of Virginia Commonwealth University School of the Arts (VCUArts) who cites Franz Kline and Picasso as influences. Her ink-on-paper wall installation Kan Ya Ma Kaan ("Once Upon a Time") takes pride of place in the museum's Café 875, where circular seating modules offer a nod to traditional Qatari medallion rings.
Then there's JedariArt, a public mural initiative launched by Qatar Museums in 2021 that has seen walls around town decorated by local artists. More than a few are by Mubarak Al-Malik, dubbed the "Qatari Banksy," whose vibrant murals feature women in batoola face coverings.
Other talents are being nurtured at M7, a year-old fashion and design incubator just across from Barahat Msheireb square. Notwithstanding the Bruce Nauman sculpture out front or Isa Genzken's eight-meter-high metal rose in the building's skylighted atrium, the focus here is on providing "an entire ecosystem for local entrepreneurs to create and grow in as organic and sustainable a way as possible," says M7 director Maha Ghanim Al Sulaiti. Apart from its co-working spaces and design studios, the center hosts regular fashion events, exhibitions, and an industrial-style concept store called Studio 7. Curated by another VCUArts graduate, Asma Derouiche, the shop brims with unusual local and regional design products, including polished clay backgammon sets from Tunisia and tubular-steel furniture by Palestinian-based Local Industries.
Not far away, another Qatar Museums initiative, Liwan Design Studios and Labs, occupies a 1950s courtyard building that once housed the country's first all-girls school. While nostalgic mementos from those earlier days — an old electric orrery of the solar system; vintage children's books; cement walkways painted with blue flowers — have been conserved, the former classrooms now serve as studio space for creative platforms like TypeAraby, which works to promote and preserve Arabic typography, as well as ceramics and leatherworking ateliers.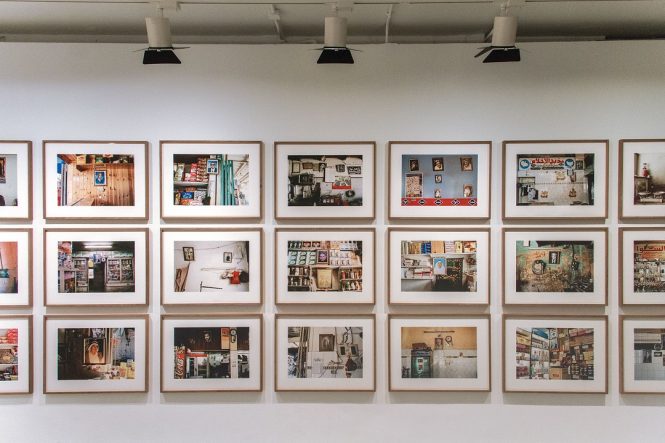 By the end of my week in Qatar, I've learned that, if nothing else, the country's cultural ambitions are inexhaustible. Three more starchitect-designed museums are in the pipeline: the Qatar Auto Museum, an encore project by Rem Koolhaas slated for completion in 2023; Herzog & de Meuron's Lusail Museum, dedicated to Orientalist art; and, on the site of an industrial flour mill on the Corniche, the Art Mill Museum by Pritzker-winning Chilean architect Alejandro Aravena.
And wouldn't you know it? Just a few weeks after returning home, I hear about the unveiling of a new desert installation in northwest Qatar, near the UNESCO-listed archaeological site of Al Zubarah. The work is a series of mirrored circular shelters by Olafur Eliasson; when you stand beneath them and look up, you see the desert — and yourself — reflected back. Evocatively named Shadows Travelling on the Sea of the Day, it's described by the artist as "an invitation to resync with the planet." And that's an invitation I'll gladly accept, just as soon as I can make my way back to this small yet seemingly limitless land.
On the Art Trail in Qatar
WHERE TO STAY
Park Hyatt Doha
Located in the Msheireb Downtown Doha area, this relatively new addition to the city's five-star hotel scene (it opened in 2019) is as sleek as you'd expect from a Park Hyatt property, with 187 rooms, three restaurants, and a two-level spa (doubles from US$230).
W Doha
For something with a bit more energy, the W in West Bay comes with cool interiors, buzzy restaurants, and a poolside bar (doubles from US$230).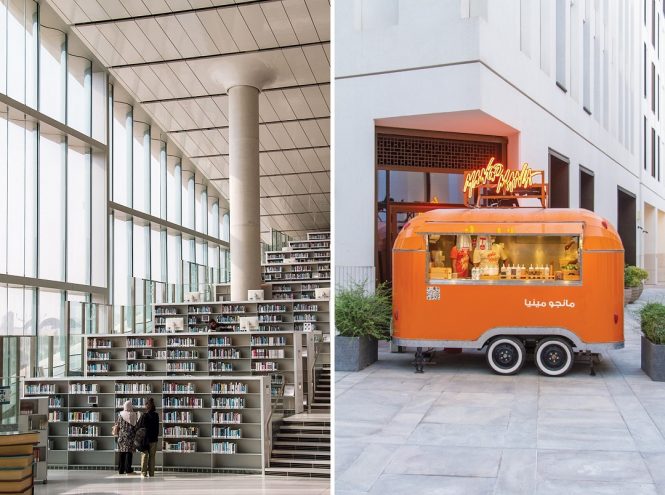 WHAT TO SEE
East-West/West-East
A monumental piece in western Qatar, Richard Serra's remote installation comprises four steel monoliths planted across a kilometer of desert.
Liwan Design Studios and Labs
In a historic mid-century building in downtown Msheireb, Liwan offers private studios and co-working spaces alongside artisanal workshops and events.
Mathaf: Arab Museum of Modern Art
With a collection of over 9,000 objects and a dynamic exhibition schedule, Mathaf offers an Arab perspective on modern and contemporary art.
M7
A creative hub in Msheireb Downtown Doha that incubates Qatari talent, especially in fashion and design.
Museum of Islamic Art
MIA's collections span 1,400 years and three continents and are housed in an iconic waterfront landmark by I.M. Pei.
National Museum of Qatar
Qatar's past, present, and future is on display at this Jean Nouvel–designed landmark, whose shape is inspired by the desert rose crystals found in Qatar's deserts.
Qatar National Library
Designed by Dutch architect Rem Koolhaas, this diamond-shaped building contains more than a million books and a sunken archive of rare books, manuscripts, and maps.
WHERE TO EAT
Damasca One
Syrian comfort food amid the bustle of Souq Waqif.
Jiwan
An elegant Alain Ducasse outpost on the fourth floor of the National Museum of Qatar, with a contemporary Qatari menu and equally impressive views over Doha Bay.
Saasna
Qatari fine dining in Barahat Msheireb square.
This article originally appeared in the December 2022/February 2023 print issue of DestinAsian magazine ("Qatar Rising").