Long overshadowed by Malacca's other ethnic communities, the Kristang are stepping up to save their unique culture.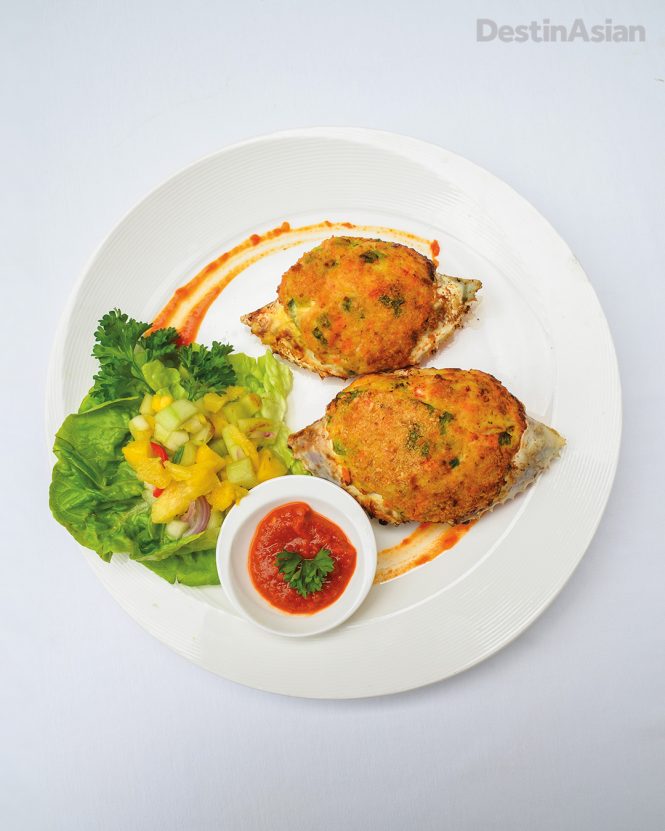 On the banks of the Malacca River, as raindrops fall from a sky turned gunmetal gray by the northeast monsoon, Martin Theseira flashes a smile as wide and white as his thick moustache. The local guide and activist is about to show me a side of his hometown few visitors get to see. I climb into the passenger seat of his car, where a simple wooden cross hangs from the rearview mirror. Theseira cranks up the volume on the dashboard speakers, filling the air with Christmas songs in a melodic form of Portuguese that bears little resemblance to the kind spoken in Lisbon. It almost feels like I've been transported to another country.
More than 500 years after soldiers led by Afonso de Albuquerque claimed the great Malay port city of Malacca for Portugal, traces of that global maritime empire remain in a tight-knit Eurasian community known as the Kristang. They are the descendants of 16th- and 17th-century Iberian settlers who married local Malay women, creating a hybrid identity that revolved around Roman Catholicism and their own creole language (Papiá Kristang), while absorbing subsequent arrivals from China, India, and also the Netherlands, which wrested Malacca from Portuguese control in 1641.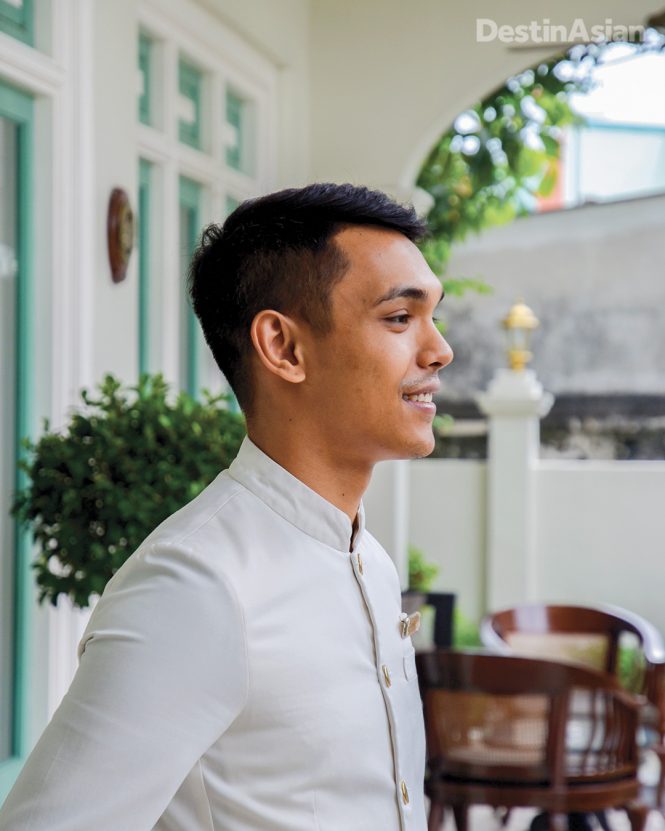 "Kristang comes from the word cristão, which means Christian," Theseira says as we drive past the 18th-century baroque facade of St. Peter's Church. A traditional pickle maker by trade, Theseira is one of a handful of figures who are drawing wider attention to the Kristang, Malaysia's smallest ethnic minority. As chairman of the Save Portuguese Community Action Committee, he has campaigned against a Dubai-esque offshore development that has already turned large numbers of Kristang residents away from their primary vocation, fishing. Other members of his community have cast their nets even further by championing their unique multi-ethnic culture to the world.
At The Majestic Malacca, a heritage-themed hotel just down the street from St. Peter's, locally born celebrity chef Melba Nunis has recently taken the helm of its upstairs restaurant, Melba at the Mansion. Set amid the high-ceilinged interiors of a stately Peranakan house from 1929, the rebranded venue now specializes in home-style Kristang cuisine.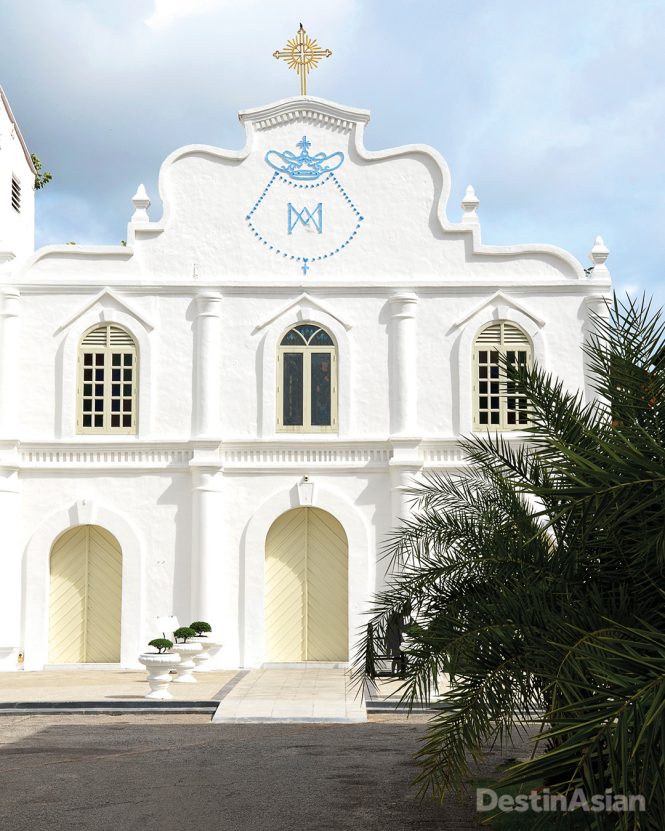 Meeting Nunis over dinner, I am surprised to learn that the spry, sixtysomething chef only began cooking professionally in 2011. Prior to that, her main priority was taking care of her family, though she also dedicated time to preserving and perfecting more than 200 recipes handed down by her mother and grandmother. "When I turned 58, my children told me it was time I did something for myself. My dream was to open a small café and cook for everyone."
That was how her former Kuala Lumpur restaurant, Simply Mel's, began. The eatery gained a loyal following over its six-year run, a fact that Nunis partially attributes to a decision to leave pork off the menu. "It was about being inclusive—and it's the same here at The Majestic. I want to share my Kristang heritage with as many people as possible." The same generosity of spirit, I imagine, was behind the publication of her recipes in A Kristang Family Cookbook, which earned top honors in the Woman Chef category at the 2016 Gourmand World Cookbook Awards.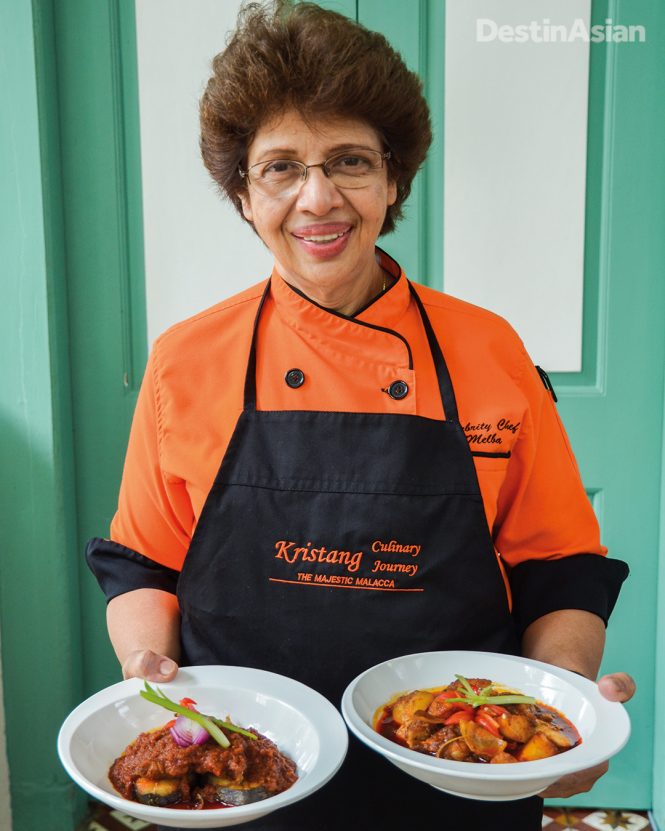 In between our conversations, Nunis makes the rounds from table to table, welcoming patrons, offering advice, and engaging in chitchat, every bit the gracious hostess at a family gathering. She returns to explain how the food is an expression of her multi-ethnic heritage. "We always get mistaken for Peranakan," she says. "But Kristang cuisine has influences from all over. We combine Portuguese and Dutch techniques, Malay sambals, Indian curries, and the Chinese appreciation for soups and stews."
It isn't long before I taste that eclecticism for myself, as one Kristang dish after another arrives at my table. There are half-moon omelets made using the Malacca specialty cincalok, or fermented krill paste, and baked crab stuffed with fresh crabmeat, prawns, and chopped vegetables. Both feature homemade chili sambal and pickled pineapple. The succulent kari seccu, or beef shin and potatoes slow-cooked in a dry curry, reminds me of the cuisine in Goa, another former Portuguese colony.
Nunis tells me the curry's dominant spices are coriander, cumin, and fennel seed, but its complex flavor also relies on Southeast Asian ingredients like lemongrass and candlenut. Meanwhile, the Chinese influence on Kristang cooking is apparent in the soy limang terung, silky-smooth eggplant halves doused in soy sauce mixed with sugar and lime juice. I can't help but polish off all four dishes—Nunis's Kristang food is a riot of textures and flavors that fuses some of my favorite cuisines into a coherent, lip-smacking whole.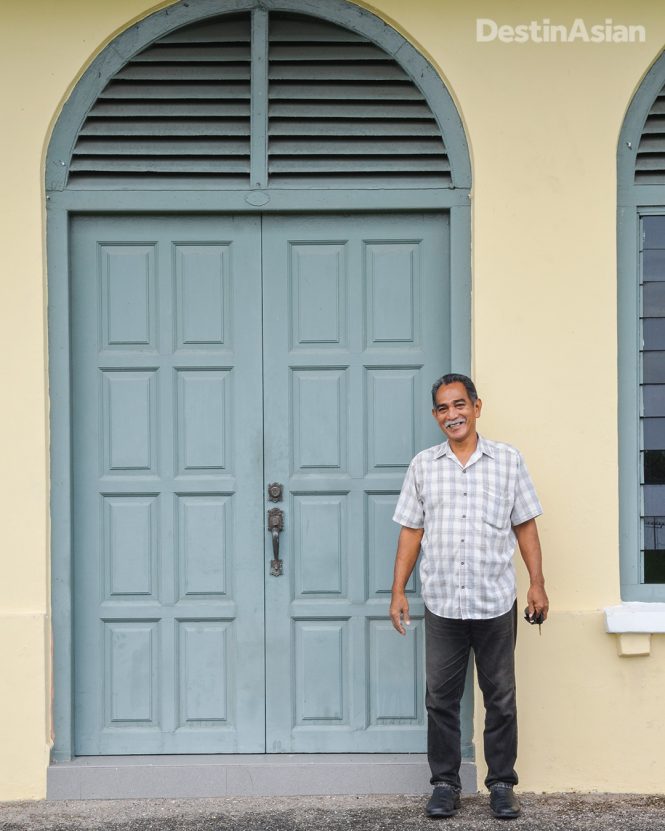 Back in the car with Theseira, we head to the Portuguese Settlement, a coastal residential area set aside for the Kristang community in the 1930s. Here, we step into a modest cultural museum amid the informal bars and seafood restaurants on Portuguese Square, where Theseira walks me through the Kristang festival calendar. Christmas is the biggest celebration of all, though major events also include the water-splashing jamboree of Intrudu before Lent, and the Feast of St. Peter in June, greeted with a colorful street parade and the blessing of fishing boats.
But there is also less celebratory news because of continued pressure on the traditional way of life. The Kristang have always been tied to the sea; Theseira himself was a fisherman from 1969 to 1989, until increasing urbanization and a changing landscape made that profession no longer viable. "The final blow to the community," he tells me matter-of-factly, "was the reclamation of our seafront."
Once-plentiful fishing grounds just offshore have been carelessly destroyed, filled in to make way for unimaginative apartment blocks and upscale shopping malls. Lying near the mouth of the Malacca River, Pulau Melaka is a case in point. "We really treasured that island. There were stingrays, pomfrets, crabs… just putting your nets in the water would get you the whole day's catch."
Theseira tells me how grago, the tiny krill used to make cincalok, typically come in large numbers after the Feast of St. Peter, but that the annual harvest has been disrupted for the past decade. "Now we have to source our grago from other places down the coast, but it isn't the same. You can see the quality from its color: grago these days is very pale. The ones I used to catch here were sparkling red."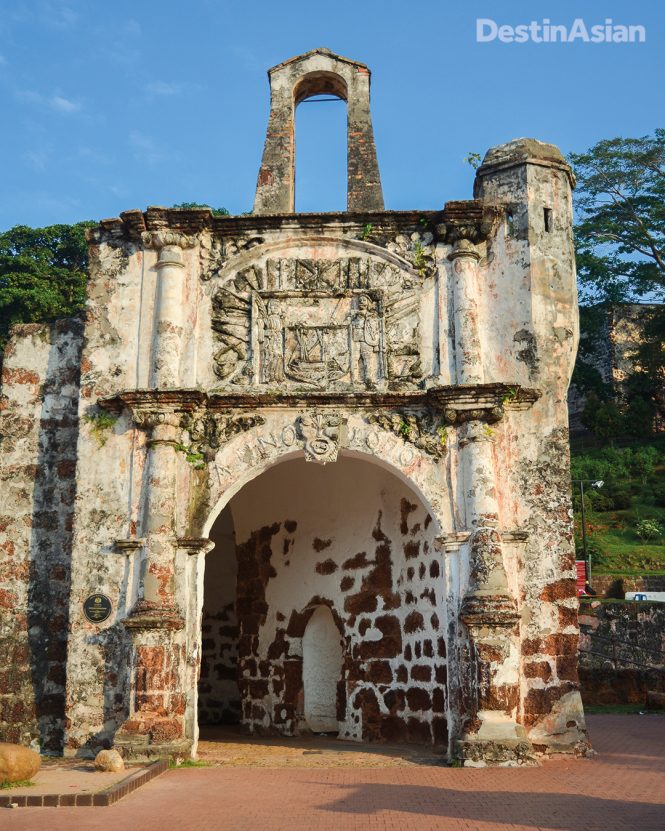 Even Papiá Kristang, which pairs Malay grammar with the lilting, lyrical tones of Old Portuguese, is endangered. The language is now spoken by less than 800 people in Malaysia and Singapore, though it has fared somewhat better than its counterparts elsewhere in the region. Fluent speakers of Macanese creole, Patuá, number around 50. Other varieties have gone extinct; Papiá Tugu, Kristang's closest relative and a language once heard in Jakarta, died out in the 1970s.
Theseira brings me to the home of Sara Santa Maria, the Portuguese Settlement's sole Papiá Kristang teacher. Building on the efforts of her late father, her classes for seven- to 12-year-olds have already made an impact: older members of the community remark on the growing fluency of their grandchildren, and the language is being spoken on the playground. Santa Maria also holds workshops in Kuala Lumpur and Seremban, a little over an hour's drive from Malacca. "Some students tell me, 'my parents and grandparents never taught me Kristang. They said it was their secret language.' That's the problem!" she says, the frustration clearly audible in her voice. "It can be your secret language outside, but it needs to be passed down in the home."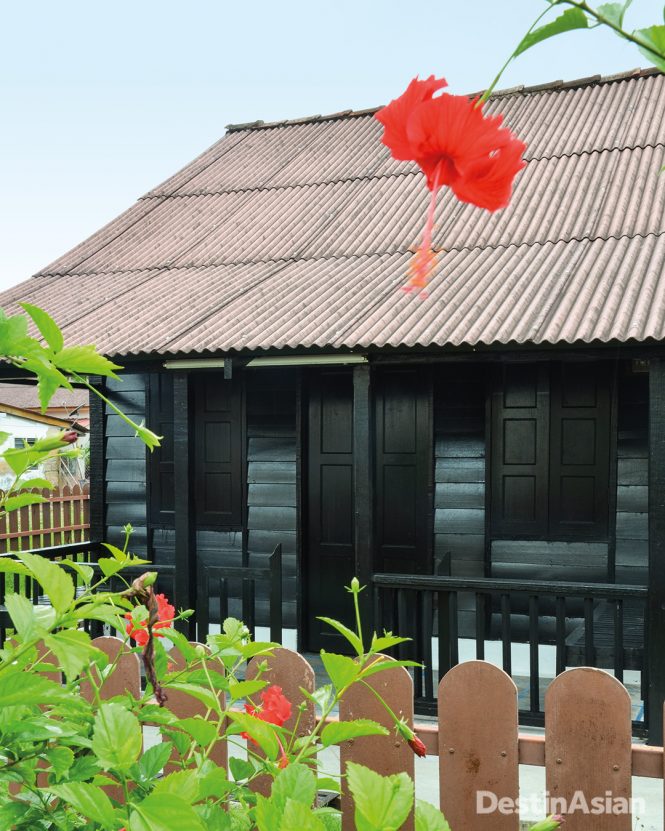 Back at The Majestic Malacca, Nunis outlines her own plans to bring in fluent Kristang speakers to teach guests the traditional card game of patui. "It's another way to showcase a uniquely Malaccan tradition," she adds. The more gastronomically inclined, like myself, can embark on the hotel's recently launched Kristang Culinary Journey.
One morning, Nunis accompanies me on a visit to the central market to size up the locally caught squid, flower crabs with startlingly blue legs, and all manner of fresh produce. It's perhaps the tidiest wet market I've ever seen in my life, with stalls arranged in orderly rows and immaculate walkways running between it all. Carrying a basket of water spinach, ginger, freshly grated coconut, fishballs, and a bag of peeled shallots, we return to the hotel for a mid-morning snack of round onion fritters (sabola fretu) alongside sago pudding served in coconut milk and palm syrup.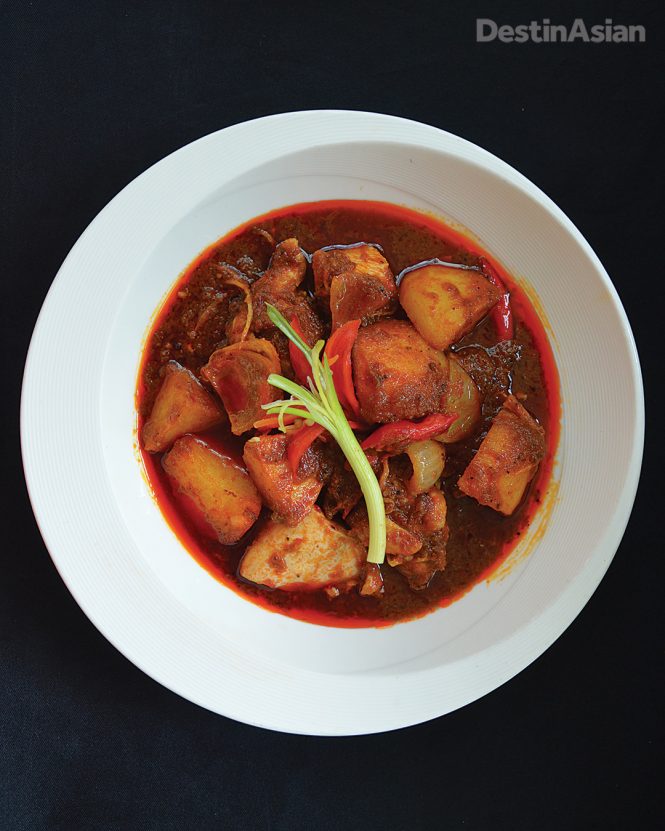 Next comes a cooking class in the open-air space between the historic mansion and the sympathetic modern wing that houses the guest rooms and spa. Nunis has chosen to teach me two emblematic Kristang dishes: the fiery Christmas specialty of kari debal, or devil's curry, which counts ground mustard seed, ginger, and galangal among its fragrant ingredients, and my favorite—pan-fried steaks of Spanish mackerel topped with sambal binagre. The latter fuses the Portuguese love of vinegar with a heady spice paste and a touch of sweetness.
"So many traditions and recipes are dying out these days," Nunis tells me as I eat. "That's why I am working to save what I can. It's up to us to keep them alive."
Where to Stay
Malacca's leading heritage-themed property remains The Majestic Malacca (60-3/2783-1000; doubles from US$96). Guests here can book a Kristang Culinary Journey, which includes a market tour and cooking class hosted by Melba Nunis, a mid-morning snack, and lunch.
What to Do
Martin Theseira (60/17-212-6783) offers customized tours of the Portuguese Settlement with an emphasis on community involvement. Options range from a guided historical walk to meals hosted in residents' homes and excursions with local fishermen.
This article originally appeared in the February/March 2018 print issue of DestinAsian magazine ("Turning the Tide").