Amid the shrines and temples of Japan's ancient capital, a trio of big-name properties have joined the ranks of the city's top lodgings, each with its own distinct vibe and style.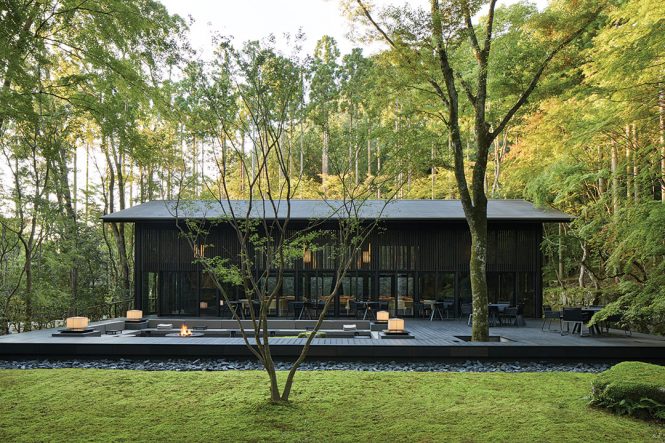 My forest meditation takes place in a serene clearing fringed with cartoon-green foliage that I discover after climbing 43 (yes, I counted) moss-covered stone steps. It's hard not to feel like an extra from a Japanese fairytale as I sit on a straw cushion, close my eyes, and listen to the sounds of the woods all around me: flowing water, rustling trees, chattering birds, an inhale, an exhale.
There are perhaps few more dreamily sylvan settings in which to sit and close your eyes than the Aman Kyoto, which opened its doors in the ancient capital last November. It's the third Japanese property launched by Aman, a brand that is as well known for its cult global following (hello, Aman junkies) as for its minimal design and smooth mastery of modern luxury.
Nature is woven into the DNA of Aman Kyoto. The hotel is located in the northern fringes of the city (Kinkakuji, the famous Temple of the Golden Pavilion, is just around the corner), with a tempo that is slower and more peaceful than the often-bustling central tourist hubs. Cocooned in 32 hectares of forested mountainside, its grounds are centered on a private garden where wide paths lined with mossy stones wend past towering stands of maples, cherry trees, camellia, and Japanese cedar.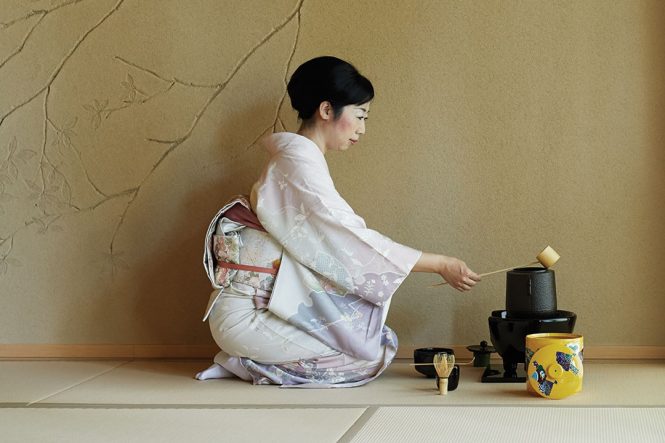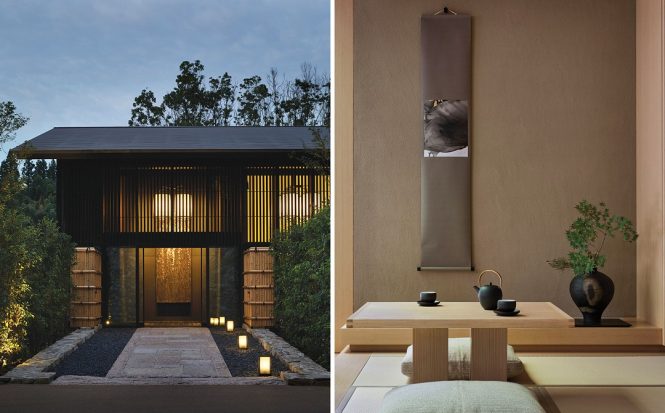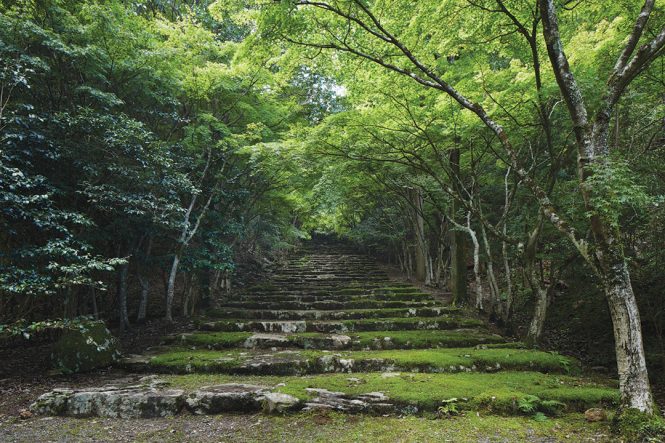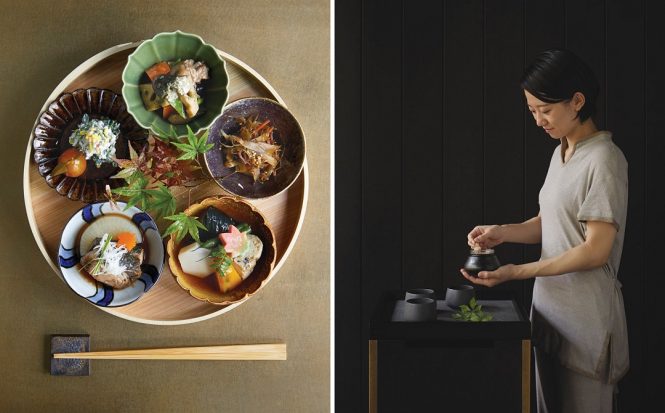 Scattered unobtrusively amid this verdant landscape are six clean-lined pavilions with black latticed facades housing 24 guest rooms and two suites, all designed by the late Australian architect and longtime Aman collaborator Kerry Hill. A modern take on traditional Japanese ryokan inns, my guest room is as serene as the surroundings with touches of Kyoto craftsmanship: there are expanses of pale wood, tatami-mat floors, calligraphy scrolls, wabi sabi ceramics, and forest views. I even have my own hinoki-wood bathtub. It's the size of a small swimming pool, and takes 30 minutes to fill.
Wellness is high on the agenda at Aman Kyoto, as reflected in its peaceful spa pavilion. Here, I soak in onsen (hot spring) waters and have my feet scrubbed with a cornucopia of ingredients—a drop of camellia oil, brown rice husks, sweet osmanthus, and a sprinkling of 24-carat Kyoto gold so pure it's normally offered to temple gods—before succumbing to a muscle-melting massage.
Food is another highlight, from the subtle Japanese delicacies served at Taka-an to the fare at the signature Living Pavilion restaurant. The latter comes complete with a round central fireplace and a modern menu with touches of foraged forest. A crowd-pleasing favorite? The Aman Kyoto Fish and Chips—coral trout in shredded pastry alongside potato puree and pickled Kyoto turnip.
From electric bike rides to local temples to private teahouse meetings with geisha, the hotel offers a curated range of Kyoto experiences. However, for many, it will be enough to succumb to the fairytale ambiance of the secret garden setting, and to just stay put, simply inhaling and exhaling.
1 Okitayama Washimine-cho, Kita-ku; 81-75/496-1333; aman.com/kyoto; doubles from US$1,040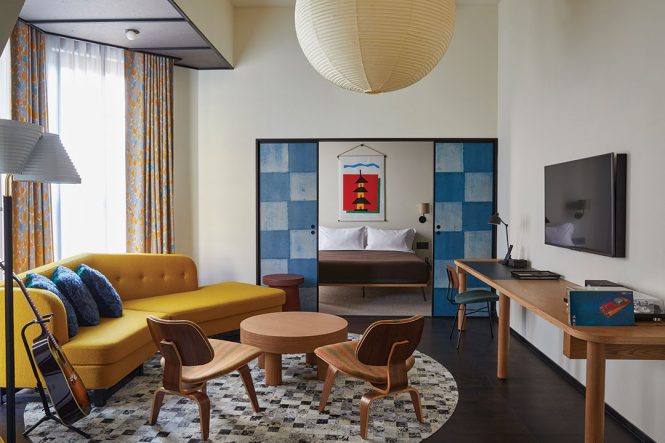 Temples, tea ceremonies, and—tacos? In a place not known for its Mexican food, the Ace Hotel Kyoto marks something of a new chapter for the ancient city (tasty tacos included). Opened in June following months of coronavirus delays, this is the first Asian outpost of the American hipster hotel brand. Playful, modern, and larger than life, it's a refreshing anomaly in a city more typically associated with centuries-old ryokan, discreet machiya townhouses, and minimal Zen retreats.
The Ace inhabits the impossible-to-miss Shin-Puh-Kan complex on Karasuma Street in downtown Kyoto. Its 213 guest rooms and three restaurants span a renovated 1926 brick building (formerly the Kyoto Central Telephone Office) plus a striking new annex by superstar architect Kengo Kuma.
Cleverly masterminded by Los Angeles–based studio and longtime Ace collaborators Commune Design, the interiors are a celebratory mesh of East meets West, as reflected in dozens of modern artisan touches from both Japan and the United States. The industrial-style lobby—home to a doughnut-shaped copper front desk, scaffold-like ceilings with sparkling lights, a wall of bright textile art, and an Ace boutique—is the hotel's heartbeat. A large indigo sign of a coffee pot—handcrafted by cult ninetysomething artist Samiro Yunoki, whose vivid works also appear in the guest rooms—leads to an outpost of Portland coffee roaster Stumptown, which opens onto a small courtyard garden lined by a clutch of hip boutiques.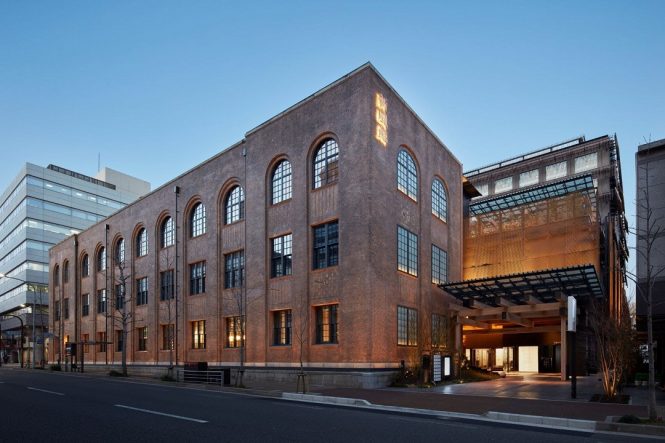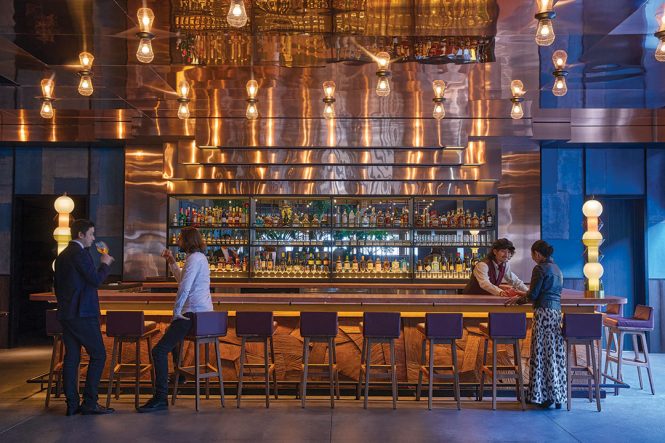 The rooms and suites share a similar creative fusion, from tatami-lined bedside tables and the hint of retro in textiles by designer Akira Minagawa, to the Pendleton wool blankets, TEAC turntables, and vintage records. (Book one of the 27 rooms in the historic building if you can: they have a rare loft-like atmosphere, with high ceilings and wide arched windows).
On the food front, the Ace has chosen not to compete with Kyoto's legendary culinary reputation and is instead home to two distinctly non-Japanese restaurants. At Mr. Maurice's Italian, by Philadelphia chef Marc Vetri, I tuck into pink beet plin with tarragon and swordfish meatballs on polenta for dinner; and return the next morning for a delicious avocado toast on the nearby roof terrace.
And those tacos? They're the star at Piopiko, whose zinging menu is masterminded by Wes Avila of LA's cult Guerrilla Tacos. They're also a perfect fit for the restaurant's party atmosphere, which comes complete with a copper DJ booth, woven lighting by Kyoto workshop Kanaami-Tsuji, and oversize ceramic urns by Kazunori Hamana. (A third and still-unnamed restaurant with a menu by Portland chef Naomi Pomeroy will open later this year in a dramatic teahouse-inspired space overlooking a garden.)
All in all, the Ace may be a far cry from the serenely understated sights more commonly associated with the city, but there are perhaps few better places to sample a creative taste of 21st-century Kyoto at its best.
245-2 Aneyakojidori Higashinotoin-nishiiru, Nakagyo-ku; 81-75/229-9000; acehotel.com/kyoto; doubles from US$320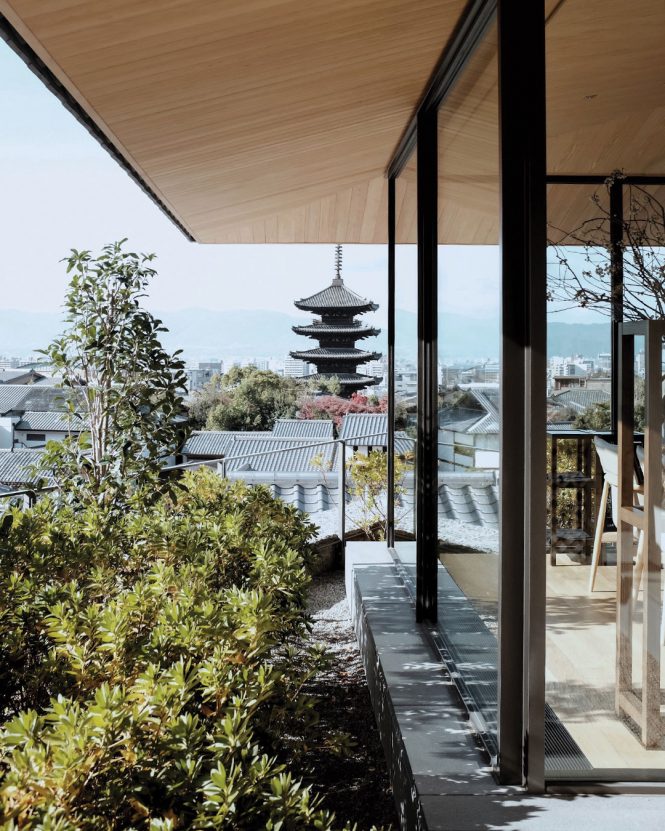 Whether taking a bite of mouth-melting Wagyu beef, enjoying a sunset cocktail, climbing into bed, or simply waiting for the elevator to arrive, there is one protagonist that persistently steals the show at the Park Hyatt Kyoto: the view. It is not, however, any old vista. Instead, picture a sea of tiled rooftops fringed by the distant silhouette of the mountains that encircle the ancient city, with—and this is the icing on the cake—the exquisite tiered form of Yasaka Pagoda taking center stage.
It's easy to see why the hotel, which opened last October, was reportedly built to capture this memorable Kyoto view in the eastern hills of the Higashiyama district—a time-capsule enclave of winding lanes, machiya townhouses, teashops, and shrines.
Following in the iconic footsteps of the Park Hyatt Tokyo (of Lost in Translation fame) could not have been easy for the brand's sophomore venture in Japan. Yet the Park Hyatt Kyoto succeeds in treading an elegantly poised line between its signature modern luxury and the rich artisan heritage for which its setting is famed.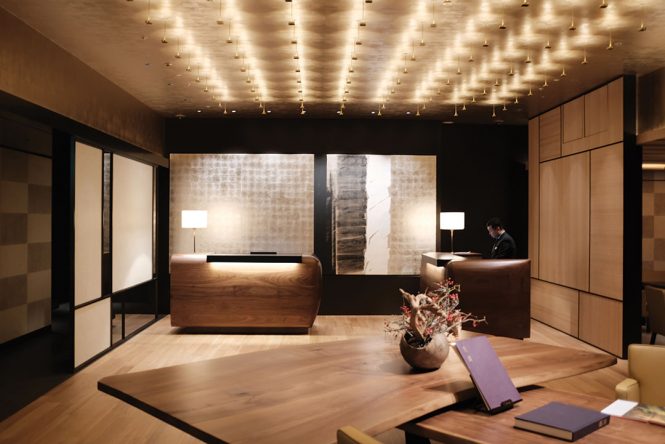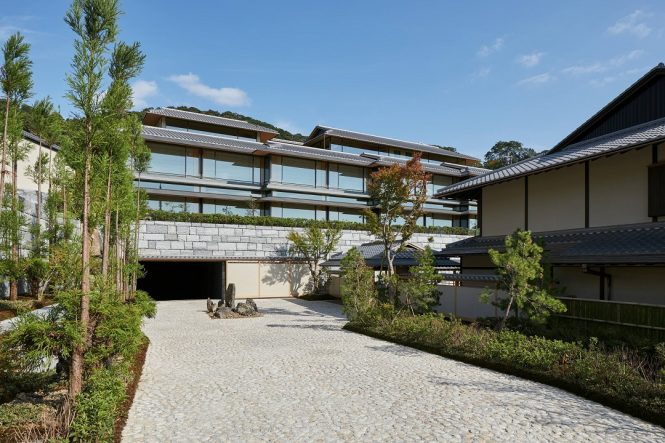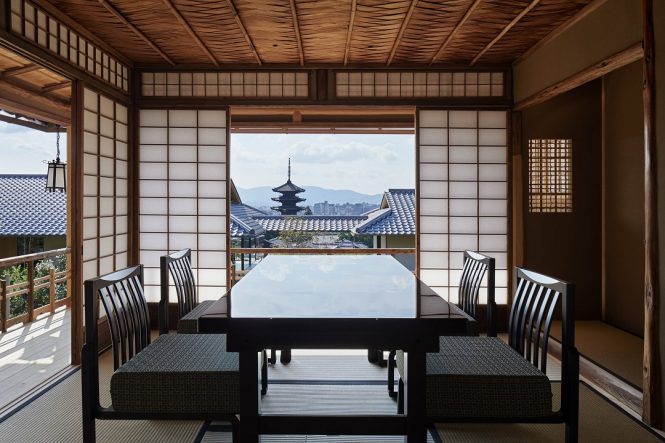 The 70-room hotel is staggered across a hillside with several interconnected buildings that fuse contemporary lines with minimal swaths of light tamo ash wood and elements of Kyoto craftsmanship. Guests can immediately escape the tourist crowds that fill Higashiyama's lanes after entering a courtyard space with a contemplative arrangement of 31 rocks shipped over from Hyatt chairman Thomas Pritzker's home in Aspen, Colorado.
The Living Room lobby lounge is warm and intimate: here, beneath low ceilings of intricate gold leaf, there is a central fireplace and avant-garde ikebana arrangements by contemporary floral artist Yuji Kobayashi. Networks of corridors and walkways fringed with trees and gardens (plus that view!) lead to the guest rooms: contemporary havens of modern design flecked with Kyoto touches. Be it a city-view room or one that faces a private garden, they all share a sleekly crafted modern aesthetic with light wood ceilings, herringbone wall textiles, contemporary artworks, and gorgeous artisan-made tea cups.
This being culinary capital Kyoto, guests are spoiled when it comes to food. There is casual Kyoto Bistro, which dishes out organic food on local ceramics; the  atmospheric Yasaka restaurant, where diners sit at two intimate teppanyaki counters that look out to the Yasaka Pagoda while chef Hisaoka Kampei grills up French-inspired treats; and Kyoyamato, a family-run ryotei that has been serving high-end traditional Japanese cuisine on this site since 1877. (Be sure to check out the exquisitely renovated teahouse, which dates back to the Edo era; it is said that samurai once gathered here for secret meetings.)
There is, however, perhaps one perfect way to finish the evening: sipping a jewel-green Shuhari cocktail (green tea, grapefruit, sake) in the Kohoku Bar, where you can once again raise a toast to that spellbinding pagoda view.
360 Kodaiji Masuya-cho, Higashiyama-ku; 81-75/531-1234; parkhyatt-kyoto.com; doubles from US$1,035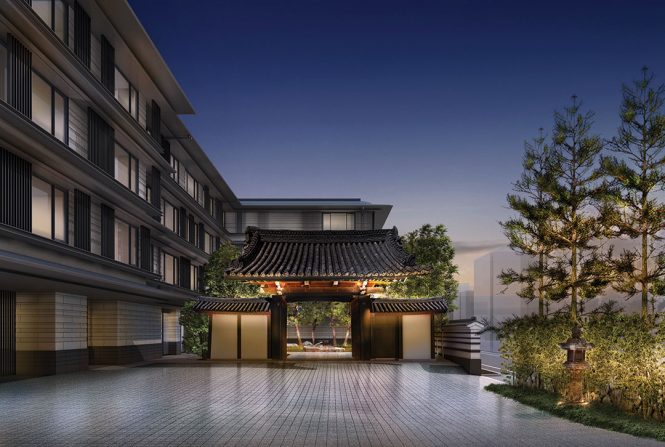 Billing itself as the only luxury hotel in central Kyoto with its own hot spring, The Mitsui will open in November across from the manicured gardens and 17th-century buildings of Nijo Castle. It occupies a site that for generations was home to a branch of the Mitsui family, and that more recently hosted the Kyoto Kokusai Hotel, which closed its doors in 2014 after more than 50 years of service. The new kid on the block promises to easily outshine its predecessor; part of Marriott's Luxury Collection (which also runs the riverside Suiran in Kyoto's leafy Arashiyama district), The Mitsui contains 161 tea room–inspired rooms and suites designed by Hong Kong–based André Fu, who is responsible as well for the subdued elegance of the lobby. For the restaurants, which include a French-Japanese teppan experience and an all-day Italian dining room, the hotel turned to Super Potato alumnus Yohei Akao. His touch is also evident in the spa, a cavernous subterranean space with rock-hewn walls and a communal onsen bath. But for the ultimate thermal soak, guests may want to splash out on an Onsen Suite: 100-plus-square-meter guest rooms where you can unwind in your own outdoor bath while contemplating the exquisite harmony of a private courtyard garden (81-75/468-3155; hotelthemitsui.com; doubles from US$914). –David Tse
This article originally appeared in the August/November 2020 print issue of DestinAsian magazine ("The Keys to Kyoto").