As Cambodia's sleepy southern coast moves into the spotlight, can the languid charms of this old port town survive the pull of progress? 
Photographs by Jason Michael Lang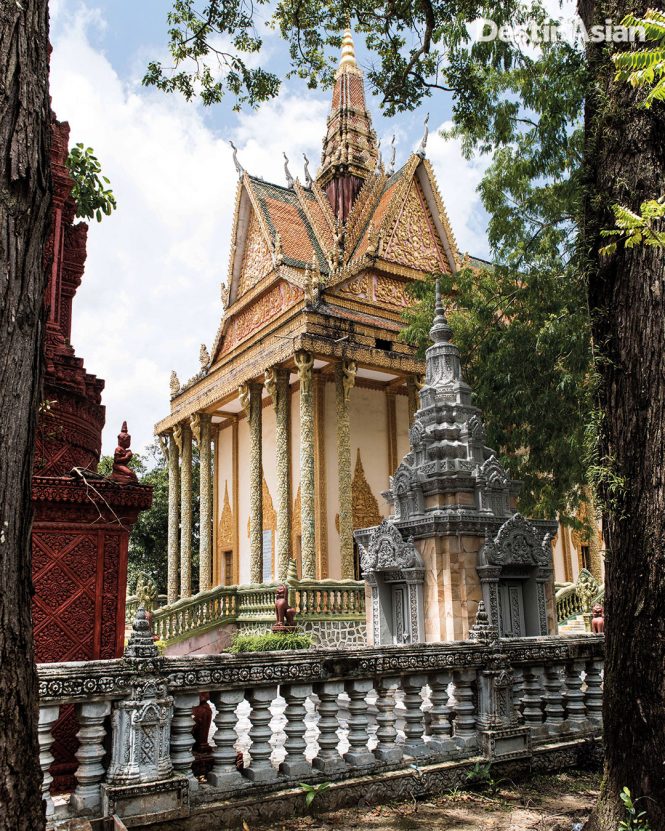 Along National Road 3 from Veal Renh to the riverside town of Kampot, the Damrei Mountains appear as an impenetrable, forested wall. A branch of the Cardamom range that extends across 110 kilometers of southwest Cambodia, they top out at the misty plateau of Mount Bokor, a once-abandoned French hill station that on clear days offers views across the Gulf of Thailand to the Vietnamese island of Phu Quoc. On this Sunday morning, a troop of leather-clad motorcyclists from Phnom Penh has congregated at the entrance to Preah Monivong National Park to charge up the 37 kilometers of twisting asphalt to Bokor's summit, along a road that, thanks to a 2008 upgrade, is arguably the best in the country. 
Laced with good hiking trails, Bokor is a defining presence on the Kampot skyline. But it's not the only reason to make the three-hour drive from Phnom Penh (or, as I have done, the two-hour drive from Sihanoukville to the west). Some people come for the nearby seaside, or to eat at the increasingly eclectic mix of restaurants—Nola for Cajun cuisine; Tertúlia for Portuguese; Baraca for tapas—that have sprung up on the east bank of the Tuek Chhu River amid the old town's French-designed grid of faded shophouses and government buildings. Others (myself included) are simply drawn to Kampot's irresistibly languid ambiance and the joys that come with taking in the cool breeze as it sweeps across the river, or watching swifts swirl above the main park at sunset as children play football. It reminds me of another sleepy Southeast Asian backwater, Luang Prabang. "Lazy Town" is what Joel Fry calls the place.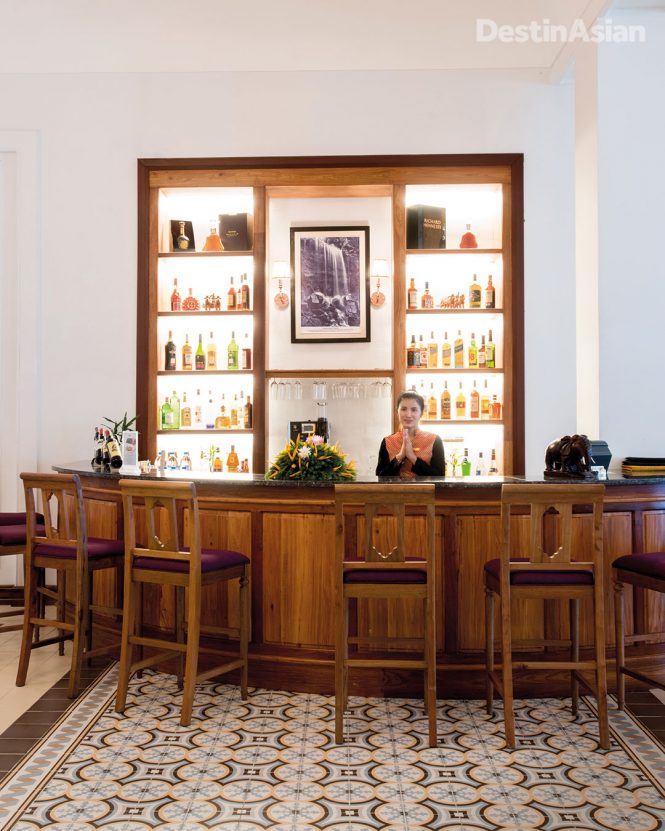 A goateed American former chef, Fry has lived in Cambodia for 10 years and is currently based in Kampot, from where he oversees two rustic resorts on islands off Sihanoukville. "People walk slower here. It's a refreshing break from the big cities," he tells me. "Also, the government works well, the roads are good, the place is clean, and the surrounding nature is fantastic." Though off-limits for much of the 1980s and '90s due to the presence of the Khmer Rouge (Bokor was a last stronghold for the insurgents), the town has since seduced scores of expats to set up restaurants, cafés, guesthouses, and other businesses here, not to mention the many Cambodians who have relocated from other parts of the country. It's perhaps not as cosmopolitan as it once was—prior to the emergence of Sihanoukville in the 1950s, this was Cambodia's primary port—but it seems to be heading in that direction.
And therein lies the dilemma.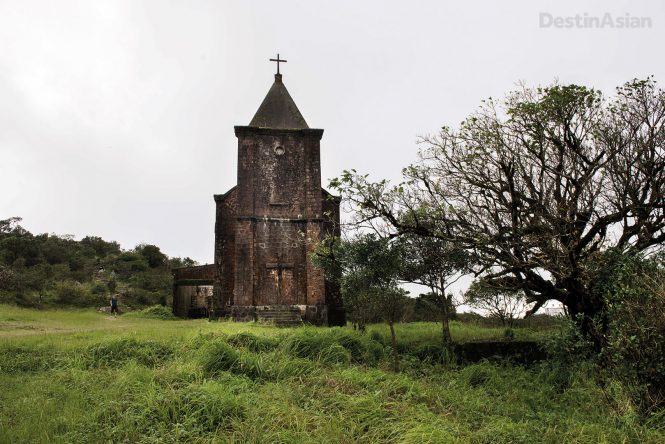 "The Chinese haven't started coming yet, but it's only a matter of time," Fry says, referencing the wave of Chinese investment that has in recent years transformed Sihanoukville beyond recognition. "The money, the new roads, the apartments, they will all come. Expats and Khmers are scared that Kampot will lose its charm."
The sentiment is not unwarranted. As high-rise buildings make their appearance on the otherwise low-slung skyline—I spot one steel-girdered monster rising from a plot across from the Central Market—other major projects are taking shape outside town, including a new seaport and an oil refinery. There is also talk of a US$23 billion marina development to be built between Kampot and Kep on the erstwhile Cambodian Riviera, while a new cruise/ferry terminal is set to begin construction by the new year. When completed in 2021, it will welcome ships from Sihanoukville, Thailand, and Vietnam, potentially adding about 400,000 annual tourists to Kampot—an increase of 25 percent.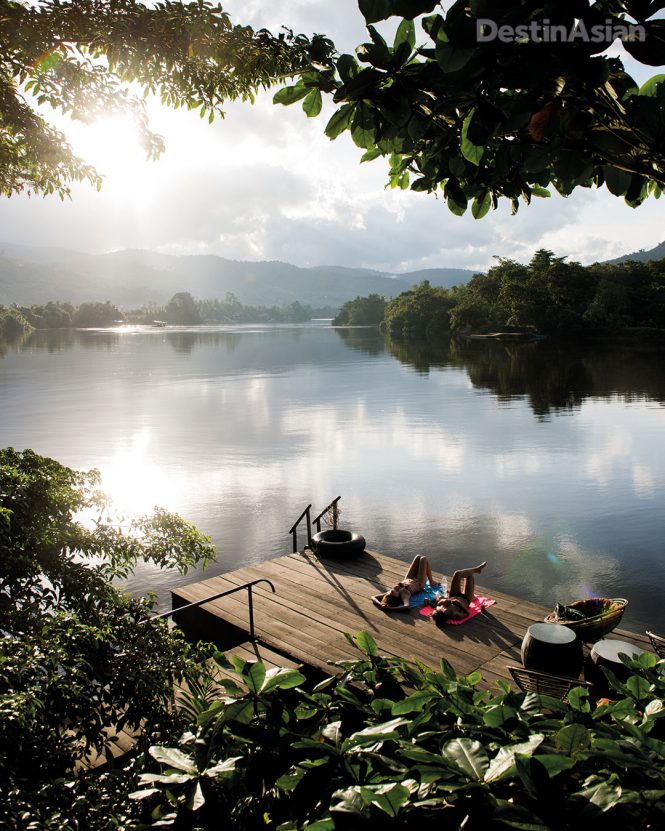 "Bring it on," says Hugh Munro, an Australian expat. "The cruise ships will bring in people aged 50-plus with big wallets, which is the kind of tourism Kampot needs. Khmer businesses here are thriving and want to grow." 
Munro has been in Kampot for over a decade and currently owns The Fish Market, a seafood-centric restaurant—try the pepper crab—that resides in the town's former fish market, a 1930s art deco landmark that served briefly as a disco in the aughties. "Lots of people from Sihanoukville have bought land here," he adds. "Maybe they're betting the Chinese will come [and drive up prices]. There's even talk of a property bubble—it's the first time I've heard that!"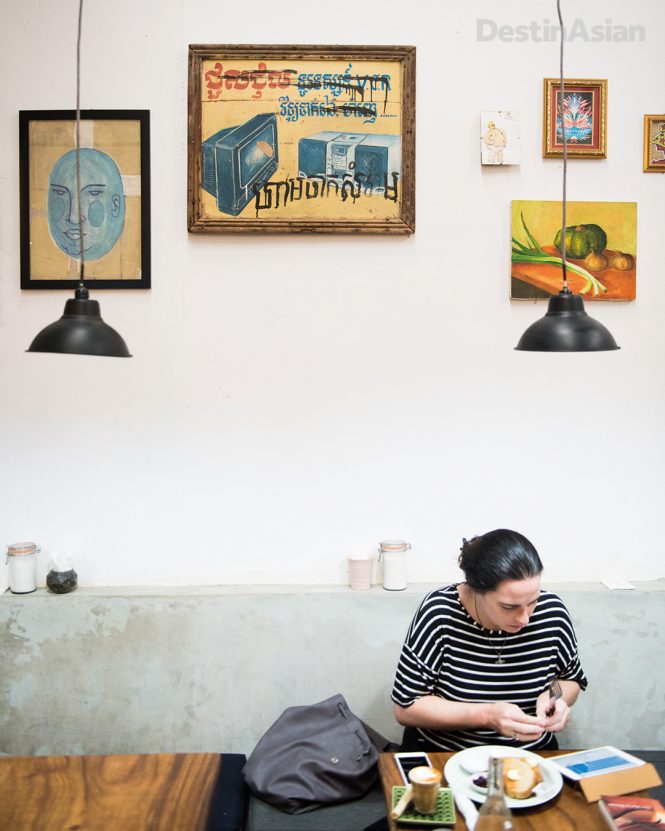 None of this comes as a surprise to Sok Ken, the young founder of three-year-old real estate agency Kampot Property. "People are going crazy for land along the river and coast," he says, noting that many of his clients are Cambodians moving from overpriced Sihanoukville or Phnom Penhites looking to build a second home. "Last year, about one kilometer from Kampot center you could find land for [US]$60 to $100 per square foot. Now, it's $400!" 
The upside to Kampot's surge in popularity—at least from a visitor's point of view—is that there are now some decent hotels in town. These include such moderately priced establishments as The Columns, which occupies four beautifully restored shophouses with a colonnaded facade and wooden shutters; and the Kampot View Boutique, which opened in 2017 next to the New Bridge on the west side of the river.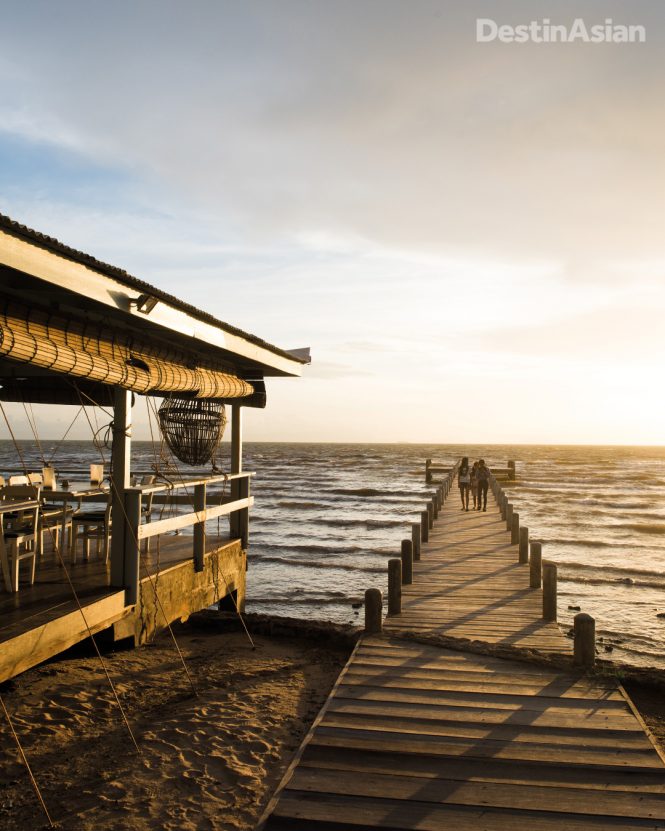 But for luxury of the US$200-plus a night variety, you have to head to the hills. Last spring, on the summit of Mount Bokor, Cambodia's biggest hotelier, Sokha Hotels & Resorts, opened Le Bokor Palace around the skeleton of a lavish hotel first built by the French in the 1920s. Ransacked by the Khmer Rouge, the building had been a bullet-scarred shell for decades—its haunting ruins make an appearance in the 2002 Matt Dillon film City of Ghosts—until Sokha embarked on a restoration two years ago, one that added gilt accents galore, old-style telephones, copper light fixtures, and Spanish floor tiles, while retaining the original fireplaces and winding staircases. The profusion of gold tones notwithstanding, it's all tastefully decorated and appointed, with slender passageways and differently configured rooms that attest to the building's heritage. The gray plaster exteriors "are a good match for the weather," general manager Bun Meng, a slender man with glossy hair swept across his head, tells me as we look down at the Gulf of Thailand between breaks in the mist. During lunch in the hotel's coffer-ceilinged dining room, a procession of servers brings us fine French dishes cooked by a Swiss chef, much of it using organic produce from on-site vegetable gardens.
Le Bokor Palace is not alone on the plateau. Beyond the ruins of Bokor Church and a century-old Buddhist pagoda stands Thansur Sokha, a 564-room lime-green casino-resort that is the centerpiece of a massive redevelopment project that will include villas, condo towers, and a water park. For now, though, the area remains eerily quiet, which suits me just fine. Besides, there are other more down-to-earth ambitions that I wish to explore.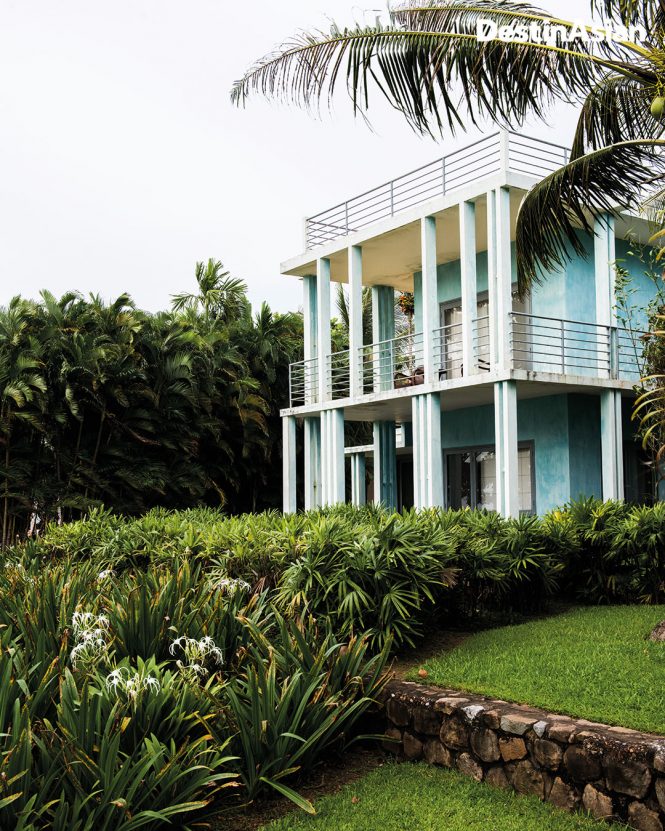 A bone-rattling, 50-minute drive east of downtown Kampot sits La Plantation, a pepper farm and agritourism venture in the countryside next to Brateak Krola Lake. The owners, Belgian-French couple Guy Porré and Nathalie Chaboche, made their money selling software companies before moving here in 2013. "We wanted to live in Asia and always liked Cambodia," Guy explains on a cloudy morning as we stand amid thick pepper vines that stretch down to the water. La Plantation produced its first official harvest in 2017.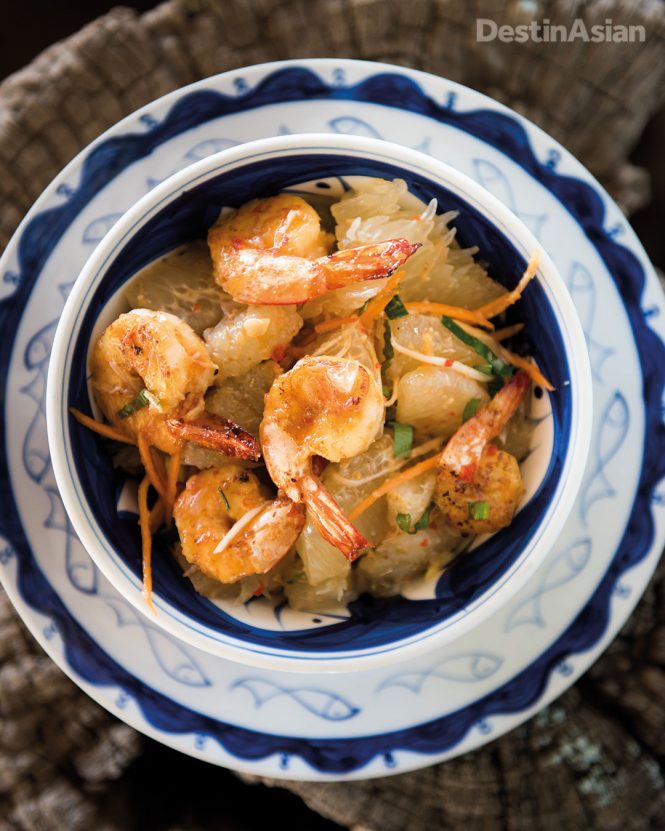 Pepper has been grown in these parts since the 13th century, benefiting from a rich, fertile terroir fortified by its proximity to the sea. Production accelerated during the colonial period, when hundreds of tons of poivre de l'Indochine were shipped to French harbors. Revered by chefs and gourmands across the Gallic world, Cambodian pepper was almost extinguished by the Khmer Rouge, who drove farmers off their estates to grow rice. But since 2006, the spice harvest has recovered. The Kampot Pepper Promotion Association, founded in 2010 to monitor and support the industry, currently has 300 members, mostly small-scale planters who have returned to the land where their families have produced pepper for generations.
In addition to its organic black, white, and red pepper, La Plantation grows turmeric, chili, and more; Guy aims to make it the leading spice producer in the country. "Pepper shouldn't be aggressive, the taste should be long. Ours has a deep finish, like a good wine," he tells me as I nibble on a sun-dried peppercorn. The farm is also something of a tourist attraction. Visitors can ride a buffalo cart down to the lake, walk among the vines, and eat at one of the on-site restaurants, with a portion of the proceeds used to fund children's schooling in the neighboring villages.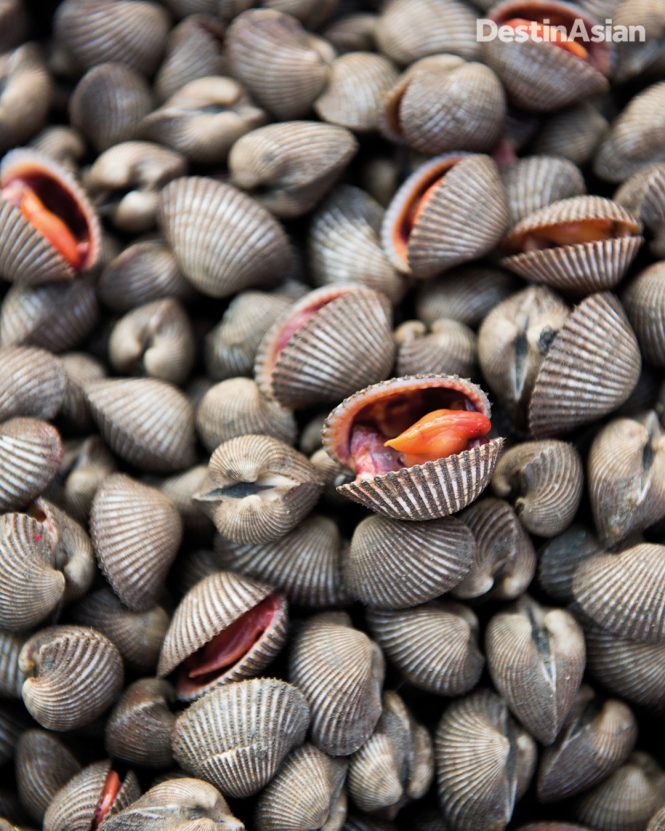 If La Plantation aspires to be Cambodia's premier pepper producer, its salty counterpart is Thyda Fleur de Sel de Kampot. Run by a young, lively-eyed woman named Thyda Thaung with the help of her father Bun Narin, a former salt farmer, the two-year-old enterprise operates out of a small factory in Kampot's Trey Koh district. One wet morning they show me around their facility, describing the backbreaking work that goes into hand-harvesting fleur de sel (that's French for "flower of salt"), the delicate crust of crystals that forms on the surfaces of salt ponds when the weather conditions are right. "We need dryness, lots of sunshine,  and wind to push the particles to the edge of the field," Bun says. "If one of those is missing, there is no fleur de sel." He goes on to extol the properties of fleur de sel, whose 70 minerals and trace elements are all missing in common table salt. "The crystals are like diamonds."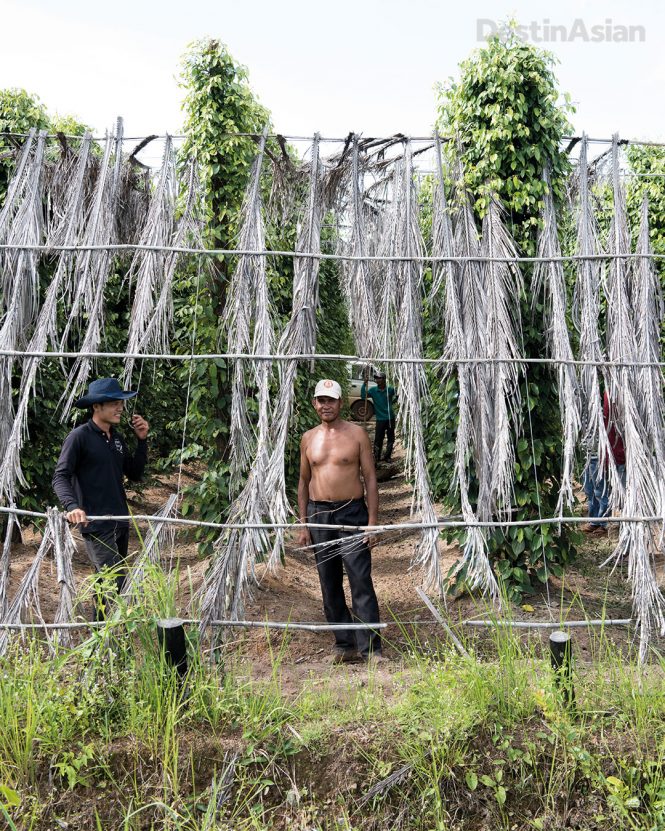 Before entering the factory, which sits on a former mango plantation next to Thaung's family home, I am asked to remove my shoes, step barefoot into a bleach trough, put on some fresh flip-flops, and don a white lab coat. "We have a big focus on hygiene here," Thaung explains later as we watch one worker carefully sorting salt crystals by color in a chilled room and another in a surgical mask packing the stuff into ziplock bags. Working with a handful of salt-farming families, she sells her fleur de sel to supermarkets and organic shops in Phnom Penh, and hopes to soon secure a distributor in Japan. In 2019, she plans to apply for Kampot salt to get EU Protected Geographical Indication status, a designation that Kampot pepper received in 2016.
After the factory tour, Bun and Thaung drive me out to see some of their salt fields—shimmering ponds of packed clay that stretch all the way to the sea. As we bump along, Thaung tells me that she used to work in the hotel business in Phnom Penh, but returned to Kampot because "I want to help the farmers and invest in their experience … and because it's so peaceful here." But when we pass a roadside clearing, she sighs. "They're going to build condos here. Before, Kampot was sleeping. Now it's awakened."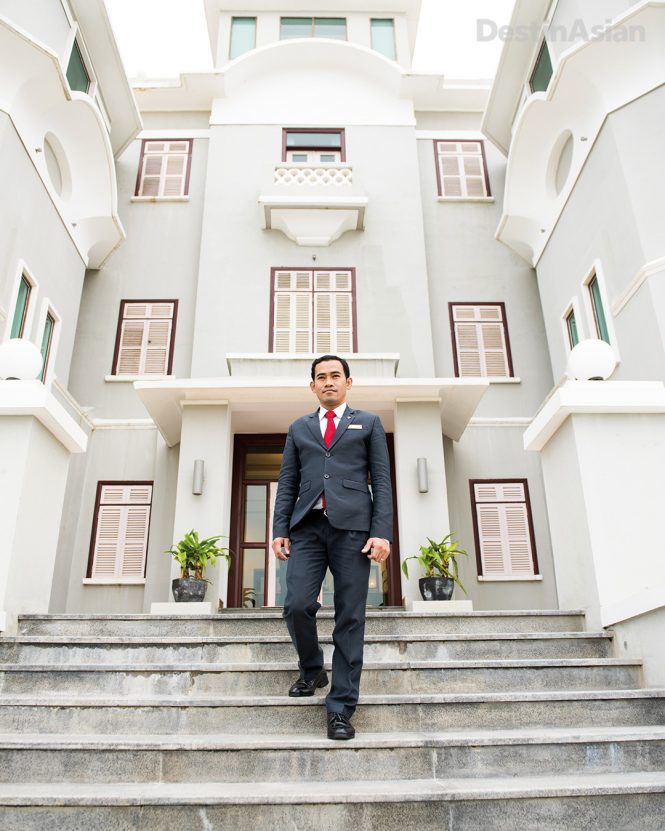 Kampot is also the jumping-off point for nearby Kep, and travelers who come to this slice of southern Cambodia usually build both towns into their itinerary. Kep was a buzzing seaside retreat under the French and a playground for the Khmer elite (including the late King Norodom Sihanouk, then a movie-making prince) in the 1960s, but was left a ghost town by the Khmer Rouge. Of its original 1,000-plus villas, well less than 200 are still standing, of which perhaps a couple dozen are fit for restoration. There's only been a steady supply of electricity for the last decade or so. 
If Kampot is awakening, Kep is still a very long way from its Sihanouk-era heyday as the so-called "St.-Tropez of Southeast Asia." But it does have its attractions. Apart from a kilometer-long beach (filled these days with sand imported from Sihanouk-ville), there's a rightly famous crab market, abandoned villas to ponder, and a national park with some fine hiking trails. And unlike Kampot, there are also some extremely handsome places to stay. The best of these is Knai Bang Chatt, which opened in 2006 amid a clutch of modernist villas built in the 1960s by protégés of Vann Molyvann, the first Cambodian architect to be trained in Europe (at Paris's esteemed École Nationale Supérieure des Beaux-Arts, where he was taught by Le Corbusier). Encompassing Phu Quoc and Bokor, the views from the pool are certainly easy on the eye. As are the minimalist interiors, with walls enlivened by natural pigmentation (they must be repainted every year) and rooms dotted with Indochinese antiques and cabinets. Just next door is Villa Romonea, a whitewashed gem designed by another of Vann Molyvann's colleagues that reopened eight years ago as a six-room hideaway. Both are blissfully quiet, and the idea of rampant growth spreading down here seems like high fantasy.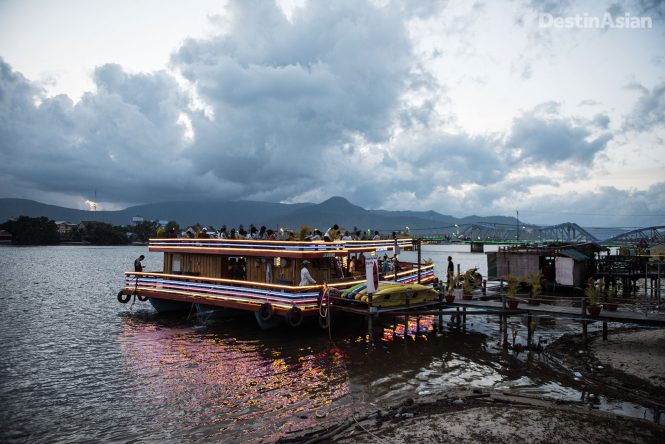 Back in Kampot that evening, I join one of the numerous sunset cruises that depart from either side of The Fish Market. I find a small clearing on the boat's top deck, mostly populated by Cambodians who have come early to clink bottles of local beer and nibble on skewers of beef. From the river I can fully appreciate Kampot's low-rise profile, and wonder how long it will last; a hotel tower rising by the Old Bridge is already taller than anything else in town. 
As we approach a low bridge, one of the boat attendants barks something in Khmer and then in English tells us to lie flat on the deck. When we emerge unscathed on the other side, everyone starts laughing and cheering. But further downstream, as night closes in and the river narrows, the crowd grows quiet, absorbed by the spectacle of it all. Apart from the gentle rumble of the boat's engine and the distant thrum of dance music, the only sounds are from the jungle. And so we drift through the darkness and the cool night air. It's calming, much like the rest of Kampot. For now. But who am I to begrudge a town its progress?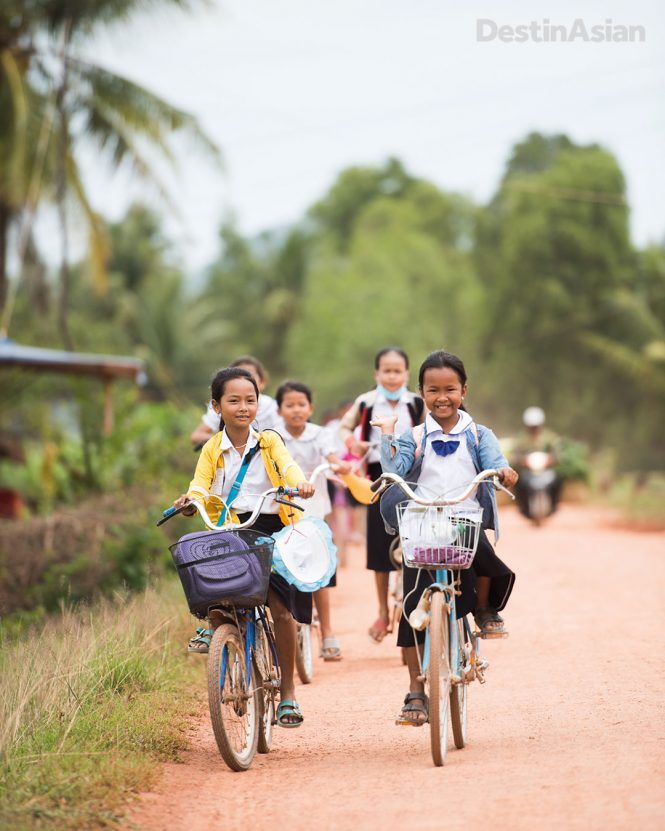 THE DETAILS 
Getting There
Private taxis from Phnom Penh International Airport cost US$40–$50 for the three-hour drive to Kampot. Kep is a 30-minute ride to the southeast. 
Where to Stay
Mount Bokor; 855-33/683-9999; doubles from US$180.
37 Phoum 1 Ouksophear, Kampot; 855-92/128-300; doubles from US$53.
Prey Thom, Kep; 855-36/210-310; doubles from US$320.
Prey Thom, Kep; 855-12/879-486; doubles from US$200.
Where to Eat 
No. 7, St. 726, Kampot; 855-11/290-434.
No. 40, St. 724a, Kampot; 855-10/ 375-182.
Norodom Quay, Kampot; 855-12/728-884.
Knai Bang Chatt, Kep; 855-78/737-995.
What to See
Kon Sat, Tek Chhou District; 855-17/842-505.
A small but fascinating collection of artifacts housed since 2015 in Kampot's old Governor's Palace.
This article originally appeared in the December 2018/January 2019 print issue of DestinAsian magazine ("Kampot On The Cusp").