Just off the coast of Sihanoukville, a pair of newly minted offshore resorts are luring well-heeled travelers back to the Cambodian Riviera.
Photographs by Frédéric Lagrange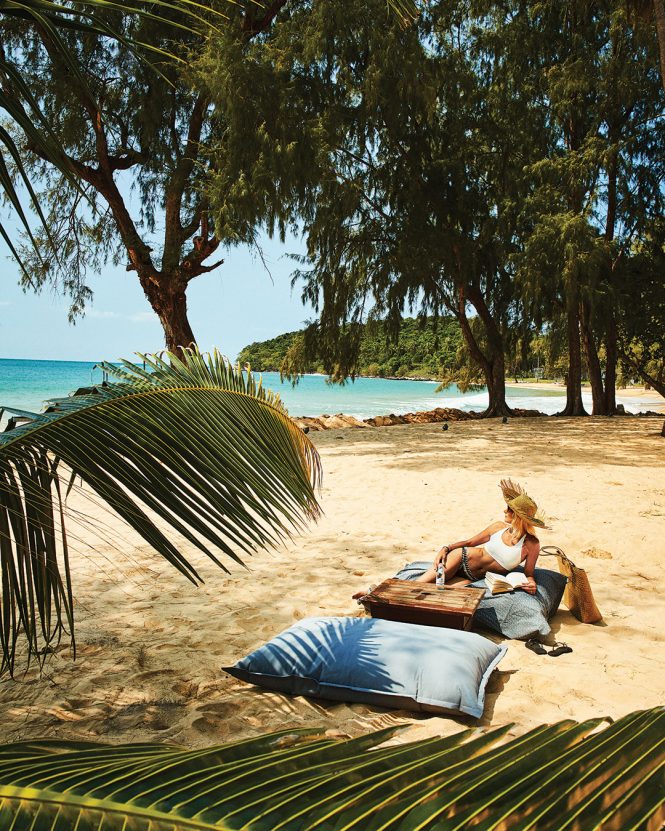 From the beach shack restaurant at Alila Villas Koh Russey, the view out front generates a pleasingly sedative effect. Bookended by forested headlands, a kilometer-long sweep of honey-colored sand populated with pine, sea-almond, coconut, and ironwood trees cedes to the jade waters of the Gulf of Thailand. It's a hallmark image of a resort that, along with the nearby Six Senses Krabey Island, has brought tasteful luxury to a part of Cambodia that can sometimes seem to be headed in the opposite direction.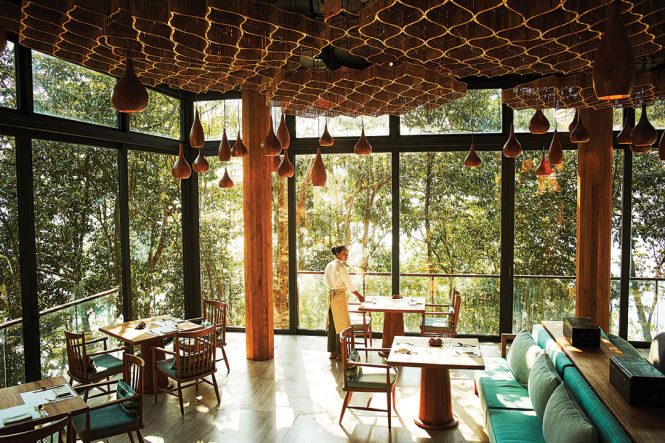 Foreigners have long been drawn to the country's compact south coast. Near the border with Vietnam, the town of Kep emerged as a seafront sanctuary for French administrators during the early 1900s, earning it the sobriquets of Kep-Sur-Mer and the St.-Tropez of Indo-china. In the 1960s, following Sihanoukville's establishment as a deepwater port, Khmer and international glitterati flocked there to enjoy the city's endless beaches (Jackie Kennedy famously stayed at the Independence Hotel in 1967, sealing Sihanoukville's position as a swinging seaside idyll). But soon thereafter the Khmer Rouge's arrival ravaged the area, an effect that lingered until the beginning of this century. Kep has made something of a comeback thanks to a handful of small, artfully designed resorts, but Sihanoukville—well, where to begin? A key hub for China's One Belt One Road initiative, the city has changed beyond recognition over the past two years, morphing from an easy-going beach town popular with Russians and backpackers to one bursting with vulgar Chinese resorts and casinos.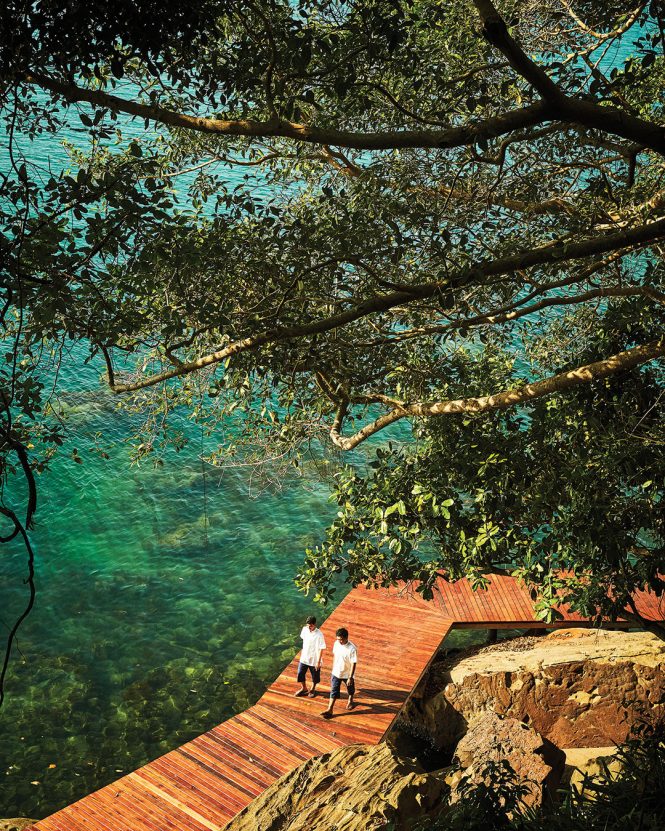 Today, the constant drone of construction dominates a place whose overtaxed infrastructure regularly succumbs to power cuts and flooding. The backpackers still frequent Sihanoukville en route to the relaxed offshore islands of Koh Rong and Koh Rong Samloem, and luxury travelers pass through on their way to the ravishing Song Saa, which opened off Koh Rong in 2012 as Cambodia's first private-island resort. Yet in all other aspects, Sihanoukville has become a place to avoid—advice that passengers of Thai AirAsia's direct flights from Bangkok that start in July, and Bangkok Airways' flights later this year, should heed.
Enter Alila Villas Koh Russey and Six Senses Krabey Island, which allow travelers to enjoy the region's sizzling seascapes without ever setting foot in Sihanoukville. Turning right out of the airport toward the village of Ream, instead of left toward the city, brings guests to the mainland jetties of both properties. The boat transfer to either island takes about 10 minutes, during which the ever-evolving skyline of Sihanoukville reveals itself at a safe distance to the northwest.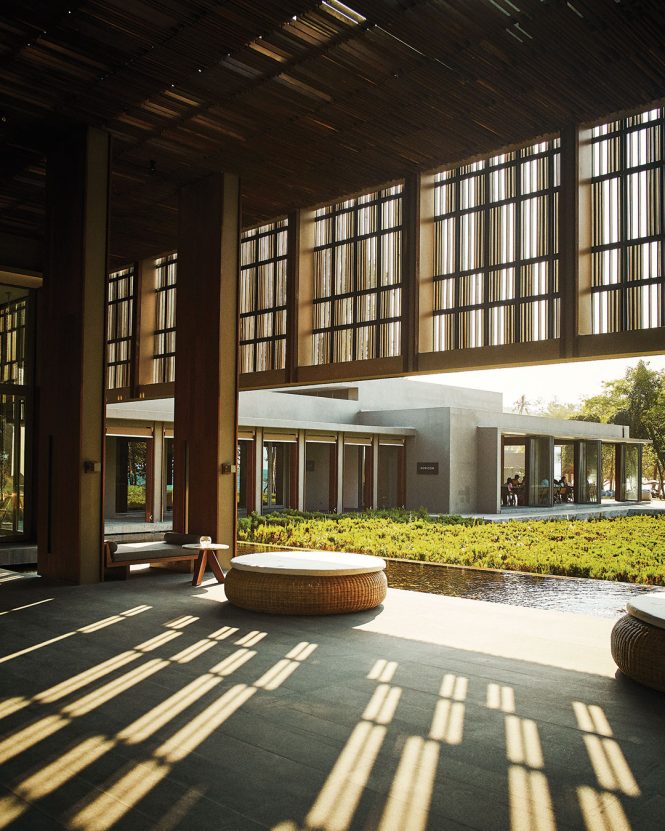 Forested Koh Russey, the larger of the two islands (its name means "bamboo" in Khmer), looks from the boat like a crocodile in slumber. Alila Villas occupies a 25-hectare slice of Russey's west coast; a path leading up from the jetty runs almost the length of the property, with the lobby, restaurants, spa, and rooms set off it. The reception is classic Alila: an angular, open-plan space with wood-slat sides prefacing a high, boxy lobby where bamboo cocoon chairs hang by ropes. The 63 rooms and villas are set in gardens, by the beach, and on a hillside overlooking the sea; all feature distressed-wood front doors and cotton-paneled cupboards, as well as a simple, natural quality courtesy of wood floors and landscaping with delicate wild-dill bushes.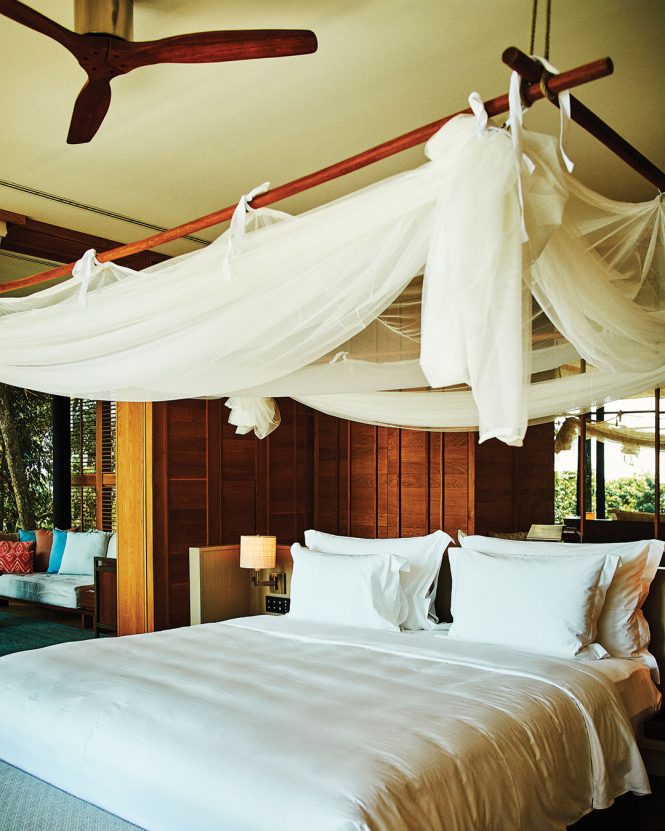 There is also that comely beach, where each morning the staff's sweep-up of plastic bottles and other flotsam testify to the struggles that play out in the world beyond. A large pool sits between the sand-floored Beach Shack and breakfast-and-dinner Horizon, restaurants that served a mix of local and Western dishes when I visited, but whose menus are to be imminently overhauled and recast as tapas and Modern European with Asian influences, respectively, by the new German executive chef. Behind the Beach Shack, a cluster of buildings houses the spa, gym, and a studio where free hatha yoga is offered most days. On a steamy morning, the screech of cicadas trailing me all the way from my room, I attended a session led by spa director Mohit Tyagi, a tall Indian man with warm eyes and a swirl of salt-and-pepper hair. In his slow, reassuring timbre, he led me through poses—some that stretched muscles I didn't know were there—occasionally invoking ruminative mantras that transported me to India.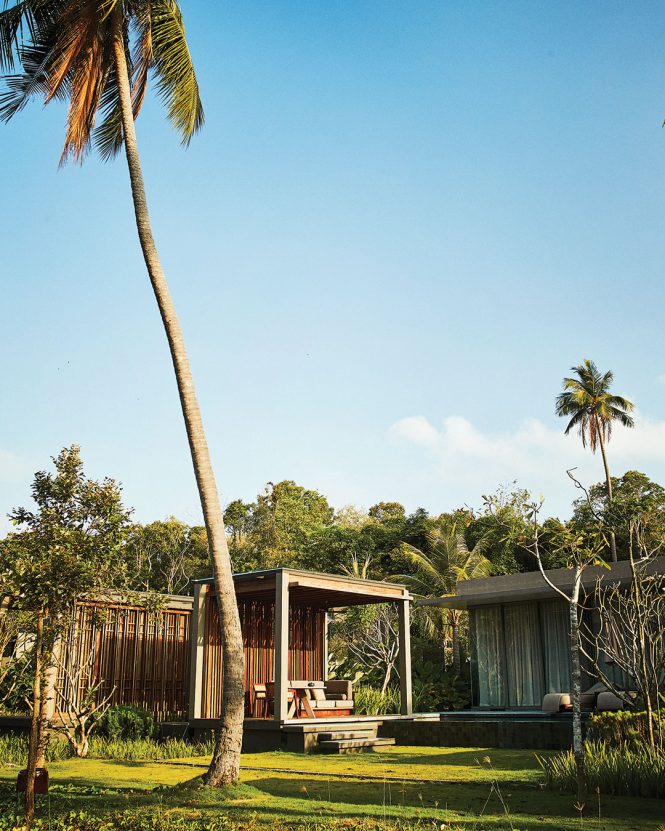 Alila Villas also runs "experiences" beyond the resort, such as cycling tours, mangrove boat rides, fishing excursions, and a full-day trip to visit the pepper farms of Kampot and the crab market of Kep; I chose a blessing ceremony at a mainland pagoda. Accompanied by a villa host (read: butler), I sat cross-legged by a giant reclining Buddha statue, an old monk in saffron robes planted before us. Together with three elderly female disciples sitting nearby, he chanted Sanskrit prayers while using a brush to flick water at me from a silver bowl. At the end, my face and T-shirt agreeably soaked in the tight heat, he tied a braided red bracelet onto my wrist for luck. As hotel-arranged outings go, it felt pretty authentic.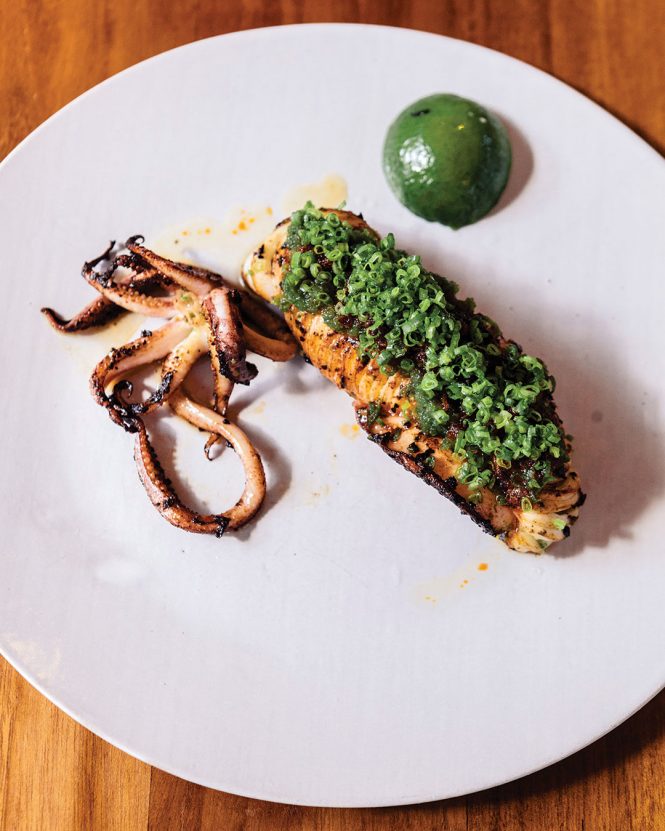 Back at the resort, I returned to the beach to lie in one of the hammocks slung between the pine trees and for a leisurely final swim. The bay was beautiful, sometimes still as glass, other times alive with waves primed for body surfing. I returned to my room after sunset, and in the trees around the villa I could hear what resembled a competition for dominance of the air waves: a chorus of frogs, their deep groans sounding like the wails of tetchy cows, versus parrots squawking in the towering palms.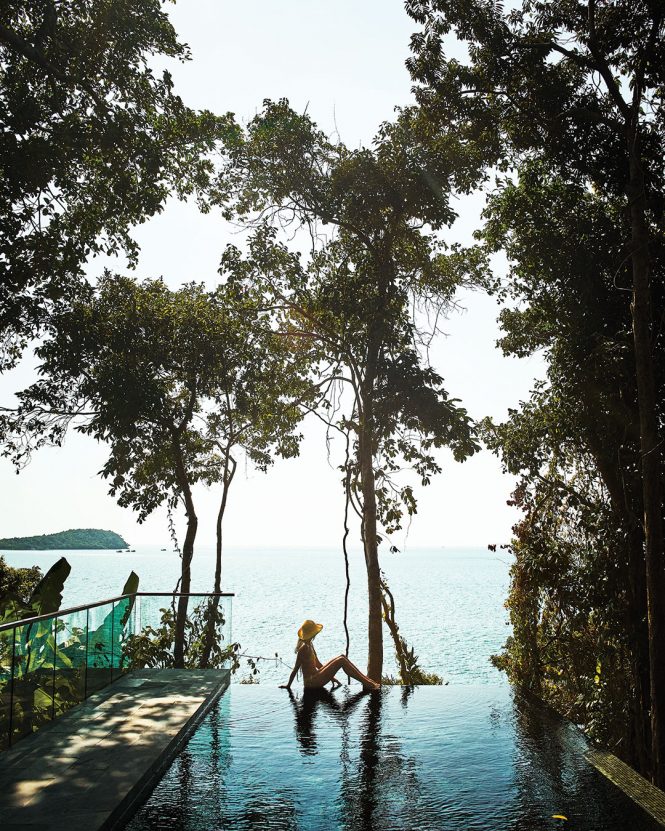 It may be only five minutes by boat between Alila Villas and Six Senses Krabey Island, but the atmosphere at each is wildly different. If the former focuses on the beach, Six Senses, which opened in March, firmly celebrates the jungle. Krabey is a 12-hectare hump—its name means "buffalo," presumably for the isle's shape—of giant granite boulders and thick, bird-filled jungle. The resort is the sole occupant, its 40 cubist villas dotted around the island's slopes, carefully retreating into the landscape so as to be invisible from each other. Identical, they have private pools, slate decks, floor-to-ceiling windows, egg-shaped tubs, and supremely inviting Naturalmat beds. From my villa, I could see only trees and birds, making me feel like I was ensconced in my own modernist tree house, miles from civilization. 
Hungry, I stopped by Aha, a slender restaurant that's just a short walk away overlooking the swimming pool. Its menu of Khmer and Western dishes is overseen by executive chef Todd Adams, formerly of Tasmania's uber-luxe Saffire Freycinet, and ranges from finely spiced curries (including fish amok, Cambodia's national dish) to pastas and burgers accompanied by irresistible triple-fried hand-cut chips. The second restaurant, Tree, tows a similar line, while its interiors—a bas-relief showcasing the deer, elephants, and monkeys found in Cambodia; pendant lamps fashioned like birds' nests; a parametric bamboo ceiling modeled on the structure of leaves—honor the forest.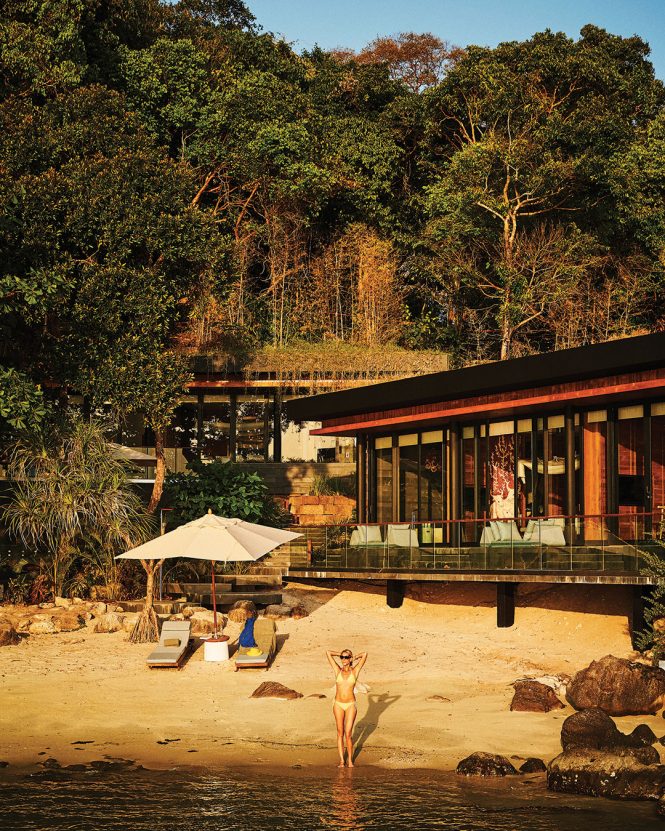 The resort offers excursions like island-hopping, fishing trips, or visits to its organic garden on the mainland, but staying put presents ample rewards. A couple of boardwalks zigzag around dramatic sections of the shoreline, skirting weathered sandstone boulders and rock walls where the roots of banyan trees cling defiantly to cliff faces. I snorkeled on the modest house reef and kayaked around the island, an easy 25-minute paddle. From the water, I could fully appreciate how secluded the property was. Apart from the jetty, the small beach, and the occasional glimpse of a villa deck, the island appeared as nature made it.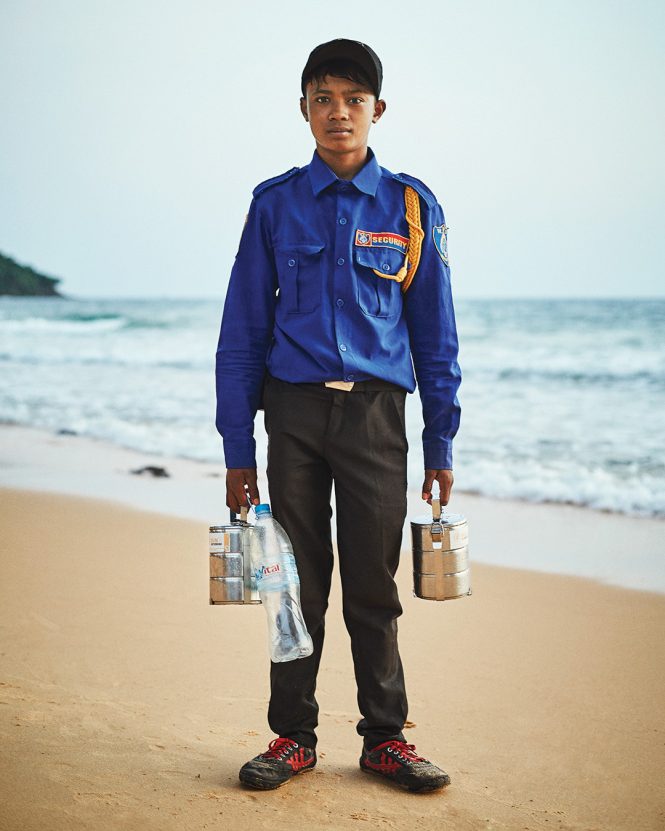 My fondest moments came at the 2,000-square-meter spa, a compound that reflects the centrality of wellness in Six Senses' DNA. Inspired by the Stung Kbal Spean river near Siem Reap, it has palatial changing rooms that feature hot and cold pools and steam and sauna rooms, multiple treatment suites, and a glass-fronted gym. One wet morning I took a flying yoga class on the covered rooftop deck, at 42 meters above sea level the island's highest point. Leading the session was the resort's Kerala-born yoga teacher and naturopath, Anand Peethambar. For an hour I raised limbs into and out of a hammock made of parachute fabric, stretching and swinging my body in poses that were familiar because they followed traditional tropes yet unfamiliar because I was suspended in mid-air. At the finale, weightless with my body in the hammock, lulled by the deep hum of a Tibetan singing bowl, I completely forgot where I was.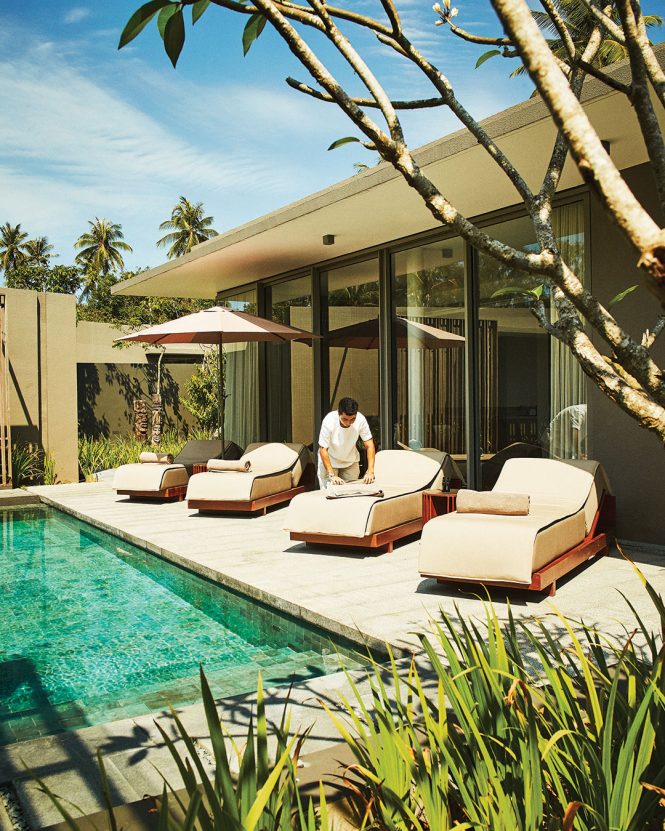 A short stroll away is the spa's Alchemy Bar, a bright, apothecary-like room with a large wooden table around which guests can learn how to make lip balms, face lotions, and other body products from ingredients plucked from the on-site herb garden. Mortar and pestle in hand, I ground up a foot scrub of Kampot pepper, turmeric powder, coconut oil, and sugar for later use in my villa's outdoor shower. My spa day concluded with a deep-tissue massage. The therapist's hands were so soft and her motions so intuitive and fluid that the treatment seemed less like a series of individual movements than one unbroken melody. I didn't fall asleep because—as was the case staying at both of Cambodia's newest island resorts—I was enjoying it too much. 
 THE DETAILS 
855-86/800-732; doubles from US$315.
855-69/944-888; doubles from US$663.
This article originally appeared in the June/July 2019 print issue of DestinAsian magazine ("New Horizons").