In the middle of nowhere, a little piece of untouched wilderness provides a place to unplug, disconnect, and forget whatever's happening at home.
Photographs by Frédéric Lagrange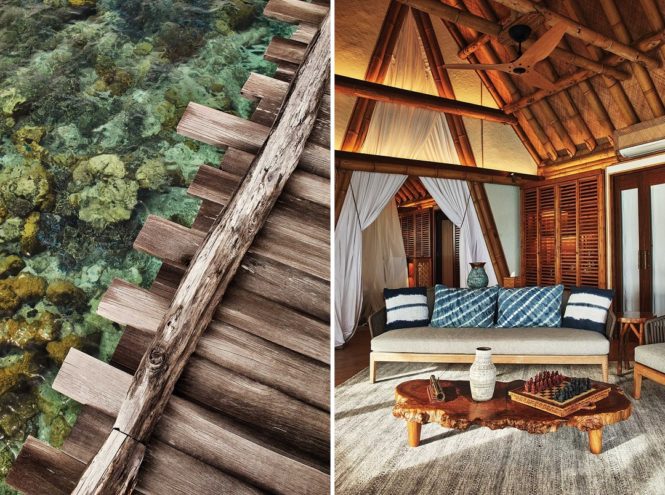 On a moonlit sand spit somewhere in the South China Sea, I sit cross-legged by the edge of a gently lapping lagoon, eyes closed, listening to the soothing voice of our South African meditation coach, Philippa.
"Allow yourself to tune in to the island's pure energy, and let it tune you … aaaah," she intones between deep exhalations. "Invite her gentleness and beauty into your being … and remind yourself that beneath the chaos of a busy mind there is a place that is calm, cool, like this lagoon here at Bawah … aaaah."
"Aaaah" is right. Situated in the outer reaches of Indonesia's remote Anambas Archipelago, Bawah Reserve is as quietly seductive as it is unlikely, a cluster of six small, wildly forested islands that rise modestly above azure lagoons. Like all guests, I caught my first sight of them from the air, as the only access (at least for those of us without a yacht) is via private seaplane from Batam, an Indonesian island just off Singapore. From there, the flight crosses almost 300 kilometers of empty ocean, and just when you begin to doubt that anyone would have built an exclusive hideaway all the way out here, there it is — impasto daubs of green on a canvas of deep blue sea. Closer and closer it gets as the plane, a 10-seat amphibious Twin Otter, makes its descent and, circling around the main island, lands with a spray of water near a fishtail-shaped jetty.
Thanks to the unobtrusive architecture, the scene probably isn't all that different from the one that greeted Tim Hartnoll when he happened upon this uninhabited mini-archipelago during a sailing trip in 2006. No stranger to beautiful tropical isles, the Singapore-based shipping executive knew immediately he had found someplace special, and, when the opportunity arose to lease this little slice of paradise, Hartnoll set about developing his first hospitality venture — a passion project that would be as much about protecting the local environment as about creature comforts.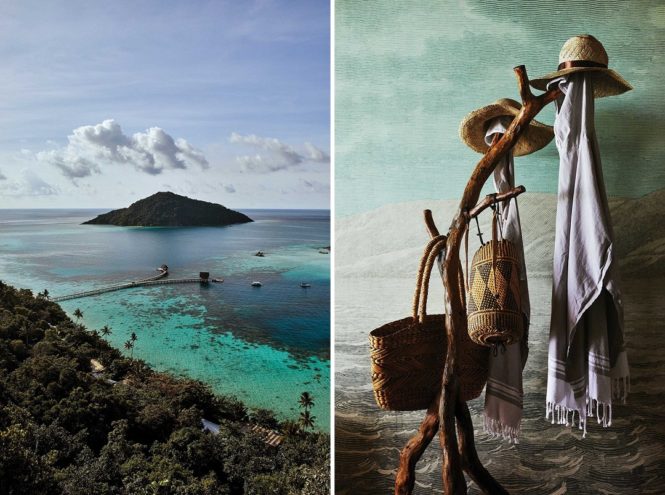 The result, almost six years in the making, debuted in late 2017 as one of the region's most remarkable private-island escapes. Only a fraction of this 100-hectare wilderness has been built upon, with most of the resort facilities occupying a narrow strip of shore on the lagoon side of the main island. Singaporean architect Sim Boon Yang was recruited to design just 36 eco-sensitive villas that all but disappear into their lush surrounds, as well as larger but equally discreet structures fashioned from bamboo and reclaimed timber to house the resort's breezy restaurants, bars, and spa. Especially impressive is that it was all constructed without heavy machinery, relying instead on off-site fabrication and traditional building techniques in order to minimize the impact on the natural surroundings.
The accolades (including a spot on this magazine's Luxe List) rolled in — until Covid shut everything down. But Hartnoll persevered, retaining most of Bawah Reserve's staff (80 percent of whom hail from the province of Riau Islands, of which Anambas is a part) and completing a number of projects, including the installation of a floating solar farm and developing of one of the outcrops, Elang, into an exclusive-use island with six new lodges of its own. "Of course it was a challenging time, but we are like family here and had a job to do," recalls general manager Raymond Saja. Following a two-and-a-half-year closure, the resort reopened last September. Clearly, it was time for me to have a look for myself.
This is not a disagreeable proposition. I spend the better part of four days at Bawah, alternating between siestas on the terrace of my overwater bungalow and marginally more strenuous pursuits such as sunset cruises and spa treatments. The lagoon is a beauty, only slightly ruffled by a salty easterly breeze. At high tide I can walk down a set of rope-railed stairs directly into the water for a snorkel.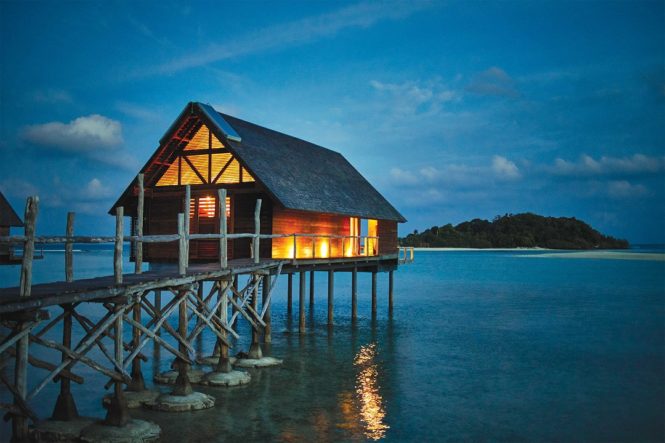 Accommodation here is either in beachfront or garden villas with tented roofs and bamboo frameworks, or weathered wooden bungalows suspended on stilts above the edge of the lagoon. Interiors are cosseting and uncomplicated, with teak floors, muslin-canopied beds, hammered-copper sinks and tubs, and driftwood stands hung with beach ponchos and sun hats. There are no TVs, but the Wi-Fi is fast. Another nice touch is that instead of room numbers, entrances are marked with the first names of guests, written in sand. Not only does this serve to underscore the intimate vibe of the place, but it's a handy way of recalling the monikers of the couple you met last night over cocktails (I'm looking at you, Cencen and Burhan).
The main island, Bawah, is not particularly large, but it does have several hiking trails running through its 66 hectares of hilly forest. As we crunch over a carpet of dry leaves under a tangle of fan palms and towering keruing trees, my guide tells me these paths were originally hacked out by sailors back when this was a short-lived training outpost for the Indonesian navy. I wonder what they would make of the place now. The lush foliage is filled with birdsong — mynas, wagtails, hawk-cuckoos — and a colorful assortment of butterflies, and the trails invariably end at a precipitous lookout point affording sigh-inducing views that extend to the horizon.
There's even more to discover on the water. The islands are fringed by more than a dozen beaches and stretches of mangrove, with kayaks and stand-up paddleboards on hand for those who want to go exploring. There are 10 dive sites on the surrounding reefs; snorkeling at the base of a statuesque outcrop called Tokong, I spot a squad of squid, a juvenile black-tip shark, and a steely-eyed barracuda in quick succession. That the corals here are in such good shape is also down to Hartnoll, who worked with the local government and WWF Indonesia to establish a marine reserve around the islands in 2014. Regenerating reefs damaged by dynamite fishing and boat anchors has since been the focus of an ongoing project to replant coral fragments and remove discarded fishing nets and other underwater debris, and guests are welcome to participate.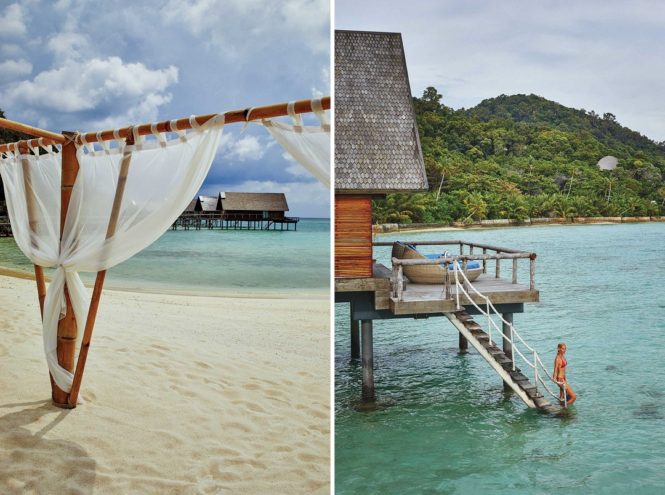 The local turtle population has benefited too. Hawksbill and green sea turtles nest on the islands between March and September, but their eggs are vulnerable to predation by monitor lizards and poachers. Staff now collect the eggs — some 2,000 during last year's nesting season — for safekeeping in hatcheries until the baby turtles emerge and are released (typically in April) into the ocean.
"Our conservation work continued throughout Covid," one of the team proudly tells me. "In a lot of places it came to a halt, but not here."
The same can be said for the social work of the Anambas Foundation, which, apart from overseeing forest and marine conservation, was established in 2018 to support communities elsewhere in the Anambas Islands. Funded in part by the resort, its programs include digital English education, organic farming, and equipping village women with the skills to upcycle waste into marketable products like coconut lamps.
But for all its principled approach to sustainable and socially responsible hospitality, Bawah Reserve never fails to pamper. In the mood for a sea salt scrub or a pedicure? Guests have their choice of a range of treatments at the Aura Spa, whose soaring palm-thatched roof was inspired by the curves of a clamshell. At its new hillside extension set among the treetops, a simple Balinese-style oil massage banishes whatever residual stress I brought with me.
The food is also a treat. By day, guests make their way to The Boat House, a breezy, sand-floored affair set under stout drift – wood rafters. Laid-back and rustic, it turns out yummy noodle dishes, brick-oven pizzas, and the like — I can't think of a better beachside lunch than their applewood-smoked barracuda club sandwich and tempura-battered popcorn prawns. Things get a little fancier at dinnertime, when the action (such as it is) moves to Tree Tops, a lofty pavilion set canopy-level at the top of a series of stone steps. Here, Canadian chef Michael Pataran, who joined Bawah Reserve last September, turns out elegant East-meets-West dishes that showcase ingredients from local farmers and fishermen as well as the resort's own permaculture garden. Beef rendang or house-rolled ravioli doppio? Bengali-style red snapper curry or seven-spiced duck confit? These could be your toughest decisions at Bawah.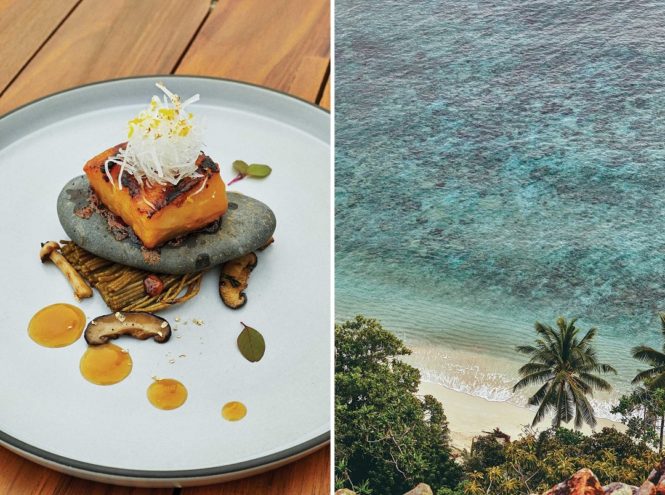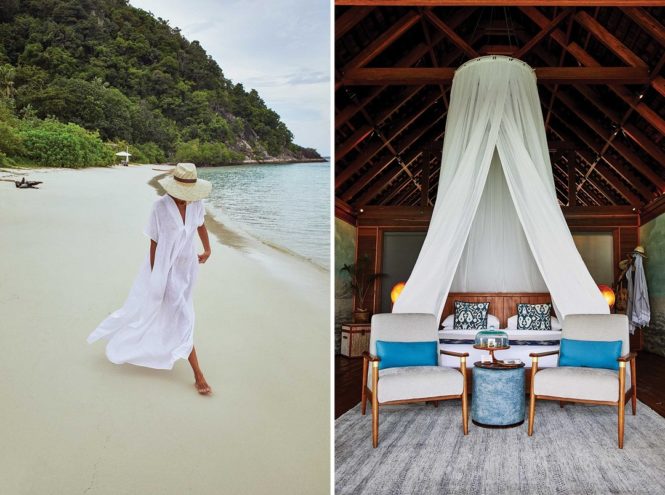 And for those who want to take their privacy up a notch, there's Elang Private Residence, which occupies its own six-hectare islet. Originally earmarked for Hartnoll's holiday home, it's now available as a full buyout, with six cliff-side lodges (again designed by Sim Boon Yang) able to accommodate par – ties of up to 20 people. Like Bawah proper, Elang has been left in a semi-wild state ("raw landscaping," they call it); on my visit, an enormous monitor lizard saunters across the stone path in front of me, flicking its tongue before disappearing into the undergrowth. Apart from a dedicated team of butlers and chefs, the island comes with its own spa, a saltwater infinity pool, two restaurants, and a seaside yoga pavilion. The price tag? A cool US$25,000 per night.
As for me, I feel secluded enough in my overwater bungalow, which is set at the farthest end of a timber walkway that curls around the southeast corner of Bawah Island. At night, there's virtually zero artificial light to intrude upon my stargazing. The constellations above my deck are crystal clear; so bright, in fact, that I'm able to snap a decent photo of them on my phone.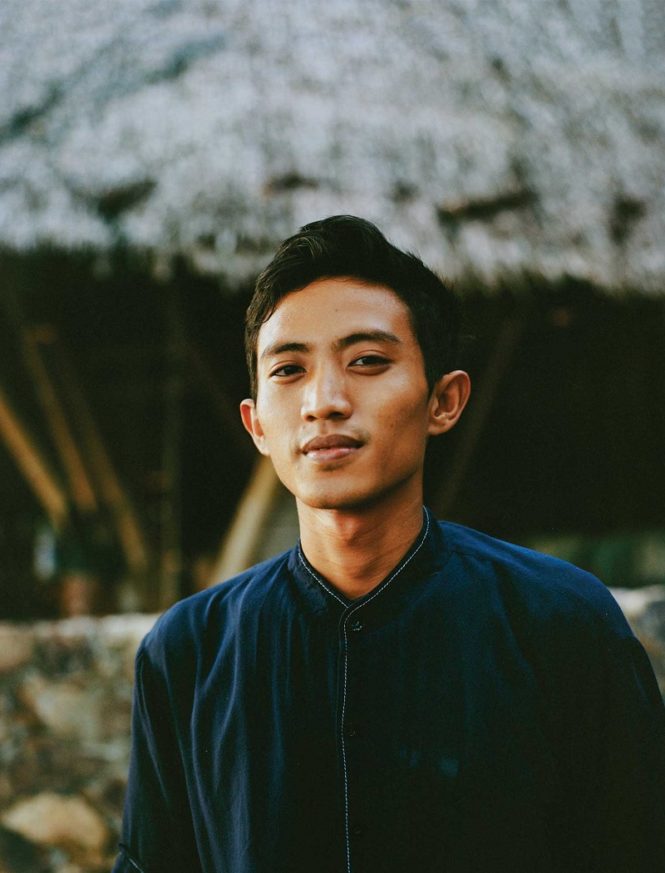 On my last afternoon, one final treat: an outing with the resort's Spa Explorer program, which takes guests to sequestered spa pavilions dotted around the islands. Grabbing a kayak from the watersports center, I paddle across the lagoon and into the beryl-blue channel where Bawah Reserve has set up its solar farm, a floating array the size of a football pitch that's capable of powering 70 percent of the property's energy needs.
At the channel's seaward end, across from the Lost World–esque outcrop of Tokong Island, deep-tissue specialist Retno Pardengganan is waiting for me at a thatched gazebo on the rocky shore. If the setting is magical, the ensuing massage — Swedish strokes combined with compresses of warm Bawah sand — is downright transcendent.
Aaaah.
Nightly rates at Bawah Reserve start at US$1,780 for a tented garden suite, all-inclusive (except alcohol and scuba diving), for minimum three-night stays. The round-trip seaplane fare from Batam is US$800 per person.
This article originally appeared in the March/May 2023 print issue of DestinAsian magazine ("Super Natural").