The first dedicated wellness retreat in the Maldives may put decadence ahead of denial, but the experience is nothing short of transformative.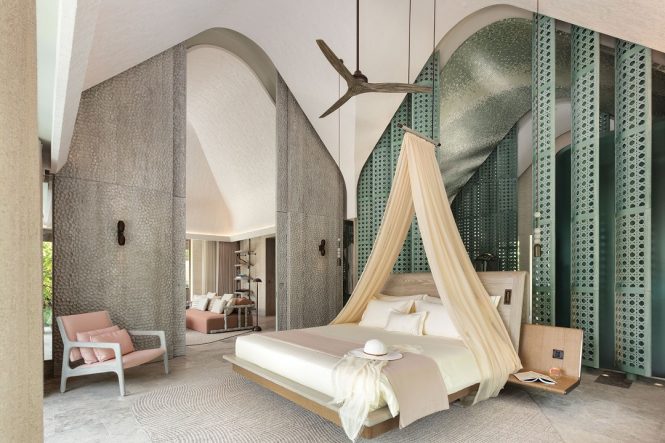 There is no 'i' in wellness," said Dr. Shetty, my stern-faced but soft-spoken wellbeing consultant at Joali Being. To illustrate his point, he wrote it down on a piece of paper: Illness– Wellness. He then circled the first letters of each word — (I) (We) — and concluded that the journey to wellbeing, in essence, is really quite simple: "Just reduce the ego." Putting a hand on his chest, he explained: "Parts of my lungs are here, parts of them are in the trees outside. Without them, I could not breathe. Our wellbeing depends on everyone and everything around us."
He instructed me to clasp two brass cylinders, one in each hand. They were wired to a sci-fi-looking bioresonance machine that sent electromagnetic pulses through my body to measure vibrational imbalances. For a moment, I wondered how high this doodad would score on the quack list. But then I remembered that other doctors had accurately diagnosed my maladies through a mere pulse reading. The report appearing on Dr. Shetty's computer screen didn't lie: vibrations in my digestive system were way off. Emotionally, I was imbalanced. And my sleep patterns? Borderline pathetic. In other words, we had work to do.
The diagnosis wasn't wholly unexpected. By the time I arrived at Joali Being, I felt like a shell of my former self. I was flat. Exhausted. Not because the journey to this private isle in the Maldives' northern Raa Atoll was arduous (it's a smooth 50-minute seaplane hop from Male, the capital), but from the stress and strain that had accumulated in my body over two years of pandemic-induced languishing. A week at the Maldives' first wellbeing retreat was exactly what I needed.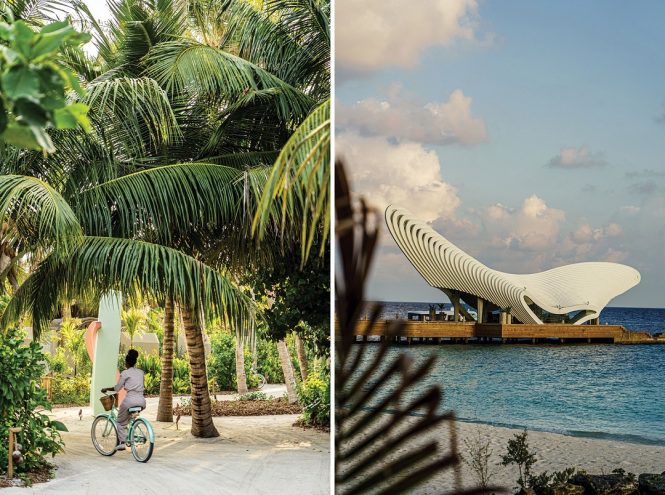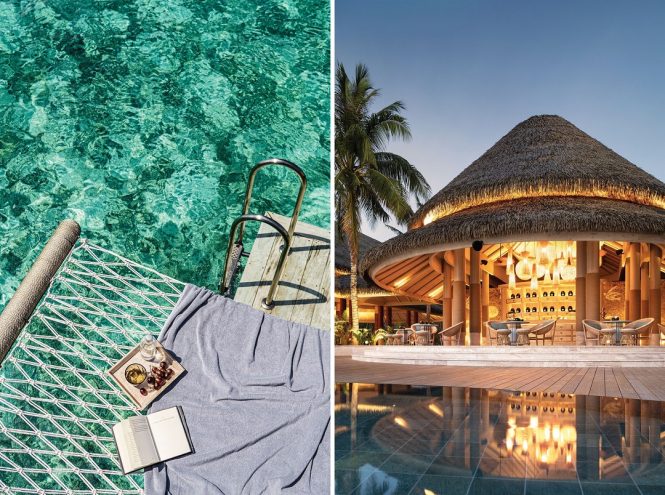 While plenty of other high-end properties in the archipelago offer spas with all the bells and whistles, Joali Being's proposition is different: the resort is a spa, an island-spanning one that also happens to have some rather splendid villas to overnight in. It's a bold move in a destination more often associated with lavish honeymoons and all-out bucket list jaunts. But for founder Esin Güral Argat it was a logical next step. After the Turkish entrepreneur launched the art-centric Joali resort in the same atoll in 2018, she noticed a gap for an immersive wellness retreat in the Maldivian market. Traveling to wellness big hitters to research her idea, she arrived at fully booked retreats in far-flung corners of India and found that in this age of juice cleanses and meditation boot camps, there wasn't just a heightened demand for healthier lifestyles — people were also willing to travel out of the way for it.
And so, just an hour after my arrival, I was lying facedown on a massage table with a pair of gentle Balinese hands kneading, stretching, and slapping the tension out of my limbs. This signature Four Pillars Massage was an introduction to the four pillars (mind, microbiome, skin, and energy) that underpin everything from the resort's immersion programs to its food menus. It didn't take Dr. Shetty long to conclude that the "mind" pillar would be most beneficial for my stay, and upon returning to my villa, I found a custom blend of brain-boosting medicinal tea — green tea, jasmine, and peppermint, blended by the resident herbalist — and a specially mixed aromatherapy roller waiting for me.
In the days that followed, this focus on emotional and psychological wellbeing ran like a golden thread through my schedule. I hopped from -87°C in the Maldives' first cryotherapy booth (part of a massive fitness hub with athlete-grade equipment) to the steamy Russian banya and sensory deprivation room at the hydrotherapy center. During a breathing workshop, Dr. Shetty had me panting like a dog (not a figure of speech: these were his actual instructions) to recalibrate my respiratory movements. Afterward, my lungs felt fuller with the pandan-scented air that infuses the island. I also felt my blood pressure drop during an hour-long sound healing session and was surprised by how much I enjoyed the Discovery Sound Path, a sandy trail where the hum of gongs and wind chimes mingled with the lapping of Indian Ocean waves and brought me back to a state of childlike glee.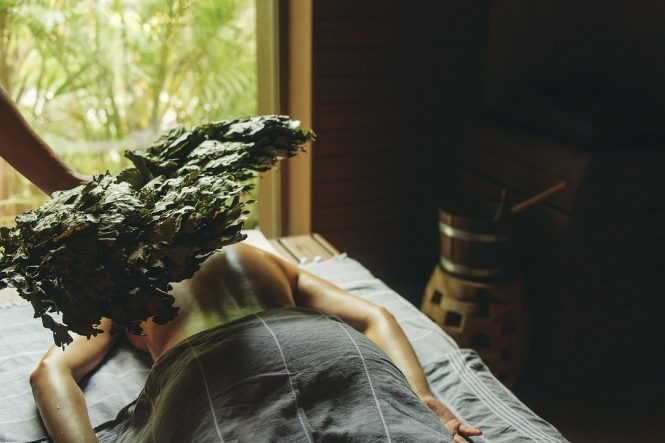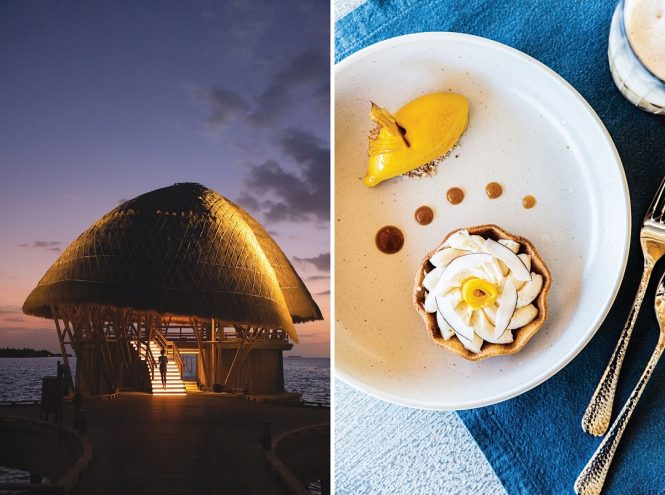 Between treatments, there were plenty of non-wellness (or wellness-adjacent) activities to keep me occupied. At SAI, the poolside lounge, I followed a tasting session with a tea sommelier who had me sample rare oolongs and pu'ers from Taiwan to Georgia as if they were fine wines. Another morning, I set off with the resident marine biologist to snorkel around the island's house reef. The latter had admittedly seen better days due to a mass coral bleaching event in 2016, but a reef restoration project and coral nursery aim to revive it in the coming years. Soon, the island will also host one of three turtle conservation sanctuaries in the Maldives, so future guests will likely have better luck than me in spotting the green sea turtles and hawksbills that call the surrounding waters home.
While there's no "I" in wellness, there are two in Joali Being. Had I cut the cryotherapy treatments and sound healing sessions from my schedule, my stay would've felt as indulgent as at any other five-star Maldivian hideaway. The hardware was all there: my villa, a palm-fringed beach house with cathedral ceilings and accents of copper and sun-bleached wood, competed with some of the archipelago's best in terms of amenities and aesthetics. Designed by Autoban, the Istanbul-based studio that also led the interiors at sister property Joali, it came with a gorgeous stone outdoor tub in a cave-like gazebo and an L-shaped pool where I steadfastly swam laps every morning. Connected by a wooden walkway protruding from the other side of the 10-hectare island, a small enclave of overwater villas looked just as pleasing, with the same creamy color palettes, canopied beds, and thatched roofs, plus an arsenal of meditative musical instruments and mind-stimulating fidgets.
The restaurants felt similarly unrestrictive. Unlike the strict dietary regimens at some of the world's other wellness heavyweights, Joali Being's chefs don't shy away from using dairy, red meat, or gluten. Instead, they put their focus on sustainably sourced and seasonal produce. My days started with beachside breakfasts of lacto-fermented fruits and a rainbow of gut-healing, brain-boosting elixirs and smoothies, of course, but also pains au chocolat speckled with chia and sunflower seeds, and French toast drizzled with coconut caramel. Lunch and dinner menus covered a global array of cuisines (from quinoa salads with grilled turbot to Indian thali and power bowls with miso-braised pork) in generous portions that each benefited one or more of the four wellbeing pillars. Mocktails predominated the drinks list but were as delicious and carefully crafted as some of the best cocktails I've had (there's also an extensive list of biodynamic wines from which to choose). And as a welcome treat, I found an ice bucket with a bottle of champagne-hued sparkling jasmine tea that fizzed, foamed, and even released a little wisp of vapor when I popped its cork.
When I departed through the Gate of Zero, a striking pavilion on the island's seaplane jetty whose undulating form was inspired by the flared skirt of a whirling dervish, there were hugs, handshakes, and see-you-agains from chefs, therapists, and other resort staff. Each, in their own way, had contributed to my blissful week of self-discovery. Dr. Shetty's advice rang true: getting my mind back on track really was a team effort.
joalibeing.com; doubles from US$2,035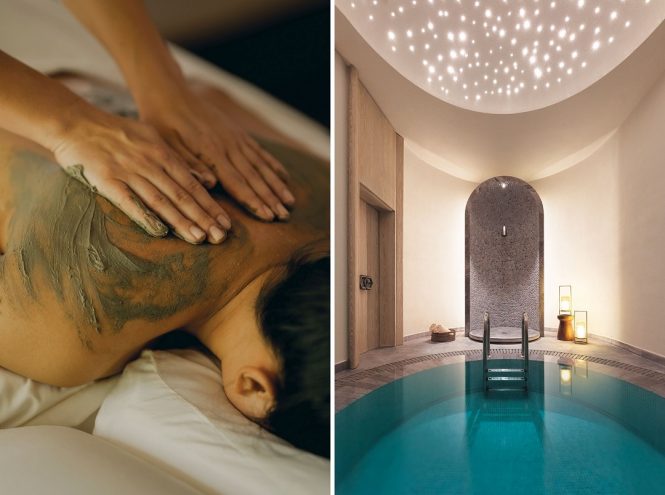 This article originally appeared in the June/August 2022 print issue of DestinAsian magazine ("Being There").