Once a symbol of Korean modernization, the aging Seoul neighborhood of Euljiro is stepping into the limelight once again. But will its time-capsule quality survive?
Photographs by Jun Michael Park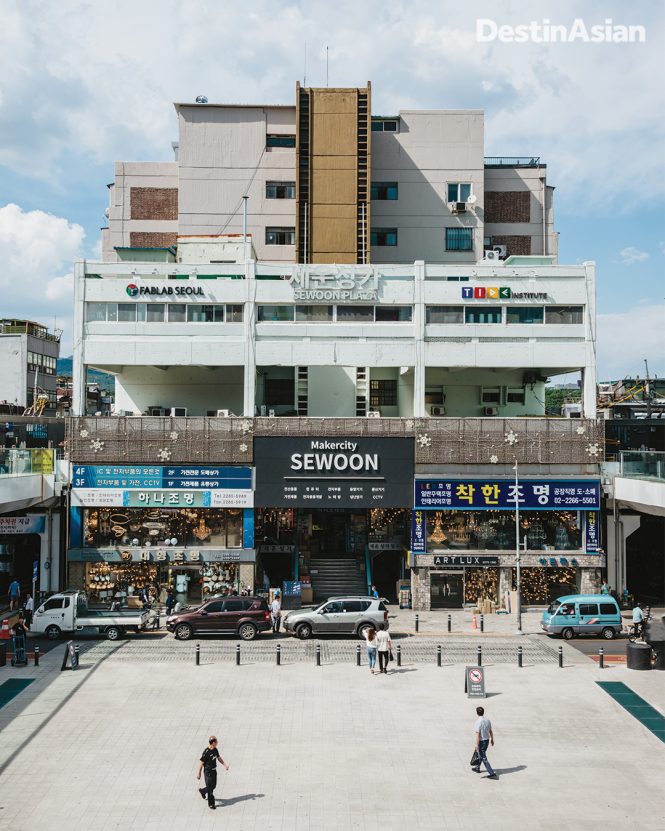 Twenty minutes into my tour of what is regularly billed as one of Seoul's most promising new attractions, after navigating a bewildering network of elevators and stairwells, I have come to just one conclusion: This can't be right. I've been wandering the desolate corridors of a market that, it seems, has yet to open for the day—or perhaps hasn't opened in years. Weaving between piles of boxes and past rows of shops with their shutters locked tight, I begin to wonder if I'm inadvertently trespassing. The only thing to do is head for a doorway in the distance that looks like it might be an exit. 
When I emerge, blinking, into the daylight, it's with a sigh of relief: this must be the place so many people are talking about. I'm now standing on a pedestrian bridge that joins two buildings across the Cheonggyecheon, a restored stream that courses through Seoul's old downtown. The walkway is crammed with stalls where earnest young creative types are pitching wares with a technological bent, like buzzing miniature drones and designer LED lamps. At a few booths, kids try their hands at assembling robots; nearby signposts (thankfully) point the way to a brand-new Electronics Museum, a rooftop garden, and a "Makers' Cube" where promising startups congregate.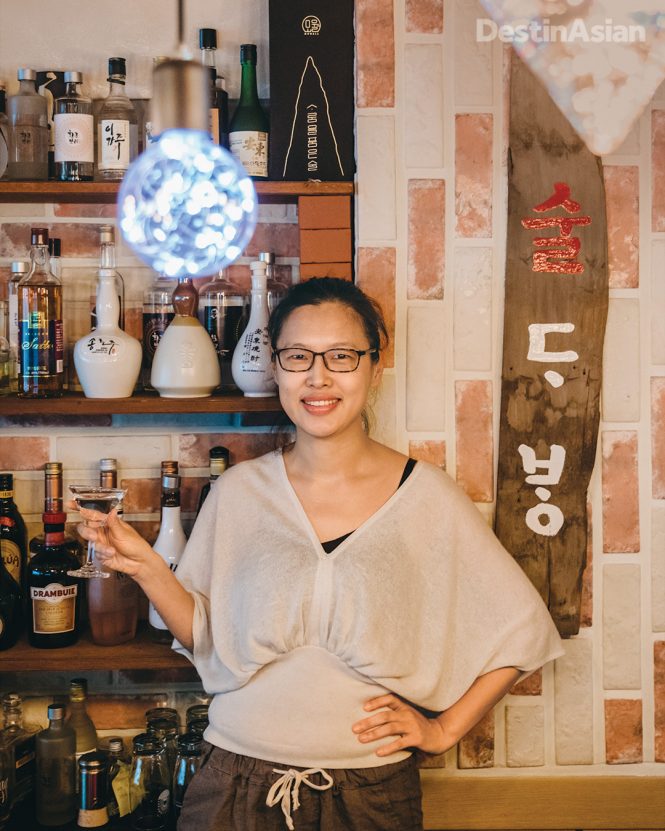 This is the face of the five-decade-old Sewoon Sangga complex (sangga translates roughly to "mall" or "marketplace") that the city is keen to showcase as a shining example of redevelopment in action. Designed by renowned modernist architect Kim Swoo-geun in the early days of South Korea's light-speed industrialization (it was completed in 1966), Sewoon seemed at the time to encapsulate the country's ambitions: a stretch of multistory brutalist buildings in the heart of the city blending residential, commercial, and leisure space in a way that would serve as a template for future communities.
A couple of decades later, however, Seoul's economic center of gravity had shifted decisively south of the Han River and many of Sewoon's tenants had moved on, leaving a handful of small workshops and a vacuum that was quickly filled by traders of black-market electronics and media. What was once the pride of the Korean capital became a symbol of development's downsides: dislocation, crime, the struggle of trades that time forgets.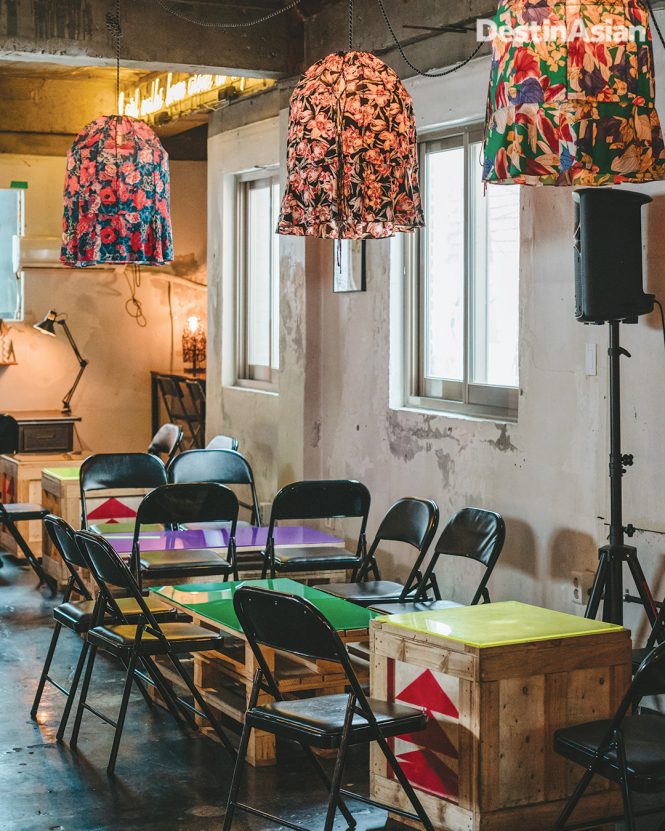 Until, that is, Sewoon came into the sights of the regeneration-focused administration of progressive Seoul mayor Park Won-soon. In 2015 the government launched the Dasi ("Again") Sewoon Project, aiming to inject life back into the ailing complex through a combination of architectural improvements and incentives for a new generation of tenants. The walkway I'm standing on is one of those enhancements, as is the spanking-new signage and a sprawling plaza leading up to the main entrance with commanding views over Jongmyo, a 14th-century Confucian shrine nestled in a tranquil sea of greenery. Yet another is the charming Electronics Museum, filled with a hardware-head's fantasy of vintage communications and computer kit, much of it manufactured right here in Sewoon's prime. 
The "makers" have also turned out in force, and Sewoon is now a home base for dozens of dynamic new companies that churn out everything from bio-degradable 3D printing materials to chirpy robot companions for (presumably lonely) single-person households. Inevitably, the recent arrivals have brought cafés and craft breweries—and hordes of day- trippers—with them. Yet, officials insist, the intent is improvement rather than an outright overhaul.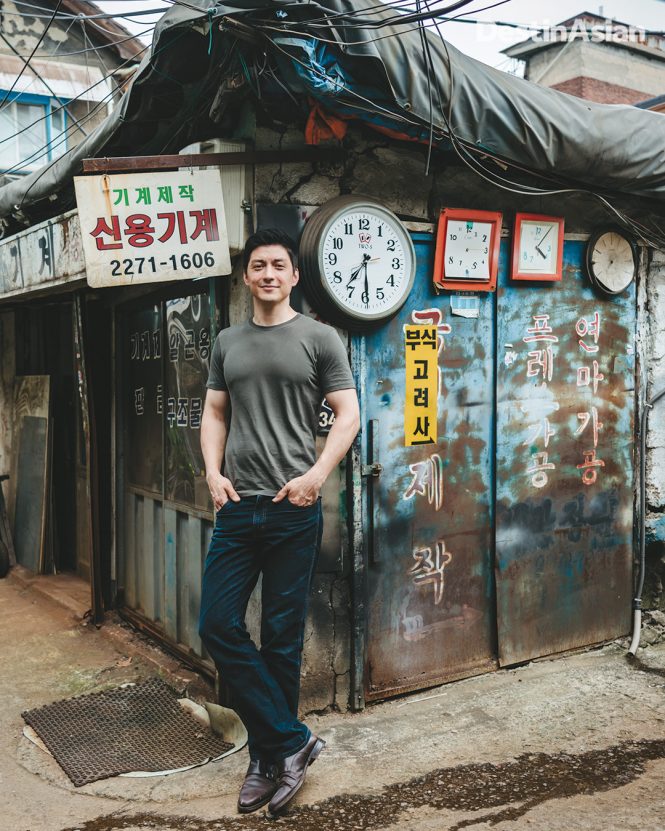 "In the past, there was a policy to relocate unqualified industries," explains Gil Hyun-gi, manager at the Dasi Sewoon Project. But now, he says, the government is focusing on support measures for small manufacturers, such as providing workspaces or upgrading local distribution systems "so they can adapt to economic changes."  
My brief experience of being lost in Sewoon, and a few hours of further exploration, indicate that the much-touted revitalization has, so far, really only nibbled at its fringes. Most levels are still a tangled menagerie of tiny stores and workshops making, selling, and/or fixing gadgets of every conceivable size, shape, and vintage—transistors, diodes, walkie-talkies, record players, speakers, fake video cameras, real video cameras, motherboards, soundboards, and more. Browsing can require dodging careening deliverymen (some of them on bikes) and interacting with vendors who would apparently like nothing more than for all these new visitors to go away. But it's also a fascinating glimpse into a unique, and now possibly endangered, ecosystem that gives one the eerie feeling of straddling several decades of Seoul history simultaneously.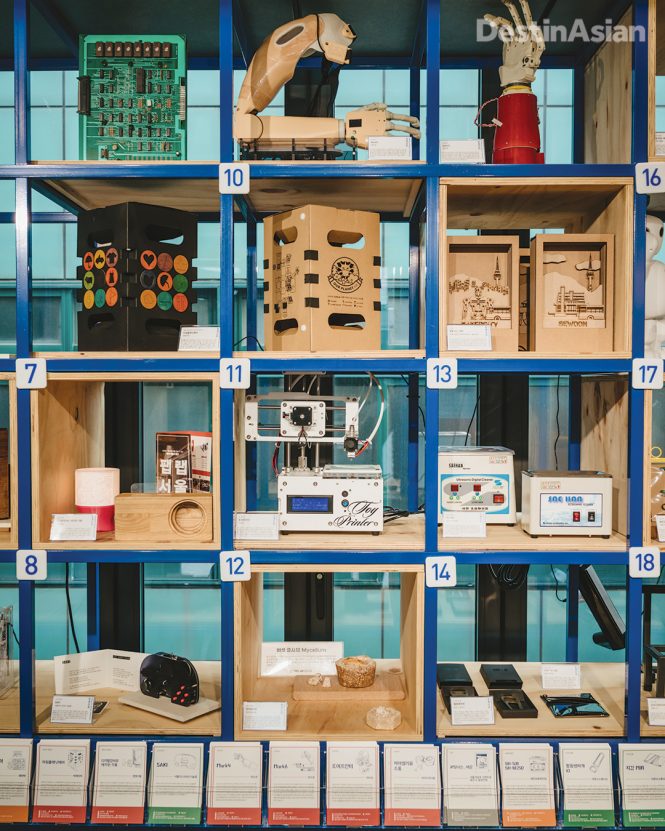 In this, Sewoon is emblematic of its neighborhood, Euljiro, where development seemed until recently to have halted 30 years ago. Away from the broad main thoroughfare that gives the area its name, Euljiro is still dominated by light industry, with a bewildering warren of little-visited back alleys where one-man factories spill metal shavings out onto the sidewalks. 
Going by my entirely unscientific poll, very few of the people working in these places, or their customers, are under the age of 60, yet they go about their business at a pace that would put many of their younger counterparts to shame. The steady hum of activity imbues the area with a certain energy. As does a recent influx of artists, designers, and other creative types lured by Euljiro's time-capsule quality and cheap rents—though others worry that's beginning to upset a very delicate balance.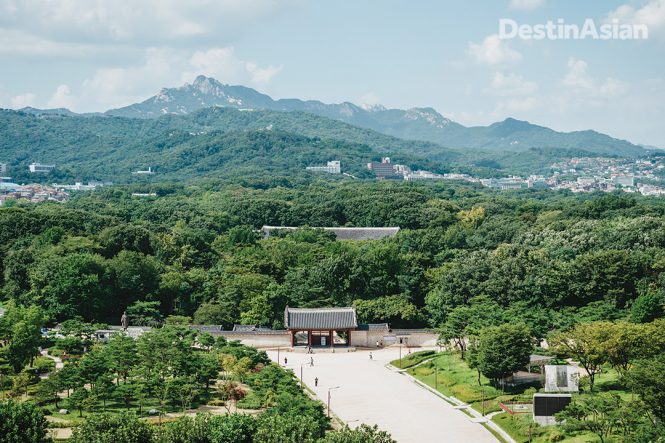 Daniel Tandler, an architect with a studio in Euljiro, finds the area a bottomless source of inspiration. The basic structure of its alleyways, he points out, dates back centuries; this is one neighborhood the modern street grid that sprawls over the rest of Seoul has yet to really penetrate. Many of the buildings in the back lanes date from the early-20th-century Japanese colonial period; some are even older. Almost any attempt to excavate in Euljiro unearths a relic or two, as a collection of centuries-old tools and ceramics dug up and now on display at Sewoon Sangga attests. 
"The city government should review the plans to redevelop Euljiro and find ways to preserve it instead," Tandler says. "Even though it might not always be visible at first sight, it's a highly historic neighborhood with many remnants of the city's past, one of the few such areas we have left. There are many problems with the area, but the whole structure of it, seeing all these people at work in their craft shops—it's so incredibly complex, amazing really. Seoul needs these neighborhoods; they're what makes it interesting."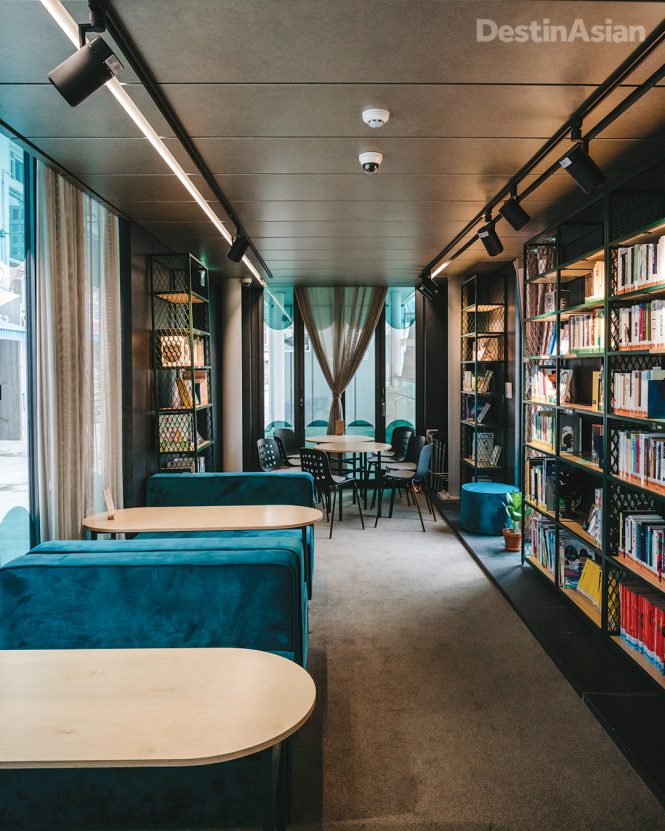 The trends gripping the neighborhood have had some welcome side effects. More than a few young artists and designers have formed partnerships with Euljiro's longer-term residents, who are at times stunned to find skills they thought were obsolete once again in demand. "We've been working with a metalsmith who has a workshop nearby to make things like window frames," Tandler says. "There's so much potential for synergy if young, creative people start teaming up with the craftspeople here. And
they are." 
Indeed, many recent transplants seem more inclined to celebrate rather than turn their backs on the neighborhood's scruffy, stubbornly retro character. Places that were thought to have peaked in the tumultuous 1980s, when they were sometimes unofficial gathering places for a restive labor movement—such as Euljiro Nogari Alley, a street full of open-air bars all hawking cheap draft beer and an even cheaper snack of dried fish grilled over coals—are once again buzzing with life. More recently, Euljiro has become synonymous with a vaguely subversive breed of venue that have tacitly adopted a similar aesthetic creed: if it ain't broke (and perhaps even if it is), don't fix it. Minimal to nonexistent signage, forbidding, dimly lit entryways, exposed concrete, and wobbly vintage furniture rule the day—and somehow, create a charm all their own. 
The template was arguably established by Hotel Soosunhwa and Café Hanyakbang, which blur the lines between coffee shop and art/design spaces; and bar-club-studio hybrid Seendosi. But Suldabang (a portmanteau of the Korean words for alcohol and a type of traditional coffee shop popular with older men) is a potent recent addition to the list. Owner Soojeen Lee hasn't changed the signs on the windows (which date from when it was one of those coffee shops) and has also left the mood lighting and vinyl chairs mostly intact. But she has brought in what just might be one of the city's finest selections of traditional Korean liquors, thanks to connections forged in her day job as a marketing consultant for boutique producers. 
"I helped promote the brands, and realized people needed a place to drink them," she laughs as she pours me a selection that shows just how diverse the potent, vodka-like local firewater, soju, can be. They're all good, cleaner and subtler-tasting than the standard (and legendarily headache-inducing) convenience store variety, but the Guigam, brewed in Jeju Island with a hint of local tangerines, is my firm favorite. When I tell the bartender that, she promptly pulls an obscure Jeju mandarin liqueur off the shelf and uses it to whip up a heady, citrus-rich take on an old-fashioned. The rest of the evening is a crash course in the permutations and possibilities of Korean booze—and watching a generally young, bohemian crowd fill the seats around me, I conclude I'm far from the only willing student.
"Hipsters like this place," Lee remarks. Yet, she insists, the choice of neighborhood "was kind of a coincidence. It's an old area and emotionally, I feel attached to old things. Euljiro's character fits the drinks: small, craft, vintage."
"Small" and "vintage" may be good words to describe Euljiro now, but they won't necessarily apply for long. Already the government's plans for Sewoon and the surrounding area has prompted a wave of development activity—and demolitions—that have some locals concerned. Anti-gentrification demonstrations are now a near-weekly occurrence. "There are still a lot of empty spaces in the area, so it's not yet come to the point where people are being pushed out," Tandler says. "But I am worried about that."  
The city government says it understands these worries and, according to Gil of the Dasi Sewoon Project Team, is adjusting its plans in response; for example, by ruling out forcible relocations in some parts of the Sewoon redevelopment zone. Yet when "a new paradigm for urban transformation" is the stated end goal, there's no doubt more change is in the offing—and that sooner or later, mementos of Seoul's industrial heyday will be found more in museums and the bars and cafés of the moment, than in the city's streets.  
Address Book
Coffee Hanyakbang
16-6 Samil-daero 12-gil; 82/70-4148-4242.
Hotel Soosunhwa
4/F, 17 Chungmu-ro 7-gil; 82/70-8950-2649.
Seendosi
31 Eulji-ro 11-gil; 82/70-8631-4557.
Sewoon Sangga
159 Cheonggyecheon-ro.
Suldabang
2/F, 33 Eulji-ro 11-gil; 82-2/2272-0818.
This article originally appeared in the October/November 2019 print issue of DestinAsian magazine ("Work in Progress").