A city steeped in history and culinary traditions, Jeonju is the place Koreans warn you not to visit unless you want to be forever spoiled for Korean food.
Photographs by Mark Parren Taylor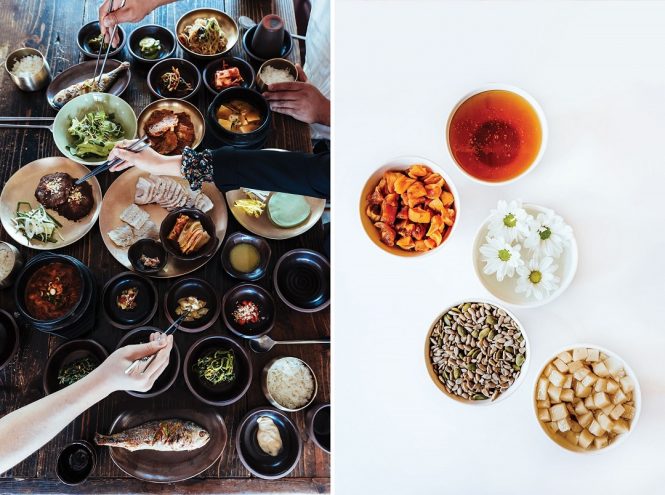 There's a busy crossroads in old Jeonju. Like the X on a treasure map, it marks the heart of the city's Hanok Village, a cluster of more than 700 traditional houses (hanok) that have stood on this site for a century or more. With their timber beams and gently curving tiled roofs, these residences are built in a style that dates back to the early days of Korea's Joseon Dynasty, whose rulers regarded Jeonju as their ancestral home.
There are other pockets of hanok in South Korea — Seoul's Bukchon area comes to mind — but Jeonju's is one of the largest and arguably the most tourist-friendly. While a good number of the old houses here still serve as private (and much-coveted) residences, many have been repurposed as galleries and craft stores, bike-rental shops and guesthouses, restaurants and cafés. Korean day-trippers and staycationers flock to the village's stone-paved lanes to soak in the nostalgic ambience, dress up in traditional Korean hanbok outfits, and — more to the point of my visit — gorge themselves on local delicacies. For apart from its architectural heritage (which includes such treasures as the 15th-century Gyeonggijeon Shrine, set on leafy grounds just a short stroll from that crossroads), Jeonju is among the country's top food destinations, renowned in particular for its bibimbap. Bordered by some of South Korea's most fertile farmland, the city has fresh produce to spare, as well as a long history of drying, pickling, and fermenting. Wild greens and fungi from the mountains to the east and fish from the Yellow Sea some 30 kilometers to the west all make their way to Nambu Market, a warren of food stalls and sellers on the Jeonju River. "Eat once in Jeonju and you'll be spoiled for life," Koreans say. UNESCO, for its part, designated the town as one of its first Cities of Gastronomy a decade ago.
It's just as well that I arrive hungry after the two-hour train ride from Seoul. Dropping my bags at a hanok guesthouse called Hakindang, I barely have time to appreciate its oiled-paper windows and fine woodwork before I'm back on the street and heading toward the Hanok Village crossroads. About 100 meters south of the junction, a crooked lane leads to Damun, a restaurant renowned for its hanjeongsik (banquet-style) dining. The multicourse feast promises an elegant primer on regional cookery, and my table is soon groaning with tteokgalbi (short-rib beef patties grilled in citrus and sesame oil), pan-fried yellow croaker, and an assortment of banchan, the vegetarian side dishes that are an essential part of Korean dining. There's an obligatory selection of kimchi, some japchae (glass noodles made from sweet potato), radish pancakes, and buckwheat crepes served with mushroom omelets.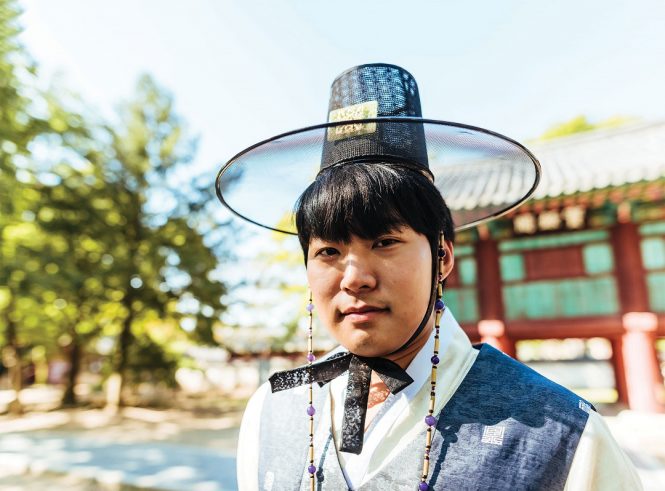 Fermented condiments like doenjang (soybean paste), gochujang (red-pepper paste), and soy sauce are crucial to the Korean dining experience, and are made with artisanal care in Jeonju. Keen to learn more, I'm introduced to former restaurateur Jeong-hee Ham, a champion of local, organic produce whose firm supplies Korea-farmed soybeans and related products to kitchens across North Jeolla (the province of which Jeonju is the capital) and beyond. I meet her at her home, where she's pottering about a low-walled yard that, as at many hanok in the area, serves as a larder of sorts. It contains dozens of earthenware vessels made from onggi, unglazed pottery whose porous structure facilitates fermentation. As she explains the process, Mrs. Ham pops open lids to reveal amber-hued doenjang or chili-specked kimchi. Then, with a flourish, she reaches into a waist-high pot and removes salt crystals the size of the Koh-i-noor diamond from the inky depths of a 10-year-old soy sauce.
Across the neighborhood, Hanguk-jip restaurant is so popular that it can't accommodate enough onggi pots in its attractive courtyard garden. Supplies are brought in daily to satisfy the cravings of myriad diners who come for what many consider to be Jeonju's — if not all of Korea's — definitive bowl of bibimbap, which the family-run establishment has been turning out since 1952.
Bibimbap literally means "mixed rice," and given that mine arrives looking like crown jewels on a pillow of beef broth–boiled rice, it's a shame to have to ruthlessly mix the ingredients into a murky but comforting mishmash. You've heard of Eton mess, that quintessentially British jumble of broken meringue, strawberries, and cream? Bibimbap is its aesthetic cousin, but no less delicious for that. Hanguk-jip's version, served in a beautiful brass bowl, is made particularly memorable by its housemade hwangpomuk (jellied mung beans doused in soy sauce and gardenia seeds), which sit alongside standard accompaniments such as spinach, gingko nuts, and raw egg.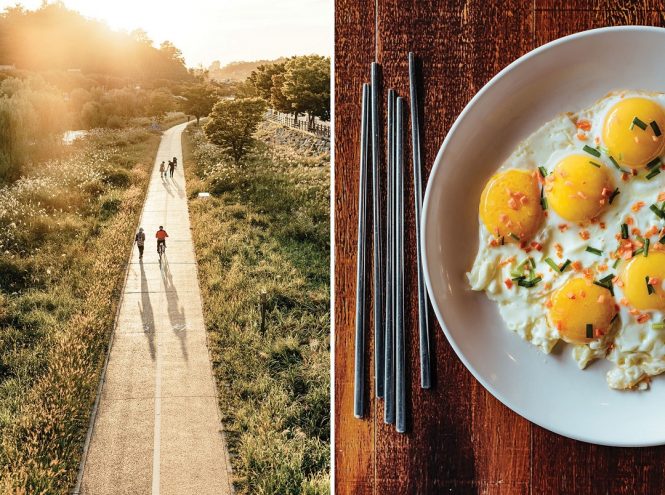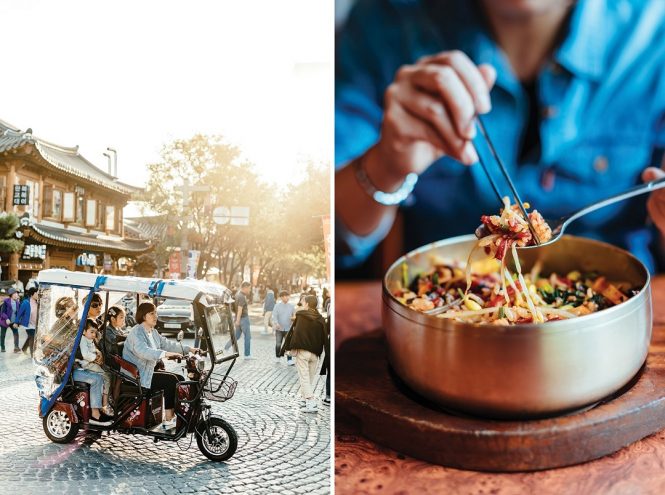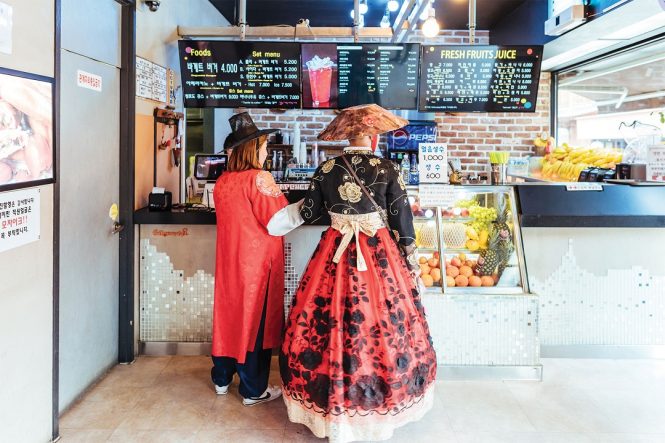 But for all Jeonju's slow-food appeal, Gen Z daytrippers from Seoul and Busan seem less inclined to queue for lunch as they do to snack their way through the village between selfie snaps, stopping off at Gilgeoriya for its 21st-century street-food takes on classic bowl-and-chopsticks dishes (think grilled-beef bulgogi croquettes or bibimbap-stuffed baguettes) or the Sobok dessert shop for sweet potato ice cream or shaved sherbet "snowflakes." Fried squid on sticks, grilled cheese skewers, and shrimp dumplings can be found on just about every corner.
More subdued pleasures await at Gyodong Dawon, one of the last surviving teahouses in the old town. Tucked down a little lane, this is the domain of tea master Gi-jung Hwang, who grows his own leaves on the lower slopes of Mount Moak some 12 kilometers due south of Jeonju. I take a seat overlooking a modest courtyard and savor a pot of his signature hwangcha (yellow tea). The delicate, full-flavored infusion with a lovely golden hue soon makes me forget about the buzz of the electric bikes and hanbok-attired crowds outside.
At sundown, as sightseers contemplate their dinner plans, locals head to other quarters of Jeonju. Market traders might end up in the nearby Daga-dong district for third-wave coffee and cake, or for something a little stronger at Yetchon Makgeolli, where a copper kettle of milky, slightly fizzy makgeolli (rice wine) is accompanied by comforting dishes like fried eggs, boiled ark clams, and soy-glazed pig's trotter.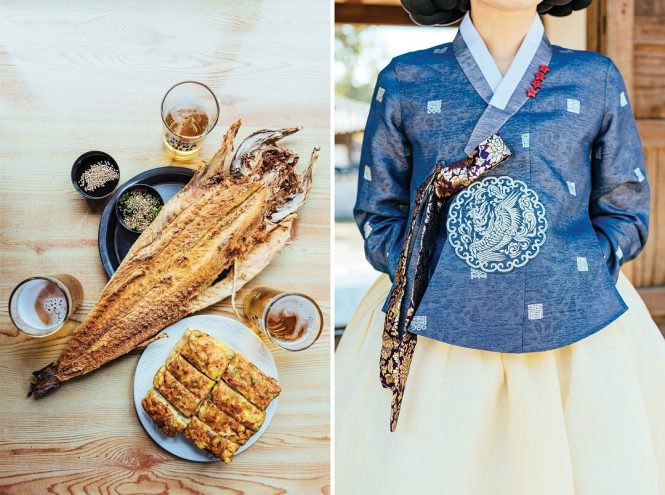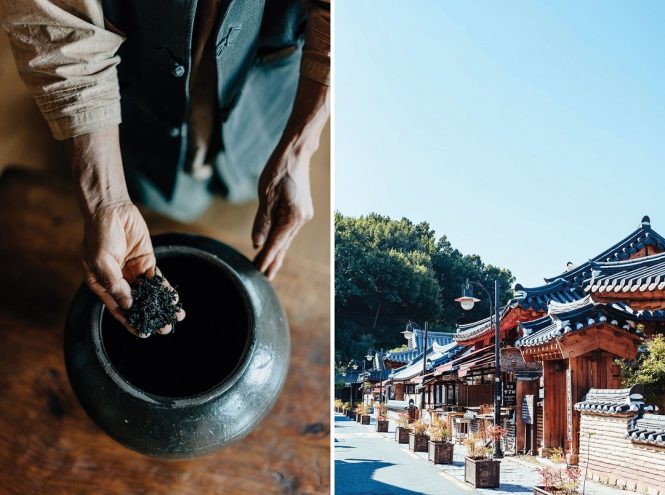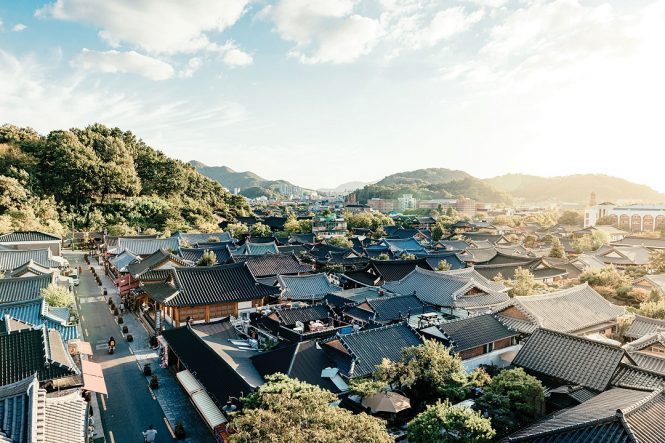 In the north part of town, Gil Sonne is a popular student haunt located across the road from the old campus gate of Jeonbuk National University. It's a rustic sort of place with wooden walls covered floor to ceiling in the graffiti of generations of appreciative diners. And if the no-nonsense matrons running the restaurant don't immediately win you over, the food will, from the perilla-scented fried chicken soup — dakbok-bokkeum-tang — to the mouth-watering ojingeo bokkeum (a spicy stir-fried squid dish).
In the workaday Gyeongwon-dong district, a 600-meter walk north of the Hanok Village crossroads, seventysomething Sun-deok Lee prepares for the night ahead: sitting at the burner in front of her gamaek (literally "corner store beer"), Jeonil Gabo, grilling paddle-like halves of dried pollack, or hwangtae. Set on a street lined with an untidy mix of apartment blocks and '70s shophouses, Mrs. Lee's café has been operating in this seemingly unspectacular neighborhood for almost 50 years now, making it as revered a local institution as any.
As the twilight fades, office workers and couples on dates fill Jeonil Gabo's unadorned interior with chatter and laughter. They sip on beer and soju rice liquor while downing the proprietor's thick rolled gyeran-mari omelets and picking at the flossy, scorched, moreishly savory flesh of the fish.
Koreans have an expression called sohwakhaeng, which translates as "a small but certain happiness." It can refer to anything from savoring a cup of tea to the pleasures of a leisurely walk. Jeonju abounds in such things.
The Deets
Getting There
The easiest way to reach Jeonju from Seoul is via high-speed KTX train, which will get you there in under three hours.
Where to Stay
A 1908-built guesthouse, Hakindang (doubles from US$110) is low on frills but rich in authenticity. For something more modern, try N Bridge Hotel (doubles from US$75), which sits across the river from Hanok Village.
Where to Eat
Damun
Don't miss this restaurant for a taste of hanjeongsik, Korea's answer to table d'hôte. 74-8 Eunhaeng-ro.
Gil Sonne
A perennial favorite with university students in the north part of town. The fried chicken soup is a must-try. 231 Gwansamdeuk-ro, Deokjin-gu.
Gyodong Dawon
The best spot in Hanok Village for a contemplative cup of tea. 65-5 Eunhaeng-ro.
Hanguk-jip
Arguably the best bibimbap around. 119 Eojin-gil.
Jeonil Gabo
A 50-year-old corner store that's still going strong. Hyeonmu 2-gil, Gyeongwon-dong.
Yetchon Makgeolli
The makgeolli rice wine is served by the kettle here, along with an array of delicious side dishes. Various locations, including 843-16 Seosin-dong.
This article originally appeared in the June/August 2022 print issue of DestinAsian magazine ("Putting It All on the Table").