An epic drive across the island's length and breadth delivers scenic mountain roads, coast-hugging highways, surf beaches, and a happy sense of otherness.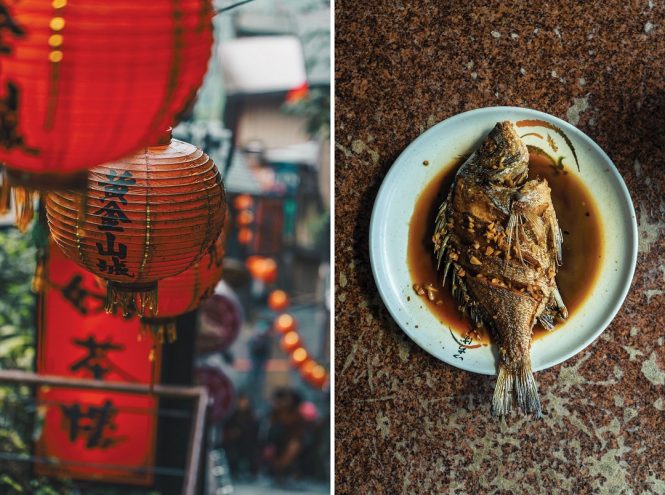 On the drive northeast from Taipei early one morning, mountains fill the horizon all the way to the coast like an endless pod of moss-covered whale backs. The road twists higher into the Ruifang hills—the green spine of Taiwan—en route to Jiufen, a former gold-mining enclave whose whimsical teahouses and sweeping views of the East China Sea have long drawn shoals of day-trippers from Taipei.
Reminders of Japan's 1895 to 1945 colonial rule of Taiwan are everywhere in Jiufen. The hillside teahouses and atmospheric alleys were mostly built by Japanese gold-seekers in the late 19th century. Prior to the pandemic, the majority of visitors here were still Japanese, though they largely came because Jiufen is believed to have inspired the setting of Spirited Away, Hayao Miyazaki's masterpiece of animation.
Taiwan has been close to my heart since I first came here in 2012 on a gap-year jaunt around Asia. My wife, Etty, is originally from Taichung on the island's west coast, and though we live in Bangkok, we return to her hometown regularly to visit with family. This time, we're adding on a weeklong road trip that will take us across the length and breadth of the island, through national parks full of hot springs and river gorges and over cloud-shrouded mountaintops to the crystalline beaches of the far south.
Jiufen is as good a place to start as any: just an hour by car from Taipei's Taoyuan International Airport but a world away in scenery and pace. Its quirky charm is perfectly encapsulated by Shu Shu House, our hillside abode for the night. Hidden down a stairway at the very end of Jiufen's lantern-lined main drag, it looks like a rundown concrete cabin from the outside. But the open-plan living room/bedroom within is as cozy as can be, accented by blue-painted floorboards and vintage furnishings that the house's owner, leading Taiwanese floral artist Alfie Lin, found at antiques markets around the world.
Across town on Teapot Mountain, we trek up grassy slopes to a Jenga stack of colossal boulders as local guide Steven Chang talks of mo-sin-a, the tricksy mythic creatures believed to cause accidents for hikers. From the summit I see a lone octagonal pavilion on a distant jagged peak; in the valley behind me are the remnants of a Shinto shrine. Wherever you are in Taiwan, temples are never far. Their crowns jut from suburban neighborhoods and far-flung woods, topped with spiraling multicolored dragons, phoenixes, and intricate scenes dancing from one gabled roof to another. Every feather, scale, claw, and whisker is painstakingly created from smashed plates and tiles, an ancient southern Chinese craft that has withered on the mainland in tandem with religion. In Taiwan, Taoism, Buddhism, Christianity, and indigenous folk customs have flourished together.
From Jiufen, we cut south to the rugged east coast and follow the road to Qingshui Cliff, 21 kilometers of wooded bluffs that plunge almost vertically into the blue Pacific. Crossing a bridge over the Liwu River estuary, we then turn onto the Central Cross-Island Highway, which takes us through the ravines of Taroko National Park. I stop to stretch my legs at the Tunnel of Nine Turns viewpoint, where waterfalls gush hypnotically into the marble-walled gorge from hundreds of meters above. Below me, the Liwu rushes headlong back toward the sea.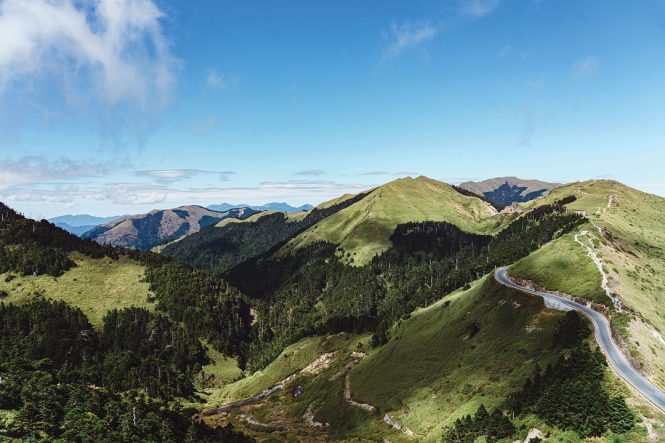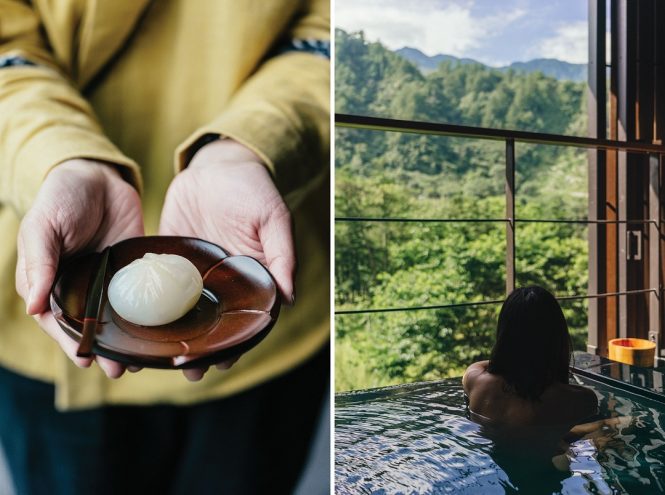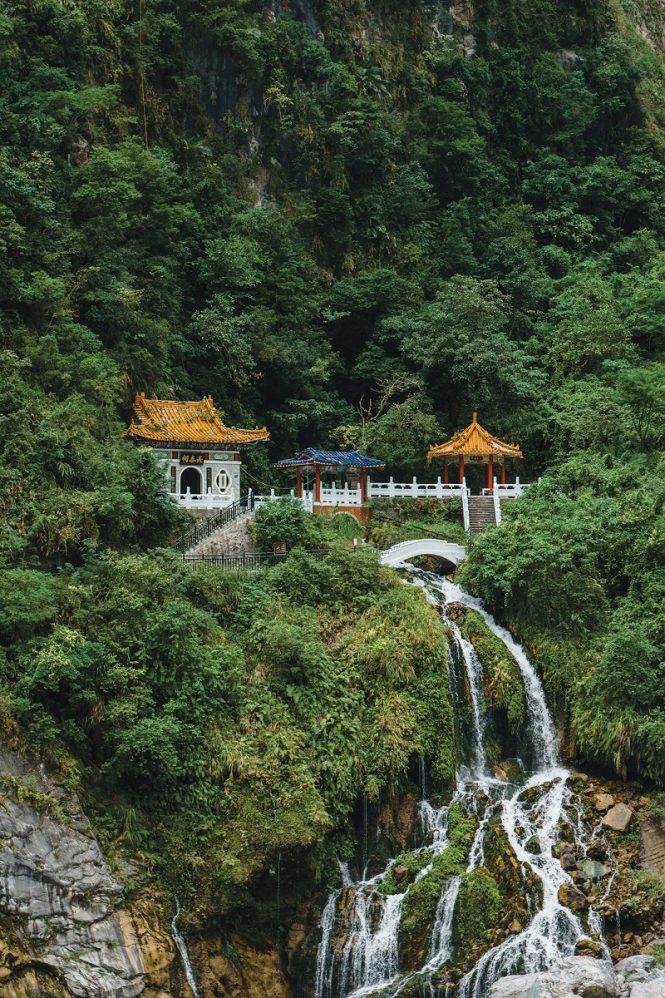 As we drive higher into the mountains and the pressure increases on our eardrums, pines and cedars replace tropical foliage. Finally we reach Guguan, a tiny hot-spring town set on a forested plateau above a bend in the Dajia River. Here, we check in to the Hoshinoya Guguan, a Japanese-owned resort with a clean-lined aesthetic, meticulously manicured grounds, and its own onsen complex of indoor and outdoor thermal baths. After a soak, Etty and I follow the twists and turns through the garden to the restaurant for dinner. Our eight-course kaiseki meal is a thing of beauty, delicately pairing Taiwanese bounty and Japanese cooking techniques in dishes like sea bream sashimi with kumquat-infused salt and grilled grouper marinated in soy sauce, mirin, and sake.
More winding mountain roads await on the next leg of the journey. Our destination is Sun Moon Lake, the largest body of water in Taiwan. It's where Etty spent weekends with her grandparents when she was young, making it, for her, among the island's most scenic attractions in more ways than one. We pull into a nondescript restaurant to eat beef noodles at circular tables. From the kitchen comes the chacka-chack of a ladle hitting a fiery wok; behind us, a woman sells kumquat lemonade laced with basil seeds. I spend the afternoon lolling on the lake shore, watching squirrels steal papayas from vendors and listening to a violin player scratching out old Chinese tunes. When they end, the only sound is the gentle lapping of the waves.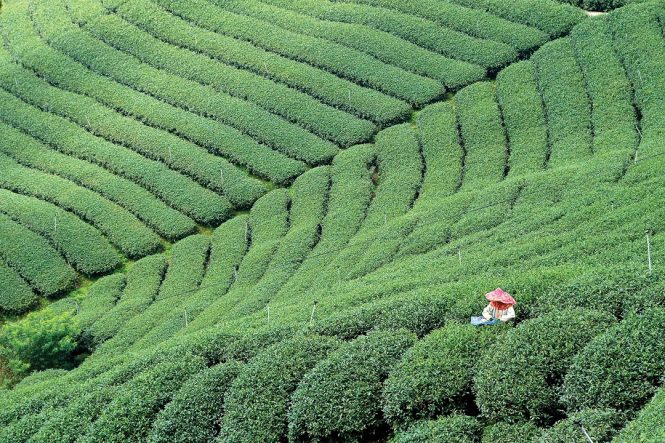 With a toot of its horn and a metallic screech, the Alishan Forest Railway train rumbles out of Chiayi, a midsize city in southern Taiwan. As the humid jumble of roaring motorcycles and bubble-tea shops vanishes behind us, knotted electrical wires make way for betel plantations and small-town back gardens that straddle narrow-gauge railroad tracks built more than a century ago for the logging industry. The train, a popular attraction that brings people up and down the mountains, sputters past rice paddies and citrus orchards so close I can almost reach out and grab the fruits from my window. Bamboo and sugar palms tickle the sides of the carriage. As the ride coils higher toward the peak around zigzag bends, the views vanish behind a veil of fog held up by ancient red cypress trees.
Our next stop is one of the region's tea plantations, which grows oolong as prized as Champagne. Between two of the thousands of neat lines of bushes, I meet a troupe of tea pluckers in traditional bamboo-leaf hats draped with Hello Kitty–emblazoned cloths. A man in his 50s with a tar-black smile waves, showing me a razor blade taped to his gloved index finger. "We harvest by hand," he tells me. "None of that machine stuff. Only the freshest leaves, the highest quality."
As we head south, a different Taiwan emerges. The dialects are trickier than the crisp Mandarin spoken up north; the food is sweeter. I stop at a giant fiberglass pineapple manned by a chirpy woman in rubber boots. "I've never seen foreigners stop here before," she says as she hands me a slice of fruit. I can barely finish one tongue-tingling mouthful before another is in my hand; as we try to pull away, she rushes out with three bottles of pineapple juice. Anyone who has ever visited Taiwan, or met my mother-in-law, knows that this is typical in a country where "Have you eaten yet?" is everyone's first question.
The following morning we arrive in Dulan, a palm-fringed surf town on Taiwan's southeast coast. Mom-and-pop shops alternate with surf schools and hippieish guesthouses on the main strip. At the WaGaLiGong hostel, where psychedelic murals cover the tiled facade, I meet co-owner Mark Jackson, a South African surfer who arrived here 17 years ago on a 50cc scooter. "This place is like a little Hawai'i, with its own rhythm," he says. Jackson used to be a regular at the Dulan Sugar Factory, a former sugar refinery built during Japanese rule where locals now gather to listen to punk and indie rock among pop-ups selling handicrafts. "It's not going to stay this way forever," he adds. Nothing ever does. But, sitting on the black-sand beach east of Dulan watching the surfers who have clambered through sweetsop farms to paddle out to the roiling swells, I feel that happy sense of otherness I experienced during my first trips here. Taiwan still feels different from the rest of Asia. It may have become a home of sorts, but it remains somewhere else entirely.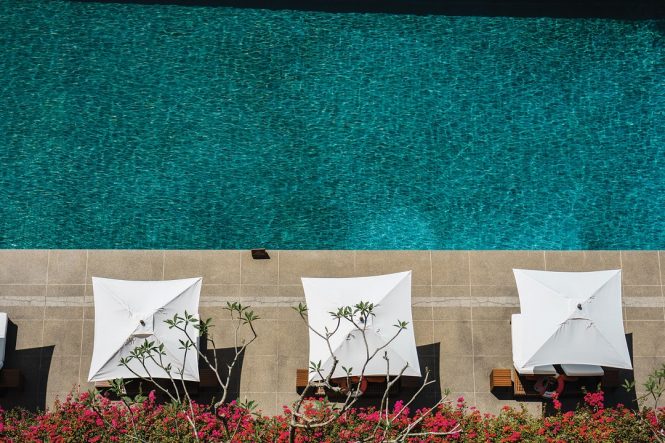 The Details
Getting Around
Navigating Taiwan by rental car is relatively easy; for those looking for someone else to look after the driving and other details, contact Remote Lands to design a bespoke itinerary.
Where to Stay
Shu Shu House (rates on request) in Jiufen is rentable on a case-by-case basis. The 50-room Hoshinoya Guguan (doubles from US$450) is an outpost of Japan's Hoshino Resorts, complete with spring-fed thermal baths and seasonal kaiseki meals. Overlooking Sun Moon Lake, The Lalu (doubles from US$510) is a long-standing favorite with sleek looks and dramatic views.
This article originally appeared in the September/November 2021 print issue of DestinAsian magazine ("Taking to the Road in Taiwan").