The second largest of Japan's far-flung Ryukyu Islands is a place of ancient rain forests, empty white-sand beaches, and unassuming rural charm. So why have so few people heard about it?
Photographs by James Whitlow Delano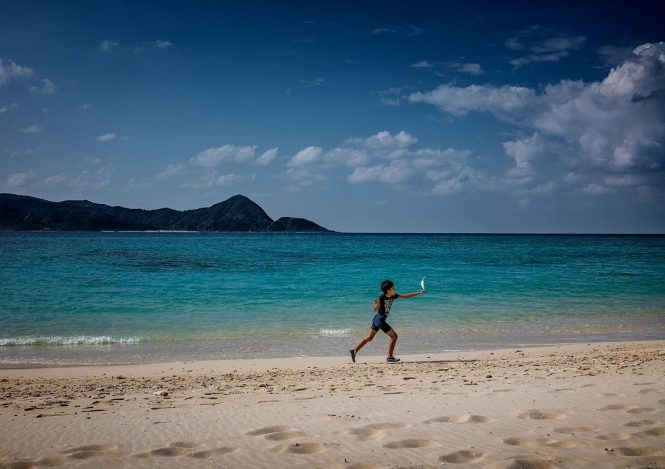 My first glimpse of Amami Oshima from the sky is mesmerizing. Clothed in seemingly endless fields of sugarcane, the rolling northeastern end of the island — a rocky curlicue of scalloped coves and golden beaches — is fringed by coral reefs that extend even around the seaside runways of Amami Airport, where my plane from Tokyo touches down three hours after taking off. To the southwest, the bulk of the island stretches away in broad-shouldered mountain ranges thick with subtropical forest. The October air is balmy and bright; the moist breeze carries the tang of salt and soil. It all makes a bewildering contrast to the megacity I call home.
Much of this impossibly green landscape is now part of Japan's latest UNESCO World Heritage site, which encompasses three other islands in the Ryukyu Archipelago: neighboring Tokunoshima, the northern part of Okinawa, and distant Iriomote, the so-called "Galápagos of Japan." Together, they harbor an incredible diversity of flora and fauna, including hundreds of types of birds, the country's largest butterfly, habu vipers (for what is paradise without serpents?), and the endangered Amami rabbit, a short-eared, stout-legged animal regarded as a "living fossil" of an ancient species that once roamed mainland Asia but is now found only here.
Though I don't manage to spot one of the rabbits until the end of my week on Amami Oshima — Amami, for short — it takes me no time at all to appreciate the special power that the island exerts on people. At the Tanaka Isson Memorial Museum of Art near the airport, I learn how the gallery's namesake artist moved here from mainland Japan in the 1950s and never left. Entranced by his natural surroundings, Isson labored for years in obscurity to create large, lushly beautiful paintings of screw pines and rubber trees, bougainvillea and papaya, and the ubiquitous sago palm, whose starch — toxic if not processed correctly — has historically sustained islanders in hard times. Isson also had a keen eye for birds: ruddy kingfishers, Lidth's jays, owls and orioles, and especially the Ryukyu robin. Only appreciated after his death in 1977, the island's most famous adopted son has since been hailed as the Gauguin or Rousseau of Japan.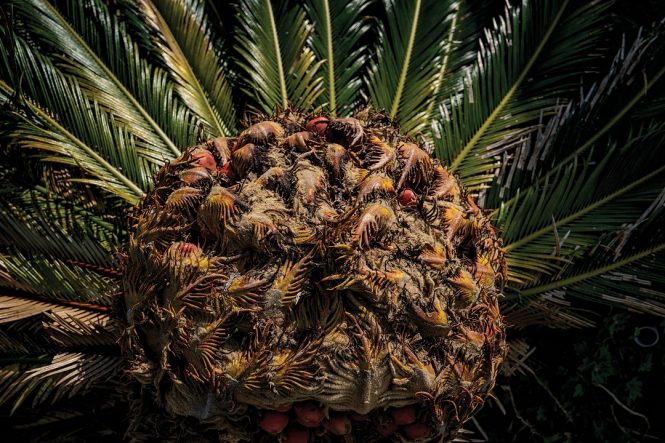 Roughly the size of Singapore, Amami Oshima is, after Okinawa, the second largest of the far-flung Ryukyus, a 1,100-kilometer-long string of islands stretching between the southern Japanese main island of Kyushu and Taiwan. Six centuries ago, the archipelago came under the rule of an independent Okinawa-based kingdom with tributary ties to China's Ming court, from which it adopted elements of Confucianism and feng shui. But in 1609, the region was taken over by Kyushu's Shimazu clan, who in Amami imposed taxes (paid in kokuto, or brown sugar) so onerous that they are said to have engendered the melancholy tones of shima-uta, the island's traditional folk music. The Ryukyus were eventually annexed by Meiji Japan in 1879, after which Amami and its northern neighbors — collectively known as the Satsunan Islands — were incorporated into what is now Kagoshima, the southernmost prefecture of Kyushu; the rest of the archipelago became Okinawa Prefecture. More recently, of course, the latter was a major battleground during World War II. While Amami was occupied by the United States for less than a decade after the war, Okinawa remained under American control until 1972, and a controversial U.S. military presence persists there to this day.
So I'm not surprised to meet Amamians who are independently spirited and deeply protective of their island home. Unlike Okinawa, which welcomed more than 10 million visitors in 2019, Amami hasn't been sullied by overdevelopment and overtourism; famously, a group of environmentalists derailed plans to build an 18-hole golf course here in the 1990s after filing a widely reported lawsuit that named the Amami rabbit as a plaintiff. "Barristers battle on bunnies' behest," read one international headline.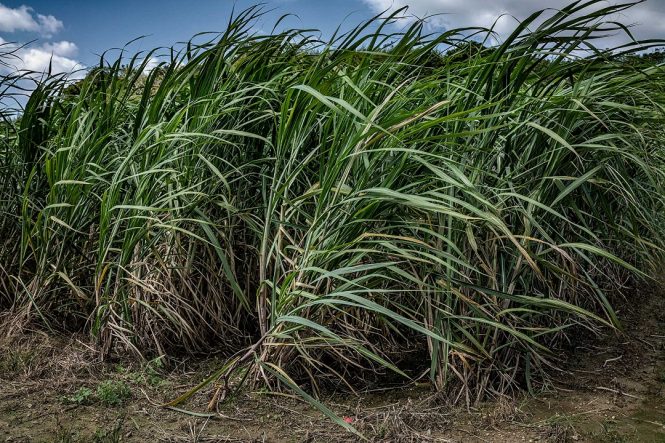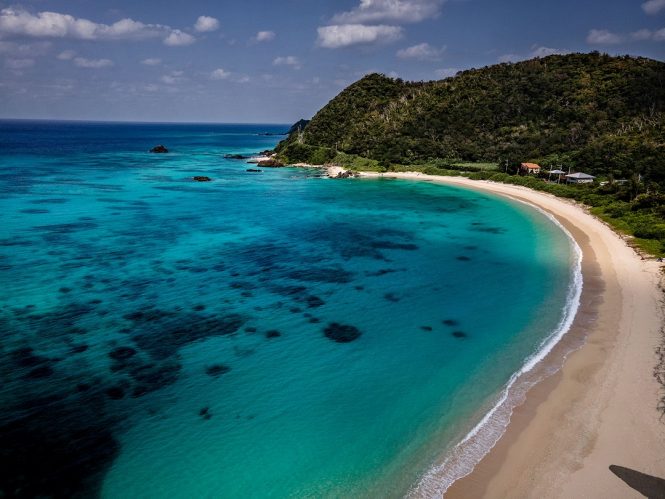 Indeed, the island's unassuming rural charm is a big part of its appeal. Beyond the north-coast city of Amami (also known as Naze), where the majority of the 68,000 inhabitants live, the pace is as languorous as it gets in Japan. There are quiet country roads and countless coves and inlets to explore, many of them virtually empty. The sheltered coastline of Kasari Bay is particularly alluring, especially at Sakibaru Beach, a gorgeous stretch of pale sand backed by green hills and sugarcane fields.
The island's standout boutique hotel also overlooks the turquoise waters of Kasari Bay. Built by Amami-born architect Yasuhiro Yamashita, The Beachfront Mijora comprises just 13 modernist, origami-inspired concrete villas topped with a contemporary take on the vernacular wooden roof. Glass walls frame unobstructed views of the bay, while outdoor terraces (some with cocoon-like hanging basket chairs) jut out above the crest of the beach.
Yamashita, whose Tokyo-based practice Atelier Tekuto is perhaps best known for its micro-architecture and post-disaster housing projects, has also spent the last several years helping to revitalize Amami communities by transforming vacant village homes — an acute problem throughout rural Japan — into holiday rentals under his Denpaku Inns banner. Scattered across the island, they feature classic Japanese elements like tatami floors and shoji screens (one even comes with an old thatch-roofed takakura, or granary) alongside modern creature comforts.
"Each small village has had its own culture and traditions for hundreds of years," Yamashita explains. "I do my small part to support the preservation of this unique heritage."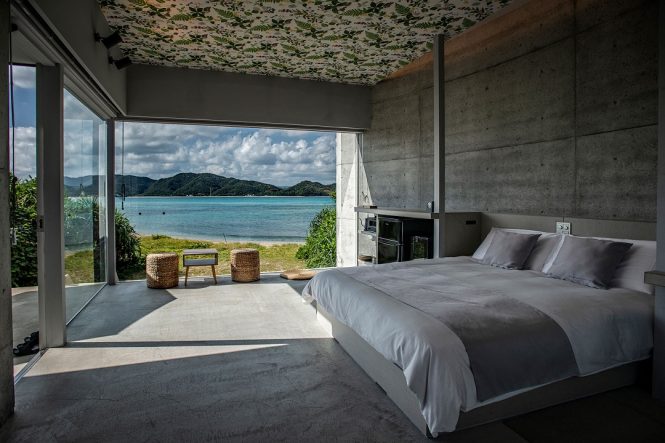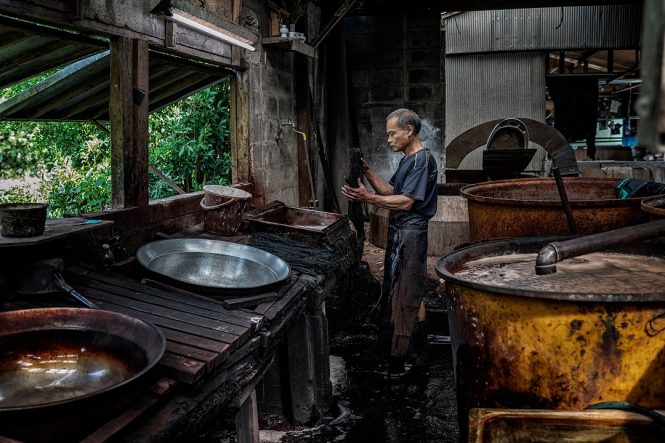 One day, after devouring a bowl of keihan, the island's beloved chicken rice soup, I head out to explore another Amami tradition. There are records of dorozome (mud-dyed) textiles from some "southern island" being offered to a temple in Japan's ancient capital, Nara, 1,300 years ago. But Yukihito Kanai, who runs his family's dyeing workshop, Kanai Kougei, in the village of Toguchi, believes the technique dates back much further than that.
The labor-intensive process begins with the repeated immersion of raw silk into a red dye made from the native sharimbai (Japanese hawthorn) tree, which can take weeks to prepare. The yarn is then carried to a mud pond out back. I watch as a worker in knee-high rubber boots steps into a shallow pit and stirs up the sediment. Once the water is viscous and gray, he dips and wrings out a wad of silk dozens of times, until the iron in the mud has fixed the dye and created the rich brown hues that dorozome is prized for. Later, the yarn is washed in a mountain stream and dried on bamboo poles before being woven into a delicately patterned kimono fabric known as Oshima tsumugi on island looms.
Kanai Kougei is among Amami's last surviving dorozome ateliers, which, like many traditional industries in modern Japan, have been hard hit by shrinking demand. Yet Kanai is determined to preserve the company his father founded for at least another generation. Whereas dorozome was once associated exclusively with kimono material, he has branched out to work with Japanese fashion giants like Yohji Yamamoto and Issey Miyake. Kanai also conducts workshops and sells shirts, tote bags, and other naturally dyed items in a gallery space next to the dyehouse.
"Even traditions have to evolve," he says.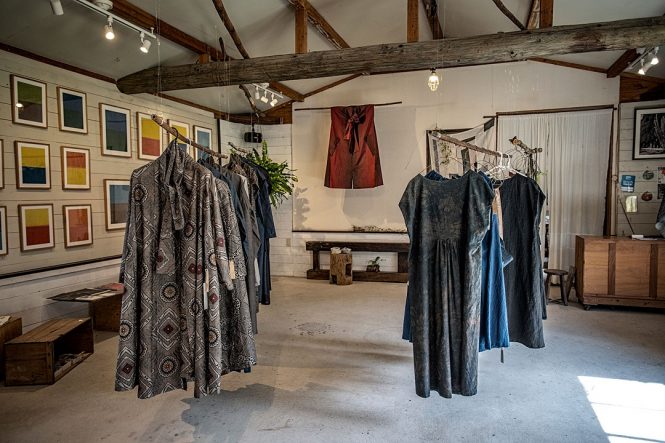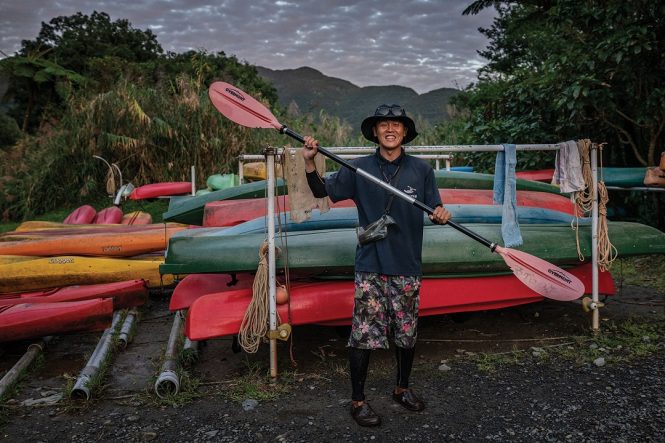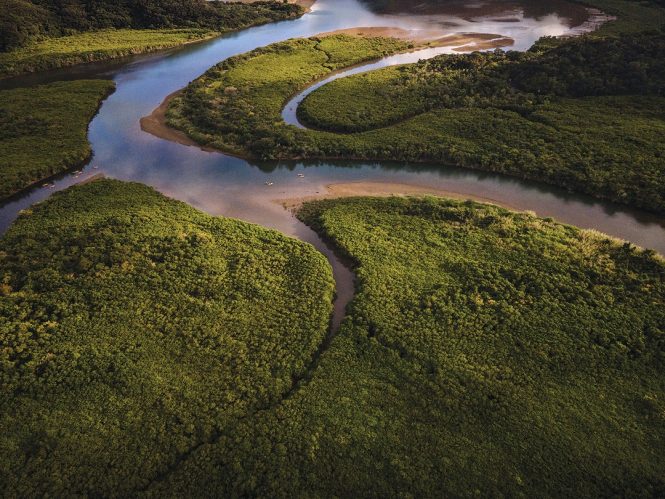 The second-largest mangrove forest in Japan sits at the head of a bay on the south side of the island, where the Sumiyo and Yakugachi rivers spill into the sea. Visitors can rent kayaks to explore the labyrinth of narrow channels that thread through tunnels of primeval mangrove trees. I spend an afternoon paddling through these aquatic corridors, scanning the muddy shores for fiddler crabs and breathing in the dank, loamy perfume of the estuarial waters.
If the shores of northeastern Amami evoke the Caribbean, the wilder coastlines of the south are often reminiscent of Big Sur, California. Instead of tranquil coral-studded bays, the surf crashes up against steep, forested ramparts.
Jean-Marc Takaki believed he had found paradise in the tiny beachside hamlet of Katoku when he visited for the first time in 2010. Hemmed in by lush mountains and protected from frequent storm surges by high dunes covered in pandanus and casuarina trees, the settlement of just 20 residents is a surfers' nirvana. But upon moving to Amami from Paris in 2015, the half-Japanese, half-French former computer programmer learned of government plans to build what he dreaded most: a massive seawall that would envelop most of the beach and its river mouth.
Rare is the inhabited shoreline in typhoon-prone Japan that isn't defiled by a weather-stained concrete wall or chaotically stacked tetrapods designed to guard against heavy waves. Takaki, who grew up in France but spent most of his summers in his mother's native Kyushu, recalls seeing his favorite beaches there destroyed in this way. "I was shocked by the news," he tells me. "Katoku is one of the very last beach hamlets with no seawall in all of Japan, and the only beach in the country where a leatherback turtle has been seen and photographed laying eggs. A seawall would destroy the beach and its delicate ecosystem. It was insanity to me."
He and some likeminded residents and activists launched a campaign to stop the project, a struggle that is ongoing. For the time being, however, the beach remains a pocket of unsullied nature, the peace disturbed only by the sound of the waves and the chorus of birdsong from the surrounding forest. It's like stepping into a Tanaka Isson painting.
Will Takaki and his fellow conservationists be able to keep the seawall at bay, now that Amami has World Heritage recognition? Time will tell. All I can say for certain is that I'll be counting the days until I visit this happily overlooked island again.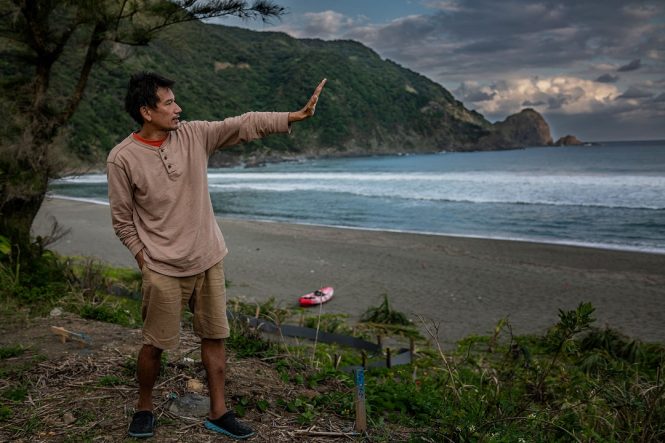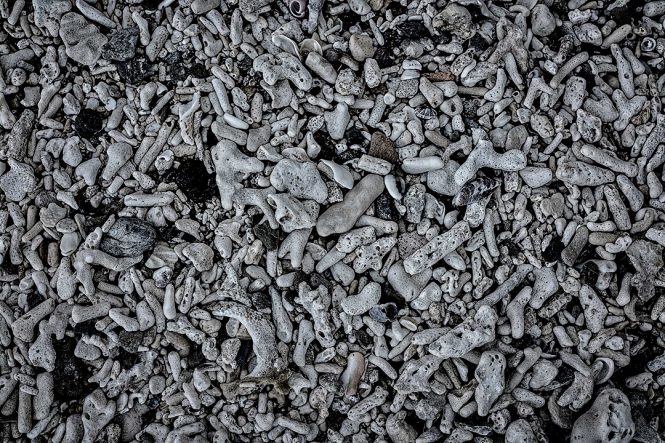 The Deets
Exploring Amami Oshima
Getting There
Japan Airlines and its subsidiaries offer regular flights to Amami Oshima from Tokyo and Osaka, as well as regional connections to Kagoshima and Naha on Okinawa. A rental car is a must for getting around, and can be picked up at Amami Airport and in central Amami City.
When to Go
March through April — before the rainy season and the typhoons of September — is a pleasant time to visit the island; the climate is also reliably cool and dry from October through December.
Where to Stay
The chic, minimalist villas at The Beachfront Mijora offer a front-row seat to the shimmering blues and greens of Kasari Bay (doubles from US$240). Architect-owner Yasuhiro Yamashita was also behind the design of Miru Amami (doubles from US$180), a clutch of seaside cottages whose shape was partly inspired by the local conch shell.
What to Do and See
Before hitting the hiking trails of Amamigunto National Park (home to the island's highest mountain, 694-meter Mount Yuwan), get a primer on the native flora and birdlife at the Tanaka Isson Memorial Museum of Art. Then explore Japan's second-largest mangrove forest by kayak with Kuroshio-no-mori Mangrove Park. In Toguchi, visit traditional mud-dyeing workshop Kanai Kougei, which also sells a variety of naturally dyed clothes and accessories.
This article originally appeared in the March/May 2022 print issue of DestinAsian magazine ("Absolute Amami").