Clamorous, vibrant, and redolent with exotic aromas since the heyday of the Mughals, Delhi's Khari Baoli market offers a deep dive into the world of Indian spices.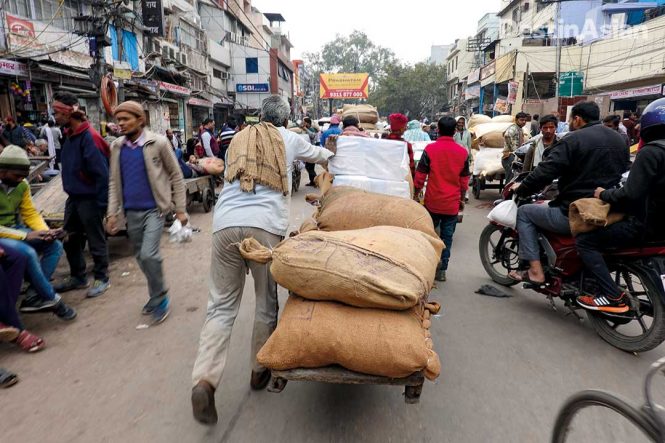 Divided and subdivided over the years, the narrow shop we're in—one of dozens packed in along this street—has been reduced to a mere meter wide. Yet its selection of nuts, dried fruits, and spices gratifies even the most exacting cook in India.
Few countries make use of as many spices. Not all are grown here, of course, but many have found some of their fullest expression in Indian kitchens. When cooks in Delhi want to get the finest cumin, coriander, cardamom, and dozens of other spices they so copiously use, they head for Khari Baoli at the western end of Chandni Chowk in Old Delhi. Running since the 17th century, it is the largest spice market in Asia.
My Virgil through the belly of Indian seasonings is Marryam H. Reshii, the formidable Times of India food critic and author of the award-winning The Flavour of Spice: Journeys, Recipes, Stories.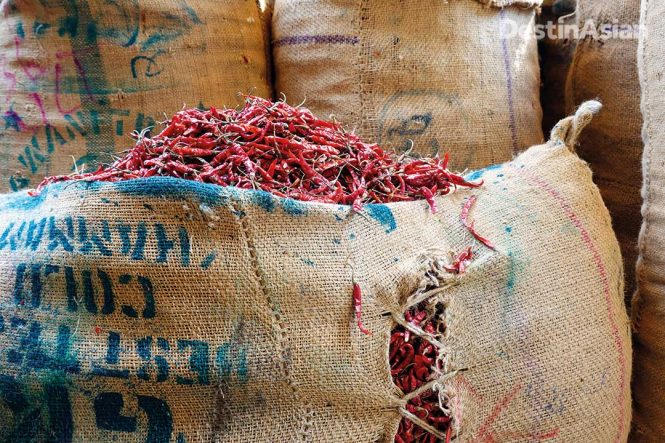 "You get the best spices in India here," Reshii explains as we move to another shop, and then another. From home cooks like Reshii to celebrated chefs like Dum Pukht's Ghulam Qureshi, people come to this warren of alleys and courtyards for the quality, variety, and prices available.
"This way," she beckons, leading me through an unassuming tunneled arch. Squeezing past sack-laden porters, groaning handcarts, and merchants with leather briefcases, we are hit by a wall of spice dust. Coughing, throat clearing, and sneezing echo around us. We have just left the retail part of the market and entered its wholesale heart.
India produced a staggering 8.5 billion kilograms of spices last year, and imported enormous quantities more from around the globe. The wholesale trade today is centered on Gadodia Market, a large complex built in the 1920s. Centered on a vast courtyard, it's a mix of commerce, storage, and residences, with apartments along the top two of the market's four floors. The style is a fusion of colonial and Indian architecture, with repeating four-petaled floral patterns, ornate carved brackets supporting overhanging eaves, and lovely raised canopies at the corners of the flat roof.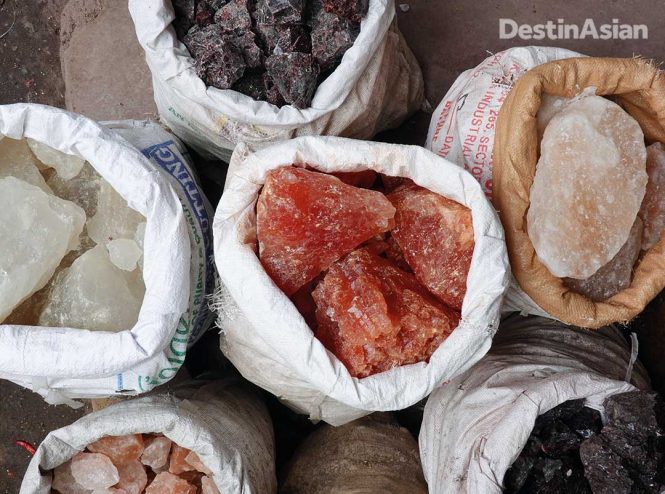 Over the years, the courtyard has been nearly filled in with buildings, leaving a crowded, square-shaped path running around it. Lining it are more narrow shops, often with little more than a desk, a few chairs, and some samples in the front. In the rear of each is a godown (warehouse) stacked high with bags of spices.
We step around burlap sacks bursting with brilliant ruddy-red chilies. The country harvested over 2.3 billion kilos of chilies last year. They dominate the market as they do the Indian spice box.
"Chilies override every other spice," Reshii says. "They are literally in almost every dish." She notes a damning indictment of any cook: Namak mirchi kam hai. "It means, 'There's not much salt or chilies in this dish.'"
Among the most striking spices for sale are bright yellow turmeric roots. The ground spice is not only important to countless dishes, it also transcends the kitchen and has many spiritual uses for Hindus—Reshii motions toward a trader with a yellow mark on his forehead. Another elemental spice is cumin, which is found in everything from curries to the popular crunchy snack chaat to being deep-fried and sprinkled onto yogurt.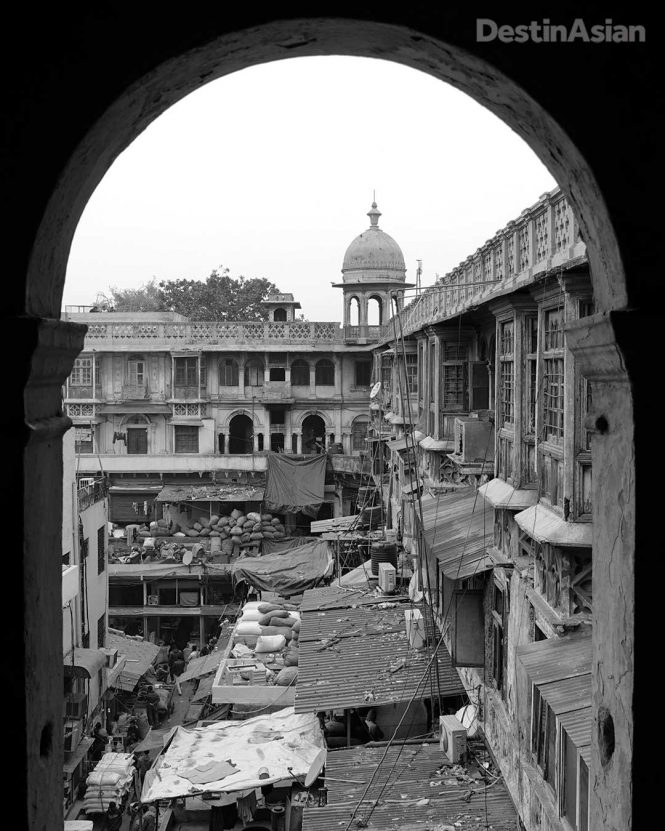 Next, we stop at a vendor who specializes in coriander seeds. Asked which of the four types on display is best, he scoops up a handful of yellowish-green pods. "You can tell by the color," he says, then seeing my eager look, adds, "The minimum purchase is forty kilograms."
Chili, cumin, turmeric, and coriander are what Reshii calls "the Big Four" of Indian spices, and they are indeed plentiful in Godadia. But so is every other conceivable spice, from a shop with seven different types of rock salt (black, amber, purplish …) to asafetida, a pungent, grayish-white resin that smooths out when cooked, to kewa, an essence of screw pine used to aromatize biryani.
"There's no spice you can't find here," one vendor tells me. When pressed for a number, he says, "A hudred-plus. At least." But that doesn't account for varieties. "You can find 10 to 15 different types of cumin."
To get a better view of the market, and to clear our sinuses, Reshii and I climb to the roof. A number of kite flyers are practicing their sometimes-dangerous hobby. Each year people die from kite strings that have been coated in a mixture of glue and crushed glass in order to sever the strings of rival kites.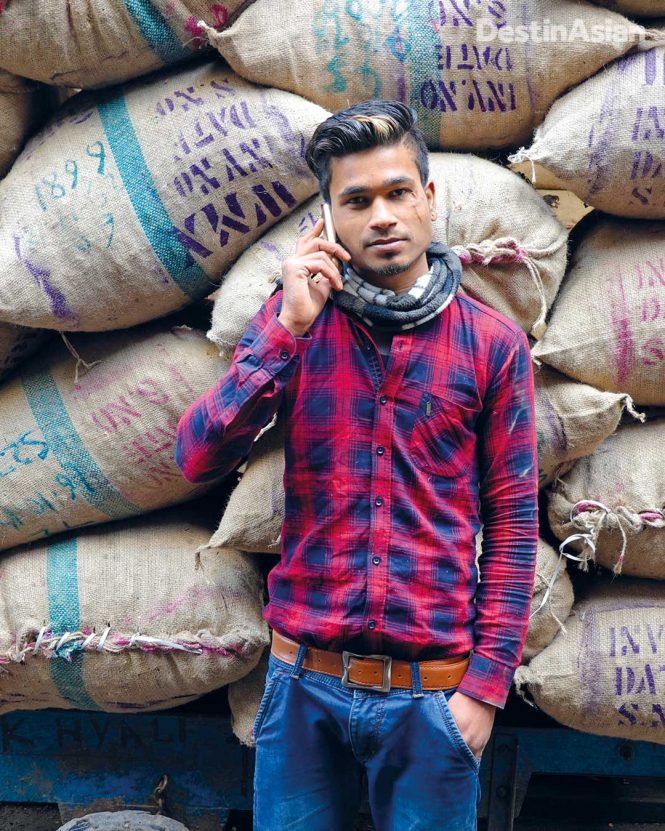 Godadia Market abuts Fatehpuri Masjid, a red sandstone mosque built in 1650 by Fatehpuri Begum, a wife of the Mughal emperor Shah Jahan. We lean on the railing and look out over its vast courtyard. A pair of lithe, towering minarets flank an onion-shaped dome that rises just in front of us. "This is the heart of Mughal Delhi," Reshii says.
We sit and talk about her fascination with spices. In her book, she wrote, "It is not a static subject, but one that changes constantly from one part of India to the next, and from one period of history to another. In each era, in each incarnation, it changes our palates, and our lives, in irrevocable ways." That is the beauty and magic of spices.
Her initial interest was twofold, she explains. One was visual, in the sheer beauty she saw in South India of them growing and in the markets. The other was as an inquisitive cook and eater. "There is no one in India who does not use spices. But most people don't know where they come from."
While she traveled widely around spice-producing regions to research her book, back in Khari Baoli she had an incomparable pool of experts. Many of the merchants are fifth- or sixth- or even tenth-generation spice traders, and offered answers to every question she could ask.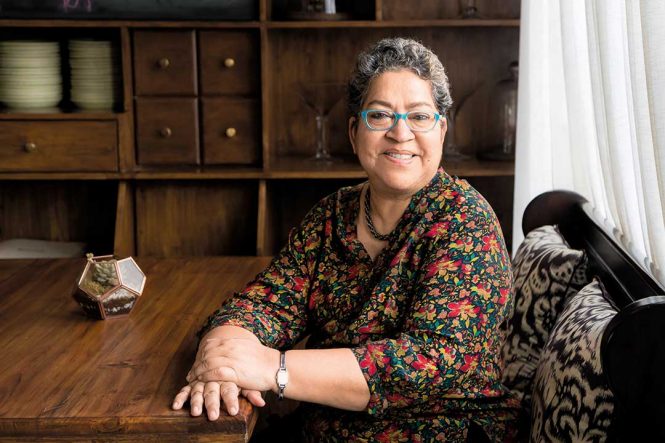 Back down on the ground floor, we make another loop around the market. It is afternoon teatime, and a number of porters are sipping India's ubiquitous drink, masala chai, laced with cardamom, cloves, cinnamon, and black pepper.
We exit through an arched tunnel and are soon heading along Chandni Chowk. Authorities have begun an ambitious project to pedestrianize the busy 1.5-kilometer stretch between Fatehpuri Masjid and the Red Fort. But for the moment, we inch ahead in a cycle rickshaw, snared in a tangle of people, carts, and assorted vehicles.
I sit back in regret that we didn't first stop for a glass of chai, so I'd have a palatable memory of the market's spices lingering on my tongue.
This article originally appeared in the August/September 2019 print issue of DestinAsian magazine ("Spice World").