After decades in the doldrums, the Indian kitchen is finally coming into its own, with boundary-pushing takes on regional cuisines that celebrate the diversity and range of the country's culinary heritage.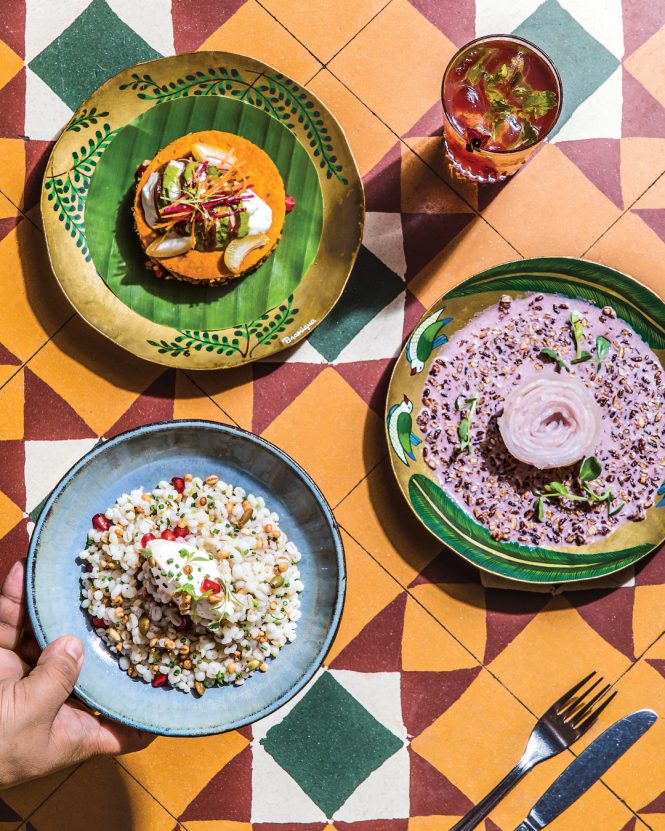 It's Thursday night in Mumbai, and The Bombay Canteen is packed. The crowd is young. The conversation is loud. The cocktails are flowing. And—here's the surprise—the food is Indian: the remixed, rebooted, and regional form dubbed "contemporary" or "modern" or "nouvelle" (but never "fusion"!) by the country's hottest chefs.
A few years have passed since I last visited Mumbai ("Say Bombay!" my Indian wife, Shailaja, admonishes), and a lot has changed. The last time we were here, we scoured the city for a good Maharashtrian restaurant and found only Trishna, a stuffy old favorite that specializes in seafood dishes from the state's Arabian Sea coast. Just as in Delhi (where we live) or Bangalore or Kolkata or any other Indian metropolis, the city's top tables were serving Italian or Mediterranean or Japanese or Vietnamese. And the joints doing Indian were doing it badly, serving up a dumbed-down menu of Punjabi and Mughlai dishes (dal makni, palak paneer, muttar paneer, chicken curry, mutton curry) or a comparably bastardized and truncated version of South Indian fare. (On a separate jaunt to Kochi, we discovered that just about the only place you could get real Keralan food was in the toddy shops.)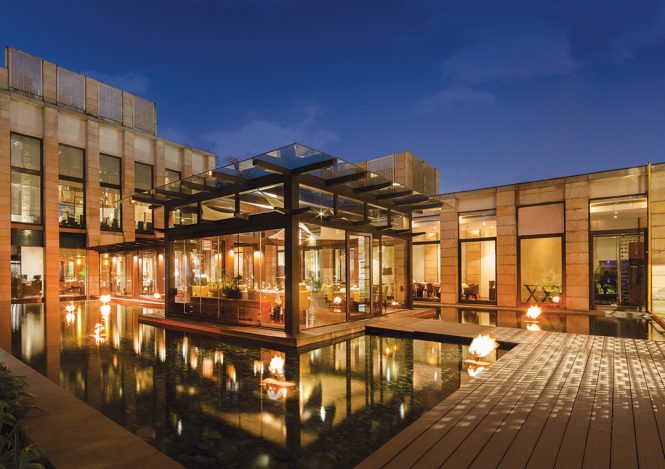 Over the last six years or so, however, Indian restaurants have witnessed something of a revolution, and "local" cuisine is now the hottest thing going. According to New York–based celeb chef Floyd Cardoz, who co-founded The Bombay Canteen in 2015, that's down to the emergence of a new, more confident generation of well-traveled Indians and the example set by Indian expat chefs helming acclaimed restaurants in major metropolises like London and San Francisco.
"It started out as a kind of frustration for me. Indian food in India was relegated to small cafés and those restaurants they call 'hotels' in Bombay and Delhi, and Indian ingredients were slowly dying off," says Cardoz, a five-time James Beard award nominee for his work at Danny Meyer's Tabla in Manhattan. "I thought, how do we change this perception of Indian food not being cool? That's how the idea of The Bombay Canteen came about."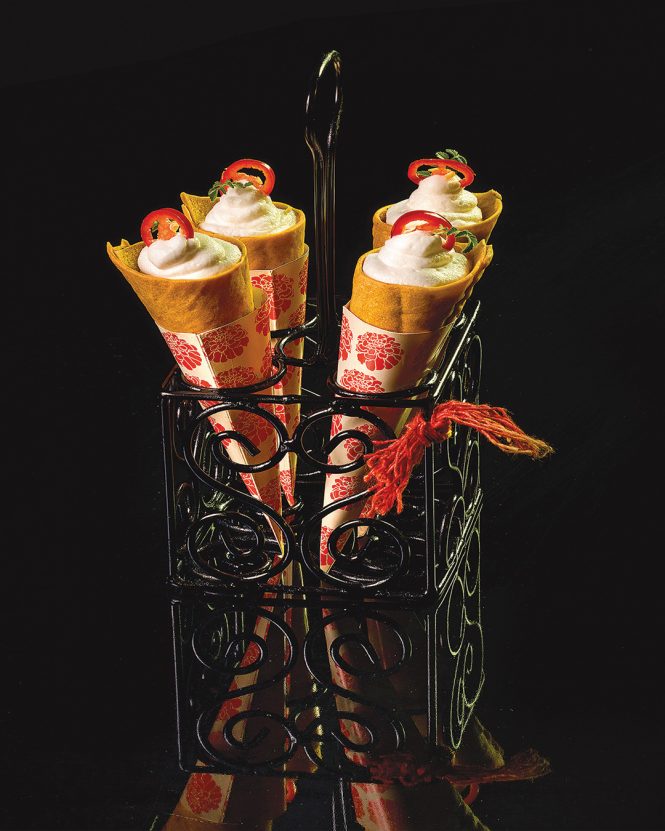 Across Mumbai and across the country, other innovative and entrepreneurial chefs were working to reinvent and expand Indian cuisine in different ways, from playful to gourmet. Perhaps first among them was chef Manish Mehrotra, whose Indian Accent restaurant turned The Manor—an unassuming boutique hotel in an out-of-the-way location in New Delhi—into the capital's hottest dining spot when it opened in 2009. (The restaurant has since relocated to the swish Lodhi hotel in the heart of the city.) Soon, the top luxury properties of India's major metropolises were all competing to create the buzziest contemporary Indian restaurant, from chef Hemant Oberoi's Varq at the Taj Mahal in Delhi to Harish Rao's Avartana at the ITC Grand Chola in Chennai. 
"Nothing succeeds like success insofar as restaurants are concerned," says food critic and author Marryam Reshii, who characterizes the movement as a "deep dive" into Indian cuisine following a brief flirtation with international ingredients.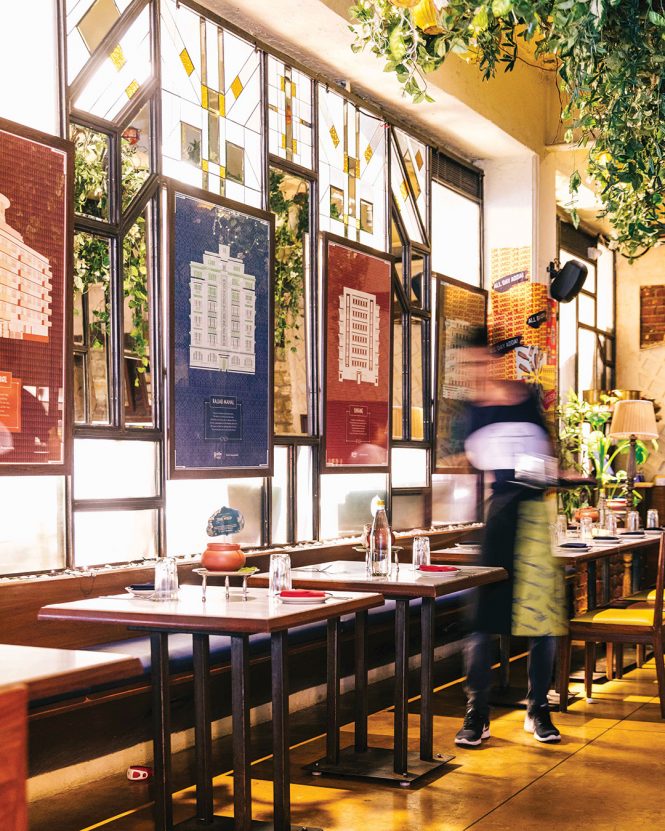 So-called "modern Indian" cooking can take both traditional and unexpected forms and ranges from fun to formal. But virtually all of the best restaurants involved have eliminated family-style serving bowls in favor of plated dishes or tapas-style small plates, recognizing that the way Indians eat and socialize has changed dramatically. That was evident the night Shailaja and I dined at The Bombay Canteen, where the tables around us were interspersed with young couples on dates, a work dinner or two, and a few groups of friends rather than the big, multigenerational family gatherings that gave rise to dumbed-down Indian and the dreaded "multicuisine" restaurant in the first place. 
Kerala-born executive chef Thomas Zacharias—a partner in the restaurant and one of the most influential chefs in India today—wasn't in the kitchen the night we visited. But on the phone a few weeks earlier, he had spoken of his interest in the Slow Food movement, so I was keen to see how he was reviving outmoded ingredients and adding his twist to regional specialties. I didn't have to wait long. Served tapas-style, our shared tasting menu started off with a salad featuring barley and jowar (sorghum), the latter being one of many grains that were once staples of Indian cooking but fell out of favor after the Green Revolution saw most of the country's northern farms converted to wheat fields. Set off with pomegranate seeds and hung curd, the dish was earthy and simple and astonishingly nuanced at the same time.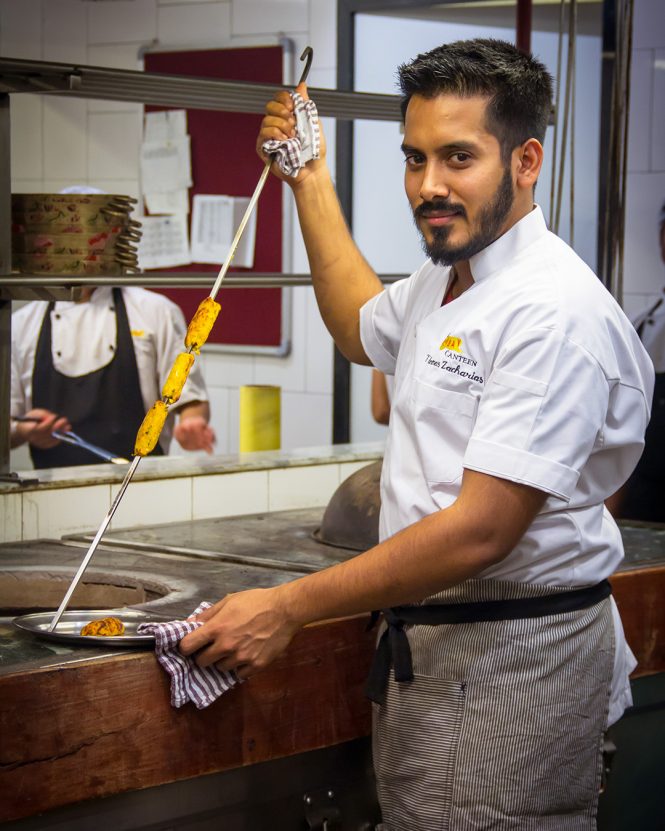 Other highlights, such as the Desi Tacos, showcased Zacharias's playful approach to the country's centuries-long culinary traditions. Mexican in presentation only, the three "tacos" are actually Gujarati thepla—a soft wheat flatbread flavored with fenugreek leaves that's a popular street snack—filled with Kerala-style black pepper chicken, Goan pork vindaloo, and Rawalpindi-style chole (chickpea curry). They also illustrate the chef's interest in the whole landscape of Indian cooking, not just the Punjabi and Northwest Frontier cuisines that have long been the mainstay of restaurants broadly called "Indian." Similarly, our red snapper ceviche relied on the tangy kokum fruit featured in the coastal dishes of Mangalore, Goa, and Kerala; a Monsoon Vegetable Pot Pie of arbi leaves, yam, okra, fresh peanuts, and coconut drew its inspiration from Maharashtra; and the Meghalayan Black Sesame Duck was borrowed from the Khasi tribe indigenous to the country's northeast. To my mind—and palate—it was the perfect marriage of authenticity and creativity.
On another trip, I found something of the same sensibility at chef Joy Banerjee's Bohemian, a colorful "nouvelle Bengali" restaurant in Kolkata's wealthy Ballygunge area. As one might expect, the menu has changed many times since the place first opened in 2012, and Banerjee had just redecorated it and introduced a new set of dishes when I sat down there in February with my novelist friend Ruchir Joshi. Like Cardoz, Banerjee is keen to strip the pretense from eating out to attract hip young Kolkatans. "It's not about fine dining anymore," he said. "People come to restaurants to celebrate. I call it 'fun dining.'"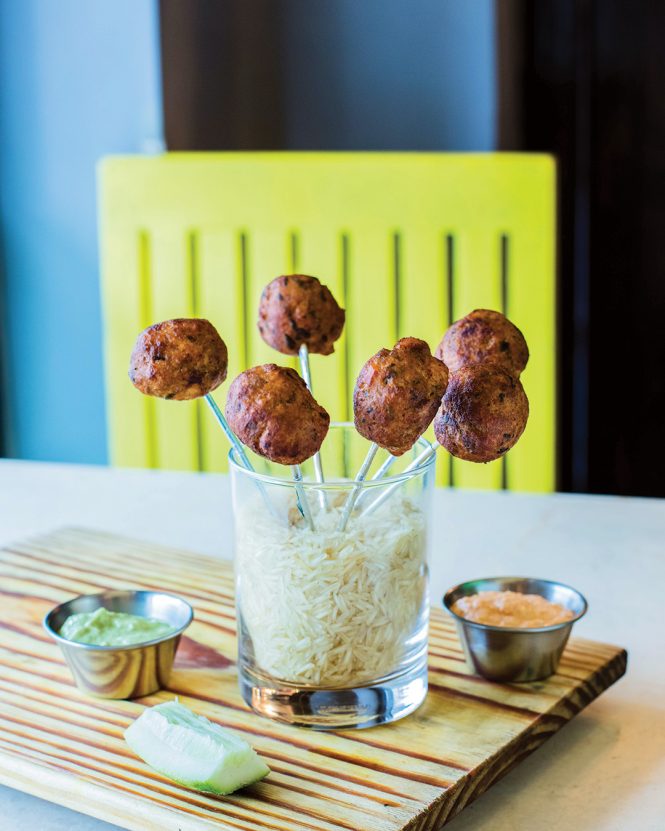 With a shaved head and a steady riff of such one-liners, Banerjee has a patter to rival his cooking. "My menu this time has a lot of cerebral activities, a lot of unique things happening," he told us at one point. "There's a lot of easy, fun food happening," he said at another, touching on his aspirations to take nouvelle Bengali to the masses in the form of a quick-service restaurant. "Now we're saying we're a 'glocal' kitchen," he added still later. That unreflective ebullience was evident in the signature Kolkata Biryani cocktail he pressed on us with characteristic rhetorical flourish. 
"You've eaten Kolkata biryani, but have you ever drunk a biryani?" he asked Ruchir, who splits his time between London and "Cal," as English-speaking locals know the city. We hadn't, so we gave it a go—to our immediate regret. Served in a clunky terra-cotta goblet that resembles the incense burners used during the celebration of Durga Puja, Kolkata's largest Hindu festival, the super-sweet concoction tasted no more like biryani than it did rasgulla, a spongy, cheese-based dessert soaked in sugar syrup that's another Bengali icon. But I was glad I tried it, if only because it reminded me that culinary innovation is a tightwire walk and not something to be taken for granted.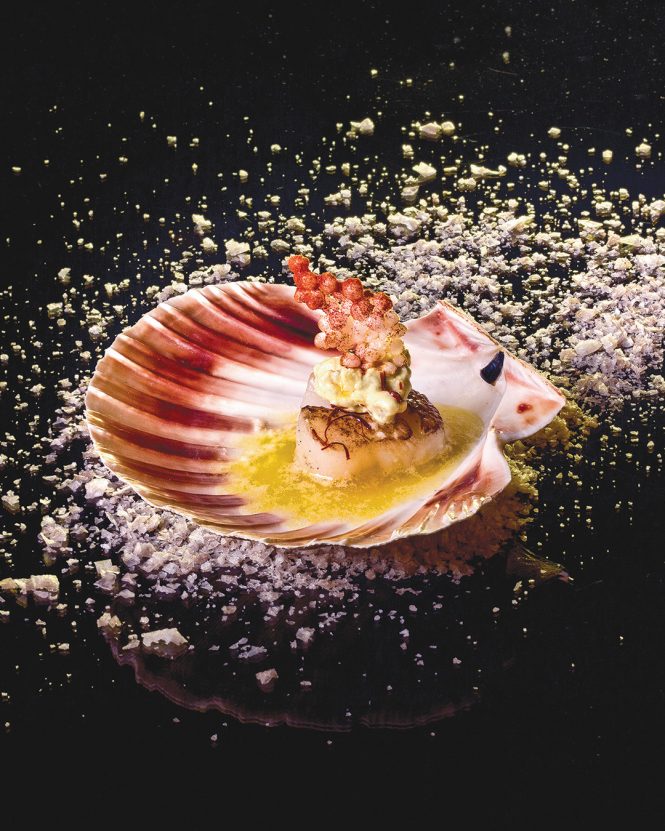 As a series of glowing reviews from various publications promised, Bohemian's food was more successful. We started out with a small platter of chicken tikka–style "lollipops," an appetizer that crosses two of the country's favorite bar snacks—the boneless Punjabi chicken tikka kebab and the Indian-Chinese chicken wing "lollipop"—with South Indian coconut chutney and Bengal's ubiquitous gondhoraj lime. To the Indian-educated palate, the combination was surprising and confusing—"cerebral," to use Banerjee's word. Similarly, the Malai Mutton Chaat incorporated Kolkata's renowned goat meat with northern India's black pepper papadum and a touch of cheese, while a shami kebab reimagined the elegant kebab of the Muslim Mughals with pork in a nod to Kolkata's ethnic Chinese community. And then there was the chef's take on the caramel custard favored by the Parsis of Mumbai, with nolen gur—a seasonal, wonderfully complex Bengali date-palm jaggery—substituted for the regular syrup of caramelized sugar. The verdict? A triumph. 
Currently ranked No. 19 on the Asia's 50 Best Restaurants list, Manish Mehrotra's Indian Accent has spawned sister restaurants in London and New York. Visiting the New Delhi outlet, it's easy to see why: dishes like Kanyakumari-style pepper crab, chicken khurchan tacos, and baingan bharta (a Punjabi roasted eggplant mash) presented in Cornetto-like cones are at once exotic and comforting. Mehrotra, who was in New York when I talked to him on the phone, told me his menus had become more focused on regional Indian influences than international ones over the years. "We call it 'inventive Indian,' " he said. "Everything we do is invented in my kitchen."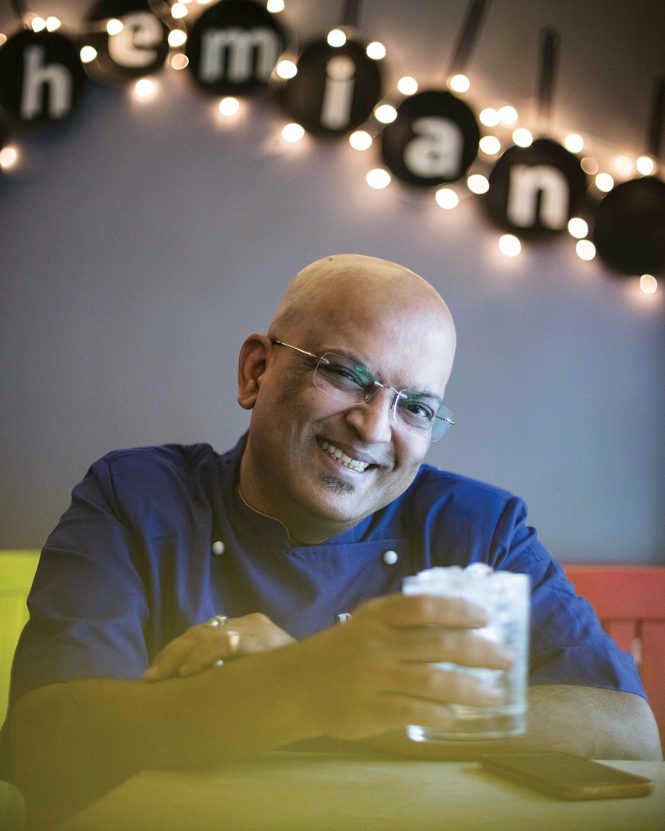 Mehrotra may have kicked open the door. But he says the growing availability of the Internet—and the proliferation of cooking shows like the late Anthony Bourdain's No Reservations and Parts Unknown—helped democratize innovation in India's kitchens. An increasing number of Indian chefs are now effectively self-taught, and the would-be chefs who come to him already have a much wider knowledge of ingredients, techniques, and trends than ever before. In that respect, Bourdain's treatment of "foreign" cuisines as serious rivals to classical European cooking coincided with a worldwide explosion of interest in Indian and other so-called "ethnic food" as something that could be gourmet as well as simple, hearty, and fiery. In London, Atul Kochhar's Tamarind became, in 2001, the first Indian restaurant to earn a Michelin star; No Reservations debuted on America's Travel Channel in 2005.
Since then, a flurry of Indian chefs have earned Michelin stars in the culinary capitals of New York and London as well as Singapore and Macau. I've had too many good meals prepared by less-feted chefs to put too much stock in such awards. But in a country that's still shrugging off the anxiety of poverty and colonization, the stamp of approval had a big impact, chefs and food writers told me, pretty much across the board. And in recent years, award winners like Kochhar, Vikas Khanna of New York's Junoon, and Srijith Gopinathan of San Francisco's Campton Place have joined a growing list of notable international chefs flying into India to host pop-ups and events at the country's top hotels or develop local restaurants of their own.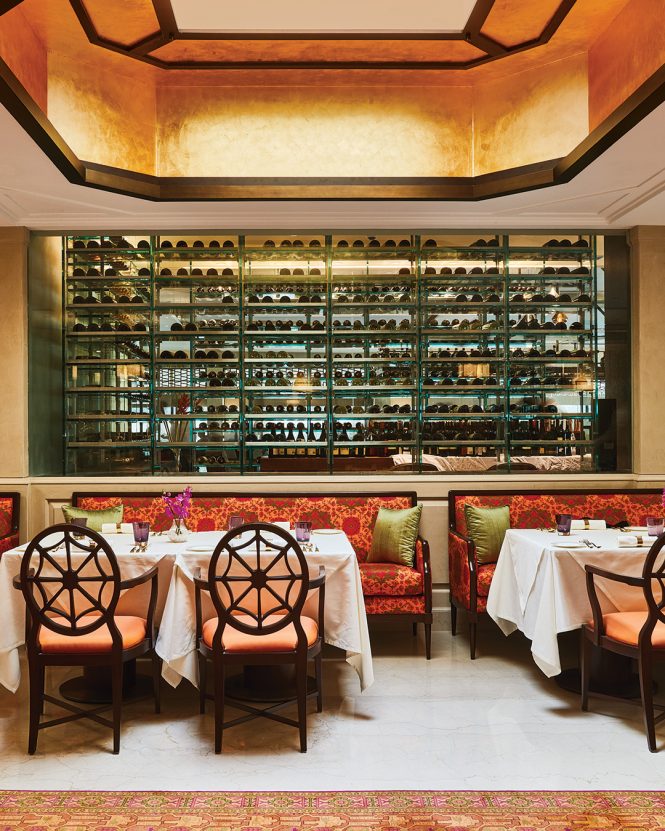 A few days after I returned to Delhi from Mumbai, for instance, chef Alfred Prasad was in town to tweak the menu at Omya, the modern Indian restaurant he had created at the behest of the Oberoi Group for the relaunch of the company's flagship hotel early last year. The fact that Oberoi saw the replacement of its former Italian restaurant with a modern Indian one as a key to future-proofing its most iconic property was itself a clear indicator (to me, anyway) that the revolution has been won.
After taking over Tamarind when Kochhar moved on to start his own restaurant, Benares, in 2002, Prasad garnered his first Michelin star at the tender age of 29 and kept it for 13 years running. But there remained something of a challenge—or at least a box that needed to be ticked—in opening a restaurant in India itself, he told me.
"An Indian chef is only truly respected when he's able to crack the Indian client, who is the most demanding when it comes to Indian food for sure," Prasad said before disappearing into the kitchen to prepare a sampling of Omya's highlights. Now more than ever, he added. "Today you have fantastic new concepts springing up all over the country and challenging the supremacy of the old institutions at all price points. For me, to be cooking in India at a time like this has been super exciting."
The restaurant itself drives home the point. From its five-star location and under-stated-yet-formal atmosphere straight through to the way Prasad has conceived Omya's recipes and how the restaurant presents the dishes, it's a different concept altogether from Bohemian or The Bombay Canteen, indicating that modern Indian can encompass both hip and posh. Whereas Zacharias (and, to some degree, Indian Accent's Mehrotra) plays off tradition by breaking the rules of geography and ethnicity—like wrapping Goan pork in a Gujarati thepla—Prasad's dishes are designed to discover surprises by deconstructing the familiar.
As a street food, for example, chaat is a swirl of flavors and textures—crispy fried dough, mushy chickpeas, sweet yogurt, sour tamarind chutney. It's wonderfully overwhelming. Prasad's Omya Chaat both disassembles and reinvents this classic, presenting the fried shell of a golgappa filled with quinoa salad, bits of sweet potato, chickpeas, a spinach pakora, and sweet yogurt arranged on a plate like an artist's palette, inviting you to consider the flavor and texture of each individual item. That sort of thoughtful eating is what Prasad seems to be after elsewhere on the menu, too, even if dishes like the Edamame Seekh Kebab (which combines Japanese edamame with a lotus root tempura and apple tzatziki) come off as a little too fusion-y.
Yet by the time the chef brought out dessert—a trilogy of banana-hazelnut, cream-cashew, and pistachio-praline kulfi, India's traditional ice cream—I'd arrived at a different conclusion altogether: when it comes to modern Indian, there are no rules at all. And that's undeniably a good thing.  
Address Book 
Bohemian
32/4 Old Ballygunge Pl., Kolkata; 91-33/6460-1002.
Indian Accent
The Lodhi, Lodhi Rd., New Delhi; 91-11/6617-5151.
Omya
The Oberoi, Dr. Zakir Hussain Marg, New Delhi; 91-11/2430-4370.
The Bombay Canteen
Unit 1, Process House, S.B. Rd., Kamala Mills, Mumbai; 91-22/4966-6666.
This article originally appeared in the October/November 2019 print issue of DestinAsian magazine ("Indian Modern").