Shaped by a combination of imported and homegrown talent and a culturally diverse population, New Zealand's city of sails is more sophisticated than ever before.
Photographs by Jamie Bowering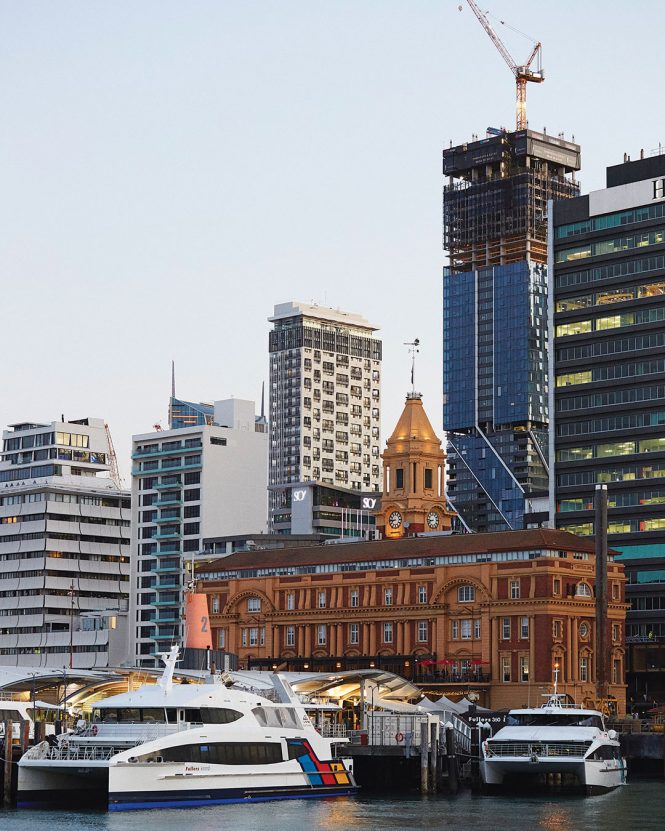 My earliest memories of Auckland come from family trips in the 1970s. Back then, I was growing up in Hong Kong with a Cantonese mother and a Kiwi father, who every summer would fly us down to visit relatives in New Zealand. My mum would always crack the same joke when the wheels of the DC-10 touched down in Auckland. She'd remind us to adjust our watches—by rewinding them 30 years.
The Auckland of the '70s and '80s—hell, even the '90s—did indeed have a time-warp quality to it. It felt like an overgrown country town, albeit one surrounded by outstanding natural beauty thanks to its position on an isthmus between the Tasman Sea and the Pacific Ocean. Queen Street, the city's main artery, was lined with tourist shops selling sheepskin rugs, paua-shell accessories, possum jumpers, and not much else. Kids walked to school barefoot in all seasons. The food scene was virtually nonexistent; a meal out usually meant a trip to Georgie Pie, the now-defunct Kiwi equivalent to McDonald's.
Fast-forward 40 years, and the place is almost unrecognizable. After spending most of my adult life between Hong Kong, New York, and London, I moved to Auckland a decade ago, giving me a front-row seat to the city's ongoing transformation. Today, massive infrastructure projects are altering the urban landscape as never before, notably a NZ$4.4 billion underground rail line that, when completed  in 2024, will connect the central business district with the suburb of Mount Eden and everything in between. Another two billion dollars' worth of construction has been reshaping Auckland's waterfront and lower downtown in the run-up to the 2021 America's Cup, yachting's most glamorous event. Huge cranes crisscross the skyline.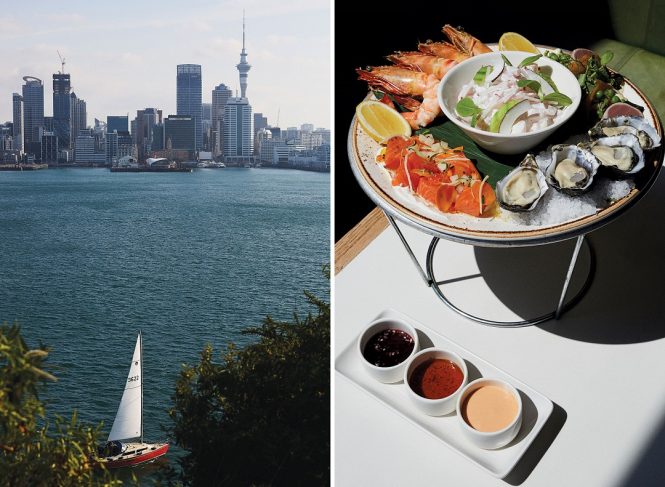 If New Zealand's economic and commercial hub once felt cut off from the rest of the world, it has quickly reconnected. Home to the world's largest concentration of Polynesian people, Auckland is now among the most culturally diverse cities on the planet, with 39 percent of its 1.6 million-strong population having been born overseas. By this measure, it's more multicultural than Sydney, Los Angeles, London, or even New York—with an ever-cosmopolitan restaurant scene to match.
"Part of the richness that diversity brings is the range of great food from across the world," says the city's mayor, Phil Goff. "This has helped turn Auckland into a world-class food destination."
While it might have been hard to find decent Chinese food here in 1978, four decades later, things couldn't be more different. Almost a quarter of the city's population is Asian, with close to 10 percent of it being ethnically Chinese. You only have to visit the myriad dumpling houses on Dominion Road to appreciate this. At the Sun World yum cha restaurant in Newmarket, the din of rapid-fire Cantonese is seemingly piped in straight from Hong Kong, and I challenge you to find better cheung fun and har gao outside greater China.
In the former red-light district of Karangahape Road (aka K' Road) on the southern fringes of town, a creeping gentrification has been accelerated in recent years by a spate of terrific restaurants opened largely by foreign-born talents, including Madame George, whose owner, architect Pablo Arrasco Paz, grew up in Peru; Cotto, a Mediterranean establishment helmed by English chef John Pountney; and Apéro, the domain of French-trained chef Leslie Hottiaux and her Australian maître d' partner Ismo Koski.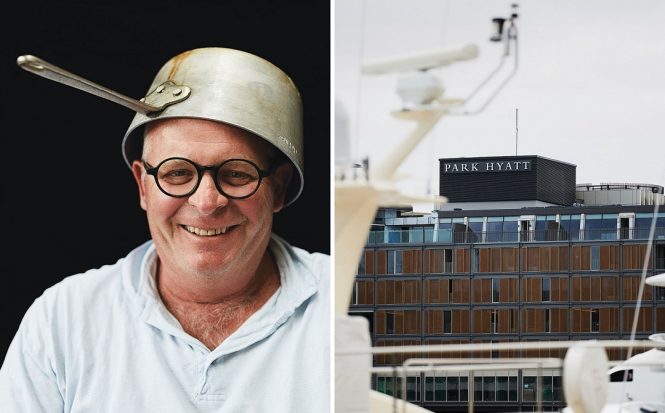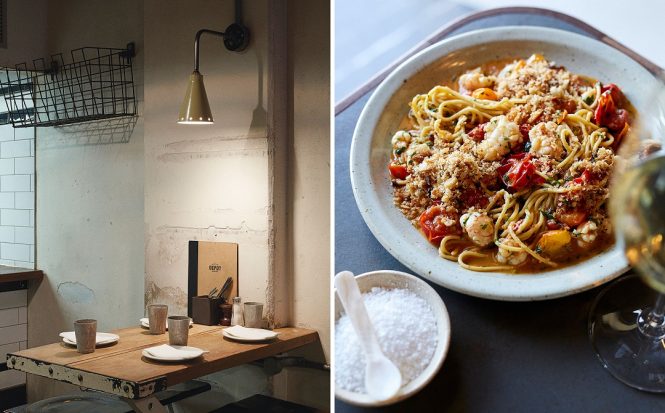 A couple of kilometers to the north is Commercial Bay, an ambitious US$520 million-plus retail and hospitality development on the shores of Waitemata Harbour. Opened in June to much fanfare, the project's first stage includes a 700-seat food hall called Harbour Eats and several buzzy restaurants. This September, they were joined by Saxon + Parole, an outpost of the equestrian-themed New York eatery helmed by American chef Brad Farmerie. "Opening a restaurant in New Zealand has long been a dream," says Farmerie, who in his early days worked at the Sugar Club, Kiwi chef Peter Gordon's first London restaurant.
"It's simply extraordinary what's happened in this city," says Al Brown, arguably Auckland's most successful restaurateur. "I hate to say it, but I think we were a bit of a culinary wasteland 40 years ago." Brown's own Depot Eatery & Oyster Bar—where oysters are shucked to order, meat and fish dishes are roasted to perfection in a wood-fired oven, and quality wine is "on tap" and served in tumblers instead of stemmed glasses—brought its own seismic shift to the industry when it opened in 2011, its informality inspired by Brown's childhood memories of summers at his family bach (weekend cottage). But Brown also attributes the changes to a generation of Aucklanders who have returned from an "overseas experience," or OE, a wanderjahr that remains a rite of passage for many a young Kiwi. Brown benefited from his own North American OE in the '80s, where he attended the New England Culinary Institute in Vermont and studied bagel-making at Montreal's legendary St-Viateur bakery, an experience that would inform his Best Ugly bagel business back home in New Zealand.
"Because of our country's position in the world—miles from anywhere—you were always encouraged to throw a pack on your back and go out and learn," Brown says. "So many people in hospitality or interested in food had light-bulb moments overseas."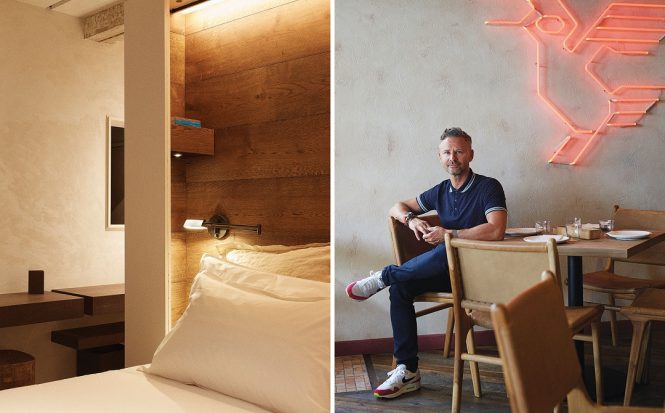 Take Nic Watt, who cut his culinary teeth in the kitchens of the Park Hyatt Tokyo before moving to the British capital in 1998 to work at Michelin-starred Nobu, eventually becoming head chef at London's Zuma and Roka restaurants. In 2013, Watt returned to Auckland and opened Masu, which set a new standard for Japanese food in the city. Last year, he did the same for Nikkei (Japanese-Peruvian) cuisine with the debut of Inca, which joined a host of other rooftop restaurants at the newly expanded Westfield Newmarket shopping center.
Nick Landsman and Emma Ogilvie, the duo behind Bar Céleste on K' Road, followed a similar trajectory. They spent five years in  Paris working in hospitality and hosting pop-up dining concepts before returning home to Auckland in 2018. Céleste, which they opened last year, is a lively, French-inspired "neo-bistro" and wine bar where superstar chanteuse Lorde, a native of Auckland's North Shore, has been spotted.
And it's not just culinary types who have infused New Zealand's biggest city with ideas and perspectives gleaned from abroad. Consider interior architect Rufus Knight. The thirtysomething wunderkind is responsible for many of Auckland's most stylish retail and residential projects, including a minimalist York Street boutique for Wellington-based ethical fashion house Kowtow and a new state-of-the-art gym extension for Les Mills fitness club. Knight credits many of his achievements to a 12-month stint in Antwerp with Belgian architect Vincent Van Duysen. "I could have never gained the same insights having only practiced in New Zealand or elsewhere in Australasia," he says.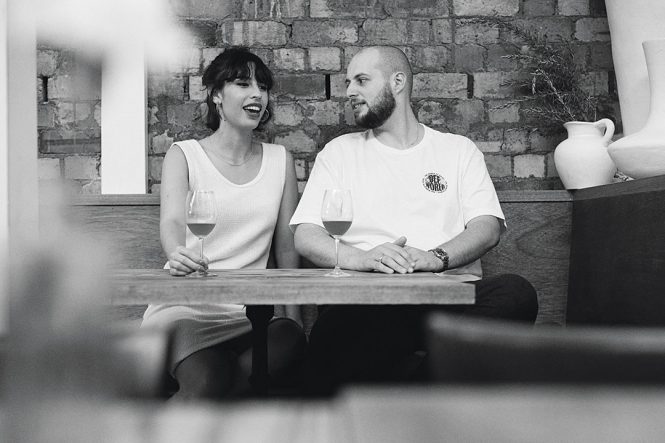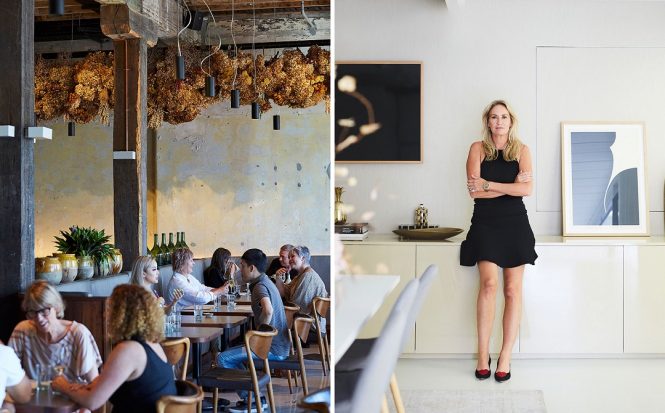 Another example is publishing dynamo Claire Sullivan-Kraus, whose quarterly Denizen magazine has become the city's arbiter of good living. A native of Christchurch, she spent eight years in New York working in magazines, including a stint at Talk with legendary editor Tina Brown. "When I came back from New York in 2008, there were tumbleweeds blowing down the street!" she says with a laugh. Auckland's hosting of the 2011 Rugby World Cup helped energize the city, with a slew of restaurants and other businesses—not to mention the waterfront precinct of the Wynyard Quarter—opening in advance of the sporting event, which brought in more than 130,000 overseas visitors. "Back then, we probably had one new restaurant opening a month to write about," she remembers. "More recently, we've had times where I felt like we were writing about three new eateries a week. You can't cover them all." As for her overseas experience, she says, "I worked my ass off in New York; there were times I had to pool coins together to buy a hotdog. But my time there gave me the drive and tenacity that I have now. Does an OE inform you? Absolutely."
Sullivan-Kraus also cites the influence of Asian immigration—and the spending power that has come with it—on bringing the likes of Gucci, Prada, Dior, and Louis Vuitton to Auckland's shores. "The luxury brands give us a sense of belonging with that group of international players. Now we can almost tag Auckland on the end of 'London, New York, Paris, Sydney…' It fits naturally. Ten years ago, it did not fit." She adds, "You can't deny how fantastic an influence the Asian community has been for Auckland. The best cities in the world are the greatest because of their diversity."
Even better news for travelers is that the hotel scene is finally beginning to catch up with the rest of the city. In a country famed for its sophisticated lodges, Auckland has historically been somewhat limited in terms of luxury accommodation. There's a nautical-style Hilton on Princes Wharf, a harbor-facing Sofitel, and boutique offerings courtesy of Hotel DeBrett and the Grand Windsor; but beyond that, the options are generally unexciting. So the September debut of the Park Hyatt has marked a watershed moment for the city's hospitality industry. A stone's throw from the America's Cup Village and the recently revamped Auckland Fish Market in the Wynyard Quarter, it now has the largest and most luxurious rooms in the city, all featuring tukutuku (decorative Maori wall paneling) and locally made wool rugs. Wellington-born executive chef Brent Martin, who's spent most of his career working at Hyatt hotels overseas, has cooked for everyone from the Dalai Lama to various royals.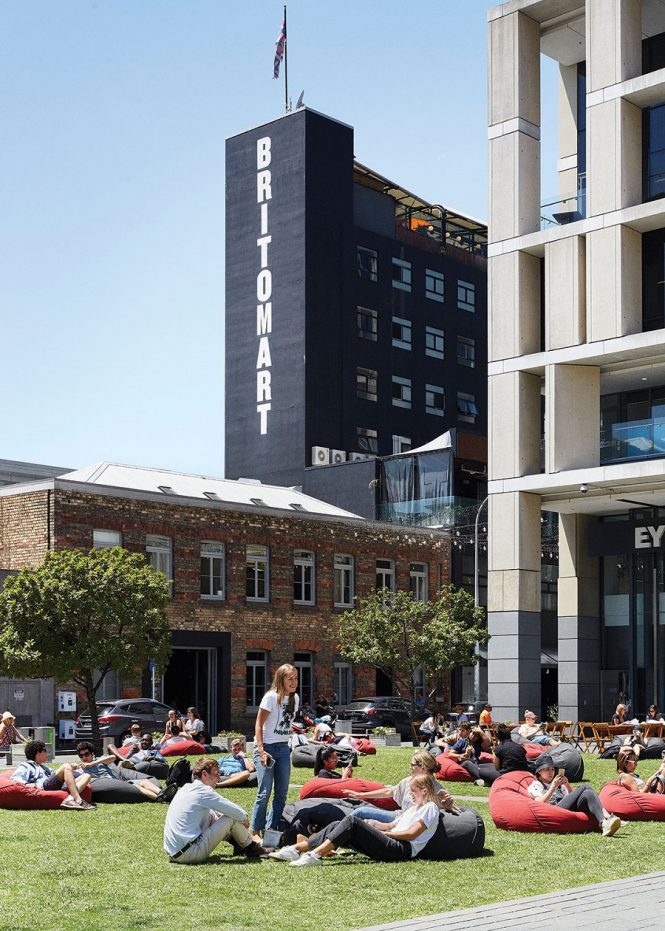 Then there's The Hotel Britomart, which takes its name from the nine-block waterfront precinct that surrounds it, a historic enclave of renovated dockside warehouses, sleek new architecture, and brick laneways. Set to open this month, the 104-room property aims to redefine the relationship of a hotel to its neighborhood. Guests will be able to sign charges to their room at many vendors in the area, from restaurants to meeting spaces to gyms and more. "The best part of the story is you walk in and out of those places without any money changing hands," says designer Nat Cheshire, who, along with his architect father Pip Cheshire and tycoon Peter Cooper, is largely responsible for transforming Britomart into a trendy retail and dining destination.
And the area packs a lot of punch across its six hectares. There's Amano, a bustling Italian-inspired restaurant housed inside an old warehouse that was reportedly renovated to the tune of US$4 million; and Ostro, a swanky harbor-view brasserie with a menu conceived by Josh Emett, who worked under Gordon Ramsay for a decade in London, New York, and Los Angeles. In October, beloved Samoan-born Kiwi chef Michael Meredith will unveil his first new venture since taking a two-year hiatus from the restaurant business. Called Mr. Morris, it will take over the space formerly occupied by Café Hanoi, a contemporary Vietnamese joint that is relocating next door to larger premises adjacent to The Hotel Britomart.
Karen Walker, the most successful New Zealand fashion designer on the world stage, has leased 150 square meters in the hotel for Playpark by Karen Walker, a "stage set" retail concept that allows for collaborative takeovers similar to what she's already done with Disneyland and Levi's. An Auckland native, Walker loves to call the city home. "We're really blessed in terms of our geography. We have two coasts, an incredible gulf, and all the islands," she says. "I've been to a lot of different places; I can't think of a city with a geography as enticing and pleasing and magical as ours."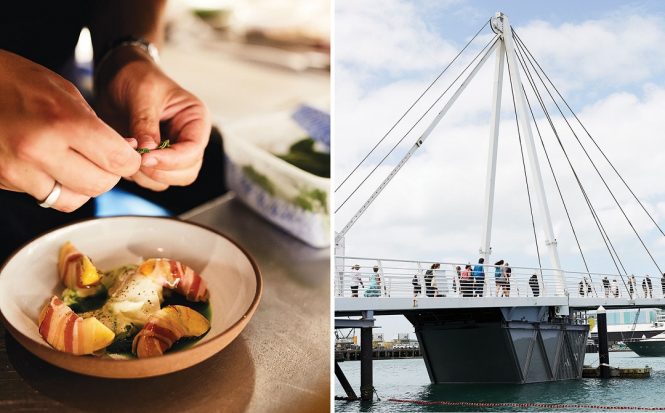 That natural setting has always been one of Auckland's big drawcards. The metropolitan area encompasses dozens of lush volcanic hills and two large harbors, and there are parks and beaches aplenty. To the west, the rain forests of the Waitakere Ranges showcase New Zealand's indigenous flora, including thousand-year-old kauri trees. And then there are the islands of the Hauraki Gulf, a scenic ferry ride from the downtown waterfront. There are dozens to choose from, but the one most people visit is Waiheke, a 92-square-kilometer island of golden beaches, award-winning restaurants, artists' studios and craft workshops, and a warmer microclimate that lends itself to wine growing; no less than 35 vineyards have established themselves here.
Today, true Waiheke locals—a mix of dyed-in-the-wool hippies, anarchists, and escapists who settled here in the 1960s and '70s—rub shoulders with the likes of Li Ka-shing (the richest man in Asia) and Graeme Hart (the richest man in New Zealand), both of whom own properties on the island.
A large sign reading SLOW DOWN, YOU'RE HERE greets visitors off the car ferry at Kennedy Point. What hasn't slowed down is a fast pace of development in the last decade, with multimillion-dollar holiday houses built across Waiheke. Some call it the St. Barth's or Martha's Vineyard of the South Pacific. Home to 9,000 permanent residents, the island sees its population swell to 50,000 over the summer months. It's then that many locals wish they could rewind the clock a good 30 years.
THE DETAILS
Where to Stay
Auckland's hotel scene has just gotten a serious injection of luxury with the mid-September opening of the Park Hyatt Auckland (64-9/366-1234; doubles from US$395), a waterfront property in the Wynyard Quarter with 172 Maori-accented accents rooms and 23 suites. Another newcomer to look out for is The Hotel Britomart (64-9/300-9595; doubles from US$265), slated to debut this month; its five lavishly appointed rooftop suites are the rooms to book. For boutique digs in the heart of the city center, look no further than the 79 art deco–inspired rooms at Hotel Grand Windsor (64-9/309-9979; doubles from US$160), a recently refurbished 1928 landmark under Accor's MGallery banner.
Where to Eat and Drink
No trip to Auckland would be complete without a visit to Depot Eatery & Oyster Bar (64-9/363-7048) for a taste of Al Brown's simple but delicious celebration of Kiwi produce, with an emphasis on shellfish. In Britomart, don't miss the Italian-inspired menu at Amano (64-9/394-1416) or the bistro classics at Ostro (64-9/ 302-9888).
Another area worth visiting is hip Karangahape Road, where the slew of eateries and nightspots include Bar Céleste (64-22/681-8251), Madame George (64-9/308-9039), and Apéro (64-9/373-4778). Inca (64-9/213-4463), on the rooftop of the Westfield Newmarket shopping center, has garnered rave reviews for its Nikkei (Japanese-Peruvian) cuisine.
What to Do
The Auckland Art Gallery Toi o Tamaki houses the most extensive collection of national and international art in New Zealand. Waiheke Island is a 35-minute ferry ride from downtown. There are beaches, vineyards, and artists' studios to explore, alongside award-winning restaurants like Three Seven Two on Onetangi Beach and the Cheshire–designed dining room at nearby Tantalus Estate, which has raised the bar for vineyard dining on the island.
This article originally appeared in the August/November 2020 print issue of DestinAsian magazine ("Auckland on the Up").