In the Malaysian state of Sabah, an upgraded nature reserve at a Shangri-La resort offers a new range of immersive experiences for adventure-minded guests.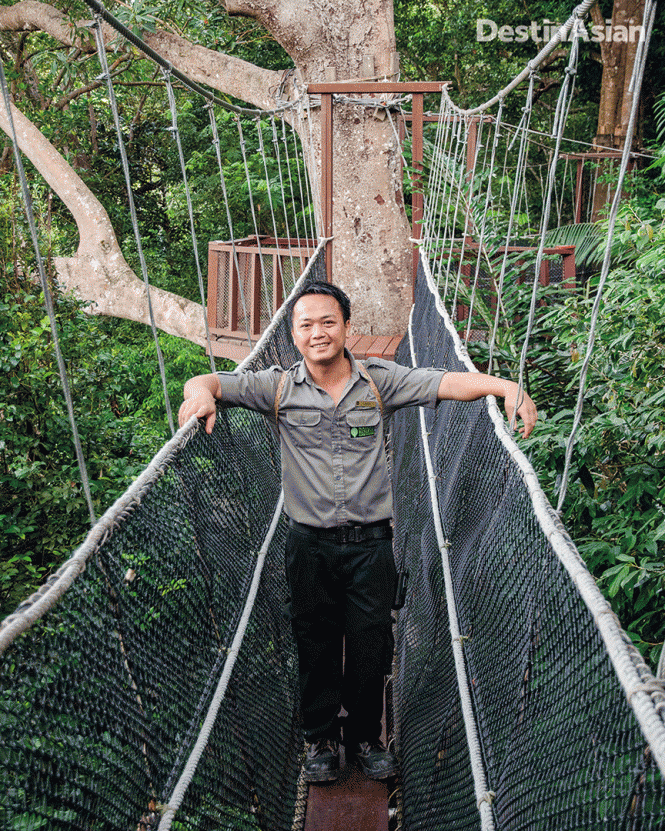 Waking before dawn may come across as counter-intuitive while on vacation, but at Shangri-La's Rasa Ria Resort & Spa—built along a sweeping expanse of cream-colored sand outside Kota Kinabalu—there's good reason to do so. I'm standing on the raised wooden deck of the Ria Lookout, 90 meters atop a jungle-clad promontory and an easy half-hour hike from the hotel proper. Beside me, ranger Laslie Christianus bin Mudin excitedly identifies the call of a pied oriental hornbill, pointing out a distant black form perched in the treetops. We marvel at the sun rising from behind the unmistakable silhouette of Mount Kinabalu, painting the sky in shades of orange and dusky gold, and the mist burning off the tropical landscape as a lone kayaker paddles from the South China Sea into the mirror-like waters of the Tambalang River.
It's a tantalizing introduction to the 26-hectare Rasa Ria Reserve, which lies within the boundaries of the sprawling Shangri-La. Home to more than 60 species of birds, 100 species of butterflies, and mammals like elusive pangolins and slow lorises, the sanctuary is a boon for guests who might not otherwise be comfortable tramping for hours through larger tracts of rain forest. And there are unexpected creature comforts too. On my arrival at the lookout, I am handed a cold face towel before sitting down for a champagne breakfast with pastries and seasonal fruits from the local markets: papaya, watermelon, and honeydew. Sated, we descend via a canopy walkway to plant a durian tree on the edge of the reserve. "You'll have to come back in eight years—that's how long it takes before it will bear fruit!" Laslie laughs.
Later, over lunch, I meet Sail Jamaludin, the resort's longtime director of recreation and conservation. Sail established the Shangri-La's nature reserve when the property first opened in 1996, after a stint at the Danum Valley Conservation Area where he set up trails and implemented measures to deter illegal loggers and poachers. "We can't solely depend on the government to take care of conservation," he explains. "Ideally the private sector should do its part and work together with the authorities."
For two decades, the nature reserve doubled as a rehabilitation center for orphaned orangutans, but the successful program ended two years ago when the primates were relocated to Sepilok, 200 kilometers away. "The existing trails we had were neglected," Sail says. "After the orangutans left, they needed to be given more attention and completely reimagined. We want our guests to have a better understanding of the local flora and fauna."
The result is an eight-kilometer trail system encompassing six themed walks, with two of the newest additions being an entomology trail for insect enthusiasts and an herbal trail that spotlights local medicinal plants. In tandem with these developments, the Discovery Center has been revamped and expanded (to three times its original size) to house a growing collection of specimens and poster boards introducing the resident critters. Just beyond this is Forest Park, which will showcase 78 species of native flora, and where a waterfall sets the scene for cultural performances or small-scale events. Then there's Adventure Point, a brand-new beachside playground with a 10-meter climbing wall.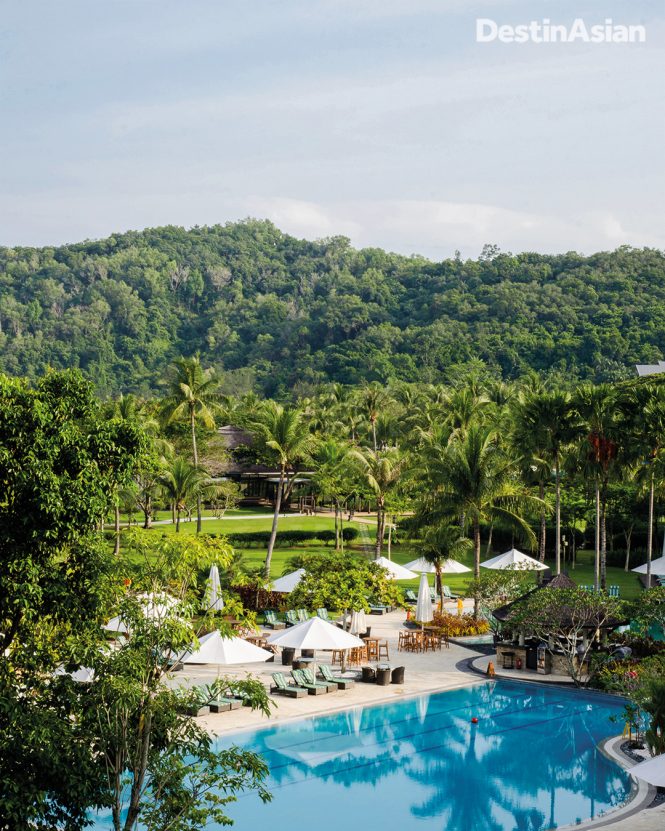 I return to the Discovery Center after dark to join a Night Vision Jungle Trek led by ranger Willibrord Thimothy Tappa, better known as Thim, who equips me with infrared goggles that double as a camera and video recorder. In the all-consuming darkness, every sound, every rustling in the undergrowth is amplified. Coupled with the humidity, the experience is far more intense than a daytime hike, but it can offer better chances of seeing wildlife. We come across tarantulas hunting for prey, two Bornean keeled pit vipers coiled on branches, a bat in flight. Thim beams a UV torch into the base of a large tree to reveal a family of scorpions hidden in a burrow, their exoskeletons lit up in an eye-popping fluorescent blue.
Over Thim's walkie-talkie, another ranger relays word of a palm civet sighting, prompting him to turn his flashlight up into the canopy. "Look!" he exclaims. "Do you see the tail?" I can only make out leaves and overlapping branches. Thim aims the light elsewhere, and we suddenly catch a glimpse of the cat-size creature's body as it crosses overhead. Then it's gone. "We were so lucky," Thim tells me. "Mammals are the hardest to see in a rain forest." 
Though I'm supposed to check out the next morning, I end up taking one final walk in the reserve, this time on the herbal trail with ranger Sabinus Sadah. He explains how to differentiate between the sexes of the spindly tongkat ali ("The roots are natural Viagra. It really works!"): female trees have light-colored bark, while their much rarer male counterparts sport black trunks and darker veins on their leaves. When we reach a clearing at the highest point of the trail, he snaps a leaf off a knee-height sapling for me to sniff. Its aroma is sweet, intensely fragrant, and oddly familiar. "Mango," Sabinus grins. 
The young mango tree is planted in a year-old herbal garden, which also harbors turmeric, aloe vera, pandan, and devil's backbone—the latter used by the local Bajau-Sama tribe as a remedy to treat jellyfish stings. In its 26 hectares, the Rasa Ria Reserve represents a microcosm of the primary rain forests found elsewhere in Sabah, and for me, its biodiversity is a clear reminder of why these precious habitats are worth saving.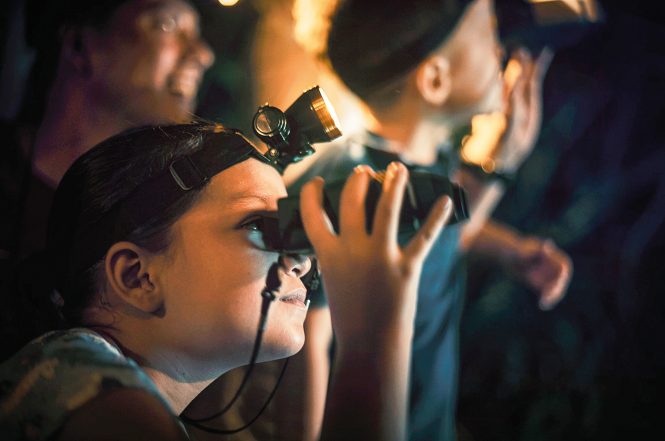 Getting There
AirAsia connects Kota Kinabalu with major cities such as Hong Kong, Singapore, and Bangkok. Meanwhile, Malaysia Airlines runs at least eight daily flights from Kuala Lumpur.
Where to Stay
Shangri-La's Rasa Ria Resort & Spa (60-88/797-888; from US$172) is divided into the family-oriented Garden Wing and more exclusive Ocean Wing. The latter's 90-square-meter rooms feature private balconies or terraces with oversize bathtubs ideal for a sunset soak.
This article originally appeared in the December 2018/January 2019 print issue of DestinAsian magazine ("A Walk On The Wild Side").