Thanks to a passionate crop of chefs and farmers, Filipino restaurants are dishing up sustainable, locally sourced ingredients as never before.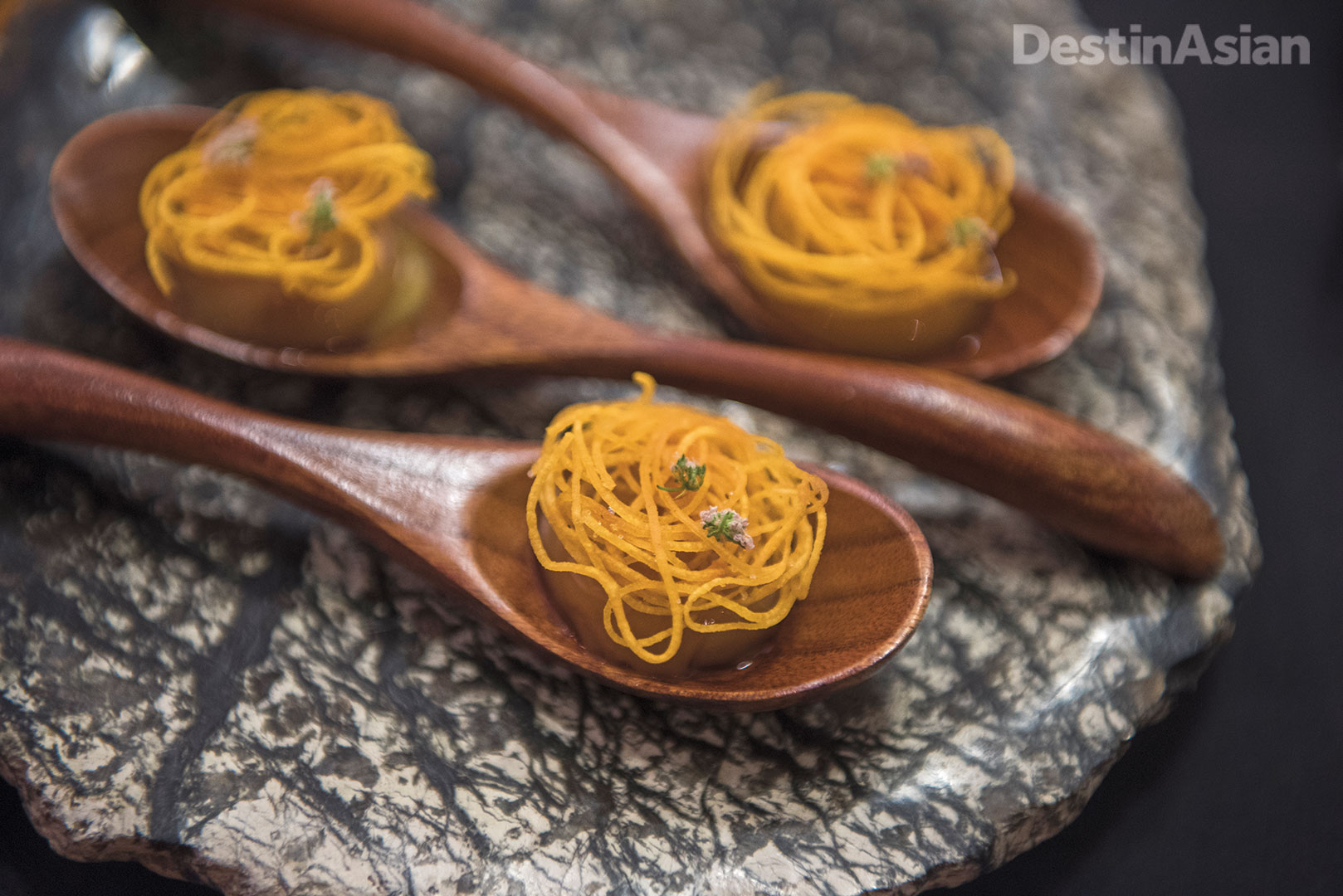 Given Spain's long association with the Philippines, it seems perfectly natural that one of the most prominent champions of farm-to-table dining in the country today is a Spanish chef—and a particularly passionate one at that. Since opening his 20-seat degustation restaurant Gallery Vask in Manila in 2013, Cantabria-born Chele Gonzalez has tramped up and down the length of the archipelago in pursuit of local ingredients and recipes. Notebook in hand and taste buds on alert, he sources and documents a bewildering cornucopia of herbs and vegetables in an almost evangelical quest to understand and develop, through sustainable cooking, the historical connection between the Philippines and Spain.
On the rooftop of Gallery Vask, the chef carefully tends native herb boxes that fairly bristle with gotu kola, lemon basil, and lemony pansit-pansitan, all of which he uses in his dishes. "There is such a huge biodiversity in the Philippines," Gonzalez  says. "Here—this is oxalis." He pinches off a leaf for me to sniff. "René Redzepi was one of the first modern chefs to use this, at Noma."
Like Redzepi, Gonzalez is a poster boy for sustainability and the farm-to-table ethos. Sit down at one of his sell-out degustation dinners and you'll be rewarded with beautiful plates of food that reveal themselves to be clever riffs on Filipino standards. The classic bistek Tagalog is reimagined with a succulent cut of wagyu marinated in soy sauce and calamansi juice. Lechon, or spit-roasted pig, is echoed in a pair of slender pork ribs with a paper-thin crackle of skin, here decorated with a single fried alibangbang leaf (commonly used as a souring agent) and a tiny cup of tart broth whose antecedent is sinigang, a much-loved sour soup. Each dish on the menu was conceived for its connection with the history and food culture of the Philippines, and invariably, ingredients come directly from producers with whom Gonzalez is on a first-name basis.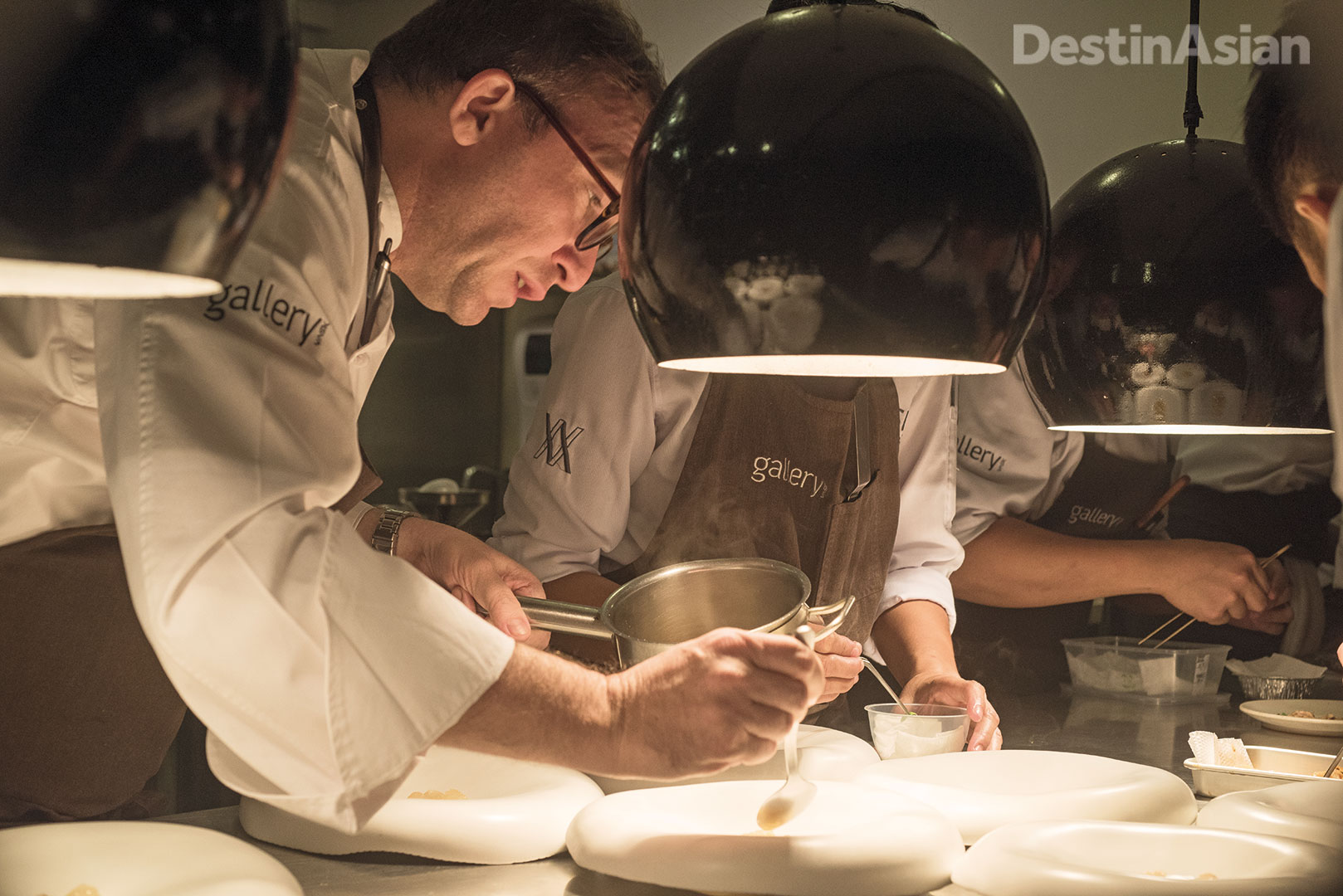 "Three years ago, only a handful of chefs were working with Filipino farmers and cooking with local ingredients," Bernadette Romulo-Puyat, the Philippines' indefatigable undersecretary of agriculture, tells me later at a Manila food event she helped organize. But all that changed in 2015 with the first edition of the Madrid Fusión Manila food congress, when a visiting corps of Spanish chefs (including Elena Arzak) fell head-over-heels in love with the country's cuisine. "It took foreign chefs to wake us up to what we had in our own backyard," Romulo-Puyat adds, a little bemused.
"The Philippines is an agrarian country," says Cathy Feliciano-Chon, whose Hong Kong–based marketing consultancy CatchOn helps to promote Filipino gastronomy. "We only left our provincial past when we urbanized."
Which means that to truly understand the Philippines' food culture, both traditional and contemporary, in all its glorious nuances and iterations, it's important to literally return to the farm. For it is only there, amid fertile swaths of Filipino earth enriched by millennia of volcanic activity, that the dots can be connected.
As it turns out, one of these dots leads you to the hill country of Cavite province. Barely an hour's drive from Manila but a world away from the capital's unbridled urban sprawl, the air here fairly shimmers with oxygen and the vivid impression of green crops and vegetation.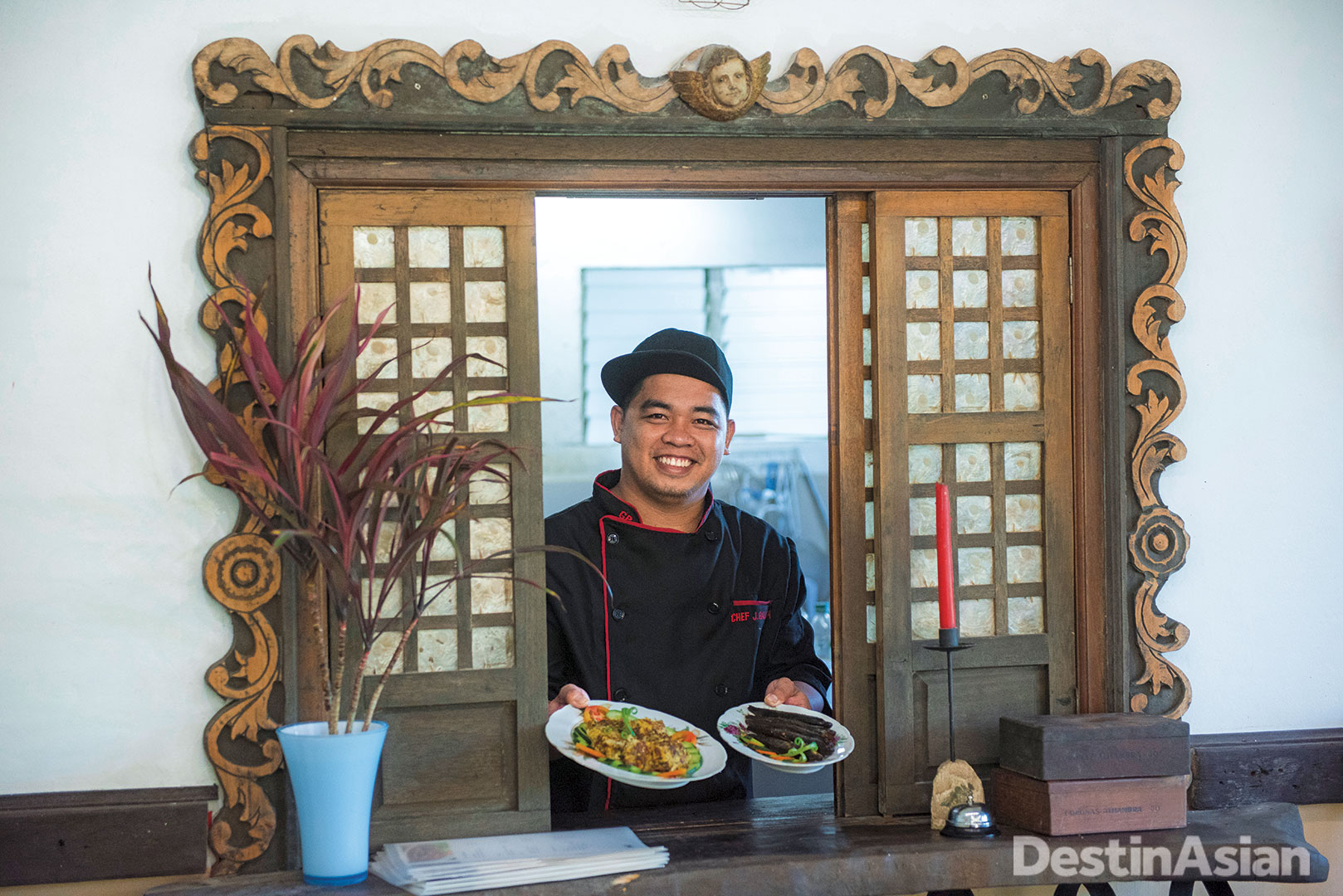 The land here has always been rich, says Ige Ramos over a breakfast of fried garlic rice and pancit pusit (squid-ink noodles with calamansi, salted fish, and pork rind) at Asiong's Carinderia, a Cavite City institution. The restaurant is served by a one-hectare vegetable garden—"It's organic by neglect," quips owner Sonny Lua—that bristles with intensely flavored tomatoes, okra, eggplants, and lettuce.
It's the perfect setting for a discussion of farm-to-table dining. One of the Philippines' most influential authorities on food and culinary history, Ramos spends his days collecting heirloom and traditional recipes, and documents the culinary traditions of Cavite and other rural provinces. "Because of its proximity, Cavite became the food basket of Manila. The smaller surrounding towns would bring their produce to market in Cavite. This abundance was also why there was never an insurgency in the Philippines—we were never hungry."
In fact, Ramos makes the point that Filipino cuisine has always been based on a farm-to-table ethos. "We just had no real nomenclature for it," he says, explaining that the tradition was born out of necessity. "In the West, where it's highly urbanized, the food goes straight to the commissary, not to the restaurant or the home. But Filipinos have been eating food this way since forever," meaning home-cooked meals prepared from ingredients bought that morning from farmers themselves at the village market.
Context is important. And in the case of the Philippines, any discussion about locally sourced dining is incomplete without connecting another important dot: its astonishing
agricultural bounty. The country's 7,000-plus islands collectively translate to more than 30 million hectares of land, a third of which is devoted to agriculture. According to Romulo-Puyat, the sector employs 28 percent of the labor force, or around 20 million workers, and contributes 9 percent of GDP. What this means is that Filipino chefs have an incredible bank of produce from which to pick and play with in the kitchen. But equally, it's a true symbiotic relationship.
Indeed, if the renaissance of Filipino farm-to-table cuisine is being dominated by a corps of young chefs, the new generation of farmers are equally young, enthusiastic, and committed to the cause. At Malipayon Farms in Cavite, for instance, Gerardo Jimenez, a former fencing athlete, works a 2.3-hectare plot of land thick with patches of purple yam, galangal, holy basil, red amaranth, pili trees, chocolate mint, and adlai. The succulence and depth of his produce is such that his number is on the speed-dial of some of Manila's top chefs, who buy directly from him.
A major victim of industrialized farming, Jimenez says, is flavor. "For too long, we've been breeding for size, color, and profit. Modern agricultural practices try to control too much, which then excludes a lot of what's needed, like flavor."
Like his contemporaries, Jimenez is, however, careful not to label his produce organic; the certification process is too expensive for a small outfit like his. Yet his farming practices, which include biodynamics and permaculture, cleave close to the ideal in the way he rotates crops, cultivates earthworms in compost heaps, and encourages natural selection and predators in place of insecticides. And his clientele—among them, Nicco Santos, the talented young chef behind the hit pan-Southeast Asian restaurant Hey Handsome in Manila—appreciate the sheer range and quality of the produce which exceed what they might otherwise get from supermarkets or larger suppliers.
"We talk to the chefs a lot," explains Jimenez, who, along with his partners, is adding agricultural tourism to the business model by opening a B&B on the farm itself. "What are they cooking? What vegetables and herbs do they need? And conversely, they call and ask us what we're about to harvest so that they can start planning their menus."
Meanwhile, Raphael Teraoka Dacones traded in a promising interior design career in Japan to start Teraoka Family Farm, where he grows indigenous produce on a sustainable, organic basis. Similarly, Enzo Pinga, a graduate in globalization studies from Gettysburg College in Pennsylvania, founded Earthbeat Farms to promote native crops and set up a collective to encourage young farmers to collaborate and connect with chefs around the Philippines.
And it's not just the plant-based farmers who are driving the produce behind farm-to-table dining. Francisco Torno, a self-styled sustainable aquaculturist, runs 7 Hectares, a seafood farm in Saravia on the island of Negros. He feeds his crabs a diet of oysters, local snails, and sea annelids. This, he says, results in flesh that has a balance of saltiness, sweetness, and bitterness. He is particularly bullish on the interaction between farmer and chef. "It has the potential to be a major part of the agricultural industry, especially if the parties work together. This is important because basically a generation or two have completely missed out on experiencing what freshly caught produce looks, tastes, and smells like."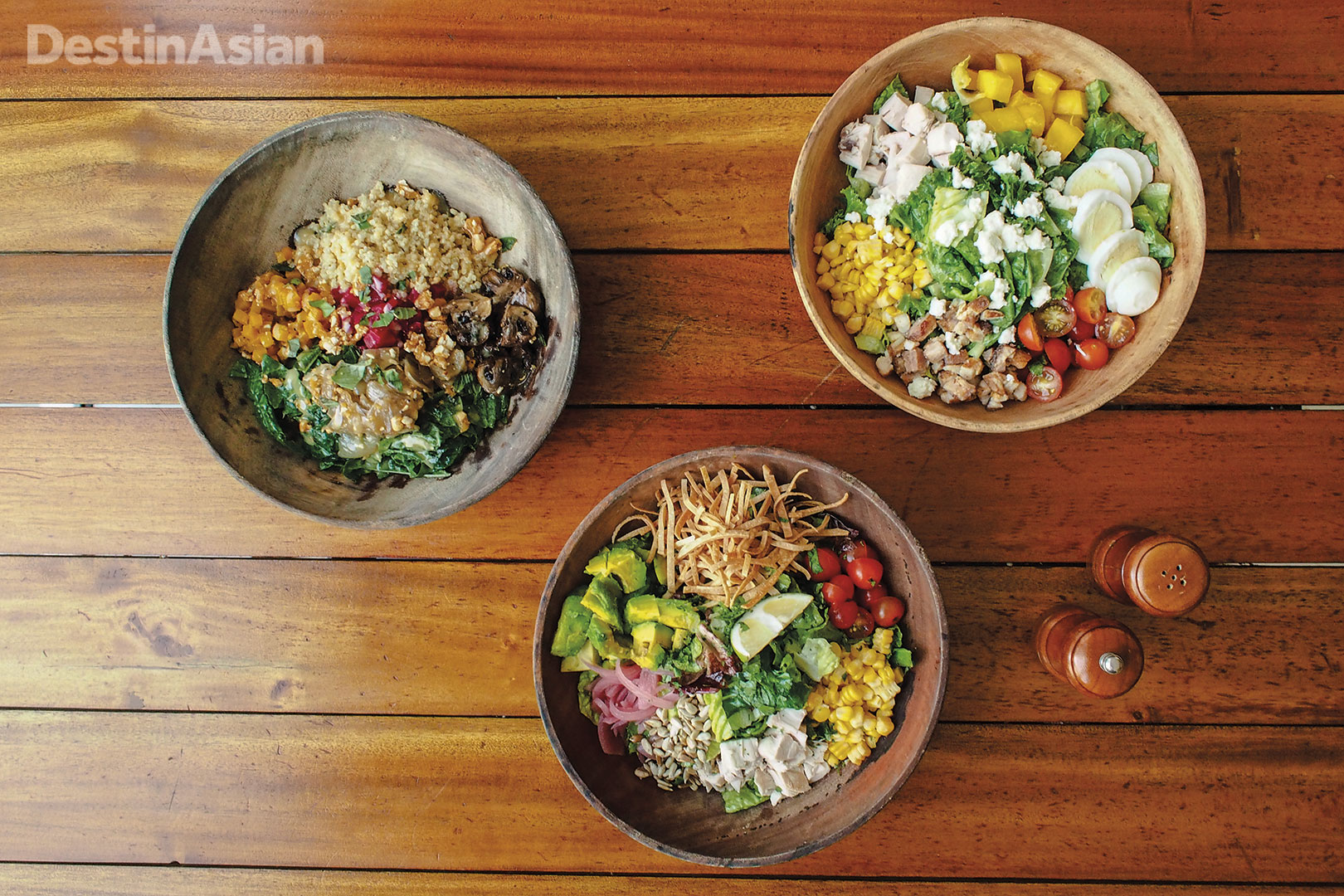 In the same vein, Robby Goco, chef-owner of the Green Pastures restaurant chain back in Manila, insists every supplier he buys from practices sustainability and that no ingredient has air miles attached to it. "Farm to table?" he asks. "Let's start with the fact that Filipino cuisine is already a nose-to-tail cuisine."
Sisig, for instance, that much-beloved Pampanga dish of pork cheeks and ears sautéed in chili, vinegar, and soy sauce, is said to have its origins in the 1970s, when local cooks "rescued" discarded pigs' heads from the kitchens at the then-American-run Clark Air Base. A thick stew called menudo features tripe, liver, and spleen. Pig trotters are deep fried into crispy pata. From this kind of culinary austerity, Goco says, a farm-to-table ethos is a natural complement to the cuisine.
For chefs like Goco and industry insiders like Chon and Ramos, this shift back toward a more conscious form of eating—sustainable eating, to be precise—is occurring precisely because people are hankering for the food of their childhood. Joey Suarez, a food journalist and consultant, agrees, applauding the revival of interest in food grown and prepared the way it was barely a generation ago. "There was a time when no Filipino would eat Filipino food in a Filipino restaurant, because no one could cook as well as their own mother or grandmother. Then McDonald's arrived about 20, 25 years ago and dining habits changed dramatically."
Now, however, "people are sick of commercial fast food," Goco says. A true believer in the culinary pride that's currently gripping this new generation of chefs and farmers, he adds,   "Can you imagine what our cuisine will look like in 10 years?"
Address Book
Asiong's Carinderia
712 Paterno St., Cavite City; 63/926-713-9400.
5/F, Clipp Center, 11th Ave., Bonifacio Global City, Metro Manila; 63/917-546-1673
Main branch: 4/F, Shangri-La Plaza East Wing, Mandaluyong, Metro Manila; 63-2/654-3219
Net Park Bldg., 5th Ave., Bonifacio Global City, Metro Manila; 63/917-102-0355
7 Hectares
Saravia, Negros; 63/917-831-0372.
San Pablo City, Laguna
Malipayon Farms
Silang, Cavite; 63/915-256-1066
Mangatarem, Pangasinan; 63/917-833-0657
This article originally appeared in the April/May 2017 print issue of DestinAsian magazine ("The Real Flavor of the Philippines").