On the Vietnamese resort island of Phu Quoc, a faded hotel brand is staging a comeback with the debut of a game-changing new property.
Photographs by Chris Schalkx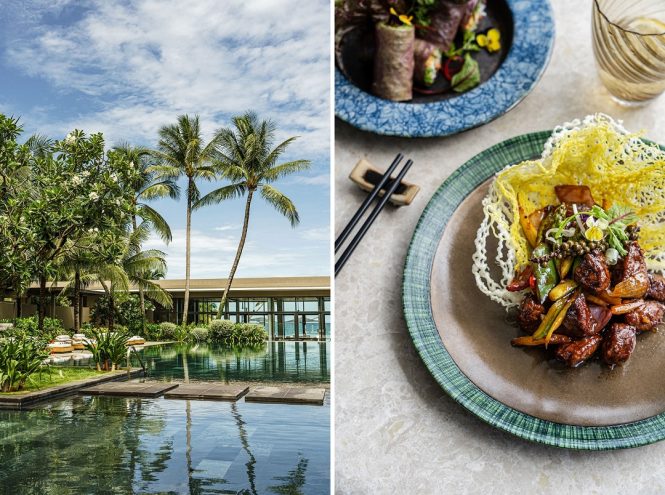 Ah, Regent. The name did ring a bell. Wasn't it this past-its-prime hotel group my now-retired parents would have loved back in the 1980s, if only they had been wealthy and well-traveled? I have stayed at one of their properties once, in Taipei. And while my weekend there was perfectly fine, it was as forgettable as any stay in a somewhat dated and rather beige business hotel could've been. As a millennial reaching adulthood in an era where trailblazers like Edition, Rosewood, and Alila constantly reshape the luxury hotel experience, you'll have to forgive me for thinking that Regent's heyday was long behind us.
It wasn't always that way. Founded in 1970 by hospitality kingpins Robert Burns, Georg Rafael, and Adrian Zecha (who went on to create the Aman group in the late '80s), Regent was ahead of its time. It was the first hotel brand to introduce the five-fixture bathroom we've come to expect from a five-star stay, and a pioneer when it came to private pools and all-villa resorts. Renowned hotels around the world once flew the Regent flag: the Beverly Wilshire in Beverly Hills, the Anantara Siam in Bangkok, The Ritz-Carlton Bal Harbour in Miami. At one point, the group also operated the historic The Dorchester in London.
But the brand failed to keep up. Snazzier young hotel companies took off with the luxury formula Regent introduced and lured increasingly demanding travelers with flashier designs, more immersive experiences, and fancier amenities. Over the decades that followed, the business changed hands between investment groups from Taipei to Manhattan and saw its properties revamped into Westins, Marriotts, and Four Seasonses. By the mid-2010s, Regent only had a few hotels still flying its flag and the brand slipped into oblivion. How the mighty had fallen.
So, when I was invited to Vietnam in May to be one of the first journalists to try out the just-opened Regent Phu Quoc, I was skeptical. IHG Hotels & Resorts acquired a majority stake in Regent in 2018 and had big plans for the brand: tastemakers from the fashion and design world were brought together in focus groups to advise on sought-after perks and amenities for the 1 percent of 21st-century travelers. Visually, the brand identity was slicked up with new signature colors taking on jewel tones and celadon green (the latter is a nod to ancient Chinese pottery, which in turn references the brand's Asian roots). The Phu Quoc property was the first IHG-led Regent to have the brand's reimagined hallmarks embedded from scratch. But would it be enough to turn Regent from an up-to-snuff place to stay into a destination worth traveling out of the way for?
When my airport transfer — a burgundy Range Rover with sleek leather trimmings — pulled into the oceanfront compound of which the Regent Phu Quoc is a part, my skepticism only grew. PHU QUOC MARINA – INTEGRATED RESORT COMPLEX the sign at the entrance read in cartoonish, rainbow-hued letters. We drove past tightly packed rows of faux-French townhouses in candy colors, which gave the place an air of a Mediterranean Disneyland. There were villa clusters in varying states of construction, and giant billboards advertised towering sea-view condominiums. It wasn't exactly the sophisticated island idyll I had hoped to find.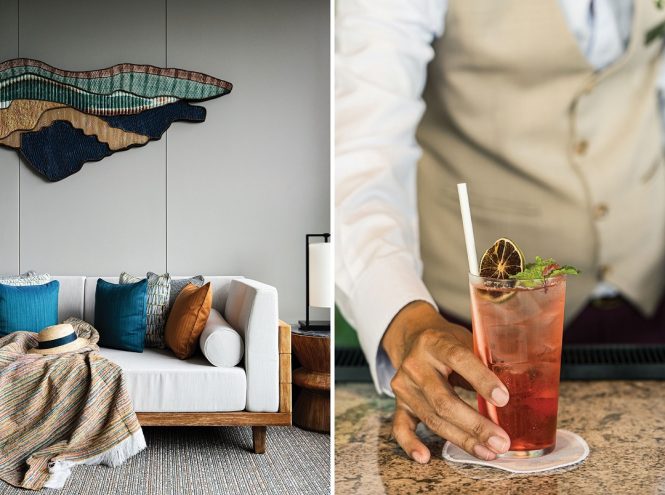 But my impressions swiftly improved when I entered the Regent's lobby. With most of the lackluster surroundings obscured by tropical gardens that had grown lush during the two-year pandemic lull that delayed the opening, the place instantly felt special. From the check-in lounge, I looked out over a sprawling resort laid out like a Rorschach test, with a total of 126 villas lining two palm-fringed lagoons on either side, backdropped by two hotel wings housing another 176 suites. Beyond a giant glassy infinity pool, I could see a sliver of silver sand skirting the coast. In the distance, a fishing boat sputtered into the choppy nothingness of the Gulf of Thailand.
At the far end of the basalt-clad lobby gleamed a wall-size artwork by Lasvit, a Czech glass-making company. It took designer Petra Junová and her local team three months of production and many more weeks to arrange each hand-blown glass orb and pearlescent bubble into a grand reflection of Phu Quoc's kaleidoscopic coral reef (it also looked like a jumble of supersize hard candies). Given the enthusiastic introduction of the piece, titled Charming Deeps, by no less than five different staff members throughout my stay, it was clear that this was the resort's pride and joy, though I also came to see it as a symbol of the meticulous care and thoughtfulness this property was conceived with.
Spearheaded by Singapore- and Bangkok-based Blink Design Group, the design of the property initially struck me as archetypal inoffensive — the tried-and-tested luxury hotel palette of creams, grays, and taupes punctuated with sandy marble and cypress wood, which I've seen at new high-end hotels from Bangkok to Hong Kong. But on closer inspection, I could make out distinctively Vietnamese touches: the vaulted villa roofs nodding to local gian nha–style dwellings; the courtyard-inspired terraces adjoining the private pools; and the bovi pattern (a riff on the roof trusses found in traditional vernacular architecture) carved into wooden room dividers, printed on stationery, and woven into the bed linen.
More telling of Regent's new direction, though, were the illustrations by Romanian artist Saddo. As part of the reimagining of the brand, every Regent hotel will have a specially commissioned illustration recurring throughout the property. Regent Phu Quoc's chosen motif, which I found printed all over the satiny bathrobes, umbrella linings, and staff's pocket squares, depicts a scene from a local folk tale embellished with anchovies, black pearls, and peppercorns — some of the island's best-known exports.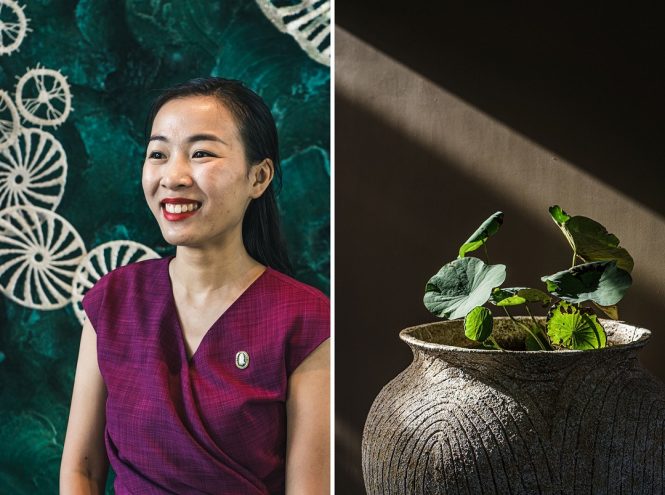 That evening, when I shared my first impressions with general manager Juan Losada over gin-heavy drinks at Fu Bar, the resort's rooftop sundowner spot, he told me that it was exactly the reaction he and his team had tried to craft. He recounted how they carefully imagined the color schemes ("Only a tiny bit of decadence — crystal and gold, just enough to create a sparkle"), and thought up the exact location of each suite and villa to maximize their ocean views. It took the team months to pin down the in-room book selection (art-focused coffee-table tomes by Phaidon and Rizzoli) and choose just the right toiletries (citrusy Acqua di Parma shampoos; two types of toothpaste, mint or ginger). "The luxury here is not sticky, it doesn't get in your face," Losada concluded. "It's more subtle. The new Regent is a singing brand."
The more time I spent around the resort, the better I understood what he meant. The amenities — private pools at every villa and some of the suites; complimentary minibars stocked with Belgian beers, craft sodas, and Vietnamese chocolate; and soon, Phu Quoc's first catamaran for jaunts around the UNESCO-listed Kien Giang Biosphere Reserve — rivaled those of some of Southeast Asia's highest-end resorts. Here, however, they were presented without much hoo-ha, unimposing in the best possible way. I was similarly impressed by my villa's kitchen, which came fully stocked with stovetop, wine fridge, juicer machine, and all (guests can also order groceries or arrange for a private chef). It was meekly downplayed as such a given, such a natural homely comfort, that it barely got a mention on the hotel's website.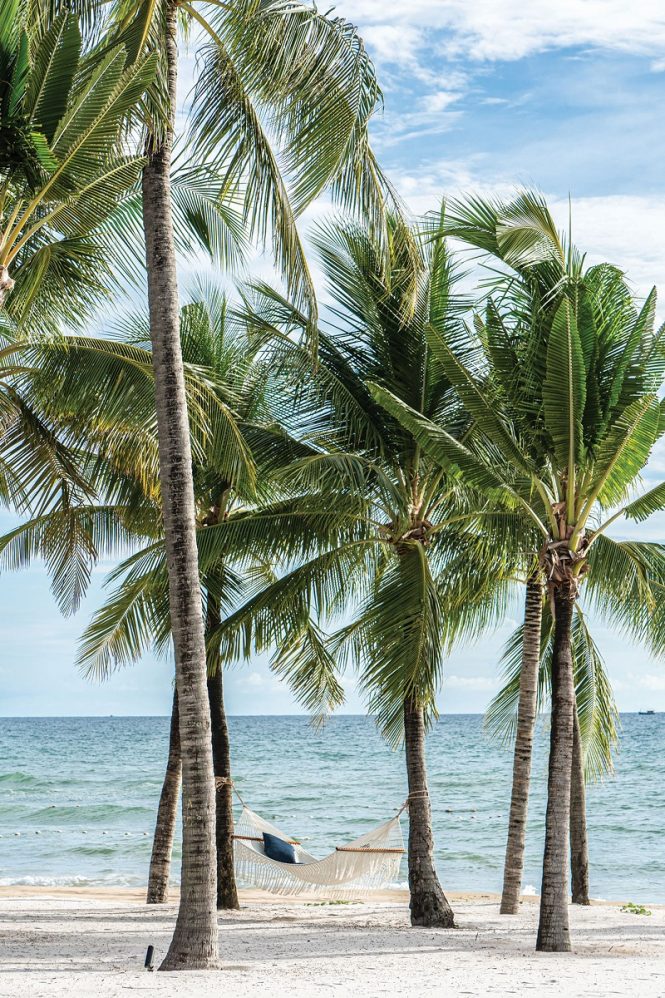 I doubted that those kitchens would get much use, though, as the restaurants were outstanding. I had my breakfasts at Rice Market, a rattan-clad all-day restaurant with a Chinese-Vietnamese menu and breakfast buffet spreads of pho, local fruits, and make-your-own–bahn mi stations. For dinners, I preferred the Ocean Club, a breezy beachfront spot where pizzas, pastas, and other Mediterranean classics share the menu with chargrilled Phu Quoc lobsters, squid, and caviar farmed in an ancient water system high up in the mountains of Sichuan. Soon, the resort will also unveil Oku, a French-Japanese "Omakase Atelier" helmed by an ex-Nobu chef.
For Regent, Phu Quoc marks a fresh start, a testing ground for new ideas and for the world to see that the brand is back in the game. Upcoming Regent properties include the Regent Hong Kong, a refurbishment of the iconic InterContinental Hong Kong on the Kowloon waterfront (which, funnily enough, originally debuted as one of the first Regent hotels back in 1980). Hotels in Bali, Jakarta, and Kyoto are also in the pipeline, with plans for more than 40 Regents to open in the years to come. If Regent Phu Quoc has given me a taste of what the brand has in store, consider this millennial a convert.
phuquoc.regenthotels.com; doubles from US$360
This article originally appeared in the September/November 2022 print issue of DestinAsian magazine ("Regent Resurgent").