Once considered a drab industrial center, Taiwan's southern port city is recasting itself as a cultural hub and bona fide tourist destination. Isn't it time you paid a visit?
Photographs by Naomi Goddard
Emerging from a basement carpark into a cavernous, stark-white hall where the morning sunlight pours in through an upper-floor window, I can scarcely believe my eyes. Could this really be a cruise terminal? Harvard-trained architect Hou Ching-Mou, my unofficial guide for the day, looks up to the sculptural ceiling with a satisfied smile. "You know, it's also my first time coming inside—this took 10 years to build." Inaugurated just days before our visit, the sinuous Kaohsiung Port Cruise Terminal culminates in a tower intended to house the Taiwan International Ports Corporation, or TIPC. Tumbling waves may have been the primary source of inspiration for New York architecture firm Reiser + Umemoto, but with its silvery cladding and thin window strips, the design more closely resembles a humpback whale breaching the ocean's surface. It's emblematic of the remarkable transformation now underway in this overlooked metropolis of 2.8 million on the southwest coast of Taiwan.
"In my teenage years, there was no real bar culture in Kaohsiung and fine dining was rare. People went to department stores in their leisure time; they were starting to get in touch with the cultures of different countries through daily consumption." Yaman Shao, the young CEO of Alien Art, tells me this a few hours later at her company's privately funded museum. I learn that Alien Art belongs to the local Yuimom Group, which operates serviced apartments, high-end restaurants, and the Silks Club hotel, whose art collection includes a kinetic sculpture by Art + Com—the same studio behind Petalclouds in Terminal 4 of Singapore Changi Airport.
Herself a curator and contemporary artist, Shao returned to her hometown after pursuing a masters in art management in England. When her father acquired a derelict military hostel built in 1967 as a transit point for soldiers crossing the Taiwan Strait to the frontline outposts of Kinmen and the Matsu Islands, the two saw a rare opportunity to create something new. "It was abandoned and covered in plants, and each room had small doors and small windows, like a prison," Shao recalls. "We took over the place in 2016 and spent two years transforming it into Alien Art Centre."
Though the name nods to the rural district of Alian (sometimes transliterated as "Alien") where her father grew up, it was mainly inspired by E.T. the Extra-Terrestrial. "When your finger touches that of another person, you change your perspective," Shao says. "Our mission is to connect emerging and established artists, and let people understand art from the market perspective." Visitors can expect up to three new exhibitions each year, as well as permanent fixtures like James Turrell's glass-wall installation Corinth Canal, The Diamond. But Crossing, a site-specific creation by Hong Kong artists Kingsley Ng and Stephanie Cheung, is the one that really catches my attention. Inside an almost pitch-black contemplative space, illuminated water droplets glide through a transparent tube reflected in a dark mirror. The ambient sounds of Kaohsiung Harbor are overlaid with gusts of wind and the pitter-patter of raindrops, giving the room a lonely, melancholic aura. "When visitors sit on the platform, they can feel the shaking underneath, and it is really like taking a boat from Kaohsiung to Kinmen," Shao explains.
Glory Pier—the wharf where soldiers once boarded vessels bound for Kinmen—is now part of the Kaohsiung Music Center, which debuted in late 2021. Spanish architect Manuel Álvarez-Monteserín Lahoz took geometric shapes from the marine world and scattered them across a site spanning the mouth of the Love River. Up-and-coming pop singers perform to crowds of up to 5,000 inside a concert hall shaped like a turtle shell; two connected towers housing offices and an exhibition on backstage music production appear like waves crashing over a rock. There's also a multipurpose venue with a coral reef–inspired roof and six standalone event spaces dubbed "whales." Among the latter is an arena for the Taiwan eSports League, which recruited Studio Hou x Lin, the architecture firm run by Hou and his equally accomplished wife Lin Wan-Jen, to design the interior.
That afternoon, we meet Kuo Tien-Kuei, secretary general of the Kaohsiung City Government, at a café inside the music center. "There has always been a north-south divide in Taiwan," he says, referencing the decades of unequal development that saw resources and wealth concentrated in and around Taipei. But the central government has been addressing the imbalance in recent years with major investments in arts and culture and infrastructure in the south. That dovetails with ongoing efforts by municipal authorities to make Kaohsiung more attractive for residents and visitors alike. Twelve years ago, when Kuo was working in the city's Cultural Bureau, then-mayor Chen Chu's administration developed a new blueprint for the waterfront termed the Asia New Bay Area. "We were actually inspired by Marina Bay in Singapore," he says. "We also went to Hamburg in Germany and Japan to see Kobe and Yokohama's Minato Mirai 21."
Kuo has spent his long career between the shipping industry and the civil service. In 2017, during a three-year tenure as managing director of TIPC, he was instrumental in setting up the Kaohsiung Port Land Development Company. This joint venture with the city government oversees the transformation of the harborside, which belongs to a complicated patchwork of state-owned enterprises. "We have to understand and make an inventory of what Kaohsiung lacks. If you allow each of the SOEs to develop their own parcels of land, what comes out could be all hotels and department stores."
"People might say, 'Oh, we have to be like Taipei or Tokyo.' But we want Kaohsiung to become a better version of itself, building on the foundation and the industry it already has." —Architect Lin Wan-Jen
It's a delicate balancing act, for this is no post-industrial city searching for a new raison d'être. The port of Kaohsiung handles around 70 percent of Taiwan's container shipping; Kuo tells me of a long-term goal to maintain capacity while relocating those operations and the associated heavy industry farther away. The new waterfront already boasts recreational zones and a series of architectural showpieces, including the music center, cruise terminal, and a glass-fronted public library across the street from the InterContinental Kaohsiung, where I'm staying. The evening I check in, its vaulted lobby bar is buzzing with Westerners visiting for the Wind Energy Asia trade show at the nearby exhibition center. That, too, was planned as a cornerstone development; all are connected by the Kaohsiung Circular Light Rail.
Perhaps the most popular attraction along the route is the Pier-2 Art Center, a thriving creative quarter whose once-dilapidated warehouses have been repurposed as restaurants and cafés, independent shops, exhibition galleries, and a live music venue. One, its weathered facade still emblazoned with the logo of the Taiwan Sugar Corporation, contains a small museum with the most impressive model railway I've ever seen. Commissioned murals and art installations are complemented by the Great Harbor Bridge, which became an instant landmark when it opened in mid-2020. It's billed as the longest horizontal swing bridge in Asia, with canopies curving around the central pylon evoking seashells and the hydrodynamic body of a dolphin. Those who stroll across the 110-meter span to Penglai Pier will encounter Echo Across the Harbor, a carillon of 38 bronze bells by Studio Hou x Lin.
"When we were designing this, we imagined how we could express the character and memory of this place," Hou explains. "Penglai used to be the main pier for banana exports. They were put in bamboo baskets and craned onto ships." Hence the trio of sturdy steel columns suggestive of masts, cranes, or fishing rods, and the fiberglass canopy of stylized baskets fabricated at the shipyard of yacht-builders Kha Shing Enterprise. "Previously, every ship, no matter how big or small, would have had a bell as a form of communication. We want to bring back the disappearing soundscape as the port operations gradually move south, and use the bells not only to tell the time but also as a musical instrument." To prove his point, he scrolls down a playlist on his phone and picks out the theme song of a recent design festival. The carillon suddenly bursts to life, stopping everyone around us in their tracks. I detect a mischievous twinkle in Hou's eye. "Is it your birthday month?" It isn't, so that saves me the embarrassment of letting all of Kaohsiung know.
Mecanoo also won the design competition for the National Kaohsiung Center for the Arts (a.k.a. Weiwuying) inside a defunct military camp turned 47-hectare urban park. Here, East Asia's largest performing arts center houses four self-contained indoor venues—including a concert hall and a 2,200-seat opera house—under one enormous undulating roof. Taipei-born conductor Chien Wen-pin left a 22-year career as Kapellmeister of the Deutsche Oper am Rhein in Germany to become the center's artistic director ahead of its inauguration in 2018. "The first time I saw Weiwuying," he tells me, "I thought to myself, 'This is mental, to build something so massive.' I had never seen anything like it in Taiwan."
Weiwuying now hosts between 600 and 700 shows per year, including co-productions that foster ties between Taiwan and the rest of the world. "Kaohsiung is a harbor city, and as a port brings cargo or people in and out, what we are doing here in Weiwuying is the same. We hope it becomes a place of artistic and cultural exchange," Chien says.
Before we leave, Lin walks me through Banyan Plaza, a shaded free-form playground that flows around the performance venues, dissolving the boundary between high art and everyday life. We listen to a gifted musician's impromptu solo concert on a public piano, and imagine the myriad possibilities for outdoor film screenings, social events, and dance or aerobics classes. The architect says she and Hou were adamant on getting local shipbuilders involved in fabricating the superstructure and the curving steel plates, used more commonly to clad ocean liners. "Regenerating a city shouldn't have to mean turning it into a completely different place," Lin muses. "People might say, 'Oh, we have to be like Taipei or Tokyo.' But we want Kaohsiung to become a better version of itself, building on the foundation and the industry it already has."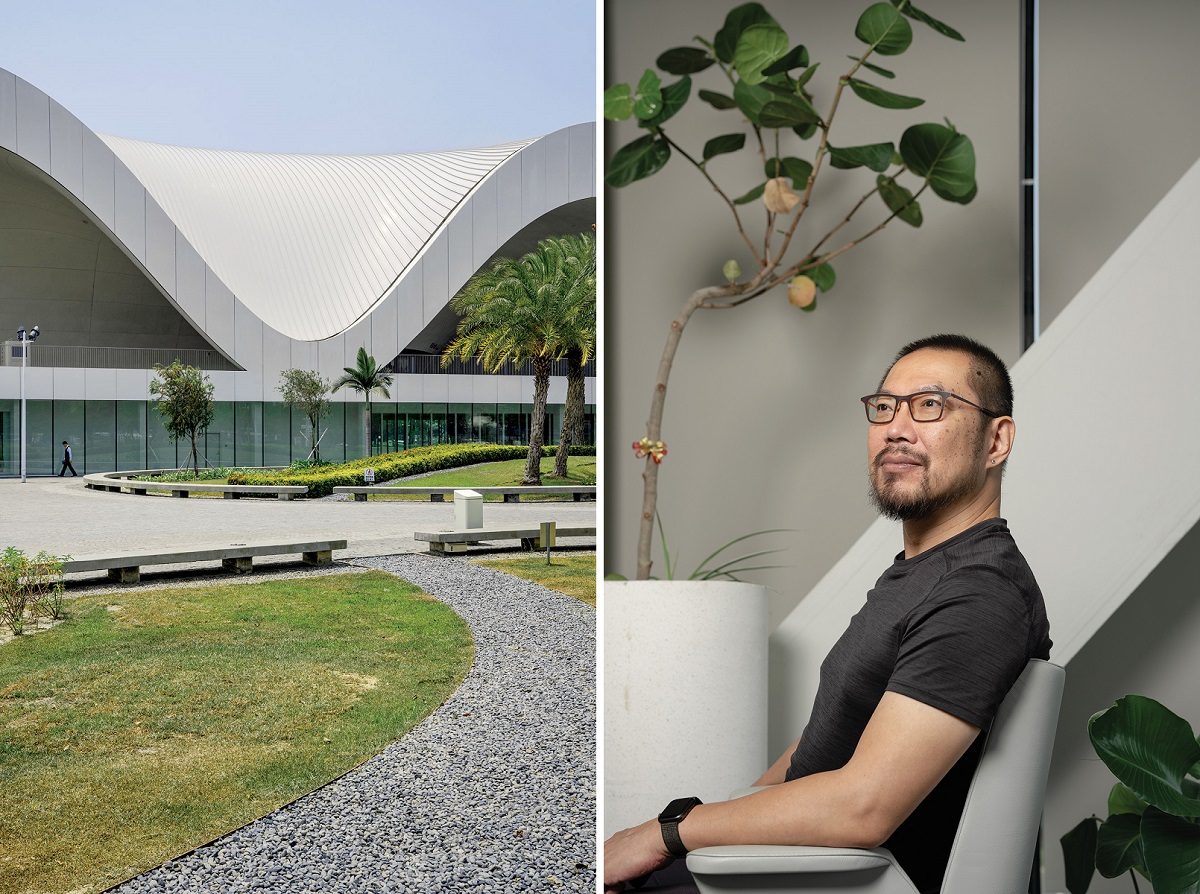 The birth of modern Kaohsiung can be traced back to 1908, when Japanese authorities built the first port facilities in the sheltered deep-water lagoon. Over the next few decades, the colonists reclaimed land from the sea for the fledgling city and laid down a railway line connecting the harbor with the hinterland. A downtown quarter named Hamasen quickly sprang up beside the original train station. Even today, its streetscapes bear the marks of diverse cultural influences: think postwar shophouses rooted in a Southern Chinese vernacular style, older structures with Western red-brick arcades and Japanese tiled roofs, or even a weathered wooden facade that wouldn't look out of place in one of Tokyo's shitamachi neighborhoods.
Recent years have seen more of Hamasen's heritage buildings converted into popular restaurants and cafés. One of the latest examples is the neoclassical Old Sanwa Bank, where interior designer Louis Hsieh carefully replicated floor tiles and wall panels from the 1920s. Protected behind a glass screen, the original bank counter has been incorporated as a backrest; a playful steampunk theme finds its fullest expression in a clock-studded sculptural relief at the bar, while the former vault is now a temperature-controlled chamber for making drip coffee.
Hsieh also revamped the adjacent Hamasen Trader Building (the two structures are now branded as Hamasen 1921). Beyond an arcade clad in washed terrazzo, the ground-floor cake shop nods to the hotel that formerly stood here. Upstairs, we peruse a medley of souvenirs by local makers, look inside a teahouse, and visit a Japanese-style café where patrons tuck into shaved-ice desserts beneath exposed timber rafters.
Our next stop is the months-old Neiwei Arts Center, built to serve a neighborhood once cut off by the old railway line running north from Hamasen. It's a striking arrangement of interlocking volumes set along the edge of Neiweipi Cultural Park. Lin and I join local families spending their Friday afternoon in spaces that flow seamlessly into each other: a cozy reading room and installation-filled lobby, an art-focused indoor playground, galleries exploring the area's character and forgotten history.
This new community hub owes its existence to one of Taiwan's foremost curators and art critics. Educated in Japan and the United States (where she obtained a Ph.D. in the history of art and architecture at NYU), Dr. Yulin Lee became director of the neighboring Kaohsiung Museum of Fine Arts in 2016. She assumed the role just as Taiwan was going through a construction boom of starchitect-designed museums, and soon realized how few people were even aware of the 22-year-old institution hidden deep inside the park. "The notion about coming to the museum as a recreational activity on weekends was not as established as in Taipei. That's why I wanted to open it up and create a new dialogue with the city," she says. What followed was a large-scale spatial reconfiguration, dispersing more artworks outdoors, removing visual obstacles to the building, and remaking the arrival plaza. Upgrades to the lobby, shop, and café went hand-in-hand with overhauled galleries designed as an "art living room" for citizens. But Lee had an even greater mission in mind.
"Being a Taiwanese, I constantly think about identity issues. Then I had the chance to be the director of a museum that was considered a little lacking in resources, off the mainstream, and kind of marginalized. So immediately, I wanted to create a new identity so we can have equal dialogue with anyone in the world—in the museum world, as well as in the political world."
She drove the KMFA's administrative reform from an entirely city-funded museum to a non-departmental public body, paving the way for three blockbuster showcases co-branded with major institutions abroad. "Nude," the first-ever Tate exhibition in Taiwan, captured the minds of museum-goers nationwide in 2018. Masterpieces such as Rodin's The Kiss were sent to Kaohsiung, not to mention major works by Picasso, Matisse, David Hockney, and Tracey Emin. Then came an exposition of Southeast Asian contemporary art in "Sunshower" from the Mori Art Museum in Tokyo, followed by "Tattoo," a tie-up with Paris's Musée du Quai Branly–Jacques Chirac that wrapped just before the pandemic.
Lee tells me the goal was to put the KMFA back on the radar before the 2021 launch of South Plus, its new brand. That coincided with the opening of a permanent gallery highlighting artists from southern Taiwan, whose works make up over 70 percent of the museum's holdings. "Kaohsiung is striving to be a global city, so I think the KMFA should play the show window of bringing in foreign culture, while also bringing out our own typical collection of local artists," she says.
That night, Lin invites me to a reunion with her college friends at Sho, the first overseas outpost of acclaimed Tokyo restaurant Den and one of only two Kaohsiung restaurants to be awarded a Michelin star when the city debuted in the Michelin Guide Taiwan last year. (The other venue, Liberté, is located in the same tower.)
Sho's head chef Shoichi Fujimoto harnesses seasonal local produce to serve up course after dainty course on a single set menu: Penghu long-finned squid sashimi crowned with sea grapes tickles the palate, as does New Zealand lamb and parmesan cream–stuffed zucchini flower. The wild vegetable salad is an unexpected riot of textures, laden with okra and red dragon fruit, alongside fresh, pickled, and fried greens. Every bite promises something different. "Who knew a simple salad could taste this good?!" Lin exclaims. A tender patty made from duck reared in Changhua County comes paired with delicate soba, and my fellow diners extol the nostalgic flavor of beltfish harvested from the waters off next-door Pingtung County, tossed with rice, fried taro cubes, and slivers of scallion in a glazed clay pot. The wine flows as easily as the conversation, and eventually, the host nods my way.
"To your work. Thank you for coming all this way to write about Kaohsiung." We raise our glasses to friends old and new, and to this captivating harbor city that is finally getting its time in the spotlight.
Exploring Kaohsiung
GETTING THERE
Kaohsiung's Zuoying Station is less than two hours from downtown Taipei on the Taiwan High Speed Rail line. The city also has direct flights from Hong Kong, Bangkok, and Manila.
WHERE TO STAY
InterContinental Kaohsiung
Opened in late 2021, this high-tech newcomer comprises 253 rooms and suites. Cocktails at the stylish lobby bar and Seeds restaurant's seasonal tasting menu are definitely worth a try (doubles from US$185).
Silks Club
Highlights here include a contemporary art collection, spacious guest quarters, and teppanyaki restaurant Ukai-tei (doubles from US$220).
WHAT TO SEE
Alien Art Centre
Immersive installations are the main draw at this former military hostel.
Kaohsiung Museum of Fine Arts
Set in the 40-hectare Neiweipi Cultural Park, the KMFA specializes in the works of southern Taiwanese artists.
National Kaohsiung Center for the Arts (Weiwuying)
East Asia's largest performing arts center dazzles with its world-class venues and architectural ingenuity.
Neiwei Arts Center
This months-old sister institution of the KMFA reimagines the role of a contemporary art space as an informal community hub for all ages.
Pier-2 Art Center
A still-expanding creative quarter on the harborfront comprising repurposed warehouses and green spaces.
WHERE TO EAT
Hamasen 1921
Cafés serving comfort food in two recently revamped heritage buildings.
Liberté
Contemporary French cuisine by acclaimed Japanese chef Kenji Takeda.
Sho
Dishes here are a perfect union of Japanese techniques and Taiwanese flavors.
WHAT ELSE?
Chartered harbor cruises and day trips to the coral island of Liuqiu can be arranged with Pier 22, a publicly accessible marina operated by Kha Shing Enterprise.
This article originally appeared in the June/July 2023 print issue of DestinAsian magazine ("Kaohsiung Rising").